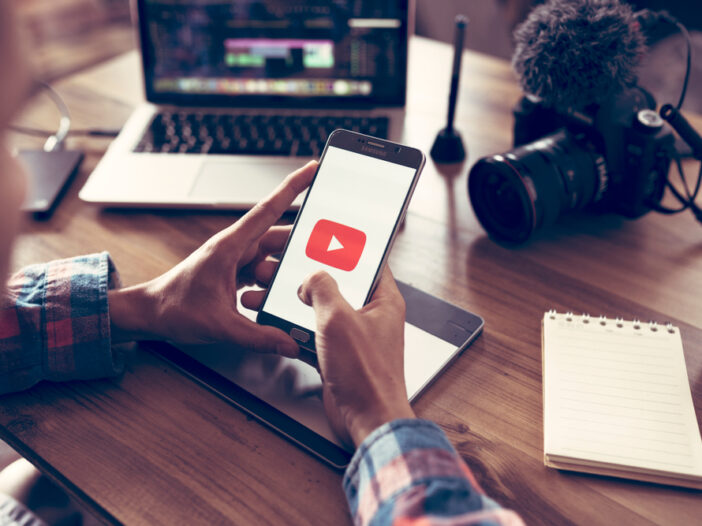 In the past decade, social media has taken over the internet. We have seen a rise in platforms like Snapchat, Instagram, and TikTok, with each one bringing something new to the table. But one platform has been around since 2005 and is still going strong: YouTube. While some social media platforms come and go, YouTube has remained a constant. It's only gotten more popular over the years. But what exactly makes YouTube so special? And how can you tap into that popularity to make your videos go viral?
Well, there is no one answer to that question. There could be numerous factors, from the content's quality to the upload's timing. A video that suddenly gets millions of views and becomes an overnight sensation is the dream of every content creator, but achieving that success is easier said than done. 
But if you are looking for tips on going viral on YouTube, we've got 10 strategies to help you out. These are tried-and-true methods that have worked for others in the past and can work for you too. So read on and find out how to make your YouTube videos go viral in 2023.
See Also: How To Go Viral On Twitter: Based On The New Algorithms | 2023
What is YouTube
YouTube is a platform where users upload, share, and view videos. YouTube was founded in 2005 and has become the most popular video-sharing website in the world. On YouTube, over one billion hours of video are watched every day. YouTube is one of the most popular social media platforms, with over 2 billion monthly active users. YouTube has a vast global community of creators and viewers. You can find videos about anything, from cooking to gaming to beauty.
Why Should You Use YouTube?
There are numerous reasons why you should use YouTube to try to go viral. Firstly, YouTube is the second largest search engine in the world, so if you can get your content seen by many people on YouTube, you are more likely to be seen by many people in general. Secondly,
YouTube allows you to target a specific audience with your content through keywords and other targeting tools, making you more likely to reach people interested in what you have to say. Finally, YouTube offers a huge amount of potential exposure for your content; if it goes viral on YouTube, it could be seen by millions worldwide.
How Does YouTube Algorithm Work?
The YouTube algorithm is a set of rules that determines what videos are shown to users. It considers factors such as the user's location, watch history, and interactions with the video. The algorithm also looks at how popular the video is overall. The algorithm is constantly changing, and YouTube has never revealed how it works in detail. However, we do know that engagement is a key factor. The more likes, comments, and shares a video has, the more likely it is to be seen by more people.
There are a few things you can do to increase your chances of success with the YouTube algorithm:
Create great content: This should be your number one priority. If your videos are Interesting, informative, or entertaining, people will want to watch them.
Promote your videos: You can't just sit back and wait for people to find your videos. Share them on social media, email them to friends and family, and post them on forums and discussion boards.
Engage with your viewers: Respond to comments and questions, like and comment on other people's videos, and collaborate with YouTubers.
What Does It Mean To Go Viral On YouTube?
Several factors contribute to making a video go viral on YouTube. Firstly, the video must be well-made and interesting enough to capture viewers' attention. Secondly, it must be properly promoted to gain traction and reach a large audience. Thirdly, luck also plays a role in whether or not a video goes viral—if it happens to strike a chord with viewers and catches on quickly; it stands a good chance of being shared widely and reaching millions of people.
So, what does it mean to go viral on YouTube? It means creating a quality video and promoting it effectively so that it has the potential to reach a large number of people and be shared widely across the internet. If you can achieve this, then you will have made a successful viral video.
Benefits of Going Viral on YouTube
There are a lot of benefits to going viral on YouTube. Perhaps the most obvious benefit is the increase in views and subscribers that you will get. But beyond that, several other benefits are often overlooked.
For one, going viral can help build your brand and increase awareness of your channel. If people see your videos shared all over social media, they are more likely to check out your channel and become subscribers. Another benefit is that going viral can help you attract attention from potential sponsors or advertisers. Companies will be more interested in working with you and sponsoring your content if you have a video with millions of views.
Finally, going viral can be a lot of fun! It's exciting to see your videos take off and reach a wider audience than you ever thought possible.
Tips on How to go Viral on YouTube
There are several ways to go about making your YouTube videos go viral. Below are some tips and strategies you can use to increase your chances of success:
1. Broadcast Your Videos
If you want to go viral on YouTube, one of the best things you can do is broadcast your videos. By broadcasting your videos, you are increasing the chances that a wider audience will see them, which means more people are likely to share them. There are a few different ways to broadcast your videos.
One is to use YouTube's live streaming feature. This lets you stream your video live to YouTube, and anyone watching can see it in real-time. This is a great way to get instant video feedback and engage with your audience.
Another way to broadcast your videos is to use a service like BitTorrent Now. This lets you upload your videos to a server where they can be downloaded by anyone who has the link. This is a great way to reach a larger audience, as there are no restrictions on who can download your video.
Finally, you can also use social media to broadcast your videos. Simply sharing your video on Twitter or Facebook can help it reach a wider audience, and if people share it, then it has the potential to go viral.
These methods are great ways to increase the visibility of your videos and make them more likely to be shared. So if you want to go viral on YouTube, start broadcasting your videos today!
2. Make Your Videos Relatable and Emotional
It's no secret that videos that evoke emotion are more likely to go viral. Videos that make people laugh, cry, or feel inspired are more likely to be shared than those that don't. That is why it is necessary to make your videos relatable and emotional. If you can tap into the emotions of your viewers, you will be more likely to create videos that will go viral.
Here are some tips for making your videos more emotional:
Use strong storytelling: Storytelling is one of the most powerful tools for evoking emotion. You are more likely to connect with your viewers emotionally when you tell a story in your video.
Use music judiciously: Music can be a great way to set the tone of your video and evoke emotion. But it's important to use music judiciously. Too much music can be overwhelming or distracting. Choose one or two key moments in your video to feature music, and let the rest of the video speak for itself.
Be authentic: Your viewers can tell when you are being genuine and when you are not. If you are not authentic in your videos, people will see right through you, and they won't connect with you on an emotional level. 
3. Understand The Power of SEO
SEO, or search engine optimization, is one of the most powerful tools you can use to get your videos seen by more people. Optimizing your titles, tags, and descriptions can make your videos more visible in search engines, ultimately leading to more views.
In addition to optimizing your videos for search engines, you can also promote your videos through social media and other online channels. By sharing your videos on Facebook, Twitter, and other sites, you can increase their visibility and reach a wider audience. Finally, don't forget to include a call to action in your videos. Asking viewers to subscribe to your channel or share your video with friends is a great way to encourage virality.
4. Be Familiar With Your Audience
You need to be familiar with your audience to go viral on YouTube. Who are they? What do they like? What don't they like? Understanding your audience's wants and needs should be your priority. What content will resonate with them? What will get them talking?
Creating content that resonates with your audience is essential if you want to go viral on YouTube. Take the time to understand who your audience is and what they want, and you will be well on your way to creating content that could potentially go viral.
5. Showcase Your Sponsorship
If you want to go viral on YouTube, one of the best ways to do so is to showcase your sponsorships. This can be done in several ways, but one of the most effective is to create a sponsorship highlight reel.
A Sponsorship Highlight A reel is a short video (usually 1-2 minutes long) that positively promotes your sponsors. The idea is to show how your sponsors have helped you grow your channel and reach new heights.
Creating a sponsorship highlight reel is relatively simple. Gather some clips of you mentioning or using your sponsors' products and edit them into a cohesive video. You can also include testimonials from satisfied customers if you have them. Once you have created your sponsorship highlight reel, promote it on your channel and social media. If done correctly, it could be the key to taking your channel to the next level.
6. Create Distinctive Content
To go viral on YouTube, you must create unique and interesting content to capture people's attention. Here are a few ways to approach this:
One option is to focus on a particular niche or interesting topic. This way, your content will already have an audience interested in your words.
Another approach is to produce high-quality content that is different from what everyone else is doing. This could mean experimenting with new formats or styles or simply covering topics in a more unique or informative way.
Whatever route you choose, the important thing is to put out content you are proud of and believe in. With the right approach, your YouTube channel will be well on its way to going viral!
7. Reach Out to Popular Content Creators
You can do a few key things to ensure you're reaching out to the right content creators. First, look at who is already creating popular content in your niche. These people have a large audience and are likely interested in your content.
Second, reach out to them directly. You can send them a message or comment on their videos. Let them know you exist and have something valuable to share with their audience. Third, offer them something of value in exchange for promotion. This could be an exclusive video, interview, or guest post on their blog or channel. By offering something of value, you increase the chances that they will be interested in working with you.
Finally, don't forget to follow up after you have made contact. Don't give up. If they don't respond immediately, keep trying, and eventually, you will get the right people's attention.
8. Maintain Quality and Consistency
If you are serious about growing your YouTube channel, you must focus on maintaining quality and consistency. This means posting videos regularly on a consistent schedule that your viewers can rely on. It also means ensuring that your videos are high-quality and engaging, offering value to your viewers.
Here are a few tips to help you maintain quality and consistency on your YouTube channel:
Plan ahead and batch-film your videos. This will help you stay organized and ensure you always have content ready.
Edit your videos carefully, taking the time to create engaging and well-crafted content.
Promote your videos regularly, using social media and other channels to reach new viewers.
By following these tips, you can ensure that your YouTube channel consistently delivers quality content that will keep viewers coming back for more.
9. Make Your Contents Promotable
If you want your YouTube videos to go viral, you need to make them promotable. That means creating shareworthy content that will encourage people to promote your videos to their friends and followers.
Here are some tips for making your YouTube videos more promotable:
Make sure your videos are informative and have high quality. People are likelier to share well-made videos that offer new information or insights.
Use eye-catching visuals in your videos. People are more likely to share videos that contain attractive visuals, so make sure your video thumbnails and titles are eye-catching.
Use keywords and tags judiciously. Use keywords and tags sparingly so as not to turn off potential viewers, but do use them to help people find your videos when searching for topics related to your content.
Share your videos on social media. Posting your videos on social media sites like Facebook and Twitter will help them reach a wider audience.
Embed your videos on other websites. If you have a blog or website, embedding your YouTube video can help it reach an even larger audience.
By following these tips, you can create content that is more likely to be shared and promoted by others, helping you reach a wider audience and achieve virality on YouTube!
10. Design a Video Thumbnail That Demands Attention
As a YouTuber, one of the best ways to ensure that as many people see your videos as possible is to design an attention-grabbing thumbnail. This can be difficult, especially if you are not used to thinking visually, but it's worth taking the time to learn how to do it well.
Here are some tips for designing a video thumbnail that demands attention:
Use bright colors: This will help your thumbnail stand out from all the other videos in a user's feed. Bright colors are also known to attract attention and prompt action.
Include an element of surprise: Your thumbnail should be unexpected and eye-catching. This could mean using an unexpected color scheme, interestingly juxtaposing images, or adding text that provokes curiosity.
Be bold: Don't be afraid to experiment with different designs, even if they are outside your comfort zone. The more unique and memorable your thumbnail is, the more likely it is to get noticed (and clicked on!).
Frequently Asked Questions
How often should I upload videos?
Regularly uploading videos is essential to building a following and ensuring that your channel remains active. Try to upload at least once a week and promote your videos across social media and other platforms.
What kind of videos should I make?
The type of video you create will largely depend on your niche or industry. However, a few types of videos tend to perform well on YouTube and are more likely to go viral. These include educational videos, entertaining videos, and emotional videos.
How long should my videos be?
The length of your video will also depend on your niche or industry. That said, shorter videos do better on YouTube than longer ones. Aim for around 2-5 minutes per video, and make sure the content is engaging and informative.
How do I promote my videos?
Once you have created a compelling video, it's time to start promoting it across social media and other channels. Share it with your friends and family, post it on relevant forums and websites, and use paid to advertise if necessary. Getting views is essential for going viral on YouTube.
Conclusion
After reading this blog post, you should now better understand how to go viral on YouTube. You can use many strategies to increase your chances of going viral, but the most important thing is to create high-quality content that people will want to watch.
If you are capable of this, you stand a good chance of achieving success on YouTube. So what are you waiting for? Go out there and start creating videos that will go viral.
References