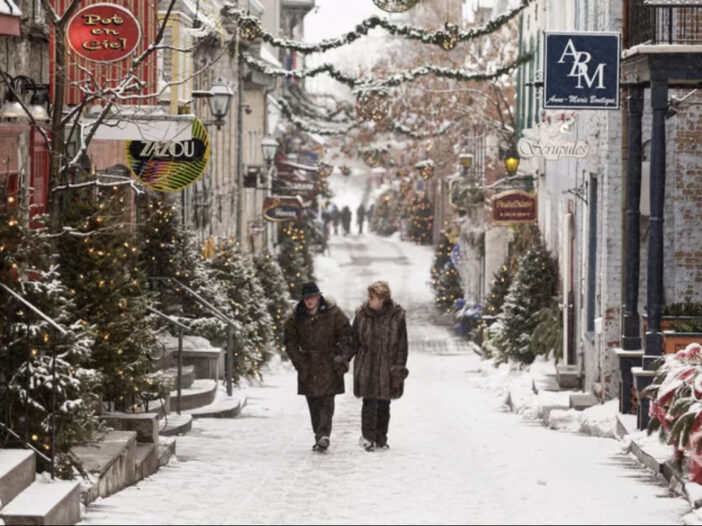 The Snowiest cities in the world- Different individuals associate different things with snow.
On the other hand, it can turn even the ugliest environment into a sparkling wonderland of refracted sunlight and silent music.
On the other hand, it can also make the daily commute difficult due to sludge-coated roads and slick sidewalks.
Snow is becoming more uncommon in many locations due to the ever-present threat of global warming, while in other locations, it is a way of life that doesn't seem likely to change any time soon.
It would be nice to know the snowiest cities in the world, just in case you would love to visit a city where it snows.
Here are some of the snowiest cities in the world.
See also: 20 Coldest Cities In The World In 2023 | With Photos
What is the Snowiest City in the US?
With 127.8 inches of snowfall annually, Syracuse wins the title of snowiest city in America. Just under 11 feet of snow have fallen there, with Lake Ontario, a sizable body of water to its northwest, responsible for most of it.
What are the Snowiest Cities in the World?
1. Syracuse, New York, United States
Syracuse is no longer accustomed to snow, with its 124-inch annual average.
According to records, the city periodically receives significant snowfall; the highest total snowfall in a single season was 192 inches.
Statistics like these solidify Syracuse's position as the snowiest metropolitan region in the United States, a title made possible by various geological factors, including the city's closeness to Lake Ontario and the constant snowfall caused by nor'easter cyclones.
Syracuse, the seat of business and learning in Central New York, is well-known for its climate and the Division I sports teams that play there.
It's a fun award awarded to the Upstate New York city that receives the most snowfall each season, and the city consistently wins it.
Read also: 20 Most Violent Cities In The World In 2023 | With Photos
2. Sapporo, Japan
Sapporo, a city in northern Hokkaido, Japan, experiences mild summer temperatures of up to 97 degrees F while receiving 191 inches of snow annually (36 degrees C). A significant portion of Sapporo's international character stems from its snowy winter climate.
It is well-known worldwide for its yearly Sapporo Snow Festival and for being the first Asian city to host the Winter Olympics in 1972.
The Snow Festival, which takes place every February, draws more than two million guests worldwide.
It has expertly made snow and ice sculptures, stunningly lit at night.
Check also: 20 Ugliest Cities In The World In 2023 | With Photos
3. Chamonix, France
It should come as no surprise that the winters in Chamonix, one of France's most well-known ski areas, are ideal for winter sports.
Skiers are frequently welcomed by the region's legendary mountains' massive average snowfall of 429 inches.
Winter temperatures on Mont Blanc, the highest mountain in the area, are 20 degrees colder than in the city below.
The location of the region's mountains and valleys has an impact on the region's heavy snowfall and chilly winters, which are home to 13 ski resorts and 9 villages.
Snow completely covers Mont Blanc above 8,000 feet in elevation during the winter.
The mountain is also reputed to maintain its snowy summit throughout the summer.
See also: 15 Cleanest Cities In The World In 2023 | With Photos
4. Quebec City, Canada
The average yearly snowfall in Quebec's capital city is 124 inches.
Quebec City, officially classed as having a humid continental climate, has seen record-low winter temperatures of roughly -34 degrees Fahrenheit (-36 degrees C).
Early November is usually when the snow starts to fall, and it lingers on the ground until mid-April.
The Quebec Winter Carnival, a two-week festival with parades, winter sports, and snow-sculpting competitions, marks the beginning of Quebec City's coldest season.
With chances for ice skating, ice climbing, and cross-country skiing all within convenient reach of the city center, Quebec City continues to be a favored destination for winter sports lovers throughout the remainder of the season.
Read more: 15 Ancient Cities In The World In 2023 | With Photos
5. St. John's, Canada
St. John's, the capital of the Canadian province of Newfoundland and Labrador, receives 131 inches of snow on average per year.
With this recognition, St. John's now holds the title of the foggiest, windiest, and cloudiest of all major Canadian cities, in addition to several other meteorological accolades.
Due to the region's harsh weather, snow frequently turns into rain midway through a storm, making it difficult for snow to settle quickly, even in St. John.
In addition to snow, freezing rain, which occurs when liquid rain freezes on contact with cold surfaces, frequently occur in St. John's.
This thin layer of ice covers everything. Historically, February is the coldest month, with typical lows of -16.5 degrees F (-8.6 degrees C).
See also: United States Biggest Cities In The World In 2023 | With Photos
6. Toyama, Japan
Toyama, one of the snowiest cities in the world, serves as the administrative center of Toyama Prefecture.
Despite having a humid subtropical climate, the city, located in central Honshu on the Sea of Japan coast, receives 143 inches of snow yearly.
Between December and March, Toyama receives almost all of its snowfall, with January typically being regarded as the snowiest month.
Toyama's winter snow is a phenomenon brought on by the city's proximity to the coast and its location within Japan's snow belt, with summer record highs of 103 degrees F (39.5 degrees C).
Toyama is well known for being a hub for health care and pharmaceuticals and a convenient entry point to the superb skiing and snowboarding in the Japanese Alps.
7. Erie, Pennsylvania, United States
Snowfall is nothing new in Pennsylvania, but one place stands out.
The city of Erie in the northwest experiences 57 days of snow per year, with an average snowfall of 104 inches. Wintertime lows are typically 18 degrees Fahrenheit.
The fourth-largest city in Pennsylvania, frequently disregarded by tourists, has a lot to offer when it's not snowing.
The city has numerous beaches, a renowned wine region, a rich maritime heritage, and two well-liked state parks, Presque Isle and Erie Bluffs, ideal for summertime recreation.
Check also: 20 Most Violent Cities In The World In 2023 | With Photos
8. Aomori City, Japan
In the far north of Japan's Honshu Island, Aomori City, the seat of Aomori Prefecture, is a veritable winter wonderland.
Aomori City typically receives 312 inches of snow annually, most of which falls between November and April.
The city is so heavily coated in snow during the winter that it piles up several meters high along the borders of its plowed highways.
Due to its exceptional geographic location between the Hakkoda Mountains and the coasts of Mutsu Bay, Aomori City experiences spectacular snowfall.
Colliding winds enhance cloud formation, leading to heavy precipitation that falls as snow rather than rain due to the city's chilly winter temperatures.
Read also: 20 Most Isolated Cities In The World In 2023 | With Photos
9. Muskegon, Michigan, United States
Travelers can expect to see powdered flurries in Muskegon, Michigan, throughout the winter, where annual snowfall averages 76 inches.
The town has earned a reputation as a top location for winter sports like luge, ice skating, and snowshoeing since it is closely associated with substantial snowfall each year.
Muskegon, however, changes into a gorgeous beach town with lots of water sports throughout the summer.
The lakefront city, only 40 minutes from Grand Rapids, attracts throngs of tourists looking for the ideal location to go canoeing, kayaking, or swimming in the sun.
See also: 20 Most Colorful Cities In The World In 2023 | With Photo
10. Valdez, Alaska, United States
The town of Valdez, Alaska, receives 326 inches of snow annually at sea level, but those who want to see even more snow won't have to go far. 
It has been reported that Thompson Pass, a 2,678-foot-tall mountain pass outside Valdez, receives an astounding 500 inches of snow annually. 
Thompson Pass is home to Alaska's tallest mountain, which received almost 974 inches of snow during the winter of 1952–1953.
Even if you aren't looking for snow, Valdez is worth a visit because it is home to abundant wildlife and breathtaking landscapes.
The village offers whale watching in addition to Columbia Glacier, Alaska's biggest tidewater glacier.
See also: 20 Healthiest Cities In The World In 2023 | With Photos
11. Niseko, Japan
It's no surprise that Hokkaido, the northernmost island of Japan, and its world-class Niseko United ski resort are regarded as having the best skiing in the nation.
Niseko United comprises four resorts, making it suitable for snowboarders and skiers of all skill levels.
Between the four, snowmobiling, heli-skiing, and cat-skiing are all options (a cheaper version of heli-skiing that uses a snowcat instead of a helicopter to reach unskied, backcountry territory).
The region's numerous onsen, or hot spring pools, are equally well-known and necessary after a day spent skiing or snowboarding.
Read also: 20 Most Humid Cities In The World In 2023 | With Photos
12. Alyeska, Alaska
The largest ski resort in Alaska, Alyeska Resort, is the focal point of Girdwood, also known as Alyeska, the Aleut spelling of Alaska.
All demands will be satisfied here, from freestyle parks to novice runs. With a one- or five-day package, it's even possible to heli-ski in the Chugach Mountain Range.
Another choice is to hike on glaciers by helicopter while wearing crampons to investigate crevasses and caverns.
Additionally, backcountry snowmobile tours and dog sledding are available here.
Cross-country skiing and snowshoeing trails are available for a more leisurely experience. You can take the Alyeska Aerial Tram to take in the views without negotiating hazardous terrain.
See also: 20 Cities With Highest Uv Index In The World In 2023 | With Photos
13. Mt. Washington, New Hampshire
There are plenty of opportunities in the Mt. Washington, New Hampshire area, where there are seven ski resorts, whether your speed is taking sleigh rides through the snow or scaling Mt. Washington. 
The state's biggest ski resort, Bretton Woods, is a good starting point and can be reached from the reasonably luxurious Omni Mt. Washington Resort.
You can go cross-country skiing, night skiing, snow tubing, or take a three-hour zipline canopy tour through the icy landscape here.
In addition, the resort can arrange guided tours for people of all skill levels, including Mount Washington's climb and ice climbing.
Check out also: 20 Best Beach Cities To Live In The World In 2023 | With Photos
14. Akita, Japan
Embedded on Honshu Island, remote Akita, Japan is well-known for its winter celebrations tied to the Lunar New Year.
Yokote no Yuki Matsuri, a yearly celebration held in Yokote every February, is one of the most well-known.
The most picturesque Kamakura, or small igloos with altars to water gods, are located in front of Yokote Castle. 
They serve as a reminder of this ancient tradition (pictured). Avoid leaving before dusk, when hundreds of tiny Kamakura light the Yokote River. 
A hundred illuminated paper balloons are released into the night sky as part of the Paper Balloon Festival of Kamihinokinai in Semboku City, which also takes place in February.
15. Nagano, Japan
The former location of the Winter Olympics in 1998, as well as for its temples and snow monkeys, is Nagano, Japan.
There are more than 85 ski resorts in the Nagano area and five Olympic sites in Nagano City. 
The seventh-century Zenkoji Temple, which houses Japan's first Buddha statue and is regarded as one of the country's most famous Buddhist temples, is another option.
Every six years, visitors can view a duplicate of the statue; the subsequent viewing will be in 2021. 
The iconic Japanese macaque snow monkeys, who enjoy a relaxing onsen dip as much as the next person, might be a major attraction. 
The wild troop only frequents the hot springs at Jigokudani Monkey Park throughout the winter.
Frequently Asked Questions
Where does it snow the most? 
Japan 
Unexpectedly, Japan has the most snowfall worldwide. Japanese cities are among the top 3 worldwide for annual snowfall in cities with a population of over 100,000, according to a US-based AccuWeather survey. Even in remote locations, Japan has the highest recorded amount of snowfall.
Where are the snowiest cities in the world? 
The largest city in the United States, Rochester, New York, averages over 100 inches of snow per year (over 255 centimeters). Buffalo, which is close, is typically buried under over eight feet of snow each year. The snowiest big US city, which came in third, is nothing compared to Buffalo and Rochester.
Conclusion
Particularly in major metropolitan areas, crippling snowfalls and freezing temperatures can have a long-lasting impact on travel, business, and attendance at work and school.
Some cities only receive a few inches of snow each year, while others receive several feet.
Every location on our list averages at least 90 inches of snow yearly. Although snowfall depth is difficult to estimate globally, the top 15 snowiest cities in the world are listed according to how many inches they receive annually.
References