Tampa is a vibrant city where sunshine, culture, and excitement create an unforgettable experience for every traveler. If you plan to visit this charming Florida gem in 2023, you'll undoubtedly want to find the best places to stay in Tampa to make your stay truly remarkable. From upscale hotels with breathtaking views to cozy bed and breakfasts tucked away in historic neighborhoods, Tampa offers many exceptional places to stay that cater to every taste and budget. In this comprehensive Tampa Neighborhood Guide, we'll take you through the best places to stay in Tampa. Whether you're seeking the vibrant energy of downtown, the relaxed beach vibes, or the charm of historic neighborhoods, we've got you covered. 
Get ready to explore the top accommodations that provide comfort and luxury and serve as perfect launchpads to immerse yourself in Tampa's diverse attractions, world-class dining, and lively entertainment scenes.
Join us as we uncover the hidden gems and renowned favorites, ensuring your visit to Tampa in 2023 will be exceptional. Let's dive into the best places to stay in Tampa and make your vacation dreams a reality!
Why Stay In Tampa?
Tampa, a vibrant city on the west coast of Florida, offers compelling reasons to make it your home. Tampa has something to offer everyone, from its stunning natural beauty to its thriving cultural scene.
First and foremost, Tampa boasts a year-round subtropical climate, making it a paradise for outdoor enthusiasts. Its pristine beaches along the Gulf of Mexico provide a perfect retreat for sunbathing, swimming, and water sports. For nature lovers, the nearby Hillsborough River and various parks offer hiking trails, wildlife sightings, and picnicking opportunities.
Beyond its natural wonders, Tampa boasts a diverse and dynamic cultural landscape. The city hosts numerous festivals, art exhibits, and performances annually, celebrating its rich heritage and fostering a sense of community. From the historic Ybor City with its Cuban and Spanish influences to the modern downtown area, Tampa seamlessly blends tradition with progress.
Tampa's thriving economy is another compelling reason to stay. The city has various industries, including finance, healthcare, technology, and tourism, providing ample job opportunities. Moreover, the cost of living is relatively affordable compared to other major cities in the country, making it an attractive option for young professionals and families.
Finally, Tampa's friendly and welcoming atmosphere sets it apart. The residents take pride in their city and actively engage in activities that create a sense of belonging. From cheering for their beloved sports teams to participating in community events, Tampa offers a warm and inviting environment.
Tampa's blend of natural beauty, cultural richness, economic opportunities, and welcoming community make it an ideal place to stay and build a fulfilling life. Tampa has it all, whether you seek a relaxed beach lifestyle or a bustling urban experience. Tampa has several beautiful places for you to explore!
Check out – 20 Most Livable Cities In The World In 2023 | With Photos
How To Get Around Tampa
Tampa, Florida, is a vibrant city with a lot to offer. Getting around Tampa can be an enjoyable experience, as the city offers various transportation options to explore its many attractions, beautiful beaches, and diverse neighborhoods. Whether you're a resident or a visitor, here's an extensive guide on how to get around Tampa:
#1. Public Transportation
– HART (Hillsborough Area Regional Transit)
HART operates buses throughout Tampa and its surrounding areas. It's an affordable and convenient way to navigate the city. HART also offers a TECO Line Streetcar System that connects downtown Tampa with Ybor City and Channelside.
– Tampa Streetcar
As mentioned, the TECO Line Streetcar System is a historic streetcar line from downtown Tampa to Ybor City. It's a charming mode of transportation that provides a unique and nostalgic experience.
#2. Taxis and Rideshare Services
Taxis and rideshare services like Uber and Lyft are widely available in Tampa. They offer convenient door-to-door transportation at various prices, making it easy to get around the city, especially during late hours or if you prefer a more private and direct option.
#3. Biking
Tampa has been trying to become more bike-friendly, and there are many dedicated bike lanes and paths throughout the city that will take you to the places you need to get to. You can rent bikes from bike-share programs like Coast Bike Share or explore popular biking trails like the Tampa Riverwalk and Bayshore Boulevard.
#4. Walking
Tampa's downtown and several neighborhoods, such as Ybor City and Hyde Park, are pedestrian-friendly with sidewalks and crosswalks. Walking is a great way to experience the city up close and discover its hidden gems.
#5. Trolley Tours
If you're a tourist or looking for a guided sightseeing experience, consider taking one of Tampa's trolley tours. These tours typically cover major attractions and landmarks, providing valuable insights into the city's history and culture.
#6. Water Taxis and Ferries
With its proximity to the water, Tampa offers water taxis and ferries as alternative transportation options. These services operate along the Hillsborough River and Tampa Bay, connecting various waterfront destinations.
#7. Car Rentals
If you prefer the flexibility of having your vehicle, numerous car rental agencies operate in Tampa. A car allows you to explore areas outside the downtown core and take day trips to nearby attractions like Clearwater Beach or St. Petersburg.
#8. Downtowner
The Downtowner is a free electric shuttle service that operates within downtown Tampa. It's an excellent option for getting around downtown's busy streets without the hassle of finding parking.
#9. Water Bikes and Paddleboards
For a unique experience, you can rent water bikes or paddleboards and explore Tampa's waterways. It's a fun and active way to enjoy the beautiful scenery and get some exercise.
#10. Sunshine Line Paratransit Service
For individuals with disabilities or mobility challenges, Hillsborough County's Sunshine Line offers paratransit services that provide door-to-door transportation.
Remember, traffic in Tampa can get congested, especially during rush hours, so plan your trips accordingly. If you're driving, be aware of toll roads and consider using navigation apps to find the best routes.
Take out time to read – 20 Foggiest Cities In The World In 2023 | With Photos
What Are The 21 Best Places to Stay in Tampa?
When choosing the best places to stay in Tampa, you'll find various options ranging from luxurious waterfront resorts to charming boutique hotels and budget-friendly accommodations. Here are some of the top choices for your stay in Tampa:
#1. Epicurean Hotel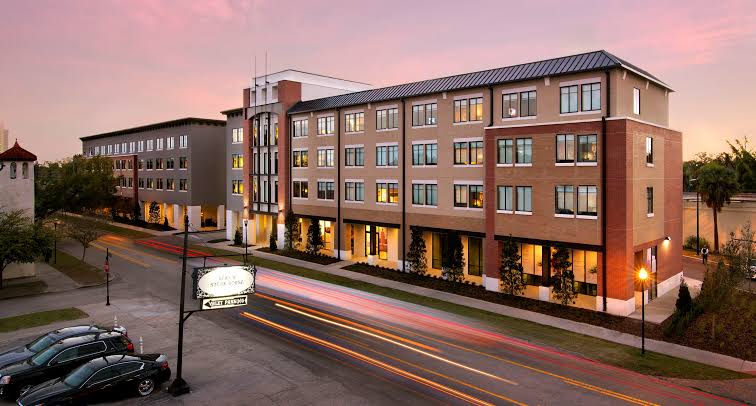 First on our list of the 21 best places to stay in Tampa is the Epicurean Hotel. The Epicurean Hotel is a boutique luxury hotel in the trendy neighborhood of Hyde Park in Tampa. This stylish hotel is a haven for food and wine enthusiasts, offering a unique blend of comfort, modern amenities, and culinary experiences. 
The hotel features beautifully designed rooms with luxurious touches, including marble bathrooms and plush bedding. Epicurean Hotel is also home to the famous Epicurean Theatre, where guests can participate in cooking classes, wine tastings, and interactive culinary events.
The rooftop bar and pool area provide stunning city views and a perfect spot to relax and unwind. With its central location, guests can easily explore the nearby shops, restaurants, and attractions.
#2. Le Méridien Tampa
Situated in the heart of downtown Tampa, Le Méridien Tampa is a chic and sophisticated hotel housed in a historic 1905 federal courthouse building. The hotel seamlessly blends its historic architectural elements with contemporary design and modern amenities.
Guests can enjoy spacious and elegantly decorated rooms with all the comforts needed for a pleasant stay. The hotel's signature restaurant, Bizou Brasserie, offers a delightful dining experience with French-inspired cuisine.
Le Méridien Tampa's prime location allows guests to visit popular attractions, including the Tampa Riverwalk, museums, and theaters.
#3. The Westin Tampa Waterside
Overlooking the picturesque Tampa Bay, The Westin Tampa Waterside offers visitors a tranquil and upscale retreat. The hotel features spacious rooms with soothing decor and plush Heavenly Beds, ensuring a restful night's sleep.
Guests can use the outdoor pool and the WestinWORKOUT Fitness Studio to stay active.
The hotel's waterfront location grants easy access to the Tampa Riverwalk and the nearby Amalie Arena, making it a popular choice for sports and concert enthusiasts.
#4. Tampa Marriott Water Street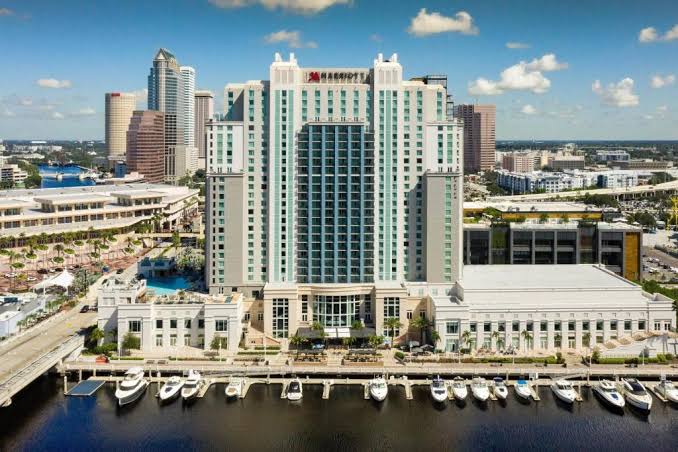 This contemporary hotel is located in the heart of downtown Tampa, offering a prime waterfront location along the Garrison Channel. The Tampa Marriott Water Street boasts modern and well-appointed rooms with sweeping views of the water or city skyline.
Guests can indulge in delicious dining options at the hotel's restaurants, which offer everything from casual fare to fine seafood cuisine. The hotel also features a rooftop pool and a 24-hour fitness center, ensuring guests can relax and stay active.
With its proximity to attractions like the Florida Aquarium and the Tampa Convention Center, this hotel is a convenient choice for leisure and business travelers.
#5. Renaissance Tampa International Plaza Hotel
Situated adjacent to the upscale International Plaza and Bay Street shopping center, the Renaissance Tampa International Plaza Hotel is a sophisticated hotel catering to business and leisure travelers.
The hotel's stylish and spacious rooms are designed with comfort and luxury in mind, featuring contemporary amenities and elegant furnishings. Guests can unwind at the chic rooftop pool or savor innovative cuisine at the on-site restaurant, Pelagia Trattoria.
The hotel's location provides easy access to shopping, dining, and entertainment options, making it an excellent choice for those exploring the city's offerings.
#6. Grand Hyatt Tampa Bay
Nestled on a 35-acre nature preserve overlooking Tampa Bay, the Grand Hyatt Tampa Bay offers guests a serene and picturesque setting. The hotel provides modern and tastefully decorated rooms with balconies that showcase stunning bay or city views.
Guests can use the property's multiple swimming pools, tennis courts, and jogging trails to stay active and enjoy the outdoors. The hotel also houses several dining options, including the renowned Oystercatchers, serving fresh seafood and waterfront views.
The Grand Hyatt Tampa Bay offers a perfect combination of relaxation and proximity to popular attractions like the Busch Gardens and the Tampa International Airport.
#7. The Godfrey Hotel & Cabanas Tampa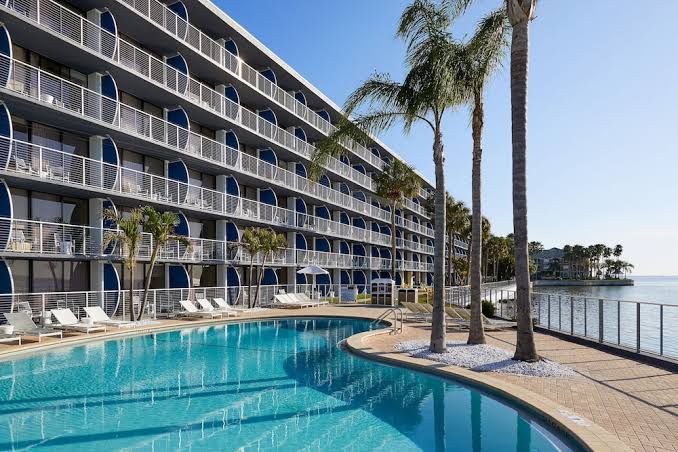 Located on the waterfront of Tampa's Rocky Point Island, The Godfrey Hotel & Cabanas Tampa offers a laid-back and resort-like atmosphere. The hotel features contemporary rooms with private balconies, many of which provide sweeping views of the bay.
Guests can relax at the hotel's outdoor pool and enjoy direct access to the sandy beach and cabanas. The hotel's WTR Pool & Grill is a popular spot for enjoying delicious meals and cocktails while overlooking the water.
With its relaxed vibe and waterfront location, The Godfrey is ideal for travelers seeking a more casual and beachy experience in Tampa.
#8. Tampa Seminole Hard Rock Hotel & Casino
The Seminole Hard Rock Hotel & Casino Tampa is a top choice for those looking for excitement and entertainment. This hotel and casino complex offers modern, luxurious rooms with contemporary decor and upscale amenities.
Guests can enjoy various dining options, from casual cafes to upscale restaurants, and experience the lively nightlife at the various bars and clubs on-site.
The hotel's casino offers a vast selection of gaming options, making it a popular destination for gambling enthusiasts. Located northeast of downtown Tampa, this hotel is a great option for those seeking a vibrant and lively stay.
#9. Hilton Tampa Downtown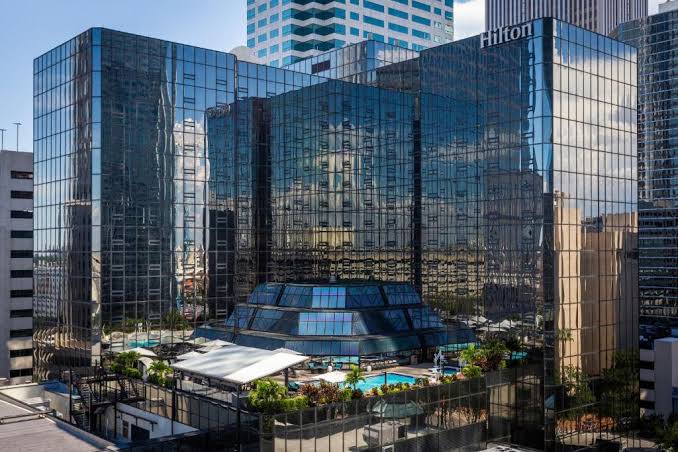 Situated in the heart of downtown Tampa, the Hilton Tampa Downtown offers a convenient and comfortable stay for business and leisure travelers.
The hotel features contemporary and well-appointed rooms with modern amenities and comfortable bedding. Guests can unwind at the rooftop pool and terrace, providing beautiful city skyline views.
The hotel's on-site restaurant, 211 Restaurant, offers delicious American cuisine, and its proximity to various dining and entertainment options makes it a great base for exploring the city.
#10. Aloft Tampa Downtown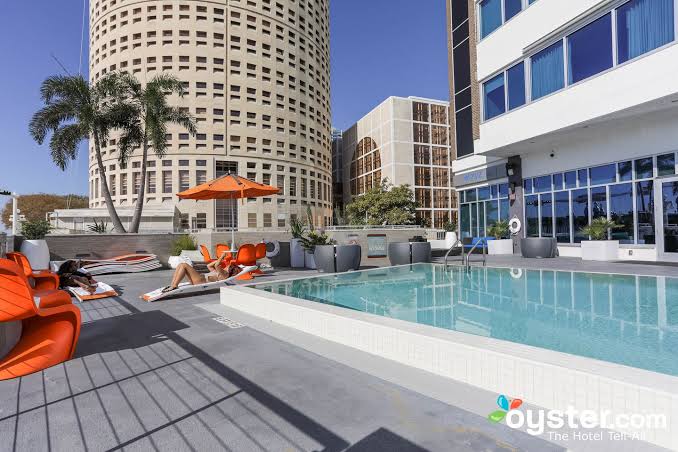 Located in the heart of downtown Tampa, the Aloft Tampa Downtown is a stylish and modern hotel designed with a vibrant atmosphere. The hotel's loft-inspired rooms are sleek and contemporary, featuring amenities like plush platform beds and walk-in showers.
The W XYZ Bar is a popular spot for guests and locals to enjoy signature cocktails and live music. With its central location, the hotel is within walking distance of many downtown attractions, restaurants, and nightlife venues.
#11. Floridan Palace Hotel
The Floridan Palace Hotel is a historic landmark in Tampa, known for its elegant architecture and luxurious accommodations. Located in the heart of downtown, it offers easy access to popular attractions, restaurants, and cultural venues.
The hotel boasts spacious and well-appointed rooms with modern amenities, ensuring a comfortable stay for guests.
Additionally, the hotel features a rooftop pool and lounge area, providing breathtaking views of the city skyline. Its classic charm and proximity to various city highlights make it an excellent choice for leisure and business travelers.
#12. Tampa Marriott Westshore

Situated in the bustling Westshore business district, the Tampa Marriott Westshore is a contemporary hotel catering to business travelers and vacationers.
The hotel offers stylish and spacious rooms equipped with all the modern comforts one would expect from a Marriott property. Its location is convenient for those conducting business in the area and visitors wanting to explore nearby attractions, shopping centers, and restaurants.
The hotel also provides amenities like a fitness center, outdoor pool, and on-site dining options, making it a well-rounded choice for a stay in Tampa.
#13. AC Hotel Tampa Airport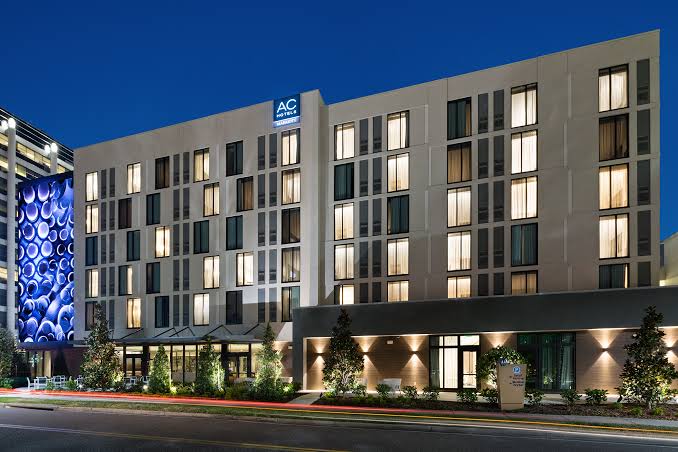 Ideal for travelers on the go, the AC Hotel Tampa Airport offers a sleek and minimalist design combined with a convenient location just minutes away from Tampa International Airport. The hotel's contemporary rooms feature comfortable furnishings and modern technology.
Guests can enjoy various amenities, including a fitness center, an outdoor pool, and a trendy rooftop bar with beautiful city views. Whether flying in for business or exploring Tampa's sights, the AC Hotel is a top pick for its proximity to the airport and the city's attractions.
#14. The Barrymore Hotel Tampa Riverwalk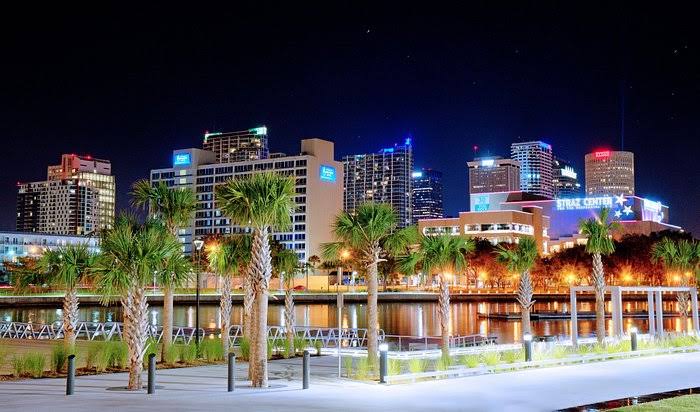 Nestled along the scenic Tampa Riverwalk, The Barrymore Hotel offers a charming, relaxed atmosphere. The hotel's location makes it an excellent choice for travelers exploring downtown Tampa's nearby attractions, museums, and restaurants.
The rooms are comfortable and feature views of the riverfront or the city. The Barrymore Hotel also boasts a waterfront restaurant and a heated outdoor pool. Guests appreciate its friendly service and proximity to the vibrant downtown area.
#15. SpringHill Suites
The SpringHill Suites in Tampa provides an affordable yet comfortable option for families, business travelers, and groups. The hotel offers spacious suites with separate living and sleeping areas, making it a great choice for extended stays.
The property features an outdoor pool, fitness center, and complimentary breakfast. Located near the Westshore Plaza and Raymond James Stadium, the SpringHill Suites provide convenient access to shopping and sports events, ensuring a pleasant and accessible stay.
#16. Hyatt Place Tampa/Wesley Chapel
For those looking for a more tranquil setting outside of the city center, the Hyatt Place Tampa/Wesley Chapel is an excellent choice. Situated in the suburban area of Wesley Chapel, this hotel offers a peaceful retreat within a short distance of Tampa's main attractions.
The contemporary rooms are spacious and well-designed, featuring amenities such as a mini-fridge and a separate workspace. The hotel also offers an outdoor pool, a 24/7 fitness center, and a 24-hour dining option, ensuring a comfortable and convenient stay.
#17. Hampton Inn & Suites Tampa/Ybor City/Downtown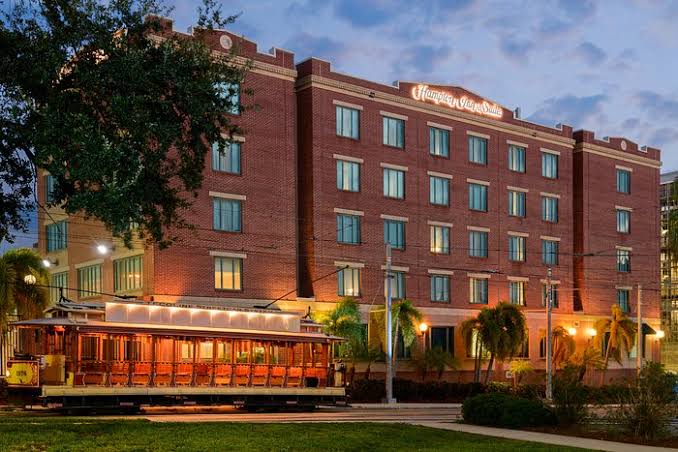 The Hampton Inn & Suites blend modern comfort and local charm in the historic Ybor City neighborhood. Ybor City is known for its vibrant nightlife, diverse dining options, and rich cultural heritage.
The hotel's rooms are well-appointed, and guests can enjoy amenities like a rooftop pool, fitness center, and complimentary breakfast. Its proximity to downtown Tampa and the popular Ybor City attractions make it a favorite among leisure travelers looking to explore the city's unique character.
#18. Oxford Exchange Inn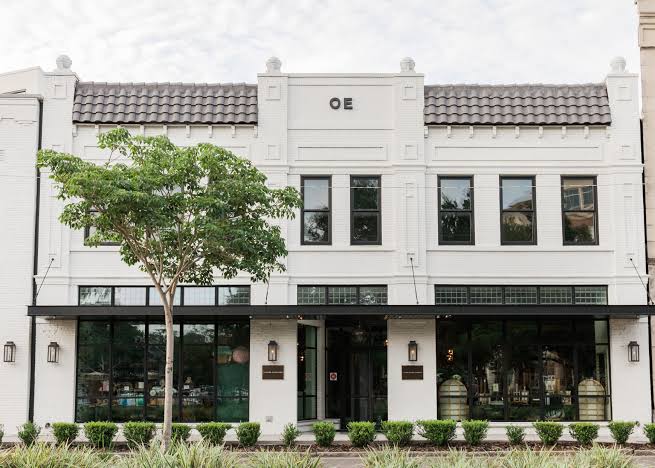 The Oxford Exchange Inn is a boutique hotel located within the Oxford Exchange complex, a trendy spot known for its bookstore, coffee shop, and stylish boutique stores. The hotel offers several well-designed rooms with a touch of vintage elegance.
Guests staying here can indulge in the charm of the Oxford Exchange, including its restaurant, tea room, and gift shop. The city's unique ambiance and prime location make this hotel an attractive option for those seeking a more distinctive experience.
#19. The Current Hotel, Autograph Collection
Situated in the heart of Tampa's Water Street district, The Current Hotel offers a chic and modern stay experience. As part of the Autograph Collection, this boutique hotel features artistic decor and a vibrant atmosphere.
The rooms are tastefully designed with contemporary furnishings and offer stunning waterfront views. Guests can enjoy the rooftop bar, fitness center, and access to nearby Water Street attractions, including the Tampa Riverwalk, Amalie Arena, and various restaurants.
#20. The Westshore Grand, A Tribute Portfolio Hotel
With its prime location in the Westshore business district, The Westshore Grand is a sophisticated choice for business and leisure travelers. The hotel boasts spacious rooms with plush amenities; some offer sweeping city views.
On-site, guests can indulge in upscale dining at the Shula's Steak House, relax by the rooftop pool, and take advantage of the well-equipped fitness center.
The hotel's proximity to the Westshore Plaza, the International Plaza, and Bay Street shopping centers makes it an appealing option for those interested in shopping and dining experiences.
#21. Tampa Airport Marriott
Perfect for travelers with early flights or late arrivals, the Tampa Airport Marriott is conveniently located at the Tampa International Airport. This full-service hotel offers modern and comfortable rooms, making it an excellent choice for a hassle-free stay near the airport.
Guests can enjoy amenities like a fitness center, outdoor pool, and on-site dining options. Despite its airport location, the hotel provides easy access to the city's attractions, making it a practical option for leisure and business travelers.
You can also check out – 20 Most Visited Cities In The World In 2023 | With Photos
How To Find The Best Places To Stay in Tampa
Finding the best places to stay in Tampa can greatly enhance your travel experience. Here are five ways to help you discover the perfect accommodation options:
#1. Research Online
Utilize various travel websites and booking platforms to read reviews, compare prices, and explore different neighborhoods in Tampa. Websites like TripAdvisor, Booking.com, Expedia, and Airbnb can provide valuable insights from previous guests and give you an idea of the best places to stay based on your preferences and budget.
#2. Consider the location
Think about what you want to do and see during your trip to Tampa. There are many interesting places to choose from when you visit Tampa. If you're interested in beaches and waterfront activities, consider staying in areas like Clearwater Beach or St. Pete Beach. For a more urban experience, downtown Tampa or Ybor City might be better options. Proximity to attractions, public transportation, and amenities should also be considered.
#3. Seek Local Recommendations
Contact friends, family, or colleagues who have been to Tampa or know the area well. Local recommendations can provide valuable insights and hidden gems that might not be as well-known in popular travel guides or websites. You can also use social media platforms to ask locals or Tampa residents for suggestions.
#4. Check for Special Deals and Offers
Look for special deals, discounts, and packages that hotels or vacation rentals offer during travel dates. Many accommodations run promotions at various times of the year, and you might be able to find a great deal on a high-quality stay.
#5. Contact Accommodations Directly
Once you've narrowed your options, don't hesitate to contact the accommodations directly. Speaking with the staff can give you a sense of their customer service and responsiveness to inquiries. Additionally, they might offer additional information or perks that aren't listed online.
You might find this interesting – Cities where Marriage is Easy: The Best Places to Say "I Do"
Challenges of Staying in Tampa
Like any other place, staying in Tampa, Florida, can present unique challenges. Here are five challenges that residents or visitors might encounter:
#1. Humid and Hot Climate
One of the main challenges of staying in Tampa is its hot and humid climate, especially during the summer months. High temperatures and humidity can make outdoor activities uncomfortable and potentially dangerous for those unfamiliar with such weather. It can also lead to higher energy bills as air conditioning is essential for staying comfortable indoors.
#2. Hurricane Risk
Tampa is located on the Gulf Coast, making it susceptible to hurricanes and tropical storms. During hurricane season, which typically lasts from June to November, residents must be prepared for potential evacuations, property damage, and disruptions to daily life. Ensuring proper hurricane preparedness and an evacuation plan is vital for those in the area.
#3. Traffic Congestion
Tampa's growing population and reliance on cars can result in significant traffic congestion, especially during rush hours and peak tourism seasons. Navigating crowded roads and highways can be frustrating and time-consuming for residents and visitors alike. Public transportation options, though available, may not always be as efficient or extensive as in larger cities.
#4. High Humidity and Mold Issues
Apart from the discomfort of high humidity levels, it can also contribute to mold growth in homes and buildings. Mold can pose health risks and damage property, requiring residents to take preventive measures and invest in proper ventilation and maintenance.
#5. Seasonal Tourist Crowds
Tampa is a popular tourist destination, especially during the winter when visitors from colder regions flock to its many beautiful places to enjoy the milder climate. The influx of tourists can lead to crowded attractions, longer wait times at restaurants, and increased noise levels in some neighborhoods, which might not be preferred by long-term residents seeking tranquility.
Also check out – 20 Most Humid Cities In The World In 2023 | With Photos
Frequently Asked Questions
What are the best areas for a beachfront stay in Tampa?
While Tampa is not directly on the beach, you can find beachfront accommodations nearby, such as Clearwater Beach and St. Pete Beach.
Are there any pet-friendly accommodations in Tampa?
Yes, many hotels in Tampa offer pet-friendly accommodations. Some may have specific restrictions or require an additional pet fee, so checking with the hotel before making your reservation is essential.
Is it better to stay near Busch Gardens or in downtown Tampa?
It depends on your preferences and the purpose of your visit. Staying near Busch Gardens is a good choice if you plan to spend significant time at the theme park and want easy access to its attractions.
Conclusion
Tampa has many wonderful places to stay to suit all tastes and budgets. There is something for everyone, from the buzzing downtown with its luxury hotels and active nightlife to the coastal resorts giving tranquility and breathtaking vistas.
The historic districts highlight the city's distinct charm and culture, while family-friendly resorts provide remarkable experiences. Tampa has everything, whether you want an urban adventure or a peaceful vacation.
Accept its warm hospitality, relish its culinary delights, and discover the await attractions. Whatever you choose, Tampa will provide you with an amazing stay full of treasured memories.
Reference