Discovering the beauty of Vermont is a true delight for any traveler, and finding the best place to stay in Vermont can elevate your experience to new heights. With its charming villages, picturesque landscapes, and vibrant communities, Vermont offers many accommodations to cater to every taste and preference. Whether you seek a cozy retreat amidst the mountains or a lively urban setting with access to local attractions, this Vermont neighborhood guide presents the 16 best places to stay in Vermont. Uncover the finest lodgings, from quaint bed and breakfasts that exude rustic charm to luxurious resorts that pamper guests with unparalleled comfort. 
Prepare to journey through Vermont's most sought-after destinations, where unforgettable memories await at every turn. Join us as we explore the best places to stay in Vermont, and get ready to experience the essence of this enchanting state like never before.
Why Stay in Vermont?
Vermont, known for its idyllic landscapes and charming rural character, offers an irresistible allure for those seeking a tranquil and enriching escape. Nestled in the heart of New England, the Green Mountain State's natural beauty is breathtaking year-round.
Vermont's scenery is a painter's palette of colors, from vibrant autumn foliage to snow-draped mountains in winter. Visitors and residents alike revel in the state's renowned outdoor activities, including skiing, hiking, and exploring the picturesque countryside.
Apart from its natural charm, Vermont boasts a tight-knit, welcoming community that embraces a slower-paced lifestyle. Small towns exude a sense of nostalgia, with cozy cafes, artisanal boutiques, and local farmers' markets offering a taste of authentic Vermont culture. The state's dedication to sustainability and farm-to-table cuisine has garnered recognition, making it a food lover's paradise.
Moreover, Vermont's commitment to education and arts fosters a thriving cultural scene, with numerous museums, galleries, and events throughout the year. Its rich history and architectural heritage further enhance the experience, making it an ideal destination for history enthusiasts.
Furthermore, Vermont's emphasis on environmental preservation and clean energy aligns with the values of environmentally conscious individuals. This, combined with its low crime rates and a strong sense of community, makes it an appealing place to raise a family.
In essence, Vermont's allure lies in its harmonious blend of scenic beauty, genuine hospitality, and a vibrant cultural tapestry, making it an enchanting place to visit or call home.
Check out – 15 Biggest Gambling Cities In The World In 2023 | With Photos
How To Get Around Vermont
Before we get to the best places to stay in Vermont, you should learn how to get around this beautiful state. Getting around Vermont can be a delightful experience, especially given its scenic landscapes and charming small towns. Here are ways to explore the state:
#1. Car Rental
Renting a car is one of the most popular and convenient ways to get around Vermont. You'll be free to explore at your own pace and access remote areas not well-served by public transportation.
#2. Public Transportation
Vermont has a reliable public transportation system, including buses and regional trains. The Green Mountain Transit Agency (GMTA) offers bus services in many towns, making it a cost-effective option for traveling between cities.
#3. Biking
Vermont is known for its bike-friendly routes and breathtaking scenery. Consider renting a bike or bringing your own to explore the numerous cycling trails, including the famous Island Line Trail, which offers stunning views of Lake Champlain.
#4. Walking
Many towns and cities in Vermont are pedestrian-friendly, with charming streets and sidewalks. Exploring on foot allows you to immerse yourself in the local culture and discover hidden gems.
#5. Amtrak
Amtrak trains service Vermont if you're coming from a neighboring state or further away. The Vermonter and Ethan Allen Express are the main routes connecting Vermont to cities like New York and Washington, D.C.
#6. Ridesharing Services
Ridesharing platforms like Uber and Lyft are available in larger towns and cities in Vermont, providing a convenient way to get around locally when you can't access a car.
#7. Ferry
If you're exploring areas around Lake Champlain, consider taking a ferry. Several ferry services operate in the region, offering scenic crossings and easy access to New York State.
#8. Motorcycle or Scooter Rental
For those seeking a more adventurous and exhilarating way to see Vermont, renting a motorcycle or scooter can be a fantastic option. The winding roads and stunning landscapes are perfect for two-wheeled exploration.
Take out time to read – Three Highest Capital Cities In The World In 2023 | With Photos
What Are The 16 Best Places to Stay in Vermont?
Vermont, known for its charming towns, stunning landscapes, and picturesque mountains, offers many wonderful places to stay. Whether you're seeking a luxurious resort, a rustic inn, or a cozy bed and breakfast, Vermont has something for everyone. Let's explore the best places to stay in this beautiful state:
#1. The Woodstock Inn & Resort – Woodstock
Nestled in the historic town of Woodstock, The Woodstock Inn & Resort is a quintessential Vermont escape. This elegant and luxurious resort exudes New England charm with its classic architecture and tasteful decor.
Guests can enjoy top-notch amenities, including a golf course, spa, fitness center, and outdoor pool.
The resort's dining options are equally impressive, offering farm-to-table cuisine showcasing Vermont's finest produce. The Woodstock Inn is ideal for travelers seeking a refined and upscale experience in a picturesque setting.
#2. Stoweflake Mountain Resort & Spa – Stowe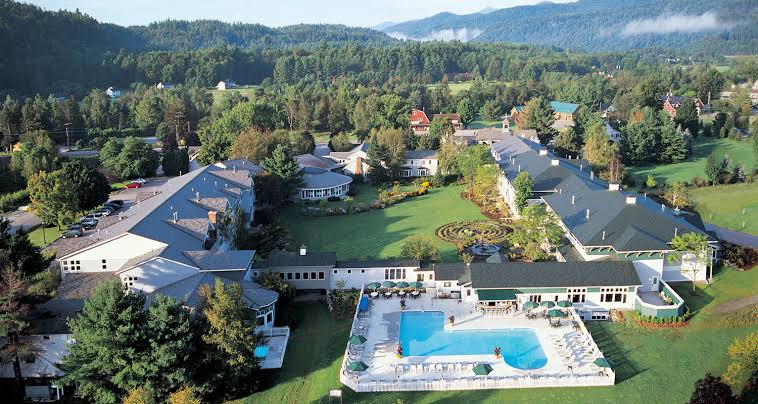 Set against the backdrop of Vermont's majestic Green Mountains, Stoweflake Mountain Resort & Spa is a paradise for outdoor enthusiasts and spa lovers alike. The resort boasts comfortable accommodations with scenic views, an 18-hole golf course, and a world-class spa offering rejuvenating treatments.
During winter, the resort is a haven for skiers and snowboarders, with easy access to the slopes of Stowe Mountain Resort. Stoweflake is an excellent choice for a well-rounded vacation in Stowe.
#3. Top-notch Resort – Stowe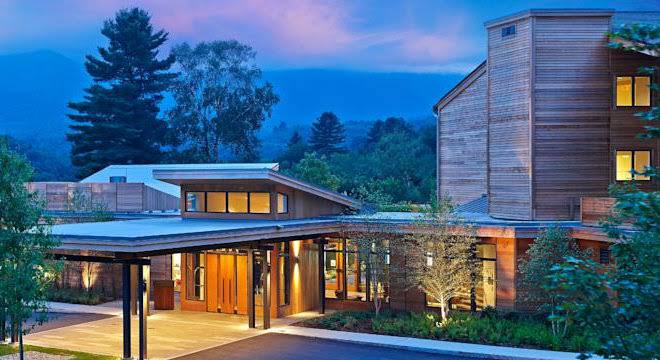 Located on 120 acres of pristine land, Top-notch Resort is a haven of relaxation and luxury in Stowe. The resort offers a range of accommodations, including rooms, suites, and resort homes, all with modern amenities and sophisticated design.
Guests can indulge in the spa's holistic treatments, sweat in the fitness center, or enjoy outdoor activities like tennis, hiking, and biking. The on-site restaurant provides farm-fresh, seasonal dishes that showcase Vermont's culinary delights.
#4. Basin Harbor – Vergennes
Basin Harbor in Vergennes is a top choice for a tranquil lakeside retreat. Situated along the shores of Lake Champlain, this resort offers breathtaking views and a serene atmosphere. Guests can stay in well-appointed rooms or charming cottages with lake views.
Basin Harbor features an 18-hole golf course, various water sports, nature trails, and a kids' program, making it an excellent option for families seeking a memorable vacation. Don't miss the chance to enjoy delicious meals while gazing at the lake from the resort's dining venues.
#5. Trapp Family Lodge – Stowe
Inspired by the famous von Trapp family from "The Sound of Music," Trapp Family Lodge is a European-style alpine lodge perched on a picturesque hillside in Stowe. This family-owned lodge offers cozy rooms and mountain cabins with stunning mountain vistas.
Guests can partake in outdoor adventures like cross-country skiing, hiking, and mountain biking on the extensive trail network. The lodge also features a brewery, where visitors can sample Austrian-inspired lagers and cuisine.
#6. The Equinox Golf Resort & Spa – Manchester Village
Steeped in history and surrounded by the Green Mountains, The Equinox Golf Resort & Spa is an elegant resort in Manchester Village. The stately property boasts beautifully appointed rooms, an 18-hole golf course, a luxurious spa, and a range of dining options.
The resort's charming village setting allows guests to explore local shops, galleries, and cultural attractions, making it an ideal destination for couples and families seeking relaxation and enrichment.
#7. Twin Farms – Barnard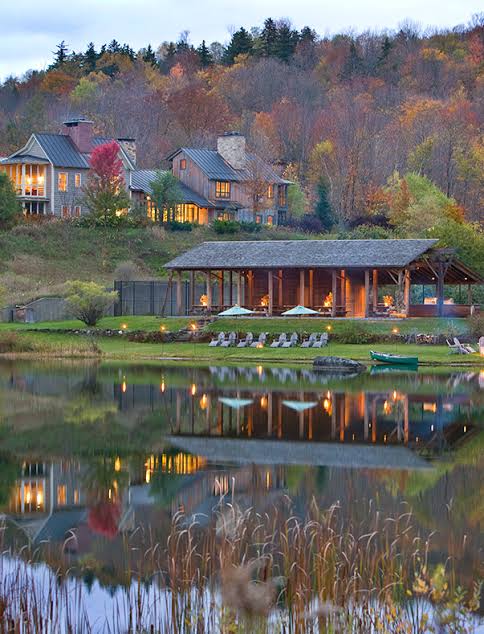 Twin Farms is an exclusive and intimate all-inclusive resort in Barnard. Nestled amidst 300 acres of lush Vermont countryside, the resort offers only 20 individually designed accommodations, providing a sense of seclusion and personalized attention.
Guests can enjoy farm-to-table cuisine, a world-class wine cellar, and various outdoor activities such as hiking, fishing, and skiing. Twin Farms is the epitome of luxury and privacy, making it perfect for honeymooners and those seeking a romantic escape.
#8. The Pitcher Inn – Warren
Situated in the quaint village of Warren, The Pitcher Inn is a charming and intimate boutique inn with an artistic flair. Each room at the inn has its unique theme and decor, creating a cozy and inviting ambiance.
Guests can savor exceptional farm-to-table cuisine at the inn's renowned restaurant and explore the nearby Sugarbush Resort for skiing and other outdoor activities. The Pitcher Inn offers a blend of luxury and New England charm, making it a delightful choice for a romantic getaway.
#9. The Essex Resort & Spa – Essex
Conveniently located near Burlington and nestled in the Champlain Valley, The Essex Resort & Spa offers a blend of modern amenities and rustic charm. The resort features well-appointed rooms, culinary classes at the Cook Academy, and a full-service spa for ultimate relaxation.
Guests can explore the nearby Shelburne Museum, Lake Champlain, and the picturesque town of Essex. Whether you're a foodie, art enthusiast, or nature lover, The Essex Resort & Spa caters to various interests.
#10. The Reluctant Panther Inn & Restaurant – Manchester

Set in the charming town of Manchester, The Reluctant Panther Inn & Restaurant exudes elegance and sophistication. This boutique inn boasts luxurious rooms and suites, each uniquely designed to provide a memorable experience.
Guests can savor gourmet meals at the renowned on-site restaurant, which focuses on using local and seasonal ingredients. The surrounding town offers a variety of boutique shops, art galleries, and cultural attractions, providing plenty of activities for a memorable stay.
#11. Kimpton Taconic Hotel – Manchester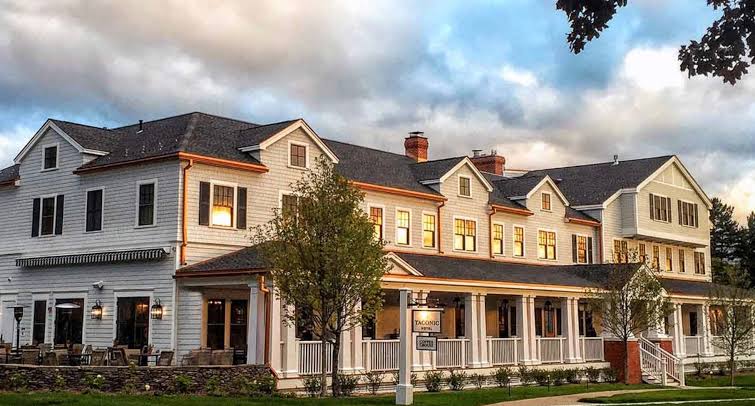 Nestled in the scenic town of Manchester, the Kimpton Taconic Hotel exudes elegance and sophistication. This boutique hotel offers modern amenities and rustic charm, making it an ideal destination for leisure and business travelers.
Guests can choose from well-appointed rooms and suites, each thoughtfully designed with comfort in mind. The hotel boasts a range of on-site facilities, including a farm-to-table restaurant serving delicious Vermont cuisine, a cozy lounge with a fireplace, a fitness center, and an outdoor pool.
The Kimpton Taconic Hotel's location also makes it a convenient base for exploring nearby attractions, including Equinox Mountain and the Hildene Estate.
#12. The Lodge at Spruce Peak – Stowe
Nestled at the base of Mount Mansfield, the Lodge at Spruce Peak is a luxurious alpine resort offering a seamless blend of modern amenities and Vermont's rustic charm. This ski-in/ski-out lodge is a haven for outdoor enthusiasts, especially during winter.
The spacious and well-appointed rooms and suites feature stunning mountain views, and the resort offers a variety of dining options, ranging from casual eateries to upscale restaurants.
Guests can enjoy amenities such as a heated outdoor pool, a spa, a golf course, and fitness facilities. During the summer, activities like hiking, mountain biking, and zip-lining abound, making it an all-season destination.
#13. The Hermitage Club – Wilmington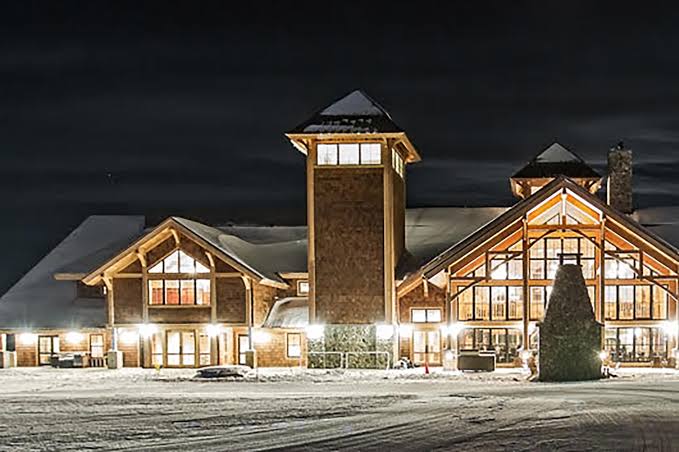 Situated in the quaint town of Wilmington, The Hermitage Club is a private, upscale retreat offering exclusivity and luxury. The resort caters to those seeking a refined experience with access to excellent skiing during the winter months and a wide array of outdoor activities during the warmer seasons.
The accommodations include elegant rooms, suites, and spacious private homes, perfect for families or groups. Besides skiing and snowboarding, guests can enjoy amenities like a golf course, a fitness center, a spa, and fine dining options.
#14. The Inn at Shelburne Farms – Shelburne
Located on the shores of Lake Champlain, The Inn at Shelburne Farms offers a unique and memorable stay in a historic setting. The inn is part of a stunning 1,400-acre working farm and National Historic Landmark, providing guests with a taste of Vermont's agricultural heritage.
The rooms and suites are elegantly furnished, featuring antique decor and breathtaking lake or garden views. Guests can explore the farm, visit the cheese-making facilities, and even participate in farm activities. The Inn at Shelburne Farms also focuses on sustainability and locally-sourced ingredients, which enhances the farm-to-table dining experience.
#15. Rabbit Hill Inn – Lower Waterford
The Rabbit Hill Inn in Lower Waterford is a top-notch choice for travelers seeking a cozy and intimate escape and one of the best places to stay in Vermont. This charming bed and breakfast inn offers well-appointed rooms and suites with elegant furnishings and thoughtful touches. 
The innkeepers provide exceptional hospitality, making guests feel welcome and cared for.
Enjoy gourmet breakfasts and delightful dinners at the inn's restaurant, showcasing the best of Vermont's local produce and culinary traditions. The surrounding area offers opportunities for outdoor activities, including hiking, biking, and exploring picturesque villages.
#16. Phineas Swann Bed and Breakfast Inn – Montgomery Center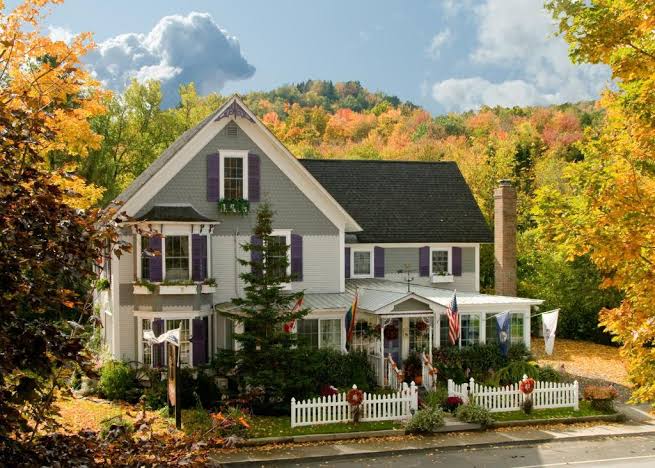 Nestled in the heart of Montgomery Center, the Phineas Swann Bed and Breakfast Inn is a delightful escape for those seeking a tranquil and romantic getaway.
This cozy inn offers individually decorated rooms and suites with modern amenities and charming touches. Guests can relax in the inn's garden, soak in the outdoor hot tub, or unwind by the fireplace in the common areas.
The innkeepers go above and beyond to ensure guests have a wonderful stay, offering individual service and insider information on area activities. The surrounding area offers opportunities for outdoor activities, including skiing, snowshoeing, and hiking.
You can also check out – 20 Best Cities For Tech Jobs In The World In 2023 | With Photos
How to Find The Best Places To Stay in Vermont
Finding the best places to stay in Vermont can greatly enhance your travel experience. Vermont is a beautiful state known for its scenic landscapes, charming towns, and outdoor activities. To help you find the perfect accommodation, here are six ways to discover the best places to stay in Vermont:
#1. Research Online Reviews and Websites
Start your search by reading online reviews and visiting websites specializing in travel and accommodation. Websites like TripAdvisor, Booking.com, and Airbnb can provide valuable insights from previous guests, allowing you to gauge the quality and suitability of various lodging options.
Look for accommodations with consistently positive reviews and consider the aspects that matter most to you, such as location, amenities, and customer service.
#2. Seek Recommendations from Friends and Family
Contact friends, family, or colleagues who have visited Vermont and ask for their recommendations on the best places to stay. Personal experiences and insights can be invaluable in finding hidden gems or lesser-known accommodations that might not be prominently featured in online searches.
#3. Utilize Local Tourism Websites and Resources
Check the official tourism websites for Vermont or the specific region you plan to visit. These websites often provide lists of recommended accommodations, including hotels, inns, bed and breakfasts, and vacation rentals. The local tourism authorities can offer helpful advice tailored to your interests and preferences.
#4. Consider the Location
Think about the places and attractions you want to visit in Vermont. If you're interested in exploring the Green Mountains, you might prefer staying in charming mountain lodges or ski resorts.
For a more laid-back experience, consider accommodations near lakes or in picturesque small towns. Ensure your chosen lodging is conveniently located to maximize your enjoyment of your planned activities.
#5. Check for Special Offers and Deals
Watch for special offers, discounts, and deals from various accommodation providers. Sometimes, hotels or vacation rentals may offer promotions during specific seasons or events, allowing you to get better value for your money. Signing up for newsletters or following the social media accounts of hotels and inns can keep you updated on any promotions they might have.
#6. Contact the Accommodations Directly
Once you have shortlisted a few potential places to stay, consider contacting them directly. Speak with their staff, ask any questions you may have, and inquire about additional services or amenities they offer. Sometimes, a direct conversation can provide a better sense of the property's personality and whether it aligns with your preferences.
You might find this interesting – 20 Most Modern Cities In The World In 2023 | With Photos
Challenges of Staying in Vermont
Despite the state's picturesque landscapes and small-town charm, staying in Vermont presents unique challenges. Firstly, Vermont's harsh winters can be a major hurdle for residents. Snowfall and icy conditions often result in difficult commutes, property damage, and higher heating costs, testing the resilience of its inhabitants.
Secondly, the state's rural nature can lead to limited access to essential services, including healthcare and education, particularly in remote areas. This can be particularly problematic for older people or those with specialized medical needs.
Additionally, Vermont's job market may not offer as many opportunities as more urbanized states, leading to a potential brain drain of young talent seeking better prospects elsewhere.
Moreover, the high cost of living, especially in popular tourist destinations, can strain household budgets, making it challenging for some families to make ends meet.
Despite these challenges, many Vermonters find the state's natural beauty, tight-knit communities, and slower pace of life make it a worthwhile and fulfilling place to call home.
Also check out – 20 Most Luxurious Cities In The World In 2023 | With Photos
Tips For Staying in Vermont
Vermont, also known as the Green Mountain State, is a picturesque destination with its stunning landscapes, charming small towns, and outdoor recreational opportunities. Whether you're planning a vacation or considering moving to Vermont, here are some tips to make the most of your stay:
#1. Embrace the Seasons
Vermont experiences four distinct seasons, each offering unique activities and scenery. In the winter, you can enjoy skiing and snowboarding in renowned resorts like Stowe and Killington. In the spring and summer, explore the hiking trails, kayaking in the lakes, or take scenic drives to enjoy the blooming nature. Autumn is particularly famous for its vibrant foliage, attracting visitors from all over the world.
#2. Sample Local Cuisine
Vermont is known for its farm-to-table culinary scene. Don't miss the opportunity to try locally sourced foods, including Vermont cheddar cheese, maple syrup, artisanal bread, and craft beer. Visit farmers' markets and local restaurants to savor the authentic flavors of the state.
#3. Visit the Quaint Towns
Vermont's small towns exude a unique charm. Explore places like Burlington, Montpelier, Woodstock, Manchester, and Middlebury. These towns often have historic architecture, cozy cafes, boutique shops, and friendly locals willing to share their stories.
#4. Enjoy Outdoor Activities
Vermont is a paradise for outdoor enthusiasts. Go hiking in the Green Mountains, bike along the scenic trails, or paddle in the many lakes and rivers. During winter, indulge in skiing, snowshoeing, and snowmobiling adventures.
#5. Attend Festivals and Events
Vermont hosts various festivals and events throughout the year. Whether it's a maple festival, craft fair, or music concert, these gatherings offer a fantastic way to experience the local culture and community.
#6. Experience the Arts
Vermont has a thriving arts and crafts scene. Visit galleries, studios, and craft centers to discover the work of talented local artists. Attend live performances at theaters and music venues to enjoy the state's creative offerings.
#7. Respect Nature and Wildlife
Vermont's natural beauty is a treasure, so remember to leave no trace while exploring the outdoors. Follow hiking and camping guidelines, and be mindful of the wildlife you encounter.
#8. Be Prepared for Weather Changes
Vermont weather can be unpredictable, especially in the mountains. Pack layers of clothing to accommodate temperature changes throughout the day, and always be prepared for rain or snow.
#9. Engage with the Community
Vermonters are known for their welcoming and friendly nature. Strike up conversations with locals to learn more about the area and discover hidden gems you might not find in tourist guides.
#10. Slow Down and Relax
Vermont's tranquil environment provides an excellent opportunity to slow down and enjoy life's simple pleasures. Stroll, sit by a lake or relax with a good book on a porch.
Don't forget to check out – 20 Most Underrated Cities In The World In 2023 | With Photos
Frequently Asked Questions
What are some popular areas to stay in Vermont?
Vermont offers a diverse range of regions for accommodations. Some popular areas include Burlington, Stowe, Manchester, Woodstock, and the Mad River Valley.
When is the best time to visit Vermont for optimal accommodation options?
Vermont welcomes visitors year-round, but the summer and fall seasons are popular for tourists. To avoid crowds and find better accommodation options, consider visiting during the spring or early winter.
Are there any unique accommodations to consider in Vermont?
Vermont offers several unique options, such as staying in converted barns, historic inns, or eco-friendly lodges for a distinctive experience.
Conclusion
Vermont has many wonderful attractions, each with distinct charm and allure. Whether you're looking for the quaint charm of a historic bed & breakfast in Burlington, the calm tranquility of a cabin set among the Green Mountains, or the lavish comfort of a resort in Stowe, Vermont, has something for everyone.
Accept Vermont's warm friendliness, relish its exquisite farm-to-table cuisine, and immerse yourself in the state's spectacular natural splendor. The top places to stay in Vermont promise amazing experiences that will leave guests with fond memories and a desire to return for more.
Reference