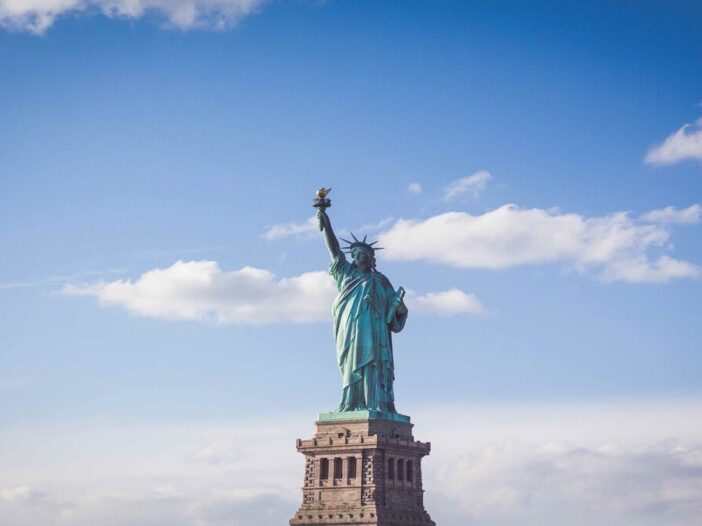 As the vibrant blooms of spring cover the American landscape in a tapestry of colors, May is the perfect time for an unforgettable vacation in the United States. With winter's chill waning and summer's heat yet to take hold, this blissful month provides an idyllic window of opportunity to explore the country's most breathtaking destinations. Whether you are an avid nature enthusiast, a history buff, a food lover, or a seeker of unique experiences, there are several great places to visit in the USA in May that will surely leave an indelible mark on your heart.
Join us as we traverse the West Coast's sun-kissed beaches, the Pacific Northwest's lush forests, the East Coast's captivating historical sites, and the heartland's picturesque landscapes. During Spring, the country's diverse landscapes and rich cultural tapestry come alive from coast to coast, offering many awe-inspiring experiences. In this carefully curated list, we unveil 32 of the best places to visit in May in the USA. Whether you're seeking a thrilling outdoor adventure or a leisurely retreat amidst stunning scenery, there's something here for every taste.
Is May a Good Month to Visit the United States?
May can be a great time to visit the USA as the country transitions from spring to summer, offering pleasant weather and diverse activities. One of the main advantages of visiting in May is that many popular tourist destinations are less crowded compared to the peak summer months.
In the northern states, such as New York and Washington D.C., May brings mild temperatures, making it an excellent time for sightseeing and exploring outdoor attractions like Central Park or the National Mall. In the southern states, like Florida and California, May offers comfortable weather for enjoying beautiful beaches and outdoor activities.
May also marks the start of the festival season in the USA. From Cinco de Mayo celebrations to Memorial Day weekend, there are various cultural and historical events to immerse yourself in.
However, it's essential to be mindful of weather variations nationwide. May is also the beginning of tornado season in the Midwest and hurricane season in the Southeast. It's advisable to stay informed about weather forecasts and take necessary precautions if visiting these regions.
Overall, May can be an excellent time to visit the USA, with pleasant weather, fewer crowds, and exciting cultural events. Just be aware of the regional weather patterns and plan accordingly for a memorable trip.
Check out – 21 Best Cities to Visit in Africa in 2023 | Complete Guide
Top 32 Best Places to Visit In May In The USA
May is a fantastic time to explore various destinations in the USA, with pleasant weather and a wide range of activities to enjoy. Let's dive into some of the best places to visit in May in the USA:
#1. New York City, New York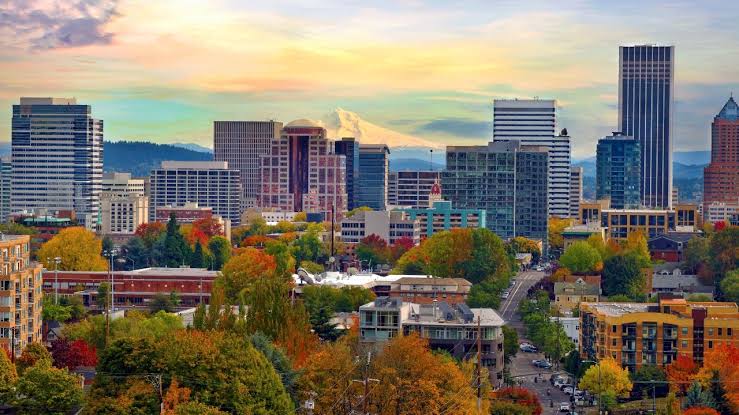 New York City comes alive in May with vibrant energy and pleasant weather. Central Park is a must-visit, where you can enjoy picnics, boating, and strolls among lush greenery.
Explore iconic landmarks like the Statue of Liberty, the Empire State Building, and Times Square. Catch a Broadway show or visit numerous museums like the Metropolitan Museum of Art and the Museum of Modern Art.
#2. San Francisco, California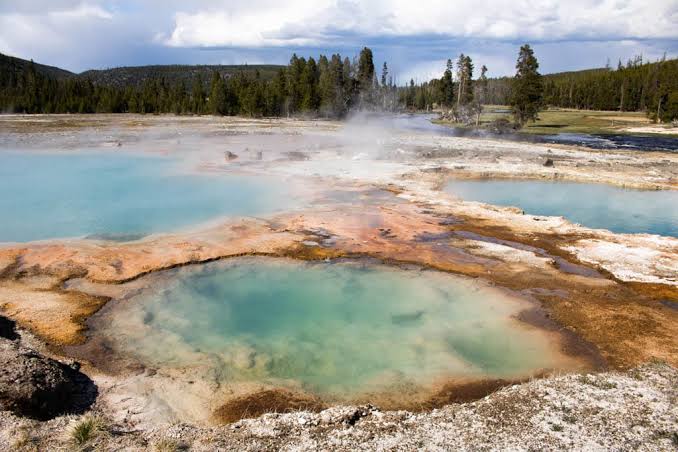 May is an ideal time to visit San Francisco when the weather is mild, and the city is blooming with colorful flowers. Walk or bike across the Golden Gate Bridge, visit Alcatraz Island, and explore Fisherman's Wharf. Don't forget to sample the diverse culinary scene and ride the iconic cable cars.
#3. Washington, D.C.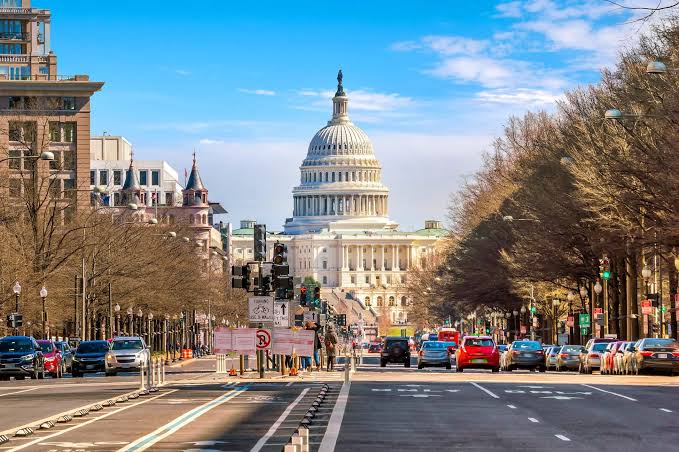 Spring brings an enchanting atmosphere to the nation's capital, making it a perfect time to explore. The National Cherry Blossom Festival usually occurs in March or April, but its impact lingers into early May. Visit the iconic monuments and memorials, including the Lincoln Memorial and the Washington Monument. The Smithsonian Museums offer enriching experiences for history and culture enthusiasts.
#4. Charleston, South Carolina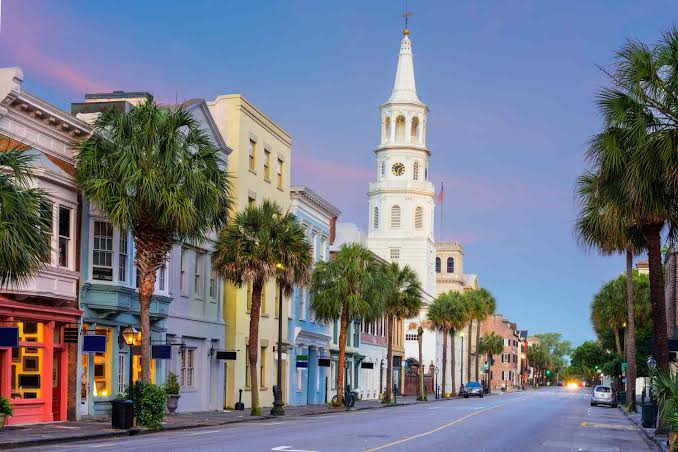 May offers mild temperatures and fewer crowds in Charleston. Stroll through the historic streets, admire the pastel-colored buildings, and visit plantations like Magnolia Plantation & Gardens. Visit Fort Sumter and the Charleston Museum to learn more about the city's rich history. The city's culinary scene is a treat for food lovers.
#5. Napa Valley, California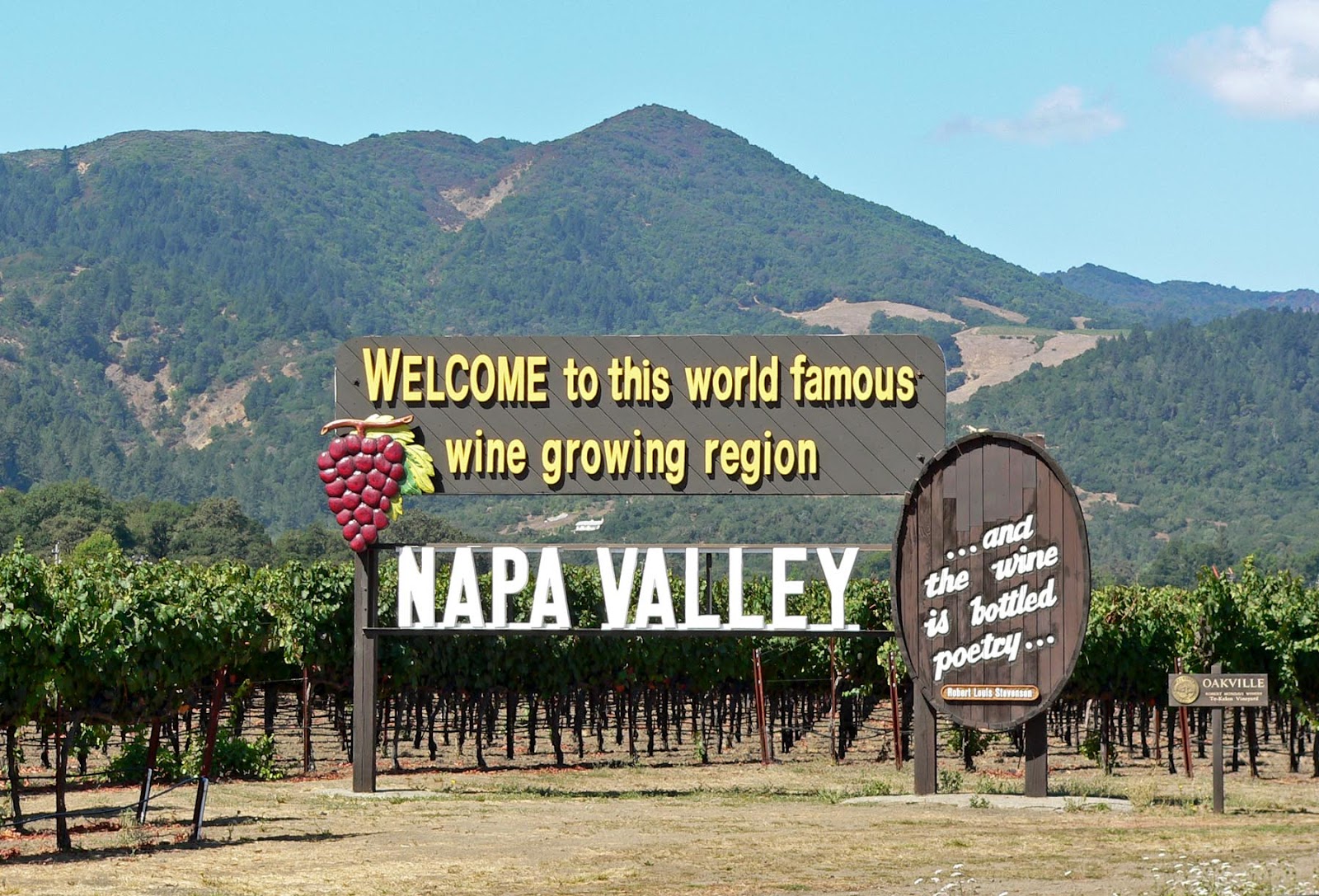 May is an excellent time to experience Napa Valley's stunning vineyards and wineries. The weather is pleasant, and the grapevines are lush and vibrant. Enjoy wine tastings, vineyard tours, and hot air balloon rides for breathtaking views of the valley.
#6. Sedona, Arizona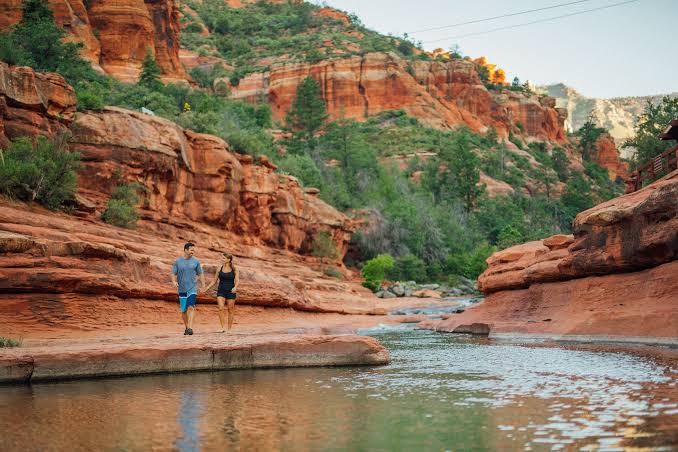 May offers comfortable weather in Sedona, making it an ideal time to explore its mesmerizing red rock formations and scenic beauty. Hike through the stunning trails of Red Rock State Park or take a Jeep tour for a unique experience. Don't miss the opportunity to experience the spiritual side of Sedona with its vortex sites and healing practices.
#7. Key West, Florida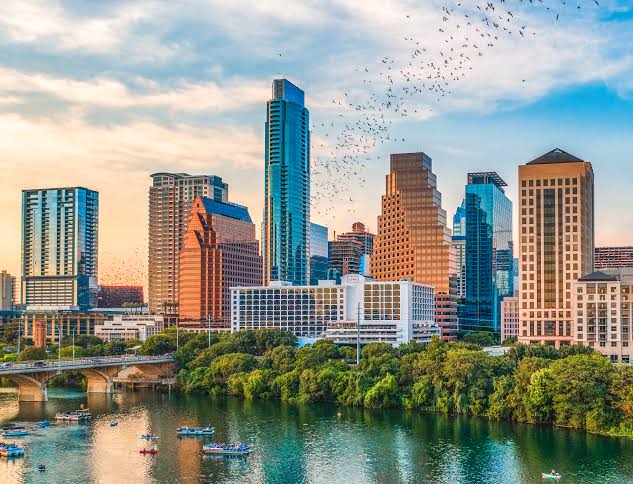 May is the shoulder season in Key West, making it a great time to visit before the summer crowds arrive. Enjoy the beautiful beaches, participate in water activities like snorkeling and fishing, and witness magical sunsets at Mallory Square. Explore the vibrant nightlife on Duval Street and savor fresh seafood at local restaurants.
#8. Portland, Oregon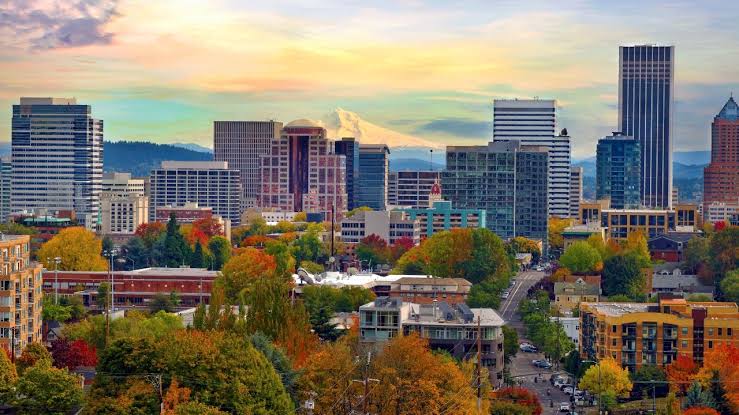 May brings mild weather and blooming flowers to Portland. Embrace the city's eco-friendly vibe and visit the International Rose Test Garden, Powell's City of Books, and the Portland Japanese Garden. Food enthusiasts will love exploring the city's diverse food cart scene and craft breweries.
#9. Asheville, North Carolina
May in Asheville offers pleasant temperatures and the opportunity to explore the stunning Blue Ridge Mountains. Visit the Biltmore Estate, a grand mansion surrounded by beautiful gardens and wineries. Hike along the Blue Ridge Parkway and discover waterfalls in the Pisgah National Forest.
#10. Santa Fe, New Mexico
Next on our list of the best places to visit in May in the USA is Santa Fe. May is a wonderful time to visit Santa Fe when the city's arts and culture scene is in full swing. Explore the historic Plaza, visit art galleries and museums, and enjoy the unique adobe architecture. Don't miss the chance to savor the city's delicious Southwestern cuisine.
#11. Maui, Hawaii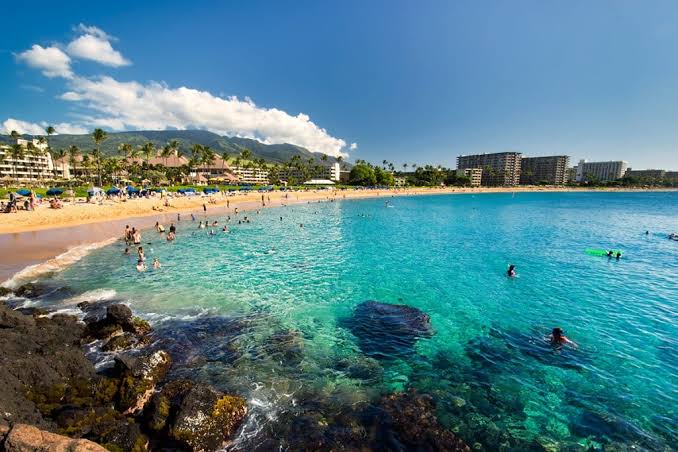 May offers great weather and fewer tourists on Maui. Explore the stunning beaches, snorkel at Molokini Crater, and experience the sunrise at Haleakal National Park. Enjoy water activities like surfing and stand-up paddleboarding and immerse yourself in the island's laid-back vibe.
#12. Austin, Texas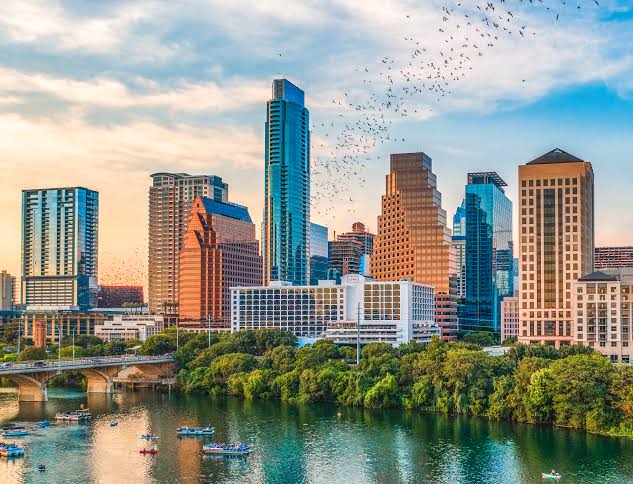 May in Austin brings pleasant weather, making it an ideal time for outdoor activities. Explore the city's vibrant music scene, visit the Texas State Capitol, and dip in the Barton Springs Pool. Enjoy the city's food truck culture and attend events like Austin City Limits Music Festival.
#13. Savannah, Georgia
May provides a pleasant climate in Savannah, allowing visitors to explore its historic charm comfortably. Stroll through the picturesque squares, visit the stunning Forsyth Park, and discover the city's haunted history through ghost tours. Don't forget to indulge in Savannah's renowned Southern cuisine.
#14. Lake Tahoe, California/Nevada
Lake Tahoe is a stunning freshwater lake located on the border of California and Nevada. The surrounding areas come alive in May with lush greenery and blooming wildflowers. Visitors can enjoy hiking, biking, or horseback riding along the picturesque trails. The lake offers water sports like kayaking, paddle boarding, and boating, perfect for those seeking outdoor adventures.
#15. Cape Cod, Massachusetts
May marks the beginning of the tourist season on Cape Cod. The weather is pleasant, and the charming coastal towns start bustling with activity. You can explore the beautiful beaches, visit the Cape Cod National Seashore, and indulge in fresh seafood at local restaurants. Whale-watching tours are also popular during this time, offering opportunities to see majestic marine creatures up close.
#16. San Diego, California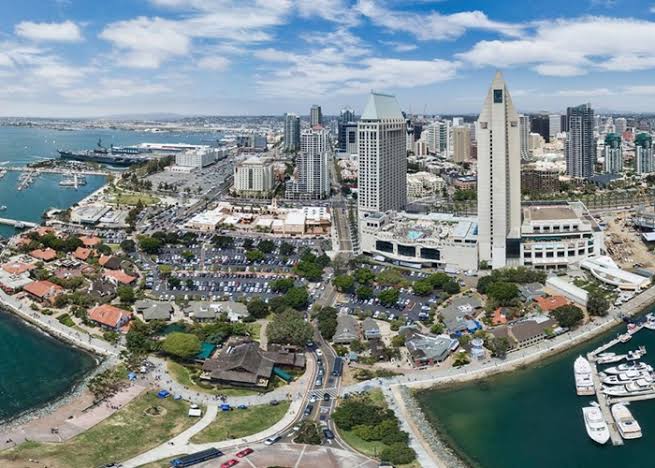 San Diego boasts a delightful Mediterranean climate in May, making it an ideal destination for travelers seeking warm weather and sunshine. The city offers many attractions, including the world-famous San Diego Zoo, Balboa Park, and stunning beaches like Coronado and La Jolla. The city's cultural scene and diverse culinary options add to the overall charm of the visit.
#17. Chicago, Illinois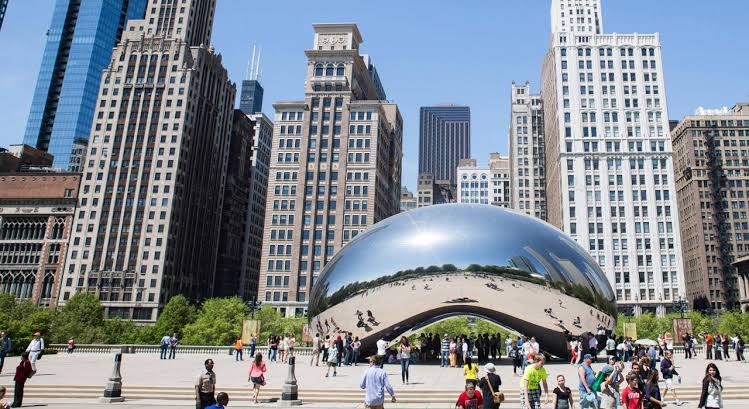 May is an excellent time to visit Chicago as the city's parks and gardens burst into bloom. Millennium Park and the Chicago Botanic Garden are must-visit spots for nature enthusiasts. The iconic Navy Pier offers a vibrant atmosphere with entertainment, dining, and stunning views of Lake Michigan. Don't forget to explore the city's renowned architecture and indulge in the famous deep-dish pizza!
#18. Nashville, Tennessee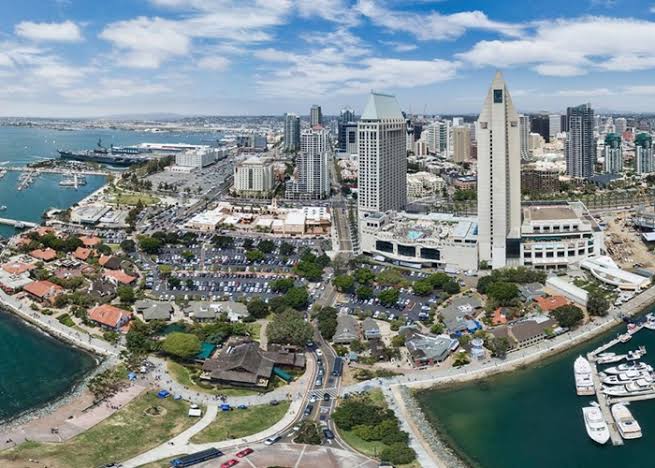 Known as the Music City, Nashville is a top destination for music lovers and history enthusiasts. The city experiences pleasant weather in May, perfect for strolling down Broadway, enjoying live music performances, and exploring the famous Ryman Auditorium. Don't miss the chance to experience Nashville's rich musical heritage and vibrant nightlife.
#19. Seattle, Washington
May is an excellent time to visit Seattle, with mild temperatures and less rainfall. The city's iconic Space Needle offers panoramic views of the surrounding area, including Mount Rainier. Explore Pike Place Market, enjoy coffee from the city's renowned cafes, and take a ferry ride to the nearby islands for a unique experience.
#20. Yosemite National Park, California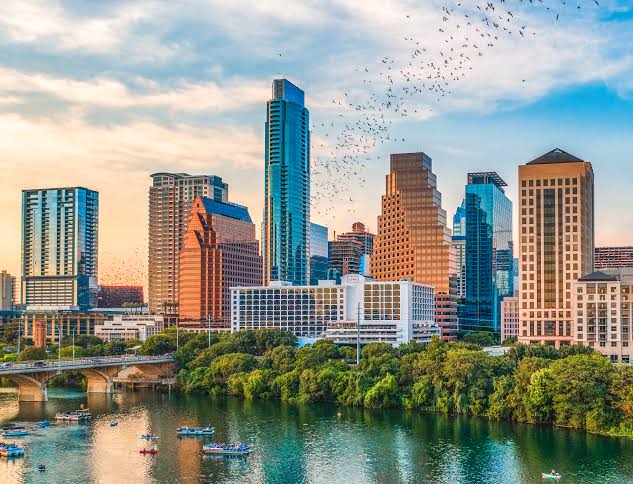 In May, Yosemite National Park begins to thaw from winter, and the waterfalls are at their peak flow, creating breathtaking vistas. The park's hiking trails open up, allowing visitors to explore the stunning landscapes, granite cliffs, and ancient sequoia trees. Witness the iconic Half Dome and El Capitan for an unforgettable outdoor adventure.
#21. Miami, Florida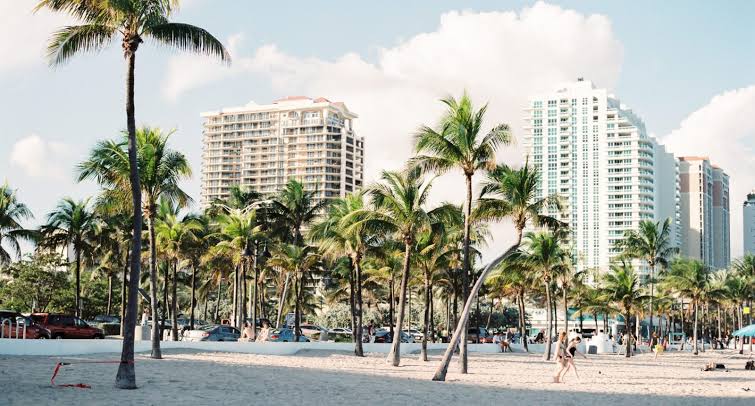 May is a great time to visit Miami before the peak of the summer heat sets in. Enjoy the city's vibrant nightlife, beautiful beaches, and diverse cultural scene. Explore the iconic Art Deco architecture in South Beach, indulge in delicious Latin American cuisine, and stroll through the lively neighborhoods of Little Havana and Wynwood.
#22. Denver, Colorado
May offers a perfect balance of mild weather and fewer crowds in Denver. The city provides access to many outdoor activities, including hiking in the Rocky Mountains, exploring the Denver Botanic Gardens, and enjoying the local craft beer scene. The city's cultural attractions and museums also offer enriching experiences.
#23. Boston, Massachusetts
In May, Boston comes alive with spring colors, and blooming gardens and trees enhance the city's historical charm. Walk along the Freedom Trail to explore the city's rich history, visit the famous Harvard University, and enjoy a relaxing boat ride in the Charles River. The city's culinary scene and diverse neighborhoods offer a delightful experience for all visitors.
#24. Grand Canyon, Arizona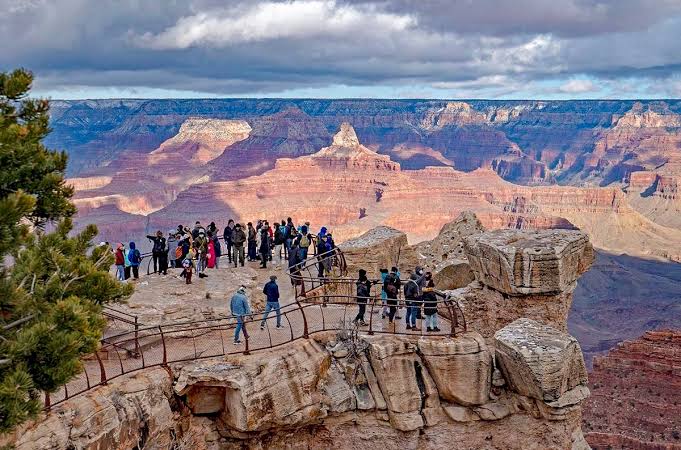 The Grand Canyon is one of the world's most famous natural wonders and a must-see in May. The weather during this time is pleasant, with warm days and cool nights, making it perfect for outdoor activities like hiking, camping, and sightseeing.
You can explore the South Rim for breathtaking panoramic views or venture to the less crowded North Rim for a more serene experience. Don't miss out on watching the sunrise or sunset over the canyon for a truly unforgettable moment.
#25. New Orleans, Louisiana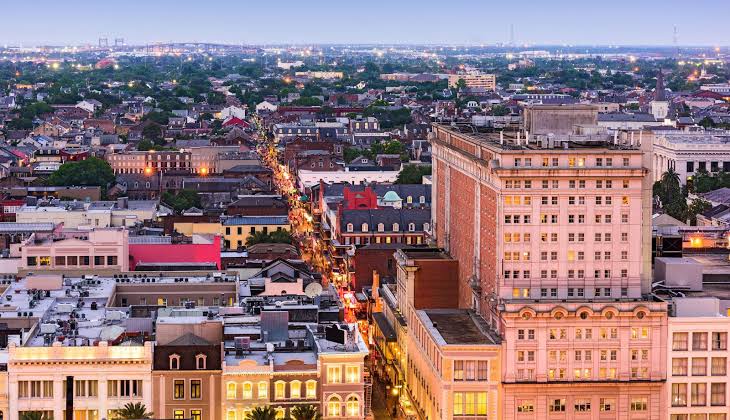 May is an excellent time to visit New Orleans, as the city celebrates its vibrant culture and traditions during the New Orleans Jazz & Heritage Festival, also known as Jazz Fest. This music and cultural extravaganza attracts thousands of visitors from around the world.
Enjoy the lively atmosphere, indulge in delicious Creole cuisine, and immerse yourself in the unique music scene that defines the city. Don't forget to explore the historic French Quarter, take a riverboat cruise on the Mississippi River, and experience the lively nightlife.
#26. Yellowstone National Park, Wyoming/Montana/Idaho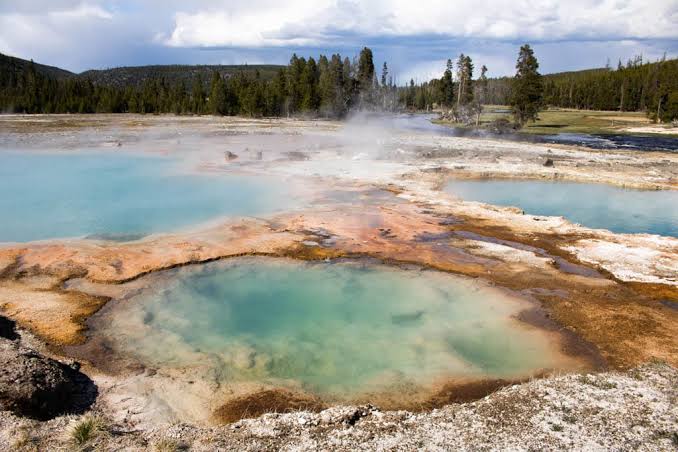 May marks the beginning of the tourist season at Yellowstone National Park. The park starts to thaw, and wildlife becomes more active. This is a fantastic time to witness the park's breathtaking geysers, hot springs, and wildlife, including bears, wolves, bison, and elk.
With fewer crowds compared to the peak summer months, you can enjoy a more tranquil experience while exploring the vast wilderness of Yellowstone.
#27. Las Vegas, Nevada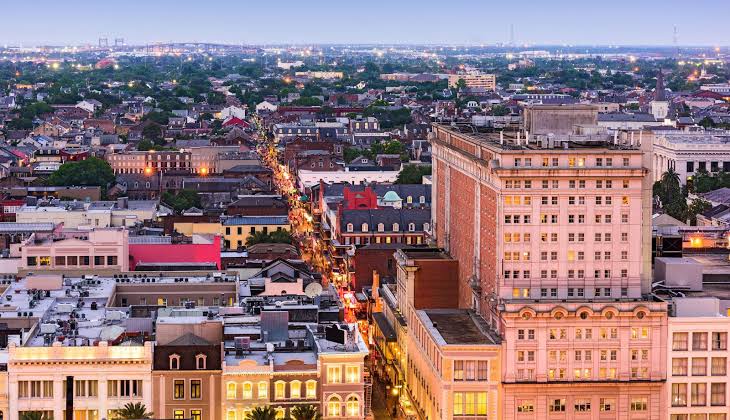 May in Las Vegas offers comfortable temperatures, making it an ideal time to explore the famous Las Vegas Strip and indulge in various entertainment options. From world-class shows and concerts to luxurious resorts and casinos, Las Vegas has something for everyone.
If you prefer a break from the glitz and glamor, consider exploring nearby attractions like the Hoover Dam or a day trip to the stunning Red Rock Canyon National Conservation Area.
#28. Philadelphia, Pennsylvania
Philadelphia, the birthplace of America, is rich in history and culture. In May, the city comes alive with various events and festivals. You can visit Independence National Historical Park, where you'll find the Liberty Bell and Independence Hall.
Stroll through charming neighborhoods like Old City and Society Hill, where you can admire historic architecture and try famous Philly cheesesteaks. Don't miss the vibrant art scene and the many museums, such as the Philadelphia Museum of Art and the Barnes Foundation.
#29. Outer Banks, North Carolina
The Outer Banks, a string of barrier islands off the coast of North Carolina, offers a relaxing beach vacation in May. Enjoy the warm weather, uncrowded beaches, and various water activities like fishing, kayaking, and surfing.
Explore the historic lighthouses, such as Cape Hatteras Lighthouse, and visit the Wright Brothers National Memorial, commemorating the first powered flight by the Wright brothers in 1903.
#30. Zion National Park, Utah
May is a fantastic time to visit Zion National Park before the scorching summer heat arrives. The park's diverse landscapes, including deep canyons, towering cliffs, and lush vegetation, are a hiker's paradise.
Some popular hikes include Angel's Landing and The Narrows, where you can wade through the Virgin River surrounded by towering canyon walls. The stunning beauty of Zion is truly awe-inspiring.
#31. Myrtle Beach, South Carolina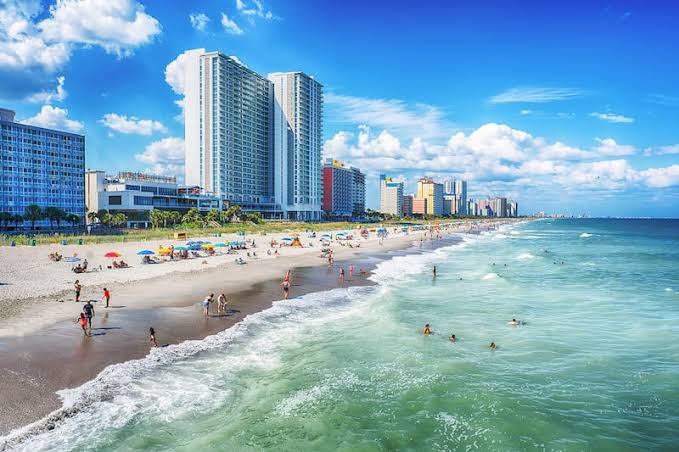 Myrtle Beach is a popular beach destination in May, offering warm weather and many tourist attractions. Enjoy the sandy shores, swim in the Atlantic Ocean, or try water sports like parasailing and jet skiing.
Myrtle Beach also boasts numerous golf courses, shopping centers, amusement parks, and live entertainment options, making it a perfect family-friendly vacation spot.
#32. Big Sur, California
May is an excellent time to explore the rugged beauty of Big Sur along California's Highway 1. The region is known for its stunning coastline, dramatic cliffs, and redwood forests.
Take breathtaking views from Bixby Creek Bridge, hike in Julia Pfeiffer Burns State Park to see McWay Falls, or visit Pfeiffer Big Sur State Park for scenic trails and camping. The tranquil atmosphere of Big Sur is perfect for a peaceful retreat and connecting with nature.
Take some time to read: 21 Best Places To Stay in Moab in 2023 | Moab Neighborhood Guide
How to Pick The Best Destinations
With so many options to choose from, picking the perfect destination can be a daunting task. Luckily, we've got you covered. Here are some tips to help you choose the best places to visit in May in the USA:
#1. Check the Weather Forecast
Before you make any plans, it's important to check the weather forecast for the places you're considering. Some destinations, like Miami, are known for their warm, sunny weather in May. Other destinations, like Seattle, can be a bit more unpredictable. Knowing what weather to expect will help you choose a destination that suits your preferences.
#2. Look for Festivals and Events
May is a month full of festivals and events across the country. There's something for everyone, from the Kentucky Derby to the Memorial Day weekend celebrations. Look for events that interest you and choose a destination based on those. For example, if you're a fan of live music, you might consider a trip to Nashville, known for its vibrant music scene.
#3. Consider Outdoor Activities
May is a great time to enjoy outdoor activities like hiking, camping, and water sports. Look for destinations that offer these activities and choose a location that suits your interests. For example, if you're a fan of hiking, you might consider a trip to Yosemite National Park.
#4. Check Your Budget
Your budget will play a big role in determining where you can travel in May. Look for destinations that fit your budget and offer your desired activities and amenities. A wonderful trip does not have to be expensive.
#5. Ask for Recommendations
Don't be afraid to seek referrals from friends, family, and coworkers. They may have been to some great places that you've never considered. Plus, they can give you insider tips and tricks you might not find online.
With these tips in mind, you will surely find the perfect destination for your May vacation. Whether you're looking for sunny beaches, lively festivals, or outdoor adventures, there's something out there. So start planning and get ready for a fantastic getaway.
You might find this interesting: 20 Cities With The Hottest Guys In The World In 2023 | With Photos
Challenges of Visiting the USA in May
The USA is a diverse and beautiful country that attracts visitors worldwide throughout the year. May is one of the best times to visit the United States with its perfect weather, festivals, and beautiful outdoor activities. However, visiting the country in May comes with its own set of challenges. Here are some challenges travelers face when visiting the USA in May:
#1. Weather
The USA has various climates, making it challenging to plan your wardrobe for your trip. The weather can be unpredictable in May, ranging from chilly days in some areas to hot and humid days in others. Pack versatile clothing and check the weather forecast for travel dates to combat this.
#2. Crowds
May is one of the busiest times to visit the United States due to the school holidays, long weekends, and festivals. Not just international travelers flood the country, but locals use this time to explore their backyards. To avoid crowds, consider traveling during weekdays and avoiding popular weekend destinations. Plan and book accommodation, tours, and tickets in advance.
#3. Festivals
May is festival season in the USA. You will find many events that showcase local culture, music, and food. While festivals can be exciting, they also attract crowds and can cause road closures and traffic congestion. If you're attending a festival, arrive early to secure a parking spot and pack sunscreen and plenty of water.
#4. Transportation
Transportation can be another challenge for visitors to the USA in May. With so many people traveling during the month, flights and rental cars can be expensive. Public transportation can also be overcrowded and challenging to navigate, especially if unfamiliar with the area.
Consider using ride-sharing services such as Uber or Lyft to move around. They are typically cheaper than traditional taxis, and you don't have to worry about parking.
You can also check out – 20 Cities With Highest UV Index In The World In 2023 | With Photos
Frequently Asked Questions
What makes these places ideal to visit in May?
May is a great month to visit these destinations because the weather is mild, and the crowds are usually smaller than in peak season. Additionally, many outdoor attractions, such as national parks and beaches, start to open for the season in May.
Are there any events or festivals to attend in May?
Yes, many events and festivals are happening in May in the USA. For example, the National Memorial Day Parade in Washington, DC, the Napa Valley Wine Auction in California, and the Lilac Festival in Rochester, New York.
What activities can one engage in during May in these destinations?
There are many activities to enjoy in these destinations, including hiking, biking, swimming, sightseeing, shopping, and attending cultural events and festivals. For example, you can explore the hot springs and geysers in Yellowstone National Park, the beach in San Diego, or the Smithsonian museums in Washington, DC.
Conclusion
May in the United States has a wealth of captivating sites to explore. Travelers can enjoy the beauty of nature while immersing themselves in various cultural activities, from the lovely cherry blossoms in Washington, D.C., to the majestic landscape of the Grand Canyon.
The exuberant celebrations of New Orleans during Jazz Fest and the lovely coastal communities of Cape Cod bring back wonderful memories. Yellowstone National Park's awe-inspiring geysers and hiking opportunities lure adventurers.
May delivers many amazing experiences around the United States, whether a family trip or a solitary journey. We hope our guide to the best places to visit in May in the USA helps you plan an awesome vacation.
Reference