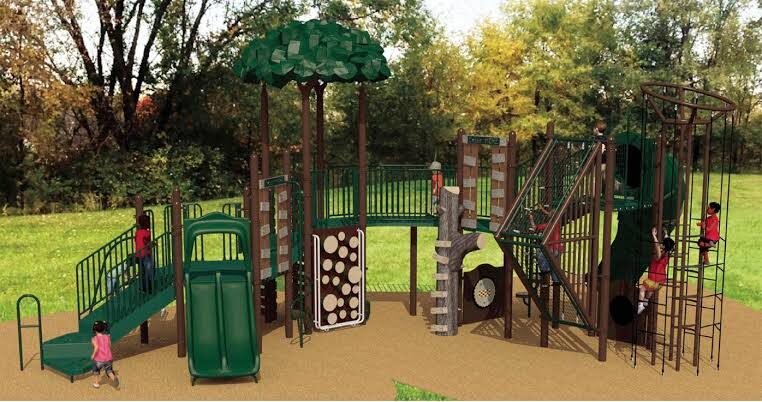 The Twin Cities, Minneapolis, and St. Paul are renowned for their vibrant culture, beautiful parks, and many family-friendly activities. Among the most beloved attractions are the delightful playgrounds that dot the cities, providing children with endless opportunities to play, explore, and create cherished memories. In 2023, the Twin Cities have taken their commitment to providing exceptional play spaces to new heights, captivating children and families alike with a diverse array of innovative and exciting playgrounds.
Whether you're a local looking for a new spot to take the kids or a visitor eager to explore the best the cities offer, we've compiled a comprehensive list of the best playgrounds in the Twin Cities that promise to unleash joy and adventure for young ones.
From towering slides that seem to reach the sky to whimsical themed play zones that transport young adventurers to far-off lands, these 21 best playgrounds in Twin Cities are a testament to the city's dedication to nurturing the boundless spirit of exploration.
Join us as we discover Twin Cities' best playgrounds, where laughter echoes and dreams take flight. So, grab your little ones' hands, and let's set forth on a quest to uncover the magic that awaits in the playgrounds of the Twin Cities.
What to Know About Twin Cities
The Twin Cities, referring to Minneapolis and St. Paul in Minnesota, USA, are vibrant and culturally rich metropolitan areas that offer a unique blend of modernity and history. Known for their friendly residents and stunning natural beauty, there are several key aspects to be aware of when exploring the Twin Cities.
First and foremost, the arts and cultural scene is thriving in both Minneapolis and St. Paul. Renowned for its theaters, galleries, and music venues, visitors can enjoy various performances, exhibitions, and festivals year-round. The iconic Guthrie Theater and the Walker Art Center are must-visit landmarks for art enthusiasts.
Secondly, the Twin Cities boast a wide range of outdoor recreational opportunities. With numerous lakes, parks, and trails, residents and tourists can indulge in activities such as hiking, biking, and boating. The Chain of Lakes and Minnehaha Regional Park are among the beloved recreational spots in the area.
Moreover, the Twin Cities' culinary landscape is diverse and constantly evolving. Those who love food can relish in a delightful assortment of restaurants, serving everything from traditional Midwestern fare to international cuisine, particularly in Eat Street and Grand Avenue neighborhoods.
Lastly, the region's weather can be a significant factor. Winters can be bitterly cold, so visitors should come prepared with appropriate clothing to enjoy all the seasons fully have to offer.
Overall, the Twin Cities is a dynamic and inviting destination, promising an enriching experience with its art, nature, and community.
You can also check out – 20 Most Educated Cities In The World In 2023 | With Photos
What Are The 21 Best Playgrounds in Twin Cities?
The Twin Cities area in Minnesota is known for its abundance of recreational spaces and family-friendly environments. Playgrounds allow children to socialize, exercise, and have fun outdoors.
Here are 21 of the best playgrounds in the Twin Cities, each offering unique features and amenities to enhance the overall experience for kids and their families.
The Twin Cities, comprising Minneapolis and St. Paul in Minnesota, are renowned for their beautiful parks and recreational spaces. Among the numerous family-friendly destinations in the area, the playgrounds stand out as some of the best places for children to enjoy outdoor fun and exercise. Let's take a closer look at each of the top 10 playgrounds in the Twin Cities:
#1. Como Park Playground – St. Paul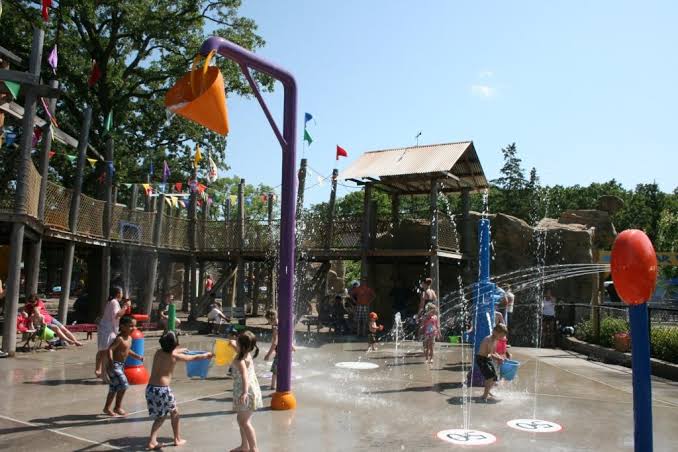 Como Park is a beloved destination for families in St. Paul. The playground here is a real gem, offering many activities for kids of all ages.
The playground features multiple play structures, including slides, climbing walls, and swings. It is well-maintained and surrounded by lush greenery, providing a picturesque setting for families to spend quality time together.
Additionally, Como Park boasts a nearby zoo, conservatory, and scenic lake, making it an all-in-one destination for a day of adventure and exploration.
#2. Minnehaha Regional Park Playground – Minneapolis
Minnehaha Regional Park is one of the most iconic parks in Minneapolis, and its playground lives up to the park's reputation. The playground offers breathtaking views and a sense of wonder alongside the picturesque Minnehaha Falls.
The play area is thoughtfully designed with imaginative structures, sandboxes, and natural elements that encourage creativity and active play. Families can enjoy a stroll around the park, picnic, and let the kids burn off energy at the playground.
#3. Hyland Lake Park Reserve Playground – Bloomington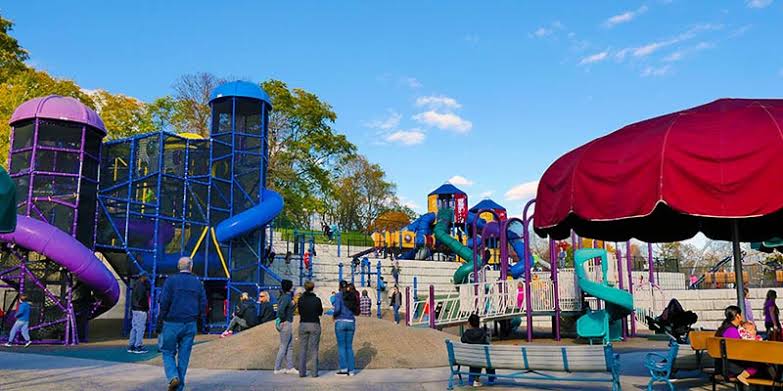 Hyland Lake Park Reserve is a true gem in Bloomington, featuring a fantastic playground that caters to various age groups.
The playground has innovative play structures, including climbing walls, interactive panels, and even a zipline, providing endless entertainment for adventurous kids.
What sets this playground apart is its proximity to beautiful Hyland Lake and the surrounding nature trails, making it an ideal spot for families who want to combine playtime with a scenic outdoor experience.
#4. Central Park – Maple Grove
Central Park in Maple Grove is a well-designed recreational space with an impressive playground. The playground's structures are creatively designed, with a strong focus on inclusivity and accessibility, making it a welcoming place for all children.
Parents will appreciate the shaded seating areas and the park's proximity to amenities like restrooms and a splash pad. The beautiful walking paths and open green spaces add to the park's charm, providing families with a great place to unwind and play.
#5. Battle Creek Regional Park Playground – St. Paul
Nestled within the vast Battle Creek Regional Park, this playground offers a delightful escape into nature. The playground features numerous play structures, swings, and slides, surrounded by towering trees and scenic landscapes.
Children can enjoy exploring the adjacent trails and experiencing the park's diverse wildlife. With picnic areas and ample space to run and play, Battle Creek Regional Park Playground is an ideal destination for outdoor enthusiasts.
#6. Todd Park – Eden Prairie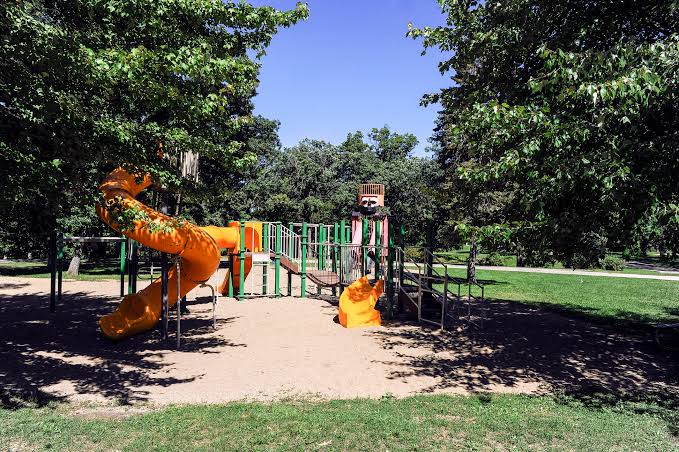 Thanks to its fantastic playground and other recreational facilities, Todd Park in Eden Prairie is a popular destination for families. The playground is well-maintained and designed to accommodate children of all ages.
The park includes separate play areas for younger and older kids, ensuring safe and age-appropriate play. Beyond the playground, families can take advantage of the park's amenities, such as sports fields, walking paths, and picnicking spots.
#7. Normandale Lake Park Playground – Bloomington
Normandale Lake Park offers a peaceful and picturesque playground experience in Bloomington. The playground is set in a serene environment focusing on natural elements, creating a calming and harmonious atmosphere.
Children can enjoy various climbing structures, swings, and interactive play equipment. Normandale Lake Park is an excellent place for a family outing, featuring walking trails, a large lake, and abundant wildlife.
#8. Kenwood Park Playground – Minneapolis
Kenwood Park Playground in Minneapolis is a hidden gem appreciated by locals. The playground is thoughtfully designed and regularly updated with modern play equipment, providing children with a safe and engaging environment.
The park is surrounded by lush trees and green spaces, offering a quiet and relaxing setting for families to enjoy. Kenwood Park is also known for its tennis courts and sports fields, making it an excellent choice for families with diverse interests.
#9. Lyndale Park Rose Garden Playground – Minneapolis
While the Lyndale Park Rose Garden is the main attraction for many visitors, the playground in this Minneapolis park is equally delightful. Near the iconic garden, the playground features fun and colorful equipment, including slides, swings, and climbing structures.
Families can combine their visit to the playground with a stroll through the beautiful rose garden, creating a memorable and charming experience for kids and adults alike.
#10. Springbrook Nature Center – Fridley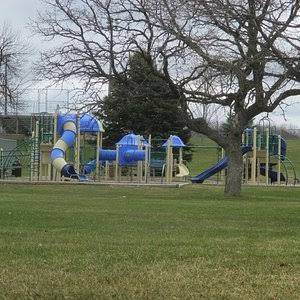 Springbrook Nature Center offers a unique playground experience, blending recreation with environmental education. The playground's design harmonizes with the natural surroundings, incorporating natural materials and play elements that mimic the nearby wildlife.
With an emphasis on nature-based play, children can engage with the outdoors, build connections with the environment, and learn about local flora and fauna.
The surrounding nature trails and wildlife exhibits further enhance the experience, making it an ideal destination for families who appreciate the great outdoors.
#11. Eagan Central Park Playground – Eagan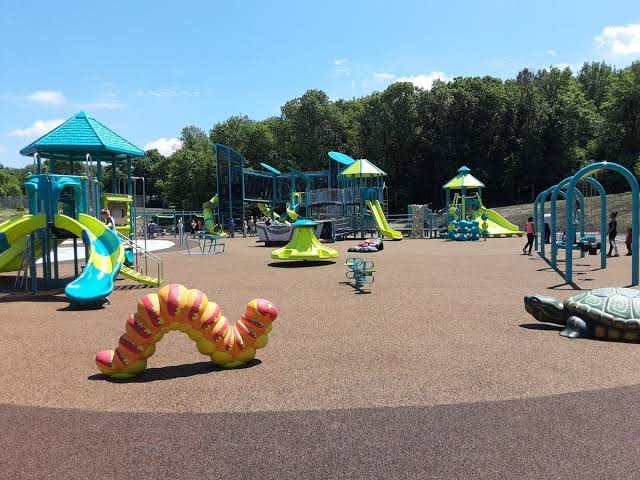 Eagan Central Park Playground is popular for families seeking a diverse and engaging play area. This expansive playground offers a wide range of play structures for children of all ages.
From classic swings and slides to climbing walls and adventurous obstacle courses, kids can unleash creativity and energy while exploring various play elements. The playground's design focuses on inclusivity, ensuring children of all abilities can participate in the fun.
The surrounding Central Park provides plenty of green space, walking trails, and picnic areas, making it an ideal spot for a full day of outdoor enjoyment.
#12. Pioneer Park – Annandale
Pioneer Park in Annandale is a hidden gem tucked away in the western part of the Twin Cities region. This charming community playground features a rustic theme, paying homage to the area's historical roots.
Children can engage in imaginative play with wooden play structures, interactive elements, and sandboxes while feeling a connection to the past.
The park's location near Pleasant Lake offers stunning views and opportunities for fishing and picnicking, making it a delightful destination for families seeking a tranquil and picturesque retreat.
#13. Westwood Hills Nature Center Playground – St. Louis Park
Westwood Hills Nature Center Playground seamlessly combines outdoor exploration with play. Situated within the larger nature center, this playground allows children to experience the wonders of the natural world while enjoying recreational activities.
The playground's natural play structures, like tree stump stepping stones and log climbers, blend harmoniously with the surrounding wooded environment.
Families can also take advantage of the nature center's educational programs and hiking trails to make the most of their visit.
#14. Oak Hill Park – St. Louis Park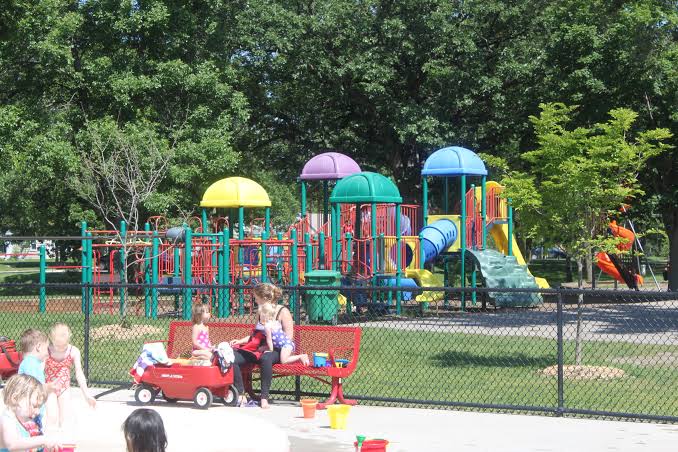 Oak Hill Park in St. Louis Park offers diverse amenities for families and children. The playground boasts modern, safe play equipment, including unique climbing structures and themed play zones.
Besides the playground, the park features sports fields, walking paths, and picnic areas, catering to different interests and age groups. Its location near Minnehaha Creek provides a serene backdrop, making it an excellent place for relaxation and outdoor fun.
#15. Lions Park – Shakopee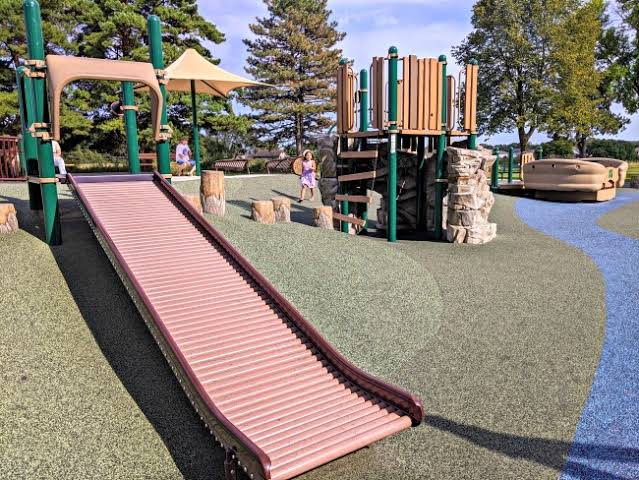 Lions Park in Shakopee is a beloved playground in the southwestern suburbs of the Twin Cities. The park's focal point is an extensive play area with various colorful and interactive play structures.
The space is well-maintained and designed with safety in mind, ensuring parents' peace of mind while their children play. The park's open fields, basketball courts, and nearby picnic shelters make it popular for gatherings and community events.
#16. Elm Creek Park Reserve Playground – Maple Grove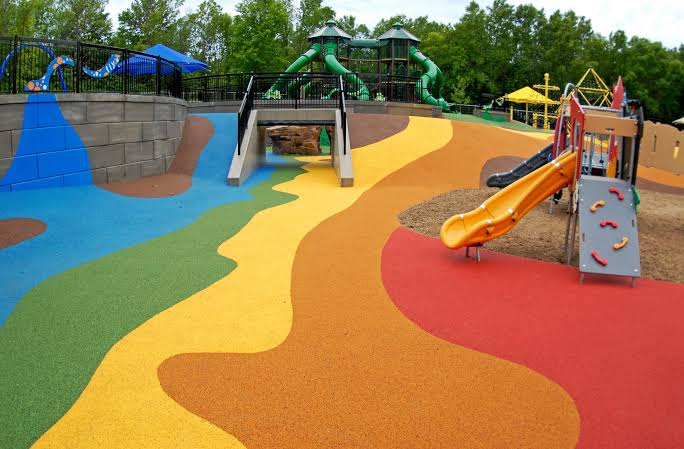 Elm Creek Park Reserve Playground is part of the larger Elm Creek Park Reserve, which offers many outdoor activities and recreational opportunities.
The playground is a paradise for children who love adventure, featuring towering play structures, challenging climbing walls, and thrilling slides.
As part of a regional park, Elm Creek provides additional attractions like swimming ponds, hiking and biking trails, and winter sports areas, ensuring year-round family enjoyment.
#17. Clifton E. French Regional Park Playground – Plymouth
Nestled along the shores of Medicine Lake, Clifton E. French Regional Park Playground offers stunning lake views and a family-friendly atmosphere.
The playground boasts an impressive array of play equipment, including swings, slides, and climbing structures, designed to entertain children of all ages.
The park's location encourages water-based activities like fishing and boating, enhancing the overall experience for families seeking aquatic adventures.
#18. Silverwood Park – St. Anthony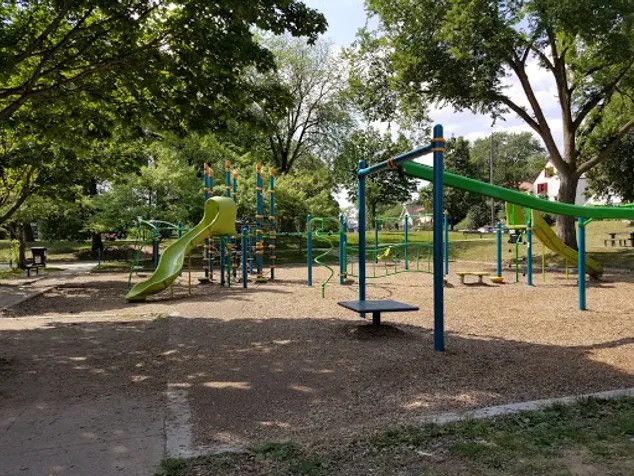 Silverwood Park is not your typical playground; it blends art, nature, and play into a unique and enriching experience. The park features artistic play structures, creative sculptures, and interactive installations that stimulate children's imagination and creativity.
The nearby Silver Lake provides opportunities for paddling and observing wildlife, adding an educational aspect to the visit. Families can also participate in art workshops and cultural events hosted at the park annually.
#19. Brookview Park – Golden Valley
Brookview Park is a well-maintained and inclusive playground located in Golden Valley. The park's play area caters to children of all abilities, with adaptive equipment and accessible play structures.
The nearby Brookview Community Center offers additional indoor and outdoor activities, including a nature-themed mini-golf course and lawn games.
Families can also enjoy picnics, sports fields, and ice skating during winter, making Brookview Park a year-round destination for fun and relaxation.
#20. Rice Creek Chain of Lakes Park Reserve Playground – Lino Lakes
Rice Creek Chain of Lakes Park Reserve Playground is part of a vast regional park system that spans several communities in the northern suburbs of the Twin Cities.
The playground's design reflects the park's commitment to preserving the natural environment, blending seamlessly with the surrounding woodlands and lakes.
Children can explore numerous play structures, slides, and climbing features while immersing themselves in the beauty of the outdoors. The park reserve also offers boating, fishing, hiking, and wildlife observation opportunities, providing an enriching experience for the whole family.
#21. North Commons Park – Minneapolis
North Commons Park is a recreational haven located in the heart of Minneapolis. This spacious and well-equipped playground features modern play structures, swings, and splash pads, offering plenty of entertainment for children during the warm months.
The park's athletic fields, basketball courts, and skating rinks cater to sports enthusiasts, while the surrounding green spaces provide ample room for picnics and relaxation.
The park's central location makes it accessible to residents and visitors and a vibrant hub for community gatherings and events.
Take out time to read – Top 20 Smallest Cities In The World In 2023 | With Photos
Features to Look for in a Great Playground in Twin Cities
A great playground in the Twin Cities can provide an excellent environment for children to play, explore, and learn while offering parents and caregivers a safe and enjoyable experience.
When choosing a playground for your family, consider the following features that make a playground stand out and create lasting memories for your children:
#1. Safety First
Safety is the most crucial aspect of any playground. Ensure the playground equipment is well-maintained, free from sharp edges, and constructed with child safety standards in mind. Look for impact-absorbing surfaces like rubber mulch or safety tiles under play structures to minimize the risk of injuries from falls.
#2. Age-Appropriate Zones
A great playground caters to children of different age groups. It should have designated areas for toddlers, preschoolers, and older kids, each with age-appropriate equipment and challenges. This ensures children can play safely and comfortably according to their developmental stage.
#3. Inclusive Play Equipment
Look for a playground that embraces inclusivity, with equipment designed to accommodate children of all abilities. Inclusive play equipment may include ramps for easy access, swing sets with supportive seats, and sensory-rich elements to engage children with various disabilities.
#4. Creative Play Spaces
Playgrounds that stimulate creativity and imagination are ideal. Look for areas that encourage role-playing, pretend play and make-believe games. Cubby houses, imaginative structures, and themed play areas can inspire children to explore their creativity and interact with others.
#5. Variety of Play Structures
A great playground should offer a diverse range of play structures and activities. Climbing structures, swings, slides, balance beams, sandboxes, and interactive play panels contribute to a well-rounded play experience, providing children with plenty of options to explore and enjoy.
#6. Shaded Areas and Seating
Playgrounds that offer shaded areas are a significant advantage, especially during hot summer days. Look for playgrounds with shaded pavilions, trees, or canopies where children can take a break and cool off. Adequate seating for parents and caregivers is also essential for comfort and supervision.
#7. Picnic Areas and Facilities
Playgrounds with nearby picnic areas equipped with benches, tables, and trash bins are perfect for families looking to enjoy a day outdoors. Access to drinking water and restroom facilities nearby is also a significant convenience.
#8. Nature Integration
Playgrounds incorporating natural elements, such as trees, rocks, and natural play features, offer a more enriching play experience. Nature integration provides opportunities for sensory exploration and fosters a deeper connection to the environment.
#9. Educational Signage
Playgrounds can be educational too. Look for playgrounds with informative signs or displays about local wildlife, plants, or historical elements. These add an educational dimension to play and encourage children to learn while having fun.
#10. Community Engagement
A great playground often becomes a hub for community gatherings and interactions. Playgrounds with nearby walking paths, sports fields, or community centers promote family connections, offering a space for kids to make friends and parents to build a supportive network.
Find out the – United States Biggest Cities In The World In 2023 | With Photos
Are the Playgrounds in the Twin Cities Accessible to Children with Disabilities?
The accessibility of playgrounds in the Twin Cities for children with disabilities has been an ongoing concern. While significant strides have been made in recent years to improve inclusivity, challenges still exist.
Several playgrounds have been designed with accessibility in mind, incorporating features such as ramps, adaptive swings, sensory play elements, and smooth pathways to accommodate children with mobility impairments.
Organizations and local authorities have collaborated to create all-inclusive play spaces that cater to children of varying abilities, fostering social interaction and breaking down barriers. These efforts reflect a growing understanding of the importance of equal access to recreational facilities for all children, regardless of their physical or cognitive limitations.
However, despite these positive steps, not all playgrounds in the Twin Cities meet the required standards of accessibility. Some older facilities may still lack the necessary modifications, making them less accommodating for children with disabilities. Additionally, budget constraints and limited awareness have slowed the pace of transformation.
Continued advocacy and community involvement are vital to ensuring playgrounds become universally accessible. By prioritizing inclusivity in urban planning and park development, the Twin Cities can create an environment where all children can play, learn, and grow together regardless of their abilities.
You might find this interesting – 20 Coldest Cities In The World In 2023 | With Photos
Frequently Asked Questions
Are these playgrounds suitable for all age groups?
Yes, most of the top playgrounds in the Twin Cities are designed to accommodate various age groups. They usually have separate areas for toddlers, preschoolers, and older children to ensure a safe and enjoyable experience for everyone.
Do these playgrounds have any amenities for parents and guardians?
Yes, many playgrounds in the Twin Cities offer amenities for parents and guardians. These amenities may include seating areas, picnic tables, shade structures, and nearby restroom facilities.
Is there any admission fee for accessing these playgrounds?
Most of the playgrounds in the Twin Cities are free and open to the public. However, attractions like Como Park Zoo and Conservatory may have separate admission fees for certain areas.
Can we host birthday parties or events at these playgrounds?
Some playgrounds may allow birthday parties and events, but checking with the park authorities beforehand is essential. They may have guidelines or reservation requirements for hosting such gatherings.
Conclusion
In conclusion, the twin cities boast an array of extraordinary playgrounds catering to the diverse needs of children and families.
From innovative structures that inspire creativity to expansive green spaces that promote physical activity and social interaction, these playgrounds have become cherished havens for the community. Their incorporation of safety measures and accessibility demonstrates a commitment to inclusivity and child development.
As the laughter and excitement continue to fill these vibrant spaces, it's evident that these best playgrounds provide a source of joy and contribute significantly to the well-being and happiness of the twin city residents.
Reference