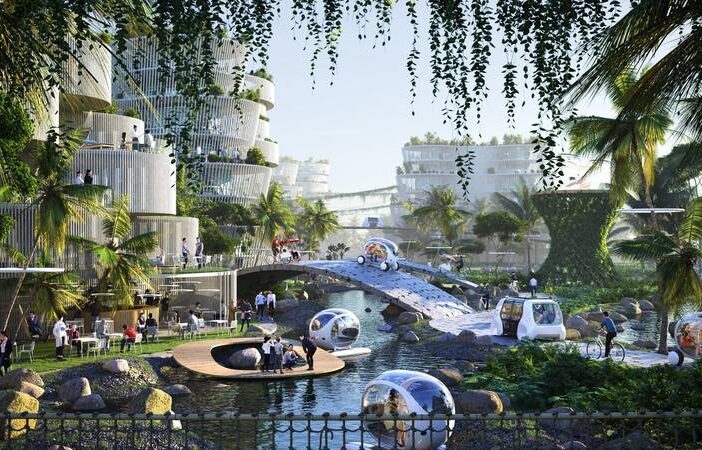 In this blog post, you will find every detail about some futuristic cities in the world, including the cost of living and how to settle down in these cities.
Cities must adapt as the globe does. Numerous metropolises are finding it difficult to expand, develop, and even support their residents within current and traditional urban forms due to the continued growth in the world's population and the significant effects climate change has on our environment.
Some of the top architects and designers in the world are being hired by governments, business owners, and technology corporations to rethink the concept of cities and how people interact with and live in them.
Here are 20 Futuristic Cities In The World revolutionizing our urban spaces, from reclaimed land to ground-breaking skyscrapers in the desert and metropolises rising in the metaverse.
See Also: 15 Most Diverse Cities In The World In 2023 | With Photos
Which City is the Most Futuristic?
The Line, Saudi Arabia Saudi Arabia, one of the wealthiest cities on earth, is not only regarded as the most futuristic city in the world due to its abundance of skyscrapers but also due to its stunning artificial islands.
And a new project called the Line that runs across Saudi Arabia makes it one of the most futuristic cities in the world.
Futuristic cities in the world in 2023
Here is a list of the best futuristic cities in the world.
1. The Line, Saudi Arabia
The 170-kilometer-long The Line tower will be part of the $500 billion Neom project in Saudi Arabia.
It will be the biggest structure in the world, made up of two buildings that are 490 meters tall and run parallel to one another. The buildings will be connected by walkways and a high-speed transportation system that will take 20 minutes to travel from one end of the city to the other.
The Line, a city without cars and with no carbon emissions, was created by US-based Morphosis Architects, making it one of the most futuristic cities in the world.
Read More: 15 Most Walkable Cities In The World In 2023 | With Photos
2. BiodiverCity, Malaysia
Three man-made islands were constructed off the coast of Penang Island in Malaysia to form BiodiverCity, a planned sustainable city.
A location where nature and people coexist Between 15,000 and 18,000 people live in BiodiverCity and its lily pad-shaped islands. Natural building materials, including wood, bamboo, and repurposed concrete, will be used to construct the structures.
With its 25 km of waterfront, 242 hectares of parks, and 4.6 km of public beaches, the city is also intended to be a popular travel destination worldwide. Additionally, BiodiverCity will be a car-free zone where people can travel by autonomous water, air, and land public transportation.
3. Chengdu Future City, China
With a master plan not based on conventional, car-oriented road networks, Chengdu Future City, a planned city in China, is questioning established urban planning norms.
An automated vehicle-based smart mobility network will link its six separate zones. The zones will be close to one another and welcoming to pedestrians, with a 10-minute walk between them. 
An international education park will be built on the 4.6-square-kilometer site, and buildings there, including a university, will have terraces that have been landscaped to look like they are extending the surrounding natural landscape.
Read More: 20 Best Seafood Cities In The World In 2023 | With Photos
4. Akon City, Senegal
A futuristic 809-hectare city called Akon City is slated to be built along the Atlantic coast, 100 kilometers south of Dakar.
The smart city, created and introduced by musician and entrepreneur Akon, will be environmentally friendly and run on renewable energy. Akon City, which he has referred to as a "real-life Wakanda" about the Black Panther movie that served as his inspiration, is slated to have enormous skyscrapers, malls, parks, universities, stadiums, and a technology hub. 
The purpose of Akon City is to use the most recent blockchain and cryptocurrency technologies to boost the local economy and create jobs.
5. Telosa, the US
Tolosa is a proposed city that Marc Lore, a billionaire, announced in September 2021. It would be located somewhere in the western desert of the United States.
Tolosa, which is expected to have a population of five million by 2050, will be a "15-minute city," meaning that residents will have to travel to all amenities, including workplaces, schools, and suppliers of goods and services, within 15 minutes of their homes.
Tolosa, which forbids fossil fuel-powered vehicles, is intended to be the world's most environmentally friendly city, according to Lore. In addition, he envisions a modified form of capitalism that prioritizes the quality of life of its citizens while fairly generating wealth.
Editor's Pick: 20 Cities With The Hottest Guys In The World In 2023 | With Photos
6. Woven City, Japan
The greatest automaker in the world, Toyota, has already begun building a 70-hectare smart city in Japan at the foot of Mount Fuji.
One of the first smart towns in the world, Woven City is a fully autonomous neighborhood created to test emerging technologies like automatic driving, robots, and artificial intelligence in a natural setting.
It will be entirely sustainable by using hydrogen fuel cells to power the city, which will have both pedestrian and self-driving car streets. To reduce carbon footprint, wood will be used as the main building material, and photovoltaic panels will be installed on rooftops to produce solar power.
360 people will initially live there, with plans to increase that number over the years. The people who will test and develop smart technologies first will be inventors, elderly people, and young families.
See Also: 10 Best Female Sideline Reporters in Sports in 2023
7. New Administrative Capital, Egypt
The project is a component of a bigger effort for Egypt's 2030 Vision. Up to seven million people will live in the country's new capital city, which will be 45 kilometers east of Cairo.
The 700-square-kilometer privately funded project will have 46 districts, 1,250 mosques and churches, solar energy farms, and one of the biggest urban parks in the world.
The New Administrative Capital will be connected to Cairo via the Cairo Light Rail Transit, which opened last month. Congestion relief in Cairo, which has a population of more than 10 million and is still expanding, was one of the main reasons for the construction.
8. Liberland Metaverse, the metaverse
The idea of cities and countries is being challenged as the metaverse continues to influence how we might interact and inhabit the digital world.
Liberland Metaverse is a "cyber-urban" city being built in the metaverse by Zaha Hadid Architects in association with the micronation of Liberland and ArchAgenda.
The entirely virtual city is based on the Free Republic of Liberland, a micronation that Vit Jedlicka, a politician from the Czech Republic, claims is located in the territory that is up for grabs between Croatia and Serbia.
The Liberland Metaverse will serve as a virtual hub for industry synergy and networking for cryptocurrency projects, businesses, and events. People can purchase land parcels with cryptocurrency and enter virtual structures as avatars.
Check Also: 20 Most Fashionable Cities In The World In 2023 | With Photos
9. Floating City, the Maldives
The Maldives is constructing one of the first floating cities in the world in response to sea level rise. Eighty percent of the Maldives is anticipated to be uninhabitable by 2050 due to climate change's threat to numerous cities worldwide.
The Maldives Floating City is currently under construction and will have 20,000 residents by 2024.
The construction will be climate-resistant and sea-level rise-compatible. 5,000 low-rise floating homes will be part of the environmentally friendly project, built on hexagonal structures that will rise with the tide.
10. Amaravati, India
The south-eastern Indian state of Andhra Pradesh will now have its administrative center in Amaravati.
On the banks of the River Krishna, Amaravati's construction would be characterized by a robust urban grid modeled after Central Park in New York and Lutyens' Delhi, a neighborhood in New Delhi named for the British architect Sir Edwin Lutyens.
The goal is to make Amaravati one of the world's most sustainable cities, complete with cutting-edge technology like photovoltaics, which converts light into electricity. Greenery and water will make up at least 60% of the city.
Electric cars, water taxis, and dedicated bike lanes will all be available for transportation, along with numerous pedestrian-friendly routes like shady streets and public spaces.
11. Nusantara, Indonesia
Indonesia intends to relocate Jakarta to East Kalimantan, in the region of Borneo island between North Penajam Paser and Kutai Kartanegara.
The new capital, Nusantara, is intended to be a sustainable metropolis with high-rise buildings made completely of sustainable materials and powered only by renewable energy. Environmental organizations, meanwhile, have been outspoken about how the construction of Nusantara could harm one of the oldest rainforests in the world.
The anticipated $35 billion cost of shifting the capital is essential for Indonesia's future. Building Nusantara will contribute to the nation's economic development and relieve pressure on Jakarta, which is constantly congested and has pollution problems due to its population of more than 10 million.
Related: 15 Largest Cities In The World Map In 2023 | With Photos
12. Net City, China
Tencent, China's version of Google, is developing a city. Built on reclaimed land, the 22 million-square-foot urban complex known as Net City is planned to house 80,000 people.
Net City's intended layout includes roads for buses, bicycles, and automated vehicles to reduce traffic.
With rooftop solar panels and cutting-edge technological systems for reusing wastewater, the development is designed to be sustainable.
13. Smart Forest City, Mexico
A smart wooded city near Cancun that will have 7.5 million carbon-absorbing plants and trees spread out over its 557 hectares is being designed by Italian architect Stefano Boeri.
It intends to set the standard for more sustainable city life and will be built to accommodate 130,000 people in inexpensive, plant-covered housing. 
According to Boeri's studio, "Smart Forest City Cancun is a botanical garden inside of a modern city, based on Mayan heritage and in its relationship with the natural and sacred world." "An urban ecosystem in which nature and the city coexist and function as a single organism."
See More: What Is Yellow Journalism: Connection With The Spanish American War
14. The Orbit, Canada
Another planned smart city, The Orbit, will use big data to inform development decisions as it attempts to transform a Canadian farming community through extensive use of fiber optics, drones, and autonomous vehicles.
The garden city movement that started in the UK at the beginning of the 20th century has been modernized, according to Toronto firm Partisans.
It aims to increase the town's population from 30,000 to 150,000 while maintaining a balance between new technologies and the existing agrarian setting.
15. Innovation Park, USA
Blockchain technology will create a smart city in a section of Nevada's desert, according to cryptocurrency billionaire Jeffrey Berns. 
He plans to turn the 27,113-hectare site into a community where people can bank, vote, and store data without the involvement of governments or third parties, with the aid of architecture firms Ehrlich Yanai Rhee Chaney Architects and Tom Wiscombe Architecture.
16. Bangalore, India
Images of densely populated cities, a lack of green space, and heavy pollution are frequently conjured up when people think of Indian cities.
In contrast to many Indian cities, Bangalore is home to many tech companies, research centers, and the country's super-rich.
Bangalore has earned the moniker "Silicon Valley of India" thanks to a thriving IT industry, which is appropriate for a developing city where top businesses value innovative thinking.
Related Post: 15 Biggest Gambling Cities In The World In 2023 | With Photos
17. Brasília, Brazil
The impressive collection of visually arresting structures in the nation's capital, Brasilia, including the Cathedral of Brasilia, exemplifies the city's innovative approach to architectural design. 
With abundant open green living spaces to break up the urban landscapes, these structures have earned Brasilia the designation as a UNESCO World Heritage Site.
18. Helsinki, Finland
Helsinki, the capital of Finland, established itself as a leader in innovation in the early 2000s and has kept it ever since, thanks to its dedication to technology, which includes providing free Wi-Fi access throughout the city. 
The city is working on cutting-edge technological advancements, such as the point-to-point transportation system you can use via a smartphone app. Linus Torvalds, the creator of the Linux operating system, calls this city home.
19. San Francisco, United States
The real Silicon Valley of California is located a few thousand miles from Bangalore, India's "Silicon Valley," and many of its employees are based in San Francisco.
This is the home of many tech giants, including Facebook, Google, Twitter, and others. Many of these businesses began as garage start-ups before growing into multibillion-dollar businesses.
Check: 20 Most Boring Cities In The World In 2023 | With Photos
20. Masdar, United Arab Emirates
A future city in the making, Masdar City in the United Arab Emirates combines sustainable energy, public transit, and magnificent architecture in a comparatively limited region close to Abu Dhabi.
Masdar, close to the airport in Abu Dhabi, aims to be a complete smart city that produces no waste once it is finished being built.
Read More: 20 Best Cities For Tech Jobs In The World In 2023 | With Photos
Faqs
What will cities of the future look like? 
Future cities might have flying cars, huge bridges, incredibly connected streets, and underground areas. Big data, the Internet of Things, and artificial intelligence will power those futuristic cities, enabling them to coexist with us in terms of how they live, breathe, and even think.
In 2050, how will cities look? 
As more people move to major cities in search of employment and better career opportunities, cities will continue to grow, and more skyscrapers will be built. Many people will be compelled to leave coastal towns due to flooding, another significant effect of climate change. By 2050, there may be a billion people living in different places.
Conclusion
The world's most cutting-edge cities combine breathtaking skylines with a thriving local culture and a dedication to the most cutting-edge sustainable technologies.
This article discusses the top ten futuristic cities in the world for innovation and economic growth, along with how they plan to use solar energy and other green energy sources to achieve carbon neutrality. 
References