There are eight national parks in Montana for a reason. The state is home to some of the most diverse natural beautiful flora and fauna in the nation. Visitors are still attracted to Montana by its breathtaking scenery. Every year, on average, 12.5 million tourists visit Montana. The state is not only known for its magnificent natural settings, but it is also rich in history, Native American heritage, and paleontology! You will undoubtedly have a memorable time if you decide to travel to the Treasure State and stay in one of these vacation properties. In this article, we have compiled a list of the 15 best places to stay in Montana when you come to visit.
What are the Factors to Consider When Choosing a Place to Stay in Montana?
Work Space
If you will be occupied with work on your trip, pick a hotel that provides ample workspace. You might need to attend online conferences or business meetings from your hotel room. Because, not every hotel environment will support business meetings, you should do your research before choosing a hotel to stay in. A good hotel for you should have modern amenities like Wi-Fi connectivity. Also, some hotels provide specialist meeting spaces.
Leisure Facilities
You will want to choose a hotel that offers several options to enjoy leisure activities. Some hotels provide opportunities for guests to play tennis, golf, swim or cool off a serviced beach. Some even have hot saunas. So find out the recreation options offered by hotels and choose the one that will help you feel the most rejuvenated and rested.
Quality of Service
If you want the best hotel experience, you should make your choice from premium hotels. There are many exciting benefits offered by luxury hotels: a clean environment, beautiful décor, stunning rooms and facilities. There is also the advantage of receiving top notch services from kind and professional staff.
Health and Sanitation
Nobody wants to stay in a dirty hotel. Staying in unkempt motels and hotels can pose a danger to your health. Before choosing a hotel to stay in, inquire about their sanitary practices. High-quality hotels should offer regular cleaning services. They also make it a priority to change sheets and towels.
See also: 20 Cities With Highest UV Index In The World In 2023 | With Photos
What are the Best Places To Stay In Montana?
The Ranch at Rock Creek, Philipsburg
Triple Creek Ranch, Darby
The Resort at Paws Up, Greenough
The Lodge at Whitefish Lake, Whitefish
The Summit at Big Sky
Coyote Bluff Estate, Kalispell
Lone Mountain Ranch, Big Sky
Rainbow Ranch Lodge, Gallatin Gateway
Marina Cay Resort and Conference Center, Bigfork
Meadow Lake Resort & Condos, Columbia Falls
Kandahar Lodge, Whitefish
Grouse Mountain Lodge, Whitefish
Many Glacier Hotel, Browning
North Forty Resort, Columbia Falls
Buttermilk Country Cabin, Yellowstone
1. The Ranch at Rock Creek, Philipsburg
First on our list of the best places to stay in Montana is the Ranch at Rock Creek. The Ranch at Rock Creek in west Montana is a 5-star establishment, which has the distinction of being a member of the Relais & Châteaux group, one of the top suppliers of opulent lodging. It is set on a sizable 6,600-acre property with views of mountain ranges and meadows.
The Ranch at Rock Creek is a haven for outdoor enthusiasts. There are about 20 guided outdoor adventures available for guests to choose from, ranging from trail riding to cow herding.
Also available to you are first-rate amenities. The Silver Dollar Saloon at the resort is where most of the action happens, including bowling, movies, karaoke, billiards, shuffleboard, and ping pong. On-site amenities include a full-service spa.
2. Triple Creek Ranch, Darby
Triple Creek Ranch in Darby offers another fantastic 5-star wilderness adventure that is well worth trying. Having your own opulent log cabin or ranch home to use as a base from which to explore the nearby countryside is a highlight of a visit here.
For couples, the one-bedroom cabins are a terrific option. These sumptuously furnished accommodations have a genuine Western design and include features like two-person bathtubs and showers in the huge bathrooms, log king beds in the large open living areas, and real fireplaces (wood provided).
What's best? Unquestionably the enormous wraparound decks, each with a private hot tub. There is also a larger, two-bedroom, two-bathroom variant that can accommodate up to four visitors.
3. The Resort at Paws Up, Greenough
The Resort at Paws Up in Greenough, Montana, is one of the state's finest 5-star ranch-style resorts and spans an amazing 37,000 acres. It is one of the best places to stay in Montana. This gorgeous five-star resort is a fantastic option for people looking to get a taste of the Old West because it's still very much a working cattle ranch, guaranteeing visitors a very genuine and simply exceptional stay.
There is no doubt that the apartments are opulently furnished. Glamping in safari-style tents to spacious multi-bedroom residences with soaring ceilings, full kitchens, game rooms, and en suite bathrooms are all examples of upscale amenities. Additionally, these larger homes have roomy decks with hot tubs.
Horseback riding will be a big part of your outdoor experience, whether you're helping with a round-up or exploring the ranch's 100 miles of trails.
4. The Lodge at Whitefish Lake, Whitefish
The Lodge at Whitefish Lake is a great option for travelers searching for high-quality accommodation in the Whitefish, Montana area. This rustic 4-star resort, designed to resemble a classic wilderness lodge, is a perfect choice for people looking to enjoy the great outdoors while yet having access to modern conveniences.
Enjoying the numerous activities that take place on Whitefish Lake is a highlight of a trip. These range from kayaking, leisure cruises, swimming, and fishing to boating (the resort has a marina offering rentals and docks).
There are lots of other things to do nearby, including skiing, shopping, and shuttle services to get you there, but there is also a lot of fun to be had right here.
5. The Summit at Big Sky
The 4-star Summit at Big Sky, which was a favorite hangout of former President Barack Obama, is a fantastic option for skiers looking to show off their skills. This alpine-village-style development offers a variety of luxury lodgings that make it a must-stay when wanting a holiday in the Montana Rockies. It boasts several high-capacity lifts just seconds from your room.
The high-quality standard units, which come with a choice of two queen beds or a king bed, are a popular option for accommodations. If you upgrade to the studio, you'll have more room for kids on the pull-out couch and a convenient kitchen to prepare meals for them.
6. Coyote Bluff Estate, Kalispell
One of Montana's more distinctive vacation options is the adults-only Three guest apartments are available at the enormous lodge-style home known as Coyote Bluff Estate, ensuring a tranquil stay in one of the most romantic settings in the state. You'll have at least 32 acres of land to yourself, with stunning vistas of the Mission Mountains and Flathead Lake.
Your lavish, airy suite, which is located in a massive 9000 square foot log mansion, has warm colors and real wood finishes throughout, including plush bedding and roomy bathrooms. Private balconies, a sizable living room area, and a gourmet breakfast are available as amenities.
A 35-minute drive away from the area's attractions is Glacier National Park, while Kalispell, which is nearby, offers shopping, entertainment, and food opportunities.
7. Lone Mountain Ranch, Big Sky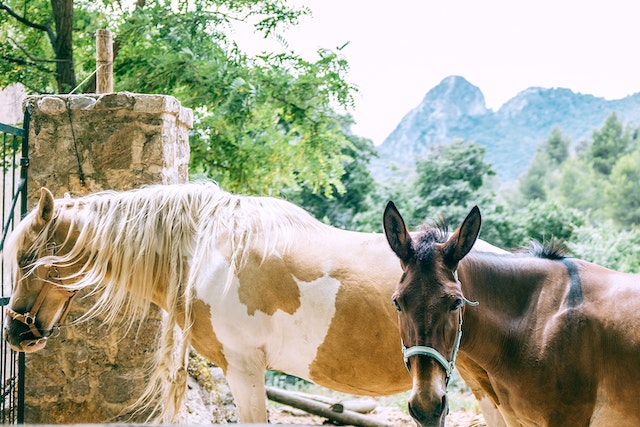 Lone Mountain Ranch is a well-liked site to stay for tourists wishing to experience this most famous of American wilderness areas because of its location in Gallatin Gateway, just 18 miles away from the various attractions of Yellowstone National Park.
This 3-star ranch is well-known for its outdoor activities, which range from fly fishing and trail riding to guided tours of Yellowstone, in addition to the breathtaking beauty that surrounds it. There are also opportunities for white-water rafting and mountain biking excursions.
Skiing on downhill and cross-country slopes, as well as family-friendly sleigh rides, are popular winter sports. On the ranch, there is also a restaurant.
8. Rainbow Ranch Lodge, Gallatin Gateway
Another well-liked Gallatin Gateway resort is the 3-star Rainbow Ranch Lodge. Outdoor excursions and guided hikes are available here all year long, both locally and at the nearby Yellowstone and Big Sky national parks. Highlights include kayaking, white water rafting, trail riding, and fly fishing expeditions.
Winter sports like skiing and snowshoeing, as well as indoor activities like relaxing and taking advantage of the ranch's amenities, are all the rage when it starts to snow. These consist of a dining room, a lounge with frequent live music, a spa, exercise equipment, and a hot tub.
The ranch provides a selection of cozy rustic lodgings. The typical lodge-style accommodations are a popular and inexpensive choice. These have queen beds, pull-out couches in the living room, desks, mini-fridges, actual fireplaces, and unique furniture. They also have large furnished decks.
9. Marina Cay Resort and Conference Center, Bigfork
There is no better place to stay in Bigfork than Marina Cay Resort and Conference Center for those who prefer water-based recreational activities. This resort and conference center is one of the best places you can stay in Montana. There are many enjoyable activities you may do in or near the water, from dockside dining to bringing your own boat or hiring one. Jet Skis, kids' inner tubes, wakeboards, kayaks, and canoes are among additional watercraft that can be rented. Fishermen can benefit from a range of entertaining charters.
Ice fishing and snowshoeing are two wintertime pastimes to love. A Jacuzzi, a swimming pool, and a hot tub are additional features.
There are only 60 rooms available at this 3-star resort, so you'll never feel overwhelmed by the number of people. The condo-style apartments are a fantastic option for families.
Read also: 15 Easy Jobs in Journalism
10. Meadow Lake Resort & Condos, Columbia Falls
The three-star Meadow Lake Resort & Condos in Columbia Falls, Montana, is a well-liked year-round vacation spot with an abundance of outdoor activities. Visitors can play a round (or two) on the resort's 18-hole course, which is well-known for its stunning Rocky Mountain backdrop and the streams and water hazards that divide it. It is regarded as one of the state's finest golf locations. Also included is a pro shop.
During the summer, you can also go hiking, biking, kayaking, and rafting. In the winter, the local ski resorts, such as Big Mountain (Whitefish Mountain Resort) and Glacier National Park, become the main attraction.
In addition, there is a fitness facility with a pool nearby as well as a sauna, steam room, and hot tub.
11. Kandahar Lodge, Whitefish
Another wonderful family vacation spot to take into account when visiting Whitefish, Montana, is the 3-star Kandahar Lodge. There are only 50 recently remodeled guest rooms in the resort itself. The ordinary hotel rooms, which can accommodate two people, have amenities like cozy beds and linens, roomy bathrooms, mini-fridges and microwaves, coffee makers, and dining spaces with tables and chairs.
There are also some larger suites that combine the basic room with a studio, which can accommodate up to six people with the use of a pullout sofa. Small kitchens with appliances, dining areas with tables and chairs, and two bathrooms are further features of these larger apartments.
12. Grouse Mountain Lodge, Whitefish
Grouse Mountain Lodge in Whitefish, Montana, is a terrific 3-star option for those looking for an affordable weekend break or prolonged vacation in the state. It is equally popular with families as it is with couples. Standard lodge-style accommodations at the resort include a king or two queen beds, a desk and chair, a mini-fridge, an HDTV, and Wi-Fi.
If one of the roomy loft suites is available, it would be a fantastic upgrade. These sumptuously furnished apartments have a king bed and two twin beds, so they comfortably accommodate four adults. Separate living and seating areas, huge bathrooms with separate bathtubs and rain showers, mini-fridges, and microwaves are all included. There are several pet-friendly condos available, so be sure to request one when making your reservation.
13. Many Glacier Hotel, Browning
There are a surprisingly large number of trustworthy and occasionally basic lodging alternatives available for anyone wishing to explore Glacier National Park.
The old Many Glacier Hotel is one of our favorites. This vintage 3-star mountain resort, built in 1914, around the time the US started to allow cars on its roads, gives visitors some of the park's best vistas. Its setting on Swiftcurrent Lake just enhances how picture-perfect it is, and of course, how much fun it is.
The hotel offers kayak rentals for guests wishing to explore the lake in addition to being the ideal starting point for exploring Mount Grinnell's surroundings on foot or by mountain bike. You can also enjoy the beach.
14. North Forty Resort, Columbia Falls
The family-run North Forty Resort, which is situated in Columbia Falls on 40 acres of woodland, provides a wealth of reasonably priced outdoor experience.
There are several lodging alternatives, with the resort's quaint log cabins being one of the most well-liked. There are 23 scattered throughout the site, along with a "glamping" tent, and each one is furnished with real log furniture, kitchenettes, and separate living rooms.
The inviting gas fireplaces, plush bathrooms, covered porches, and picnic tables are also noteworthy. While most cabins comfortably sleep up to five people, there are some larger accommodations that can accommodate up to eight people.
15. Buttermilk Country Cabin, Yellowstone
Last but not least on our list of the best places to stay in Montana is the Buttermilk Country Cabin. This charming lodge is just under eight miles from Yellowstone National Park and costs less than $300 per night. This Montana lodging features just one bedroom, but it can accommodate up to four people, so it's ideal for a couple or a small family. For those seeking a more secluded stay, this fully furnished home on 40 acres of land is perfect. Additionally, a rodeo is held on the grounds every summer!
Read also: How to go Viral on Youtube: 10 Untapped Strategies In 2023
Frequently Asked Questions
What are the best unique hotels in Montana?
Some of the best unique hotels in Montana are:
The Green O
Sage Lodge
Historic Hotel Arvon
Where are the most unique getaways in Montana?
Some of the most unique getaways in Montana are:
The Garden of One Thousand Buddhas
Koocanusa Sand Dunes
The Shire of Montana
Is Montana a desirable location to start a family?
It should go without saying that Montana is a great state in which to raise a family. Children that are reared in the Treasure State are extremely fortunate since it is a fantastic place to grow up.
What age do I need to be in order to book a hotel in Montana?
Policies. over visitors staying over several nights, daily housekeeping may be restricted. All registrants must be at least 18 years old and must have a valid photo ID on hand.
Conclusion
The state of Montana is home to a large and stunning wilderness, and it undoubtedly has something to offer everyone. The Treasure State lives up to its name with stunning natural features and a wealth of mineral riches. If you're considering visiting Montana, you won't be dissatisfied. We hope our article on the best places to stay in Montana will help make your trip memorable.
References