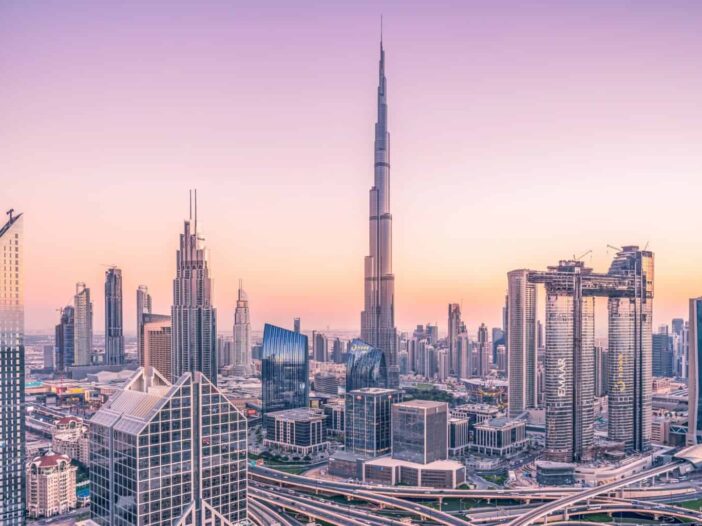 There are so many incredible cities around the globe, and some of them have significantly outdone the competition in terms of cutting-edge technology, avant-garde architecture, and environmental improvements. They make it difficult for others who haven't caught up with them.
It's time to let go of outdated perspectives and antiquated practices. Since the most futuristic cities in the world that we have selected for our list have a lot to offer, other people can easily find inspiration in these urban settings.
The fact that the world's population is expanding on a worldwide scale is another factor for cities to take into account, but some tend to neglect it.
In order to accommodate more people, cities should seriously consider redesigning their metropolitan cores. And let's not overlook the struggle to go greener and rely on natural resources more and more.
Cities will quickly lag behind in this fast-paced world if they are unable to push the envelope and adopt new perspectives.
On our list of the most futuristic cities in the world, all of these characteristics are clearly seen and they all aspire to grow even more in the years to come.
This article describes the 20 most futuristic cities in the world in 2023. Let's dive into them!
What is a futuristic city?
The future occasionally doesn't look exactly like what we envision. Although skyscrapers have spread throughout many cities, flying automobiles are unlikely to become a reality anytime soon.
Before laying a single brick, the process of creating a futuristic city has already begun. A vision is the beginning.
Urban planning requires a great deal of forward thinking. Our infrastructure and communication are changing, as are the needs and preferences of people around the world.
The vision must be both broad and specific; it must apply to the entire city as well as to specific neighborhoods and communities. We must be careful not to leave anyone behind as cities expand and develop.
The city planners must take into account a lot of moving parts. Cities have no control over factors like the shifting job market, immigration, and environmental pressure (particularly global warming), but they still need to take them into consideration.
The secret to accurate forecasting is to concentrate on a variety of potential outcomes because not everything can be controlled.
In order to align the interests of all stakeholders, the vision for future cities must find ways to guarantee both a scientific and a democratic process.
Read also: 15 Cleanest Cities In The World In 2023 | With Photos
What are the Most Futuristic Cities In The World?
1. Dubai, United Arab Emirates
Dubai, one of the richest cities on earth, is not only regarded as the most futuristic city in the world due to its abundance of skyscrapers but also due to its stunning artificial islands.
Have you ever played SimCity? Due to the idea upon which the city is based, Dubai has, however, frequently been contrasted to it.
The highest structures in the world are the Burj Khalifa and the Creek Tower, both of which are scheduled to be finished around 2025.
These skyscrapers' appearance is beyond our wildest dreams in terms of how spectacular it is.
They are actually a part of a mixed-use development aiming to diversify from the oil-based economy for which they are known across the world, despite their appearance of being futuristic in design.
Check out this: 20 Most Modern Cities In The World In 2023 | With Photos
2. Hong Kong, China
Hong Kong, famous for its towering high-density skyscrapers, has more buildings with a height of more than 500 feet than Dubai.
The world's biggest concentration of really tall structures gives the city its futuristic feel.
But they are also global leaders in the financial and technological fields. It is unheard of in North America, yet school children's fingerprints are used as evidence of attendance.
They have one of the best transportation systems in the world, with plenty of trains, buses, and ferries to serve their incredibly dense population.
Additionally, everyone has access to the many country parks there if they want to get some fresh air.
See also: 20 Most Visited Cities In The World In 2023 | With Photos
3. Singapore
This city-state with the same name is one of the Asian cities with the fastest population growth.
Their long-serving first prime minister created the framework for the city to become what it is today after they won their freedom from the British, Japanese, and Malaysian invasions in 1965.
Billionaires and businesspeople choose to call Singapore home because it is one of the richest cities in the world.
They are proud of their city planning, which includes many sustainable, green areas, and of their first-rate educational system. They also strictly enforce their criminal laws.
One of their proudest achievements is their thriving arts scene, which makes Singapore a very desirable location to live.
Read also: 20 Most Livable Cities In The World In 2023 | With Photos
4. Tokyo, Japan
Tokyo's reputation as a "Nerd Haven" is not unjustified. Tokyo is astute enough to recognize the potential of the many young geniuses who are forward-thinkers and creative thinkers.
They actually represent the future, and in only the last few years, they have achieved significant advancements in the fields of robotics, the car industry, and telecommunications.
They invest in numerous startups that are smarter than the competition in addition to following current trends.
We won't fail to mention the cutting-edge construction and the growing skyscrapers that contain some of the tallest towers in the entire world. A thriving metropolis that you should visit at least once in your lifetime.
Read more: 15 Snowiest Cities In The World In 2023 | With Photos
5. Shanghai, China
Shanghai, one of the world's most populous cities, has more than 24 million residents.
The city had to make adjustments as a result of its rapid growth to make room for everyone. They constructed a sizable financial hub that is a key global economic hub.
Additionally, they established The Pudong Economic Zone, which welcomes foreign investments.
Since they were so successful in bringing in foreign capital, Shanghai's economy has continued to grow.
They use their own resources rather than attempting to import labor because this in turn creates jobs for their local population.
Their cutting-edge glass skyscrapers sparkle during the day, and at night, their breathtakingly brilliant lights are quite a sight.
See also: United States Biggest Cities In The World In 2023 | With Photos
6. Masdar, United Arab Emirates
There are only two cities in the United Arab Emirates that come to mind when you think of cities: Dubai and Abu Dhabi. However, this city may be the UAE's next big thing.
Masdar City is a planned zero-waste, zero-carbon city that was constructed as a cleantech hub next to Abu Dhabi Airport. Its highlights include clean-energy mass transit and naturally cooled streets.
Masdar, a newer region in one of the richest nations in the world, is accustomed to a futuristic skyline.
One of the best global preservation efforts in the world is being carried out by the UAE, and it mainly uses solar resources and energy.
See also: 20 Ugliest Cities In The World In 2023 | With Photos
7. San Francisco, United States
San Francisco, Palo Alto, San Jose, and Menlo Park are just a few of the socially progressive cities that make up the entire Silicon Valley, which is also home to San Francisco.
Not just because of the region's sizable IT sector, which is based there for the most part, but also because they have a better developed social system than the majority of Americans.
They are generally more accepting of individual liberties and were the first city to approve same-sex unions.
Silicon Valley is home to hundreds of tech companies, including Apple, Google, Facebook, and other startups.
They also house NASA's Ames Research Institute, so it's no surprise they rank well on any list given the abundance of young creatives who live or work nearby.
Read also: 20 Coldest Cities In The World In 2023 | With Photos
8. Helsinki, Finland
One of the first cities in its area to make appreciable improvements in social progress and technological developments, such as offering free wi-fi across the city, is Finland's capital.
The Scandinavian buildings in the city's design area may not be as striking as some of their Asian counterparts, but they do have their share of sleek and contemporary structures.
They are superior to many other cities in the world when it comes to social amenities like substantial maternity and paternity leave and education.
Their top priorities are the family and the welfare of their residents, and in 2002, they became the first city in the world to legalize same-sex civil unions.
See also: 20 Most Violent Cities In The World In 2023 | With Photos
9. Brasilia, Brazil
After becoming the Brazilian capital in 1960, Brasilia began its urban development as we know it today.
The only city constructed in the 20th century to be designated as a UNESCO World Heritage site is known for its iconic airplane-shaped development, which was designed by architect Lucio Costa.
Although it was frequently criticized for its use of highways, it is now one of the most ultra-modern cities in the world, which is probably why it is included on this list.
The city has a distinctive layout with large open areas and stunning architecture. The city's government is very powerful and is pro-business.
See also: 20 Most Isolated Cities In The World In 2023 | With Photos
10. Seoul, South Korea
In the aftermath of the Korean War, Seoul, which had previously been a poor city, rebuilt itself into one of the richest and most technologically advanced cities in the world.
Following the war, a large number of rural residents relocated to the city and completely rebuilt the expanding metropolis.
They contributed to the creation of the 2010 World Design Capital by collaborating with urban planners.
Seoul offers stunning, beautifully constructed buildings, a booming art scene with several cultural attractions and museums to explore, as well as a lively nightlife.
Additionally, there are numerous 24-hour restaurants, shopping malls, business centers, and sports facilities there.
Read also: 20 Most Colorful Cities In The World In 2023 | With Photo
11. Amsterdam, Netherlands
If we care about the environment at all, Amsterdam, one of the greenest and most beautiful cities in the world, is unquestionably a model to imitate.
They are leaders in the globe when it comes to reducing emissions, and they are working on a plethora of initiatives to make commuting easier and cut back on harmful emissions.
The biggest concentration of people who rely on bicycles as their primary mode of transportation is found in Amsterdam.
The Smart Work Project and Amsterdam Smart City, a smart floating neighborhood, have both been implemented by the city.
Their easy going demeanor is also one of their strong points, and their frugal way of life is admirable.
Read more: 20 Healthiest Cities In The World In 2023 | With Photos
12. Bangalore, India
People only associate India's cities with being overcrowded, oppressively hot, and lacking in contemporary conveniences and technology.
That might be the case for some of them, but we're here to show you one of the most developed and contemporary cities, not just in India but also around the world.
In the last few years, the city's innovative spirit has made some significant advancements in the IT industry, enough to bypass some other more well-known urban centers in the Occident.
The Bangalore Tech Park outsources to numerous businesses, including LinkedIn and Dell, due to the high quality labor available at reasonable prices.
As a result, they produced a large number of engineers, who were more creative than some of their western counterparts.
13. Tallinn, Estonia
Since gaining its independence from Russia in 1991, Estonia has advanced significantly in the technology and IT fields.
In 2002, they were one of the first towns in the world to roll out free wi-fi all over the place.
They were the ones who started the well-known video chat program Skype, and their inventive ways contributed to significant advancements in the field of technology.
They were one of the first cities to implement electronic voting after 2007.
Many North American cities have not yet reached that point, so it wouldn't be surprising if Tallinn is mentioned frequently in the years to come.
14. Toronto, Canada
Toronto, recognized as one of the world's most diverse cities by UNESCO, has a population that is more than 50% foreign-born.
Diversity is a wealth that, when used wisely, has many advantages.
Toronto oversees the nation's financial activities and has made some significant advancements in the field of artificial intelligence.
For decades, Toronto's skyscrapers and downtown have been compared to New York's, so it wouldn't surprise us if, in a few years, Toronto surpasses the Big Apple in terms of technological advancements and AI.
The nightlife in this thriving metropolis is very active, and the cuisine is extremely varied.
15. Moscow, Russia
Right in the middle of Moscow, the International Business Center elevates this metropolis to a global level.
Some of the tallest structures in Europe are located inside the 60-hectare region of skyscrapers.
Their distinctive shapes and colors set them apart from other skyscrapers throughout the globe.
Their tallest structure, the Federation Tower, is constructed of high-strength concrete, which will shield the structure in the event that an aircraft were to collide with it.
Moscow is also well known for its vibrant cultural, commercial, and academic communities.
This city is one to think about visiting because it has a wonderful blend of the old and new.
16. Silicon Valley, California
The largest technology companies on the planet are based in the San Francisco Bay Area, including the cities of San Jose, Palo Alto, and Menlo Park.
This is where the magic happens; it's where Google, Facebook, and many other digital gods call home.
Faster than you can unwrap a candy bar, entire industries, innovative products, and interesting items are born.
Silicon Valley is the epicenter of all things futuristic, from garage start-ups to multibillion dollar corporations.
California is also the location of some of the most striking and extravagant houses. Particularly impressive is "The Mirrored House," which really shouts futuristic and is mind-blowing.
17. Songdo, South Korea
The Songdo project is one of the most futuristic cities in the world, with a $35 billion price tag.
How about installing robots in every home and connecting information systems that would enable video conferencing, in-home emergency management, and city-to-household communications in every household? Yes, the Songdo project is active in this.
18. The Line, Saudi Arabia
Recently, the Saudi Arabian government published renderings for the 500-meter-tall, 170-kilometer-long linear city that is envisioned as part of the Neom mega-development.
The Line will only be 200 meters wide despite its length and the nine million people who are projected to live there, and a transportation system is planned to connect the two ends in 20 minutes.
The Saudi crown prince Mohammed bin Salman hails the city as "a paradigm for ecological preservation and better human livability" as an alternative to the conventional circular urban plan.
19. Telosa, USA
Tolosa, a city for five million people that will be built from the ground up on an as-yet-undisclosed site in the US desert, is being master planned by Danish architect Bjarke Ingels and his company BIG.
Marc Lore, a billionaire businessman, came up with the notion and expects it would turn into "the most ecological city in the world."
According to Lore's vision, the land will be owned by a community endowment, meaning that price increases could be used to finance the development of the city with the welfare of its citizens as the top priority.
20. BiodiverCity, Malaysia
A 1,821-hectare development of three man-made islands built off the coast of Malaysia's Penang Island is called biodiverCity, and BIG is in charge of master planning it for the state government.
The 15,000–18,000 people who live on each of the lily-pad-like islands will be connected by an autonomous transportation network that uses no cars.
Bamboo, recycled wood, and recycled concrete will be primarily used to build structures, and each district will have an ecological buffer to support biodiversity.
Frequently Asked Questions
What does a future city entail? 
Future cities might have flying cars, huge bridges, incredibly connected streets, and underground areas. Big data, the Internet of Things, and artificial intelligence will power those futuristic cities, enabling them to coexist with us in terms of how they live, breathe, and even think. 
What qualifies something as futuristic? 
The art movement known as futurism got its start in Italy in the early 20th century. Technology, youth, and industrial symbols like cars and airplanes are common themes in the movement, which was centered on modernity.
Is Dubai the metropolis of the future? 
The city is undoubtedly moving in the direction of the future when it comes to futuristic themes, with the Museum of the Future looking like it's straight out of a sci-fi movie set, driverless taxis on the horizon, and Dubai police possessing Robocops.
Conclusion
Although the future is here and things are changing quickly, the cobblestone streets and historic cities serve as a reminder of where we likely originated.
Modern architecture and environmentally friendly spaces are the new standard, and some very astute architects from around the world have demonstrated this well before their time.
Have you added these virtual tours of these futuristic cities to your bucket list yet? Have you ever been to any of them or do you have any plans to do so soon?
References
Recommendation