Texas is the second-largest state in the USA and has an impressive array of urban, suburban, and rural communities. Therefore, it can be a challenge to choose the right place to settle in with your family. Which is why we've compiled this comprehensive guide on the 21 best cities to live in Texas for families. 
From bustling metropolises to charming little towns, Texas has something for everyone, regardless of budget or lifestyle preferences.  We've scoured the state to bring you some of the most family-friendly cities in Texas.
Facts About Texas
Texas is the second-largest state in the USA.
The Lone Star State earned its nickname from its previous status as an independent republic.
It has a diverse landscape encompassing deserts, forests, coastlines, and rolling plains.
The Alamo, a symbol of Texan resilience, witnessed a pivotal battle during the fight for independence from Mexico.
Texas is renowned for its vast cattle ranches, contributing to its cowboy charm and the breeding of the iconic Texas Longhorn.
The state's oil industry, centered in cities like Houston, has been pivotal to its economic growth.
Texans take pride in their unique culture, cuisine, and festivals, including the annual State Fair of Texas.
Texas is home to NASA's Johnson Space Center, where historic space missions were planned.
Football is a religion in the state, with the Dallas Cowboys and Houston Texans commanding fervent followings.
Check out 21 Best Places To Stay In Stowe VT in 2023 | Stowe VT Neighborhood Guide
Why live in Texas with your family?
If you are wondering whether Texas is the right choice for you and your family, here are some reasons why you should make the move:
Texas' rolling plains and beautiful coastlines provide ample opportunities for outdoor adventures and family bonding activities.
Texas has a lower cost of living than many other states in America. Therefore, you won't need to break the bank to give yourself and your family a high quality of life. Also, its robust economy provides many job opportunities across various industries, ensuring your financial stability.
Texans value family traditions and community, which creates a strong sense of belonging. The state's rich cultural tapestry, influenced by Mexican, Southern, and Western heritage, will ensure a vibrant social experience for your family. There's always something exciting happening in Texas, from rodeos to cultural festivals.
The Lone Star State takes pride in its excellent education system, with renowned universities and quality K–12 schools, ensuring that your children will receive top-notch learning.
Texas is home to world-class healthcare facilities.
If you or anyone in your family is a sports enthusiast, you will love Texas' passion for football and other sports.
Take some time to read 21 Best Places to Stay in Tampa in 2023 | Tampa Neighborhood Guide
The 21 Best Cities to Live in Texas For Families
Here's our list of the 21 best cities you can live in Texas with your family:
#1. Austin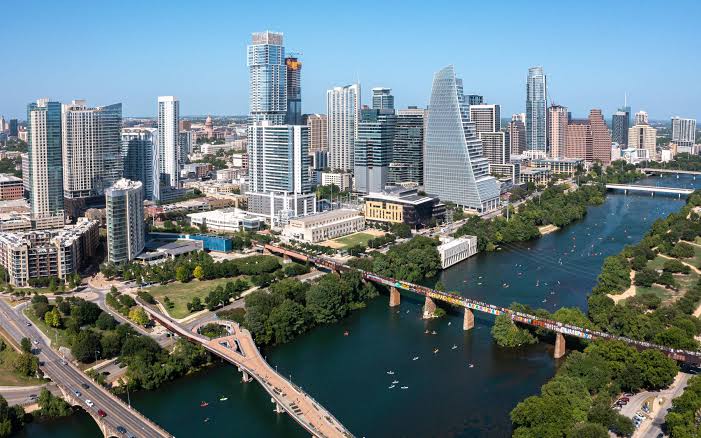 Austin is the capital of Texas. It has a vibrant culture, a strong sense of community, and outstanding educational options.
The city is renowned for its music scene. There are hundreds of live music venues at clubs, bars, concert halls, coffeehouses, etc., so you can watch live performances every night.
In Austin, there are several opportunities for entertainment and outdoor activities. There are many places you can explore with your family, including the Barton Springs Pool, Zilker Park, and Lady Bird Lake.
The city has a top-tier education system. The University of Texas, Austin, ranks among the 40 best universities in the world. Austin's family-friendly neighborhoods, like Circle C Ranch and Steiner Ranch, have excellent amenities and standard schools.
The city is committed to innovation, and there are many job opportunities in the tech sector. It also has a relatively lower cost of living than other tech hubs.
#2. Dallas
Though Dallas is a big city, it still provides a family-friendly environment. Its diverse neighborhoods range from the upscale Highland Park to the suburban charm of Plano. 
Dallas is home to great schools, including the Highland Park Independent School District. It is also home to renowned cultural attractions such as the Dallas Museum of Art and the Dallas Arboretum. 
In Dallas, there are ample entertainment and educational opportunities for your family. The city's family-friendly attractions include the Perot Museum of Nature and Science and the Dallas Zoo.
Finally, with the growing job market across industries, you will have the career stability to provide your family with a high quality of life.
#3. Houston
Houston is the largest city in Texas. The city has an affordable standard of living and a fast-growing job market.
Houston is renowned for its world-class medical facilities and educational institutions, including the Texas Medical Center and Rice University. There are many cultural sites to explore, such as the Space Center Houston, the Museum District, and the Houston Zoo.
Houston's diverse neighborhoods accommodate different lifestyles. And the warm climate and diverse culinary scene are a definite plus.
#4. San Antonio
If you are looking for a more relaxed and traditional atmosphere for your family, San Antonio may be the right choice for you. The city has a rich history and diverse culture. It's most famous landmark, the Alamo, serves as a reminder of its historical significance.
The River Walk offers families a picturesque setting for strolling, dining, and enjoying various festivals throughout the year. San Antonio has highly-rated school districts like the North East Independent School District.
The standard of living in the city is affordable, and there are many attractions to explore with your family, like SeaWorld San Antonio and Six Flags Fiesta Texas.
#5. Fort Worth
Fort Worth, often called the "City of Cowboys and Culture," is a city rich in Western heritage. The city's Fort Worth Stockyards are evidence of its cowboy past. In the Cultural District, you will find world-class museums like the Kimbell Art Museum and the Fort Worth Museum of Science and History. You can also take your family on an outdoor adventure to the Fort Worth Botanic Garden and the Fort Worth Zoo.
Fort Worth's Independent School District has many quality schools. Finally, the city is committed to preserving its Western roots while embracing progress, which makes it a great place for any family.
#6. Plano
Plano is a suburb of Dallas. It has a safe and family-friendly environment. The city is known for its excellent school districts, including Plano Independent School District, which consistently ranks among the top in the state.
Plano's well-planned neighborhoods offer various housing options, catering to different family sizes and preferences. The city's commitment to green spaces is evident in parks like Arbor Hills Nature Preserve. Therefore, there will always be opportunities for outdoor recreation for you.
With a low crime rate, a fast-growing job market, and convenient access to the amenities of the Dallas-Fort Worth metroplex, Plano remains an appealing destination for families.
#7. Sugar Land
Sugar Land is a suburb of Houston. It has a high quality of life, a low crime rate, well-maintained infrastructure, excellent schools, and a strong sense of community. The city's commitment to education is evident in its top-rated school districts, including Fort Bend Independent School District.
In Sugar Land, there are parks like Brazos River Park and Oyster Creek Park where you can enjoy outdoor activities with your family. There are also cultural attractions, such as the Sugar Land Heritage Museum and the Smart Financial Center at Sugar Land.
#8. Frisco
Frisco's excellent schools, low crime rate, and well-planned neighborhoods make it an ideal choice for any family. The city has top-notch amenities you can explore, including numerous parks, sports facilities, and entertainment options like Frisco Square and The Star, the headquarters for the Dallas Cowboys.
#9. Round Rock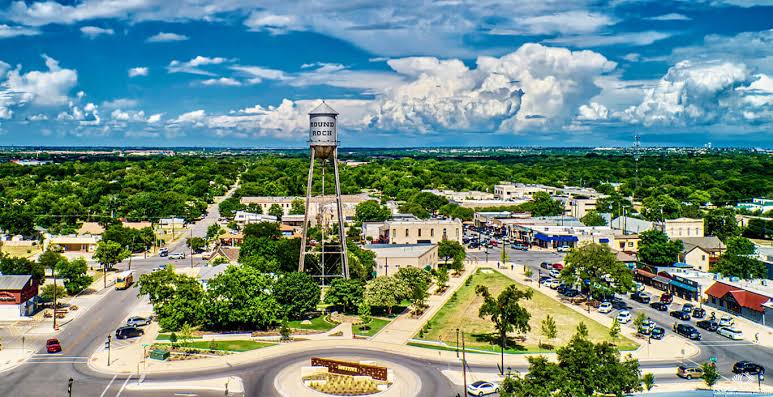 Round Rock is a family-friendly city with a strong sense of community. It has many top-rated schools. Also, there are several parks, including the expansive Old Settlers Park, which offers amenities such as sports fields, a water park, and playgrounds.
The presence of tech companies and healthcare facilities in Round Rock provides ample job opportunities.
With a historic downtown area, annual events, and proximity to Austin's vibrant cultural scene, Round Rock is a great choice.
#10. Cedar Park
Cedar Park has safe neighborhoods, highly rated schools, and several parks. There are also sports complexes, hiking trails, and Lake Travis nearby for water activities.
You can enjoy community events with your family and entertainment at the H-E-B Center, which hosts concerts, sports events, and more. Cedar Park's proximity to major employers in the tech sector and Austin's amenities, coupled with its family-friendly environment, make it a desirable place for families to settle.
#11. Allen
Allen is a family-friendly city with standard schools, a low crime rate, well-maintained neighborhoods, and a strong sense of community. The city's focus on education is reflected in its famous school district. 
The presence of shopping centers like Allen Premium Outlets and recreational areas like Celebration Park offers diverse entertainment options. The city's commitment to sports is evident through facilities like the Allen Event Center and multiple sports fields.
#12. Flower Mound
Flower Mound's picturesque landscapes, excellent schools, low crime rate, and family-focused amenities make it an attractive choice for families. The city's commitment to preserving green spaces and providing opportunities for outdoor activities is evident through its extensive trail system and parks. Also, Flower Mound is close to Lake Grapevine, which provides opportunities for water activities.
In Flower Mound, there are many places where you can go shopping or dining. The city's strong sense of community is fostered through events like the annual Independence Fest and local gatherings.
#13. League City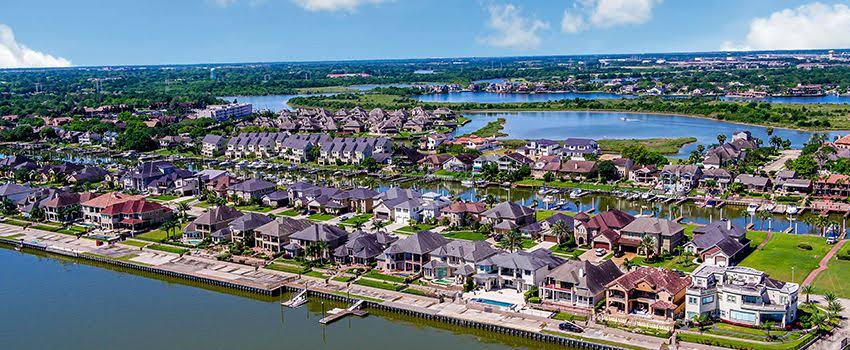 League City's waterfront location, top-rated schools, and diverse recreational opportunities make it a sought-after destination for families. Its proximity to Galveston Bay means that you can go boating and fishing on the water. The city's significant job growth is driven by its thriving industries, such as aerospace and healthcare.
Family-friendly events, parks, and attractions like the Helen Hall Library and League Park contribute to the city's appeal. League City offers a blend of coastal charm, suburban comforts, and urban amenities.
#14. Pearland
Pearland's family-oriented environment, standard schools, and proximity to Houston make it an appealing choice for families. Its growing economy offers various job opportunities.
Pearland's parks include Centennial Park and Independence Park. The city has a diverse dining scene and many shopping options. There are also community events like the Pearland International Festival. 
#15. Southlake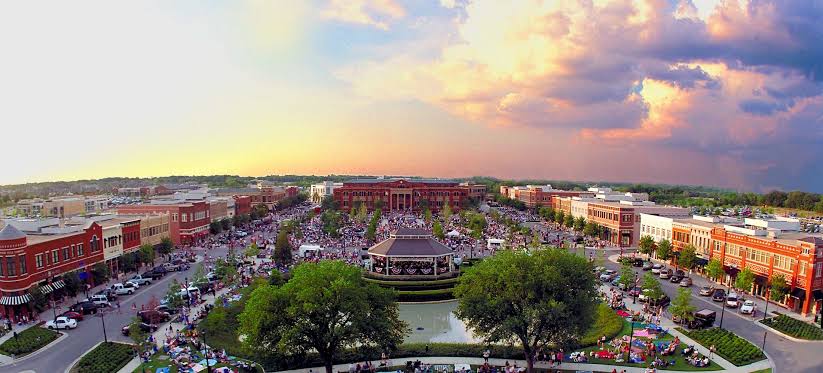 Southlake is a picturesque city located in the Dallas-Fort Worth Metroplex. It is renowned for its top-rated schools, low crime rate, excellent healthcare facilities, upscale neighborhoods, and strong sense of community.
The city has well-maintained parks, including the popular Bob Jones Nature Center and Preserve. The Town Square is a hub for shopping, dining, and cultural events.
#16. McKinney
McKinney is one of the fastest-growing cities in the United States. It offers a blend of historic charm and modern amenities. Families are drawn to its strong educational system.
The city's vibrant downtown area features unique shops, restaurants, and entertainment options. McKinney has multiple parks and green spaces you can explore, such as Towne Lake Recreation Area.
Its community-focused events, like the annual Arts in Bloom festival, showcase the city's dedication to culture and the arts.
#17. Grapevine
Grapevine is nestled between Dallas and Fort Worth. It is known for its rich history and family-friendly atmosphere. On the city's Main Street, you will find charming shops, restaurants, and galleries.
Grapevine's commitment to education is evident in its top-ranked schools. And with access to Lake Grapevine and various outdoor recreational facilities, you will have plenty of opportunities for leisure and bonding with your family.
#18. New Braunfels
New Braunfels is a Texas Hill Country gem that offers families a unique blend of tradition and adventure. The city's German heritage is celebrated through festivals like Wurstfest and its historic downtown district.
You can go tubing with your family on the Guadalupe and Comal Rivers, explore Landa Park, or visit the Schlitterbahn Waterpark. New Braunfels also has an excellent school system and a strong sense of community.
#19. Rockwall
Located on the eastern shores of Lake Ray Hubbard, Rockwall provides families with a tranquil suburban lifestyle while still being conveniently located near the Dallas metropolitan area. Its waterfront location offers opportunities for boating and fishing. Or you can simply relax by the lake with your family.
The Rockwall Independent School District provides quality education. The Harbor Rockwall, an entertainment district overlooking the lake, hosts various family-friendly events and features restaurants, shops, and a movie theater.
#20. Georgetown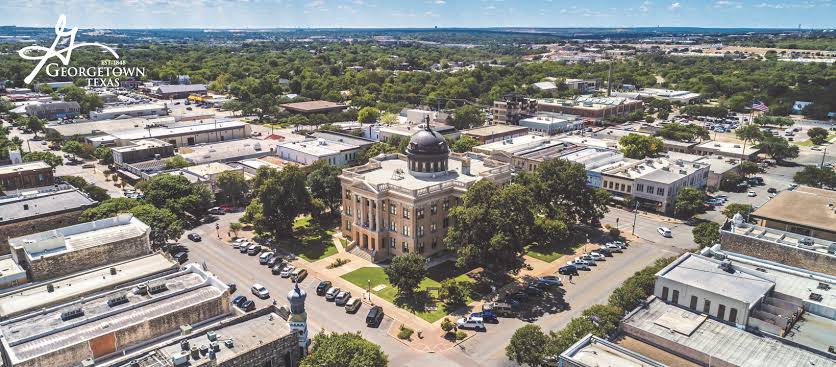 Georgetown, a charming city north of Austin, is known for its historic architecture, vibrant arts scene, and family-friendly environment. The city's commitment to sustainability and green initiatives creates a healthy, eco-friendly atmosphere.
Georgetown has standard educational institutions, including Southwestern University. Blue Hole Park, a scenic natural swimming area, and San Gabriel Park provide opportunities for outdoor recreation.
With a variety of cultural events, festivals, and a close-knit community, you can be assured that your family will have a well-rounded and enriching lifestyle in Georgetown.
#21. Boerne
Nestled in the Texas Hill Country, Boerne has small-town charm, excellent schools, ample recreational opportunities, and a strong sense of community.
Boerne's Main Street has unique shops, galleries, and eateries. The Cibolo Nature Center and trails offer you opportunities to explore the outdoors. The city is committed to preserving its heritage with its historic sites and annual events like Dickens on Main.
You might find this interesting: 16 Best Places to Stay in Vermont in 2023 | Vermont Neighborhood Guide
Things to Consider Before Moving to Texas With Your Family
We have covered the best cities in Texas for families, and we will now look at some factors you must consider before you make the big move.
#1. Cost of Living
Texas is known for its relatively affordable cost of living compared to many other states. Housing costs, property taxes, and everyday expenses can be lower in Texas, which means that you can manage your finances more effectively.
#2. Education System
Texas has a diverse range of school districts. Research the quality of schools in your desired area and ensure you get the best education for your children.
#3. Weather Variability
Texas experiences a wide range of weather conditions. While the state experiences plenty of sunshine and warm temperatures, it's also prone to severe weather, such as thunderstorms, tornadoes, and hurricanes. Be prepared for weather changes and have a plan for your family's safety.
#4. Cultural Diversity
Texas is a melting pot of cultures, with a rich blend of traditions, cuisines, and experiences. Embracing this diversity can give your family opportunities for personal growth and exposure to different perspectives.
#5. Healthcare Facilities
Texas has many medical facilities. Before moving, research the availability and quality of healthcare services in your chosen area to ensure that your family's medical needs will be well taken care of.
#6. Recreation and Entertainment
Texas has various recreational activities and entertainment options, from outdoor adventures in its national and state parks to cultural attractions in its major cities. Explore the local scene and find activities that suit your family's interests.
#7. Employment Opportunities
The Texan economy is diverse, with strong sectors in energy, technology, healthcare, and more industries. Research the job market in your intended location to ensure there are ample employment opportunities that align with your skills and career aspirations.
#8. Community and Family-Friendly Atmosphere
Texas is known for its friendly communities. Look for neighborhoods that align with your family's lifestyle and values, and consider factors such as safety, proximity to amenities, and opportunities for social interactions.
You can also check out – 17 Best Places To Stay In St. Lucia In 2023 | St. Lucia Neighborhood Guide
Challenges of Living in Texas
Living in Texas can come with some challenges.
For starters, Texas is known for its sweltering summers.
Another challenge is that Texas is a large state, meaning you and your family may have to travel long distances to get where you need to go. This may be challenging if you do not have a reliable means of transportation.
Finally, while Texas is diverse, there can still be a sense of cultural homogeneity in certain areas, which may be challenging if you are not used to the environment.
Overall, while there are some challenges to living in Texas, with the right preparation and mindset, it can be an incredible place to call home.
Also check out 17 Best Places For Vacation In Florida in 2023 | Florida Neighborhood Guide
Frequently Asked Questions
Which Texas city has the most affordable living costs?
If you're on a budget, consider settling in Wichita Falls or Harlingen. These two cities are among the cheapest cities to live in Texas. You'll find affordable housing and groceries, with ample opportunities to stretch your dollars further.
What's the best city for young families in Texas?
Frisco is one of the best cities for young families in Texas. This city offers plenty of outdoor activities and family-friendly attractions such as parks, shopping centers, and a community aquatic center. Its schools have an outstanding reputation and offer excellent educational opportunities.
What are some things to do with your family in Texas?
There is no shortage of family-friendly activities to do in Texas. You can visit amusement parks like Six Flags Over Texas or Splash Town Water Park. You can also visit NASA's Space Center or explore Texas's vast outdoor spaces, like Palo Duro Canyon State Park. Other fun activities include visiting zoos and museums or watching a live football game at AT&T Stadium.
Conclusion
We have come to the end of our guide to the best cities to live in Texas for families. However, what makes a city "best" is subjective. You may prioritize great schools and safe neighborhoods, while others may be more concerned with access to outdoor activities. Whatever your family's needs and preferences may be, there's no doubt that you will find them in Texas.
Reference