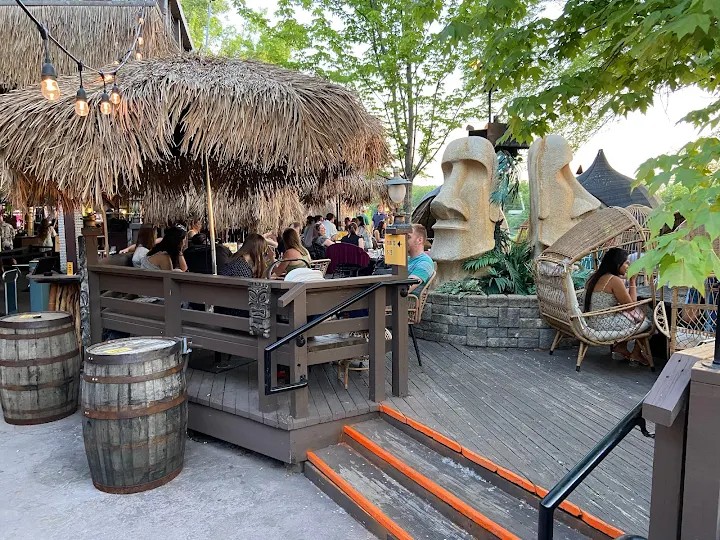 Twin Cities, the metropolitan area of Minneapolis and St. Paul, continues to charm locals and visitors with its delightful outdoor patios. From quaint cafes in picturesque neighborhoods to trendy rooftop lounges offering breathtaking skyline views, the Twin Cities boast diverse patio experiences to suit every taste and occasion.
Soak up the warm summer rays, bask in the cool autumn breeze, or enjoy a cozy winter evening by a heated fire pit – these patios have it all.
We'll explore the finest eateries, breweries, and bars that have captured the hearts of locals and garnered critical acclaim for their exceptional outdoor spaces. Discover hidden gems tucked away in quiet corners and well-known favorites that have earned their reputation as go-to destinations for outdoor dining and relaxation.
Whether you're a Minneapolis native or a curious traveler, this article will be your ultimate resource for finding the best patios in the Twin Cities. Prepare to embark on a gastronomic and social adventure as we delve into the must-visit spots where culinary delights and captivating ambiance blend harmoniously.
So, if you're searching for the best patios Twin Cities have to offer, look no further. Prepare to savor the flavors, embrace the atmosphere, and make unforgettable memories at these 21 best patios in twin cities.
All You Need to Know About Outdoor Patios in the Twin Cities
Outdoor patios in the Twin Cities offer a delightful way to enjoy the region's pleasant weather and vibrant atmosphere. These open-air spaces are popular among locals and visitors, providing a unique dining, relaxing, or socializing experience.
The Twin Cities, comprising Minneapolis and St. Paul, boast diverse outdoor patio options. From trendy rooftop terraces with stunning skyline views to cozy garden settings, there's something for every preference and occasion. Patrons can savor delectable cuisine and craft beverages while basking in the refreshing outdoors.
Minnesota's seasonal weather influences the patio scene, with establishments adapting to the changing climate. During warmer months, patios come alive with live music, outdoor games, and special events. In contrast, some patios transform into cozy winter retreats with heaters, fire pits, and blankets.
With a burgeoning culinary scene, the Twin Cities patios feature an array of cuisines, from farm-to-table fare to international delights. Many restaurants prioritize locally sourced ingredients, adding an element of sustainability to the dining experience.
It's essential to consider peak hours, reservations, and weather conditions to make the most of the outdoor patio culture. Whether it's a weekend brunch or an evening cocktail, outdoor patios in the Twin Cities offer a captivating way to embrace the region's vibrant energy while indulging in exceptional food and ambiance.
Check out – 21 Best Sushi Spots In the Twin Cities In 2023 | Minnesota Guide
What are the 21 Best Outdoor Patios in the Twin Cities?
#1. Psycho Suzi's Motor Lounge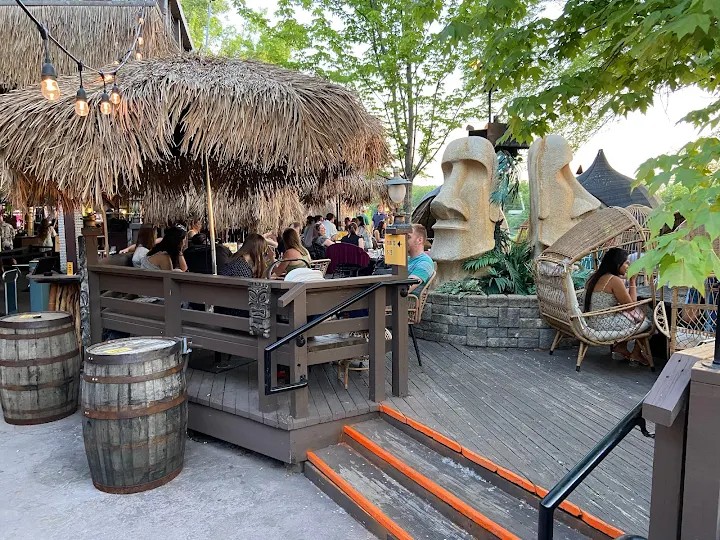 Psycho Suzi's is a vibrant tiki-themed restaurant and bar on the Mississippi River in Northeast Minneapolis. Its outdoor patio, known as the "Shangri-La Patio," is a must-visit spot for locals and tourists alike.
The patio is adorned with tiki huts, palm trees, and colorful decorations that create a fun and laid-back atmosphere. Guests can enjoy a variety of tropical cocktails, a wide selection of craft beers, and delicious food while taking in the scenic views of the river and skyline.
The spacious patio is a great place to gather with friends and enjoy the warm summer weather.
#2. The Bungalow Club
Nestled in the Longfellow neighborhood of Minneapolis, The Bungalow Club offers a cozy and charming outdoor patio experience. The patio is surrounded by lush greenery and has a relaxed ambiance, perfect for a leisurely brunch or dinner.
The Bungalow Club is known for its farm-to-table approach, featuring seasonal and locally sourced ingredients in their dishes. Patrons can savor delectable American cuisine, crafted cocktails, and an impressive wine list while enjoying the serene outdoor setting.
#3. Union Rooftop
Located in the heart of Downtown Minneapolis, Union Rooftop boasts a stunning rooftop patio with panoramic views of the city's skyline. This upscale rooftop destination offers a sophisticated setting with modern furnishings, fire pits, and a retractable roof for all-weather comfort.
The patio is a popular spot for socializing and dining under the stars. Guests can indulge in a diverse menu that includes a fusion of American and international flavors and a selection of signature cocktails and fine wines.
#4. W. A. Frost and Company
Situated in the historic Cathedral Hill neighborhood of St. Paul, W. A. Frost, and Company is renowned for its beautiful garden patio. Surrounded by ivy-covered walls, twinkling lights, and a tranquil fountain, the patio exudes elegance and romance.
It's an ideal spot for a romantic dinner or a relaxing evening with friends. The menu features contemporary American cuisine focusing on seasonal and locally sourced ingredients. W. A. Frost and Company's extensive wine list complements the dining experience perfectly.
#5. Stanley's Northeast BarRoom
A popular gathering spot in Northeast Minneapolis, Stanley's Northeast Bar Room boasts a spacious and lively outdoor patio. The patio is perfect for socializing, featuring communal tables, an outdoor bar, and live music on select nights.
Stanley's offers a diverse menu with classic American dishes, including their famous Jucy Lucy burger. It's also a favorite spot for sports enthusiasts, with multiple TVs broadcasting live games.
#6. Secret Headquarters at Betty Danger's Country Club
Betty Danger's Country Club is an eclectic and quirky restaurant in Northeast Minneapolis. The "Secret Headquarters" is their unique rooftop patio, offering a playful and eccentric atmosphere.
Guests can dine inside a life-sized Ferris wheel gondola that overlooks the city. The patio also features vibrant colors, retro furnishings, and striking skyline views. The menu offers a mix of Tex-Mex and American fare, creative cocktails, and a wide selection of tequilas.
#7. The Gnome Craft Pub
Tucked away in the Longfellow neighborhood of Minneapolis, The Gnome Craft Pub offers a cozy and intimate outdoor patio experience. The patio is surrounded by a lush garden, providing guests with a peaceful and relaxing setting.
The Gnome is known for its extensive craft beer selection, featuring a rotating tap list of local and international brews. Additionally, they offer a menu of hearty pub fare, making it a great spot to enjoy a laid-back evening with friends.
#8. Hola Arepa
Hola Arepa is a Latin American-inspired restaurant in the Kingfield neighborhood of Minneapolis. Their outdoor patio is a hidden gem, offering a vibrant and colorful space to enjoy Latin cuisine with a modern twist.
The patio features bright murals, string lights, and a lively atmosphere, making it a fun place to dine and unwind. Hola Arepa is renowned for its mouthwatering arepas, various flavorful cocktails, and Latin American beers.
#9. RH Rooftop Restaurant Minneapolis
Situated atop the Restoration Hardware store in Minneapolis's trendy North Loop neighborhood, RH Rooftop Restaurant offers a luxurious and chic outdoor dining experience. The rooftop patio is beautifully designed with elegant furnishings, lush greenery, and stunning city views.
Guests can indulge in a menu that focuses on elevated American cuisine, emphasizing fresh, high-quality ingredients. The sophisticated ambiance and attentive service make this rooftop patio a top choice for special occasions and upscale dining.
#10. Lake & Irving Restaurant & Bar
Lake & Irving is a neighborhood gem located in Uptown Minneapolis. The restaurant's outdoor patio provides a cozy and welcoming environment, making it ideal for brunch, lunch, or dinner.
The patio is pet-friendly, adding charm and appeal to animal lovers. Lake & Irving's menu features modern American comfort food with creative twists, and its craft cocktail selection is also worth exploring.
#11. The Kenwood Restaurant
The Kenwood Restaurant in the Twin Cities is renowned for its charming outdoor patio that offers a cozy and intimate dining experience. Nestled amidst lush greenery, the patio exudes a welcoming ambiance, making it a popular spot for romantic dinners and gatherings with friends.
The restaurant's menu features a delightful blend of contemporary American cuisine crafted with locally sourced ingredients, ensuring a fresh and flavorsome dining experience.
Whether you're savoring their signature dishes or enjoying a refreshing cocktail, The Kenwood's patio is the perfect place to bask in the beauty of nature while relishing delectable food.
#12. Gray Duck Tavern
Gray Duck Tavern boasts a vibrant outdoor patio that captures the spirit of the Twin Cities. Located in the city's heart, this patio offers a lively and upbeat atmosphere, making it an ideal spot to unwind after a busy day.
The patio's modern design and comfortable seating create an inviting space for patrons to enjoy the restaurant's diverse menu, featuring elevated pub fare with a twist.
Gray Duck Tavern's patio is a popular choice for those seeking a relaxed yet vibrant dining experience, from innovative small plates to classic comfort dishes.
#13. Spoon and Stable
With its charming and rustic outdoor patio, Spoon and Stable has become a beloved destination in the Twin Cities for food enthusiasts. The patio's elegant design and warm ambiance provide a delightful setting to enjoy the restaurant's refined French-inspired cuisine.
Helmed by an acclaimed chef, the restaurant prides itself on its seasonal and locally sourced ingredients, resulting in dishes that are as visually appealing as they are delicious.
The combination of exceptional food and a beautiful patio makes Spoon and Stable a must-visit for anyone seeking an unforgettable dining experience in the Twin Cities.
#14. Tony Jaros River Garden
Tony Jaros River Garden offers a unique outdoor patio experience in the Twin Cities. Situated alongside the river, the patio boasts picturesque water views, creating a serene and peaceful dining setting. Known for its classic American fare and friendly service, this restaurant has been a favorite among locals for generations.
Whether you're enjoying a hearty meal with family or catching up with friends over drinks, Tony Jaros River Garden's patio provides unmatched tranquility and nostalgia.
#15. Nightingale
Nightingale's outdoor patio offers a hip and trendy atmosphere, attracting a diverse crowd of urban dwellers. Located in a bustling neighborhood, this patio is the perfect spot to people-watch while sipping craft cocktails and indulging in inventive small plates.
The restaurant's contemporary American cuisine with global influences appeals to adventurous palates, and the patio's lively ambiance creates a vibrant backdrop for memorable gatherings and socializing.
#16. Wise Acre Eatery
Set in a charming garden setting, Wise Acre Eatery's outdoor patio provides a delightful escape from the city's hustle and bustle. As an eco-conscious restaurant, Wise Acre Eatery sources most of its ingredients from its farm, ensuring freshness and sustainability in every dish.
The patio's tranquil environment and the farm-to-table culinary experience make it a popular choice for those seeking a connection to nature while enjoying delectable farm-fresh meals.
#17. Jax Cafe
Jax Cafe's outdoor patio is an iconic fixture in the Twin Cities, attracting patrons with its timeless charm and classic appeal. The patio exudes a sense of nostalgia and elegance and is surrounded by lush greenery, making it an excellent choice for special occasions and celebrations.
Known for its superb steaks and seafood, Jax Cafe offers a sophisticated dining experience on its patio, where guests can savor delicious meals under the open sky.
#18. Borough
Borough's rooftop patio is a hidden gem in the Twin Cities, offering a contemporary and chic setting for diners. Located atop the restaurant, the patio features stunning views of the city's skyline, providing a fantastic backdrop for a memorable dining experience.
The restaurant's innovative menu showcases an array of dishes focusing on local and seasonal ingredients. Whether it's a romantic date night or a friend gathering, Borough's rooftop patio promises a stylish and unforgettable evening.
#19. Jackson's Hole Bar & Grill
Jackson's Hole Bar & Grill is a lively spot with a vibrant outdoor patio that captures the spirit of the Twin Cities' social scene. The patio's casual and welcoming atmosphere invites patrons to relax and enjoy various classic American dishes, including mouthwatering burgers and flavorful appetizers.
It's also a popular choice for sports enthusiasts, as the patio often screens live games and events, creating a festive environment for sports fans.
#20. Saint Genevieve
Saint Genevieve's charming courtyard patio offers a touch of European elegance in the heart of the Twin Cities. Adorned with twinkling lights and lush greenery, the patio creates an enchanting setting for diners.
The restaurant specializes in French cuisine, including delectable dishes like escargot and coq au vin. Saint Genevieve's patio is ideal for those seeking a romantic and intimate dining experience to immerse themselves in French-inspired culinary delights.
#21. Harriet Brasserie
Harriet Brasserie's outdoor patio is a hidden oasis that provides a tranquil escape from the urban environment. Tucked away from the bustling streets, the patio offers a serene setting, surrounded by greenery and a natural ambiance.
The restaurant's focus on sustainable and locally sourced ingredients is reflected in its menu, which features a fusion of global flavors. Whether it's a leisurely brunch or an evening dinner, Harriet Brasserie's patio is a perfect spot to unwind and savor exceptional dishes in a peaceful atmosphere.
Take out time to read – 21 Best Playgrounds in the Twin Cities in 2023 | Minnesota guide
Factors to Consider When Choosing an Outdoor Patio in the Twin Cities
When choosing an outdoor patio in the Twin Cities, several crucial factors must be considered to ensure you create a comfortable and enjoyable space. Here are some of the key factors to keep in mind:
#1. Location and Orientation
The location of your outdoor patio is paramount. Consider the orientation of the space about the sun and wind patterns. Ideally, you'd want a spot that receives ample sunlight during the day and is protected from strong winds.
#2. Size and Layout
Assess the available space and decide on the size and layout of your patio. Think about how you plan to use the area – whether it's for dining, lounging, or hosting gatherings. The size and layout should complement your lifestyle and needs.
#3. Materials and Aesthetics
Choose durable and weather-resistant materials that match the style of your home and personal preferences. Common patio materials include concrete, pavers, bricks, natural stone, and wood. Ensure the chosen materials can withstand the harsh Minnesota weather.
#4. Shade and Privacy
Incorporate shade elements, such as umbrellas, pergolas, or awnings, especially during hot summer days. Additionally, consider adding privacy features like fences, screens, or landscaping to create a more intimate and secluded ambiance.
#5. Maintenance and Upkeep
Think about the level of maintenance required for your chosen patio materials and features. Some materials may demand regular maintenance, while others are more low-maintenance and can withstand the local climate better.
#6. Local Regulations and Permits
Before starting any construction or renovation, be aware of local building codes, zoning regulations, and permit requirements. These rules may vary depending on the Twin Cities specific area, so it's essential to comply with them to avoid any issues down the road.
#7. Lighting and Ambiance
Consider incorporating outdoor lighting to extend the usability of your patio into the evenings. Options like string lights, lanterns, or built-in fixtures can create a cozy and inviting atmosphere.
#8. Budget and Long-Term Investment
Set a budget for your outdoor patio project and try to stick to it. While you may want to splurge on certain aspects, keep in mind the long-term investment. Quality materials and well-thought-out design can add value to your property.
You might find this interesting – Cities where Marriage is Easy: The Best Places to Say "I Do"
Pros and Cons of Outdoor Patios in the Twin Cities
For various reasons, outdoor patios have become increasingly popular in many urban environments, including the Twin Cities. However, like any architectural feature, they have advantages and drawbacks. Let's dive into the details:
Pros of Outdoor Patios in the Twin Cities
Enjoyment of Nature: Outdoor patios allow people to connect with nature and enjoy the beautiful Minnesota weather during the warmer months. Residents and visitors can experience the changing seasons, fresh air, and scenic surroundings.
Extended Seating Capacity: Patios expand the seating options for restaurants, cafes, and bars, especially during peak times. This helps businesses accommodate more customers and potentially increase revenue.
Enhanced Social Experience: Patios offers a unique setting for social gatherings, family outings, and friendly meetups. They provide a relaxed atmosphere for conversations and bonding.
Promotes Healthy Lifestyle: Outdoor spaces encourage physical activity and outdoor dining, positively affecting overall well-being.
Aesthetic Appeal: Well-designed patios can enhance the visual appeal of establishments and contribute to the neighborhood's character. They can attract more foot traffic and create a vibrant atmosphere.
Seasonal Business Growth: In a region with distinct seasons like the Twin Cities, patios allow businesses to capitalize on outdoor dining during the warmer months, potentially increasing revenue.
Cons of Outdoor Patios in the Twin Cities
Seasonal Limitations: The weather in the Twin Cities can be unpredictable and harsh during winter, limiting the usability of outdoor patios. Businesses may need to invest in heating equipment or temporarily close the patio during colder months.
Noise and Disturbance: Outdoor patios can generate noise, especially in urban areas, which might disturb nearby residents and affect their quality of life.
Zoning and Regulation: Establishing outdoor patios may involve navigating local zoning regulations and permits, which can be time-consuming and costly for businesses.
Maintenance Costs: Patios require regular maintenance and cleaning, especially after adverse weather conditions, to remain inviting and safe.
Insect and Pest Concerns: During the summer, insects and pests can become nuisances, potentially impacting the dining experience.
Limited Space: In densely populated urban areas, outdoor space for patios might be limited, making implementing them challenging for all businesses.
You can also check out – 20 Most Humid Cities In The World In 2023 | With Photos
Frequently Asked Questions
Do these patios offer any special amenities or features?
Many of these patios have unique features such as rooftop seating, scenic views, live music, fire pits, and outdoor games like bocce ball or bean bag toss.
Are these patios family-friendly?
Yes, most of these patios are family-friendly and welcome guests of all ages. However, it's a good idea to check individual patio policies.
What types of cuisines are typically served on these patios?
The Twin Cities' outdoor patios often offer a diverse range of cuisines, including American, international, and fusion dishes and a variety of refreshing beverages.
Are reservations required for patio seating?
While some patios may take reservations, many operate on a first-come, first-served basis, especially during peak hours. It's best to plan for popular spots.
Conclusion
The Twin Cities boast an array of outstanding outdoor patios that cater to every taste and preference. From trendy urban rooftops to serene garden settings, these venues offer a delightful experience for patrons seeking to savor the beautiful weather.
With diverse culinary delights, craft beverages, and welcoming atmospheres, these patios elevate the dining and socializing experience.
Whether one seeks a romantic date night, a lively gathering with friends, or a relaxing afternoon, the Twin Cities' best outdoor patios never disappoint. Embrace the charm and ambiance of these locales, and relish in the joy of outdoor dining.
Reference