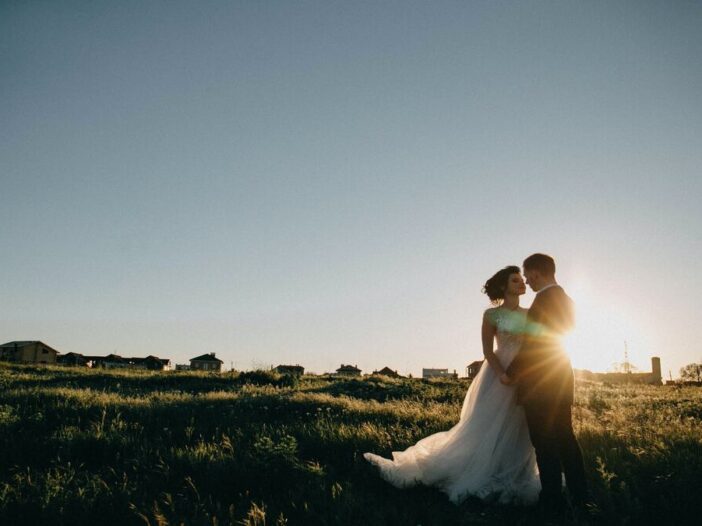 Getting married is one of the most special moments in a person's life, but sometimes planning the perfect wedding can become overwhelming. Between picking the venue, deciding on the guest list, and finding the right caterer, it can seem like the romance of the moment can be lost in all the stress. That's where eloping comes in! In this article, we have compiled a guide to the best places to elope in the U.S.
Eloping doesn't mean you have to miss out on the magic of your wedding day. Choosing a beautiful place to elope will make the moment more intimate and unforgettable. Fortunately, there are many incredible places throughout the United States where you can say "I do" without all the fuss of a big wedding.
We've rounded up the 17 best places to elope in the U.S. to help make your dream wedding a reality. Whether you're looking for a breathtaking mountain view, a charming seaside town, or a quaint city vibe, we've got you covered. So sit back, relax, and prepare to be inspired by these romantic and picturesque locations.
From the shores of Hawaii to the stunning mountain ranges of Colorado, these locations will have you feeling like you're on top of the world. So grab your significant other, pack your bags, and get ready for the wedding of a lifetime.
Why Elope in the U.S.
There is something uniquely special about eloping in the United States. Perhaps the vast array of scenic locations or the country's cultural heritage makes it a dream wedding destination. Whatever the reason, more and more couples opt for a private elopement instead of a grand traditional wedding ceremony.
Elopement weddings have a lot of benefits. One of the main advantages is that it provides an opportunity for couples to escape the traditional and expected ways of marriage. By eloping, you're free from the need to impress everyone around you, and you can truly enjoy the moment with your significant other.
There are no long waiting times, no fancy dinner receptions, or pompous social functions to attend. You have all the time to create memories and experiences that will last a lifetime.
Additionally, there's the incredible diversity of scenery the U.S. offers. The breathtaking beauty of natural landmarks like Yosemite, Niagara Falls, and the Grand Canyon are perfect places to elope. Whether you opt for a beach wedding in Hawaii or a rustic mountain ceremony in Colorado, there is no shortage of picturesque places in the United States to exchange vows.
But perhaps, the most significant advantage of eloping is the financial freedom it provides. Instead of spending thousands of dollars on a grand wedding, couples can elope at a fraction of the cost. The money saved can be used to create a dream honeymoon or to pay a home down.
Overall, eloping is a great way to get married in the United States. With no rules or obligations to follow, couples can celebrate their love in an intimate and special way. The U.S. has many destinations perfect for elopements, so start exploring your options and plan a dream elopement today!
Check out – 21 Best Places To Stay In Stowe VT in 2023 | Stowe VT Neighborhood Guide
Deciding Where to Elope in the U.S.
Deciding where to elope can be tricky, especially if you're unfamiliar with the many destinations around the U.S. You'll need to consider the perfect spot that fits your taste and lifestyle, as well as logistics such as budget, accessibility, and the season.
Here's a simple guide to help you decide where to elope:
#1. Determine your budget and destination wish list
An elopement does not necessarily mean less expense, but it offers flexibility. Consider the cost of travel, lodging, food, and entertainment for you and your partner. Narrow down the locations you want to consider based on your budget and the destinations you've wanted to visit.
#2. Pick the season
Different seasons present unique landscapes, lighting, and temperature, depending on your choice of location. Pick the ideal time of year for your preferred location, especially if the area is known for its specific weather or seasonal changes.
#3. Get Inspired
Start brainstorming your dream location by exploring social media platforms like Instagram, Pinterest, and travel blogs for inspiration. Use the hashtags related to your dream location to check out real-time photos and read stories from travelers who've visited your shortlisted places. Take note of their favorite spots and why they loved the place.
#4. Consider the legal requirements
Make sure you check the marriage laws of your dream location. You will need to satisfy different states, regions, or countries with unique marriage requirements and laws. Find out the timelines of the requirements, such as documents needed, permits, and deadlines.
#5. Assess accessibility
Think about the practicalities such as distance and transportation to the location and the nearby accommodations and activities available. Research flight availability and rates, transportation to the location from the airport, hotels, restaurants, and recreational activities in the area.
Take out time to read – 21 Best Places to Stay in Tampa in 2023 | Tampa Neighborhood Guide
Top 17 Best Places to Elope in the U.S.
Are you planning to tie the knot with your beloved but do not want a grand ceremony? Well, eloping might be the perfect option for you. Eloping saves you from the hassles of planning a grand wedding and adds an element of adventure to your love story. Here is a list of the top 17 best places to elope in the U.S.:
#1. Yosemite National Park, California
First on our list of the best places to elope in the U.S. is the Yosemite National Park. This park is an awe-inspiring destination for couples seeking a picturesque elopement. Nestled in the Sierra Nevada mountains, it has towering granite cliffs, pristine waterfalls, lush meadows, and serene lakes. 
Imagine exchanging vows against the backdrop of Bridalveil Fall or Glacier Point, with the iconic Half Dome as a witness. The park offers a range of stunning locations, from Tunnel View to Taft Point, providing opportunities for breathtaking photos.
You can choose between holding an intimate ceremony by a secluded stream or a more adventurous affair atop a granite dome. The park's natural beauty, tranquility, and sense of wonder make it a dream location.
#2. Savannah, Georgia
With its charming cobblestone streets, historic architecture, and southern hospitality, Savannah is a great romantic destination. The city's historic squares, like Forsyth Park and Chippewa Square, offer enchanting settings for intimate ceremonies. 
Spanish moss-draped oak trees create a picturesque atmosphere, and the city's vibrant art and culture scene provides plenty of opportunities to take unique photos.
Whether you choose to exchange your vows in a historic mansion, a quaint garden, or along the Savannah River, this city exudes timeless elegance. It offers a romantic backdrop that will make your elopement truly special.
#3. Sedona, Arizona
Sedona's otherworldly red rock formations and stunning desert landscapes make it a captivating elopement destination. The area's unique blend of natural beauty and spiritual energy creates a magical atmosphere for couples seeking a meaningful and intimate ceremony.
Imagine saying "I do" with the towering Cathedral Rock or Bell Rock formations as your backdrop or perhaps atop one of the many scenic overlooks with breathtaking vistas.
The town's cozy and upscale accommodations perfectly balance adventure and comfort, making Sedona an ideal location for couples looking for a spiritual and picturesque elopement experience.
#4. Napa Valley, California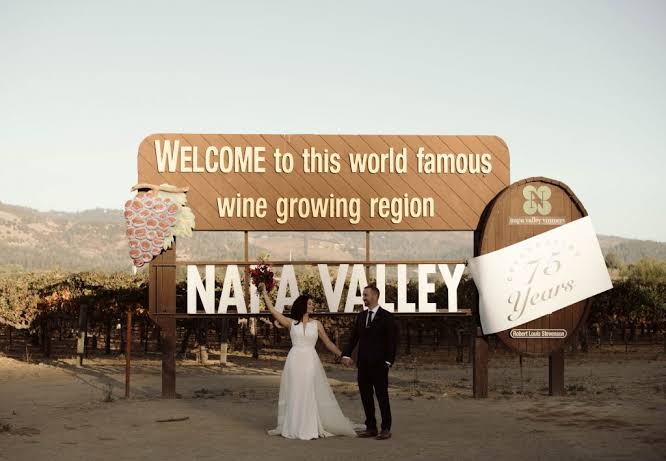 Napa Valley's rolling vineyards, lovely wineries, and luxurious estates set the stage for a romantic and intimate elopement. The region's world-class wine and culinary scene create an air of indulgence and celebration. 
You and your love can exchange vows amidst the lush vineyards, in a charming wine cave, or at a rustic farmhouse. The Napa Valley Wine Train is a unique and elegant option you should consider.
With its breathtaking landscapes, fine wines, and upscale accommodations, Napa Valley provides a romantic and sophisticated setting for couples seeking an intimate elopement experience.
#5. Charleston, South Carolina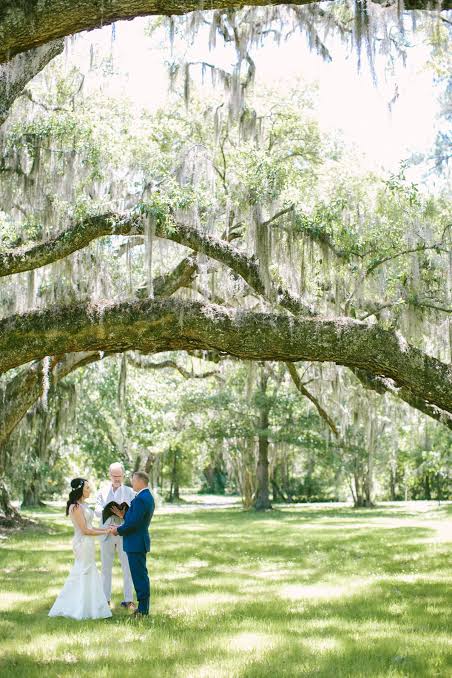 Steeped in history and southern charm, Charleston offers a romantic and picturesque backdrop. Cobblestone streets, antebellum architecture, and waterfront views create a timeless atmosphere. 
Historic gardens, such as Magnolia Plantation and Middleton Place, offer lush and enchanting settings for intimate ceremonies. The Battery and Waterfront Park provides stunning vistas of Charleston Harbor, while Rainbow Row's pastel-colored homes add a whimsical touch.
With its rich history, elegant venues, and southern hospitality, Charleston exudes an undeniable allure for couples looking to elope in style.
#6. Asheville, North Carolina
Nestled in the Blue Ridge Mountains, Asheville offers natural beauty, artistic spirit, and relaxed charm, making it a perfect destination if you want a laid-back and scenic elopement. 
The mountainous landscapes, including the Blue Ridge Parkway and Craggy Gardens, provide stunning backdrops for intimate ceremonies. Couples can exchange vows surrounded by wildflowers, with panoramic views of the Smoky Mountains, or in a cozy cabin nestled in the woods.
Asheville's thriving arts scene, craft breweries, and farm-to-table dining options add a unique and creative element to your elopement experience.
#7. Santa Fe, New Mexico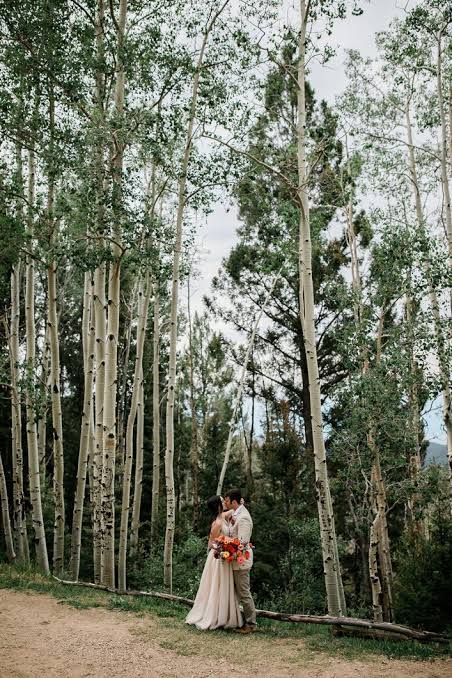 Santa Fe's distinctive blend of Pueblo-style architecture, the vibrant arts community, and rich cultural heritage create a captivating setting for a romantic elopement. The city's historic plaza, with its adobe buildings and colorful markets, offers a charming location for intimate ceremonies.
The nearby Sangre de Cristo Mountains provide a stunning natural backdrop, while the Santa Fe Opera House is an elegant and dramatic venue is you want a more formal affair. 
You can also opt for a traditional Native American ceremony, adding a meaningful and spiritual dimension to their elopement experience. With its unique blend of culture, art, and natural beauty, Santa Fe provides a truly enchanting destination for couples looking to elope in style.
#8. Joshua Tree National Park, California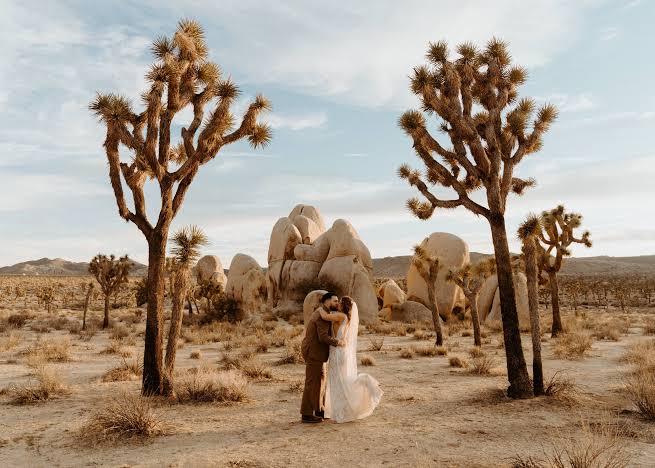 In Southern California, Joshua Tree National Park offers a mesmerizing and otherworldly backdrop. With its striking desert landscape, iconic Joshua Trees, and breathtaking rock formations, this park provides an unique location for a private wedding.
Imagine exchanging vows against the backdrop of a stunning sunset, where the warm hues of the desert sky create an intimate and ethereal atmosphere. The park's vast expanse allows endless opportunities to explore and capture stunning photos, whether amidst the otherworldly Joshua Trees, atop rugged boulders, or against the dramatic vistas.
Joshua Tree's remote location offers seclusion and intimacy, making it a perfect choice for couples who want to escape the hustle and bustle of everyday life and celebrate their love in a truly unforgettable way.
#9. Lake Tahoe, California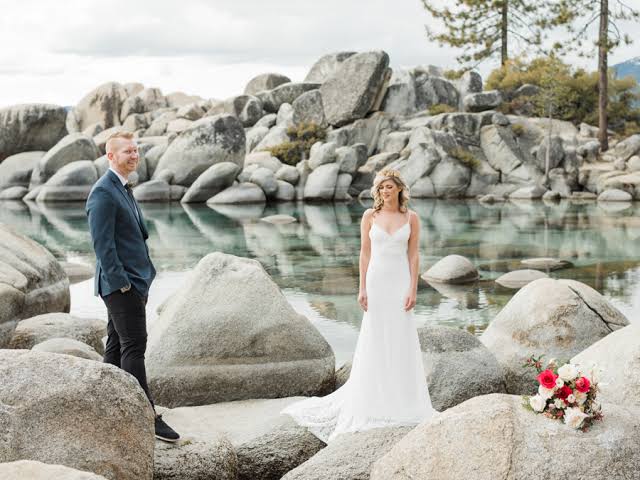 Nestled in the Sierra Nevada Mountains, Lake Tahoe is a picturesque and enchanting destination. With its crystal-clear waters surrounded by towering pine trees and majestic mountains, Lake Tahoe offers a serene and intimate atmosphere ideal for a private ceremony. 
Whether you exchange your vows on the sandy beaches during a summer sunset or against snow-covered mountains in the winter, Lake Tahoe provides breathtaking vistas and ever-changing landscapes.
The various lakeside resorts and charming cabins offer cozy and luxurious accommodations for couples, ensuring a seamless and memorable elopement experience. With year-round outdoor activities and the beauty of nature at every turn, Lake Tahoe offers an idyllic setting for couples to celebrate their love in a tranquil and romantic environment.
#10. Cape Cod, Massachusetts
Cape Cod exudes classic New England charm and offers a delightful coastal setting if you want to get married by the sea. With its iconic lighthouses, quaint fishing villages, and stunning beaches, Cape Cod perfectly blends maritime allure and natural beauty. 
Imagine exchanging vows with the sound of ocean waves crashing against the shore and the gentle sea breeze caressing your skin. The Cape's historic towns, such as Provincetown and Chatham, offer a blend of history, culture, and scenic vistas, making for unique and picturesque elopement locations.
From intimate beachside ceremonies to charming bed and breakfasts, Cape Cod provides a range of options for couples to create their dream elopement while surrounded by the region's timeless coastal elegance.
#11. Big Sur, California
Big Sur's rugged coastline and stunning cliffs offer an unforgettable backdrop for couples seeking a dramatic and awe-inspiring elopement location. Located along California's iconic Pacific Coast Highway, Big Sur boasts breathtaking ocean views, towering redwoods, and majestic cliffs that plunge into the Pacific Ocean.
Imagine saying your vows on a cliffside overlooking the crashing waves, with the mesmerizing ocean stretching as far as the eye can see. The region's ethereal and untamed beauty creates a sense of wonder and intimacy, allowing couples to connect with nature and each other profoundly.
Big Sur's luxury resorts and charming lodges provide elegant and comfortable accommodations for couples, making it an ideal destination for romantic elopement combining natural grandeur and tranquility.
#12. Newport, Rhode Island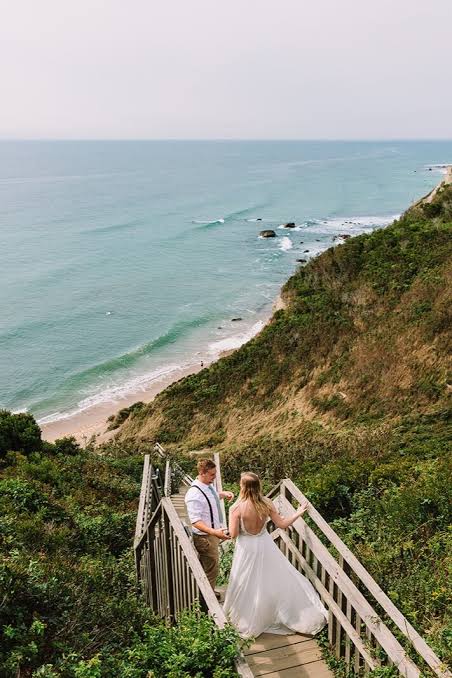 Steeped in history and coastal charm, Newport offers couples a romantic and elegant setting for a memorable elopement. Known for its stunning mansions, cobblestone streets, and scenic harbor, Newport exudes a timeless, refined atmosphere perfect for a sophisticated celebration of love.
Imagine exchanging vows in the gardens of a historic mansion or on a picturesque sailboat as it glides through the harbor waters. Newport's blend of Gilded Age luxury and coastal beauty creates a unique and captivating backdrop for couples seeking an intimate and stylish elopement experience.
With its luxurious inns, boutique hotels, and renowned restaurants, Newport provides couples with various options to create a personalized and enchanting elopement that reflects their unique love story.
#13. Mackinac Island, Michigan
Mackinac Island, located in Lake Huron, offers is enchanting location. The island is a picturesque destination known for its timeless charm and Victorian architecture. Imagine exchanging vows amidst blooming gardens, historic buildings, and stunning waterfront views. 
The absence of motor vehicles on the island creates a serene atmosphere, allowing you to enjoy horse-drawn carriage rides, leisurely bike rides, and peaceful walks.
Arch Rock, a natural limestone arch formation, provides a captivating backdrop for your elopement ceremony. Whether you choose a beachside celebration or an intimate garden gathering, Mackinac Island provides a unique and romantic experience.
#14. Santa Barbara, California
Santa Barbara's Mediterranean-inspired architecture, golden beaches, and temperate climate make it an alluring elopement location. The city offers a blend of coastal beauty and cultural richness. You can say your vows on the pristine shores of Butterfly Beach, with the Pacific Ocean as your backdrop.
With its Spanish Colonial Revival style and lush gardens, the Santa Barbara Courthouse is a popular spot for elopement ceremonies. Stearns Wharf, a historic pier, provides panoramic ocean views and a charming setting for an intimate ceremony.
With its vineyards and wineries, the Santa Ynez Valley nearby offers a romantic escape for post-elopement celebrations. Santa Barbara ensures a blend of elegance, natural beauty, and relaxation.
#15. Glacier National Park, Montana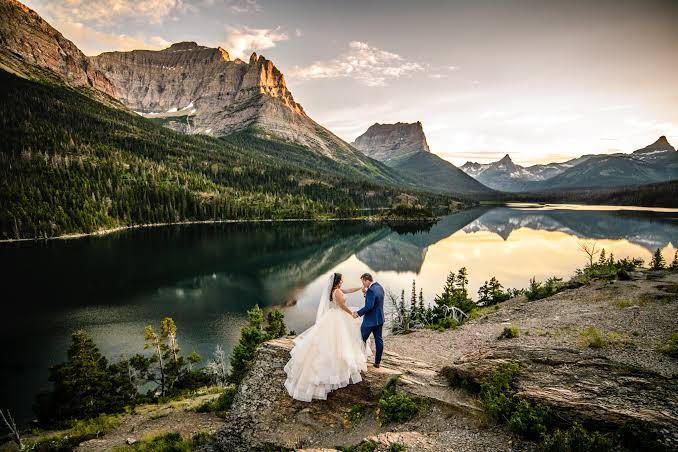 Glacier National Park is a dream come true for couples seeking a rugged and awe-inspiring elopement backdrop. With its towering snow-capped peaks, turquoise lakes, and diverse wildlife, the park offers a truly majestic setting.
Consider a ceremony at the shore of Lake McDonald or the base of iconic peaks like Grinnell Glacier. The Going-to-the-Sun Road, a scenic drive through the park's heart, provides numerous overlooks for breathtaking elopement photos.
Whether you choose a summer wildflower meadow or a winter wonderland, Glacier National Park promises an adventurous and unforgettable elopement experience in the heart of nature.
#16. Kauai, Hawaii
Kauai, the "Garden Isle," is a tropical paradise that offers an idyllic backdrop for a Hawaiian elopement. From its lush rainforests and cascading waterfalls to its pristine beaches and dramatic cliffs, Kauai is a haven of natural beauty.
You could exchange vows at Waimea Canyon, often called the "Grand Canyon of the Pacific," with its vibrant red and green hues. The Na Pali Coast provides a stunning coastline setting where you can say your "I dos" against towering sea cliffs and turquoise waters.
Lumahai Beach's golden sands and crashing waves offer a romantic and serene atmosphere. Kauai's laid-back vibe, cultural richness, and breathtaking landscapes make it an ideal destination for couples seeking a tropical elopement experience.
#17. Acadia National Park, Maine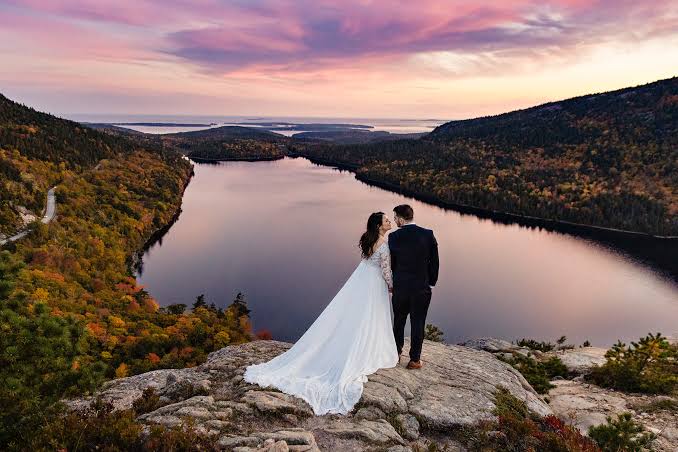 Last but no least on our guide to best places you can elope in the U.S. is the Acadia National Park. Acadia National Park on Mount Desert Island is a captivating blend of coastal beauty and rugged landscapes. With its rocky shorelines, dense forests, and granite peaks, the park provides a diverse and enchanting setting for elopements. 
Cadillac Mountain, the highest point on the U.S. East Coast, offers panoramic sunrise and sunset views, making it a magical spot for exchanging vows. With its tranquil waters and surrounding mountains, Jordan Pond creates a serene ambiance for an intimate ceremony.
The Park Loop Road provides access to several scenic overlooks and iconic spots like Thunder Hole, where waves crash against granite cliffs. Acadia's natural beauty and maritime charm offer couples a charming and unforgettable elopement experience.
You can also check out – 16 Best Places to Stay in Vermont in 2023 | Vermont Neighborhood Guide
How to Elope in the U.S.
Eloping in the U.S. can be an exciting and unique way to tie the knot without the stress and hassle of a traditional wedding. Here's an extensive guide on how to elope in the U.S.:
#1. Marriage License
Before you elope, you'll need to obtain a marriage license. Each state has its requirements, so it's important to research the specific rules for the state you plan to elope in. Generally, you and your partner must apply in person at the county clerk's office.
You must provide identification, such as driver's licenses or passports, and your social security numbers. Some states have waiting periods before the license is issued, so plan.
#2. Permits
You might need a permit if you plan to elope in a public space, like a national park or a beach. National parks, for example, often require permits for weddings and elopements to protect the environment and other visitors.
Research the location you have in mind and find out if a permit is required, how to apply for it, and any associated fees. It's important to follow the rules and regulations of the chosen location to have a seamless elopement experience.
#3. Hire an Expert
While eloping is often seen as a more intimate and low-key event, hiring an elopement expert can greatly enhance your experience and handle various logistics. You can consider working with an elopement planner, photographer, and officiant.
An elopement planner can assist in arranging accommodations, transportation, and other details, ensuring a stress-free elopement. A professional photographer can beautifully capture the special moments, and an officiant can legally bind your ceremony.
#4. Choose a Meaningful Location
One of the most exciting aspects of eloping is selecting a meaningful location for your ceremony. The U.S. offers many stunning backdrops, from picturesque mountains and serene beaches to charming cityscapes. Consider a location that is significant to your relationship or a place you have always wanted to visit.
#5. Personalize Your Ceremony
Eloping allows you to create a ceremony reflecting your personality and values. Write your vows, choose meaningful readings, or incorporate traditions that are special to you. Since elopements are more intimate, you can customize every ceremony aspect.
#6. Inform Loved Ones
While eloping may be an intimate affair, you may still want to involve your close family and friends. Consider informing them of your plans, especially if you want them to be part of the celebration. Some couples have a small post-elopement gathering or a reception to celebrate with loved ones who couldn't attend the ceremony.
You might find this interesting – 17 Best Places To Stay In St. Lucia In 2023 | St. Lucia Neighborhood Guide
Frequently Asked Questions
What makes a good location for eloping?
A good elopement location should have stunning scenery and a sense of intimacy and privacy. It should be a place where you and your partner can exchange vows without feeling crowded or distracted by onlookers. Some popular options include national parks, beaches, mountains, and gardens.
Do I need a wedding planner for an elopement?
While hiring a wedding planner for an elopement is unnecessary, they can be a valuable resource for finding vendors, securing permits, and taking care of all the little details that go into planning a ceremony. However, if you prefer to keep things simple and DIY, that's completely up to you!
What should you wear for an elopement?
This is entirely up to you! Whether you want to wear a traditional wedding dress or something more casual, the most important thing is feeling comfortable and confident on your special day.
Conclusion
The United States offers many stunning locations to tie the knot without breaking the bank or getting bogged down by traditional wedding logistics. From the rustic charm of the Rocky Mountains in Colorado to the whimsical vineyards in Napa Valley, or the dramatic beaches of Maui, there's no shortage of beautiful and romantic places to elope in this vast and diverse country. 
You and your partner can create an intimate and personal ceremony that truly celebrates your love and commitment. Whether you prefer the great outdoors, the urban energy of a bustling city, or the serenity of a tranquil countryside, there's a perfect spot out there just waiting for you.
Reference