Barbados, a beautiful island nestled in the eastern part of the Caribbean Sea, beckons travelers with its promise of sun-kissed beaches, rich history, and vibrant culture. In recent years, this tropical paradise has emerged as a highly sought-after destination, drawing visitors from around the globe. However, the success of your Barbadian adventure hinges significantly on one crucial decision: where to stay. That is why we have compiled this comprehensive guide to the best places to stay in Barbados.
Choosing the perfect accommodation is not just about having a place to rest your head at night; it's about curating an experience that aligns with your travel aspirations. Whether you're a budget-conscious explorer, an adventure-seeker, a romantic couple, or a family in search of fun, the island offers a diverse array of lodging options that cater to different tastes and budgets. In this article, we will take you on a journey through the best places to stay in Barbados. We understand that every traveler is unique, as are their preferences and budgets. Therefore, we've meticulously curated a list of accommodations to suit various tastes and financial plans.
Why Stay in Barbados?
Barbados, a tropical paradise in the Caribbean, offers a captivating allure that entices visitors to stay and indulge in its vibrant charm. Its year-round warm climate and stunning beaches boasting crystal-clear waters and powdery white sands make it an ideal destination for sun-seekers and water enthusiasts.
Beyond its natural beauty, Barbados' rich cultural heritage and friendly locals create an inviting and immersive experience. Explore historic sites like Bridgetown, a UNESCO World Heritage Site, or the island's captivating past at various museums and galleries.
Culinary delights await, from fresh seafood to traditional Bajan dishes. The island's diverse cuisine is a compelling blend of flavors.
Moreover, the warm hospitality and laid-back atmosphere make Barbados feel like a home away from home. Engage in thrilling water sports, discover lush tropical gardens, or simply relax under swaying palm trees.
Whether seeking adventure, relaxation, or a vibrant cultural experience, Barbados captivates hearts, making it an unforgettable destination to stay and savor life's precious moments.
Check out – 20 Most Underrated Cities In The World In 2023 | With Photos
How To Get Around Barbados
Getting around Barbados is quite easy, and several transportation options are available to explore the island's attractions. Whether you prefer to travel independently or with the assistance of guided tours, here's a comprehensive guide on how to get around Barbados:
#1. Renting a Car
Renting a car is one of the most popular ways to explore Barbados. It allows you to set your schedule and discover the island at your own pace. And it will help you get to the best places in Barbados with style.
To rent a car, you must be at least 21 years old (age may vary depending on the rental company) and possess a valid driver's license. Remember that Barbados drives on the left-hand side of the road, which may take some adjustment for those used to right-hand driving.
#2. Public Buses
Barbados has an extensive public bus system that covers most parts of the island. The buses are easily recognizable by their blue color and are affordable for getting around.
The main bus terminal is in Bridgetown, the capital city, and routes spread out to various destinations. Buses can get crowded during peak hours, but they offer an authentic experience of traveling with locals.
#3. ZRs and Minibuses
ZRs (pronounced "Zed-Rs") and Mini-buses are privately owned vans and mini-buses that operate along specific routes. They are a more informal form of public transport and can be a bit more adventurous than regular buses.
ZRs often play loud music, and their drivers are known for driving faster. If you're up for a lively local experience, hop on a ZR or minibus.
#4. Taxis
Taxis are readily available in Barbados and are a convenient option, especially for shorter trips or when you prefer a more personalized service.
Meanwhile, taxis do not have meters, so it's essential to negotiate the fare before starting the journey. Your hotel or accommodation can help arrange a taxi service for you, or you can find them at designated taxi stands.
#5. Rental Scooters and Motorcycles
If you want to experience the island's scenic beauty up close, consider renting a scooter or motorcycle. It's a great way to navigate narrow roads and explore the hidden gems of Barbados. As with renting a car, you must meet the age and licensing requirements to rent a scooter or motorcycle.
#6. Bicycles
Some areas in Barbados are ideal for cycling, especially in the more rural and less trafficked regions. Many hotels and rental companies offer bicycles for guests, so you can inquire about availability if you wish to cycle around the island.
#7. Walking
For those staying in towns or near attractions, walking is an excellent way to explore the local culture and soak in the island's beauty while visiting the best places in Barbados. The coastal areas and boardwalks are particularly attractive for strolls.
#8. Boat Tours and Ferries
Since Barbados is an island, you can also consider boat tours and ferries to visit neighboring islands or participate in water-based activities. Some popular excursions include catamaran cruises, fishing trips, and visits to nearby islets.
#9. Guided Tours
If you prefer a structured experience, many tour operators offer guided tours that cover the island's main attractions. These tours may include visits to historical sites, nature reserves, and other points of interest. Look for tour packages that align with your interests, and ensure they have good reviews or recommendations.
#10. Ride-Sharing Apps
Depending on the current state of technology, ride-sharing apps like Uber or Lyft might also be available in Barbados. Check the app store or inquire locally if these services are operational during your visit.
Tips for Getting Around Barbados
Plan your routes and destinations so you have a rough idea of how to get around efficiently.
Be prepared for the possibility of traffic, especially during peak hours.
Carry some cash with you, as smaller vendors and public transportation may not accept credit cards.
Engage with locals to learn more about the island's hidden gems and local customs.
Respect local traffic rules and norms, particularly when driving or cycling.
Consider using a combination of transportation methods to optimize your travel experience.
Take out time to read: 10 Dirtiest Cities In The World In 2023 | With Photos
What Are The 21 Best Places to Stay in Barbados?
Barbados is renowned for its stunning beaches, warm hospitality, and luxurious accommodations. Whether you're seeking a romantic getaway, a family vacation, or a relaxing escape, the island offers a wide array of world-class resorts and boutique hotels. Let's explore the best places to stay in Barbados:
#1. Sandy Lane Resort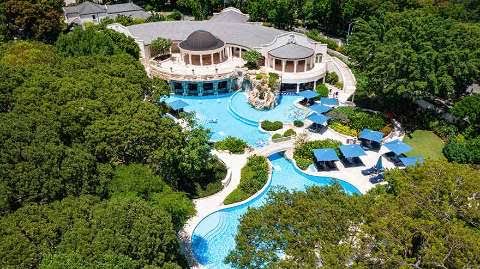 First on our list of the best places to stay in Barbados is the Sandy Lane Resort. Sandy Lane Resort is the epitome of luxury and elegance in Barbados. Located on the island's western coast in St. James, this iconic resort boasts an impeccable reputation for its exceptional service and lavish amenities.
The resort features spacious and opulent rooms and suites, some with private plunge pools and direct beach access. Guests can indulge in three world-class golf courses, an award-winning spa, and various fine dining options. Sandy Lane's pristine white sand beach is the perfect place to unwind and enjoy the breathtaking views of the Caribbean Sea.
#2. The Crane Resort
Located on the southeast coast of Barbados, The Crane Resort is renowned for its stunning cliff-top location and picturesque Crane Beach, one of the most beautiful in the world. The resort offers luxury rooms, suites, and private villas, each elegantly appointed with modern amenities and traditional Barbadian décor.
The Crane's multi-pool complex, including a stunning cliff-top pool, offers a refreshing escape from the Caribbean heat. Guests can also savor delectable cuisine at the resort's restaurants and experience rejuvenating treatments at the renowned Crane Village Spa.
#3. Coral Reef Club
Coral Reef Club is a charming and intimate family-owned resort located in the parish of St. James. The resort exudes a refined and tranquil atmosphere within beautiful tropical gardens. Coral Reef Club offers spacious suites, cottages, and luxurious rooms with elegant furnishings and modern comforts.
The resort's Spa is a serene oasis offering a range of pampering treatments. The beachfront restaurant provides delightful dining experiences focusing on fresh, local ingredients and delicious Caribbean cuisine.
#4. Fairmont Royal Pavilion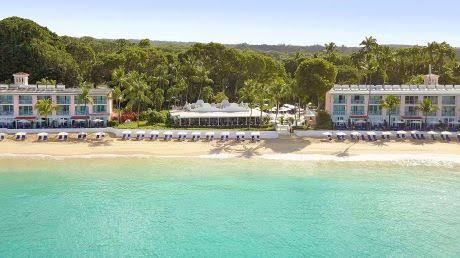 Situated on the prestigious Platinum Coast of Barbados, the Fairmont Royal Pavilion offers an upscale and sophisticated beachfront experience. This luxurious resort features well-appointed oceanfront rooms and suites with stunning sea views and direct access to the beach.
Guests can take advantage of various water sports activities, explore the nearby attractions, or simply relax by the beach or the oceanfront pool. The resort's on-site dining options provide an exceptional culinary journey featuring international and Caribbean-inspired dishes.
#5. Cobblers Cove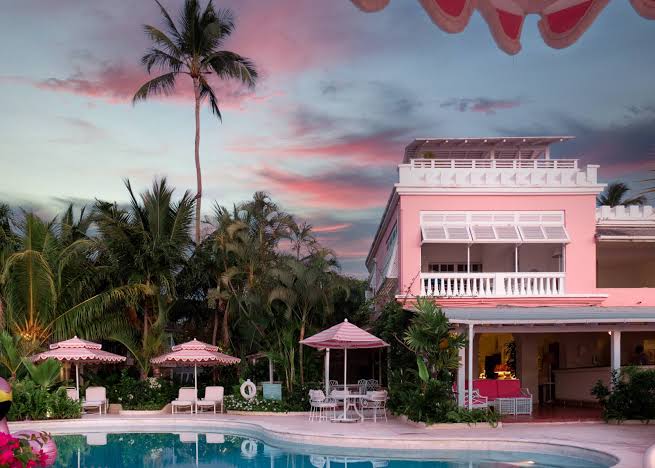 Cobblers Cove is a boutique hotel on the west coast of Barbados, offering an intimate and exclusive getaway. Nestled amidst lush gardens and overlooking a pristine beach, the hotel features spacious suites and cottages with classic Caribbean décor.
Guests can enjoy private verandahs, gourmet dining at the Camelot Restaurant, and relaxing treatments at the Sea Moon Spa. Cobblers Cove provides personalized service, creating a warm and inviting atmosphere that keeps guests returning year after year.
#6. Tamarind by Elegant Hotels
Tamarind by Elegant Hotels is a chic and contemporary beachfront resort situated on the west coast of Barbados, offering a vibrant and lively ambiance. The resort's stylishly designed rooms and suites provide modern comforts and stunning views of the Caribbean Sea or the lush gardens.
Tamarind's unique dining experiences showcase fresh and flavorful cuisine, and the resort's Daphne's restaurant is known for its Italian-inspired dishes. With its lively beach scene and various water sports activities, Tamarind is perfect for couples and families seeking an energetic Caribbean escape.
#7. Colony Club by Elegant Hotels
Another jewel in Elegant Hotels' collection, Colony Club, is a tranquil and sophisticated retreat on the Platinum Coast. This resort embraces the island's colonial heritage with its charming architecture and refined ambiance. Guests can choose from well-appointed rooms and suites with tropical gardens or ocean views.
The resort's freshwater lagoon pool is a central feature. The pool is surrounded by lush gardens and coconut trees. Dining at The Laguna Restaurant offers a delightful fusion of European and Caribbean flavors, while the Planters Bar provides a cozy setting for enjoying a sundowner.
#8. Little Arches Boutique Hotel
For those seeking a more intimate and romantic stay, Little Arches Boutique Hotel is a hidden gem on the south coast of Barbados. This adults-only hotel features uniquely designed rooms and suites with distinctive character and charm.
Little Arches' rooftop restaurant, Café Luna, is renowned for its romantic ambiance and delicious Mediterranean-inspired dishes. The hotel's rooftop pool and lounge area offer stunning panoramic views of the Caribbean Sea, making it an ideal spot for relaxation and unwinding.
#9. Mango Bay All-Inclusive Resort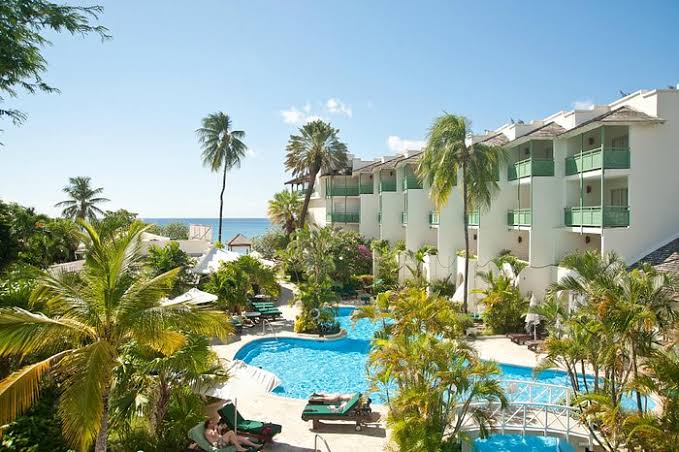 Mango Bay is a delightful all-inclusive resort located in the heart of Holetown, on the west coast of Barbados. This boutique-style hotel offers a range of accommodations, from cozy rooms to spacious suites, just steps away from the beach.
With its all-inclusive package, guests can enjoy delectable meals, beverages, water sports, and catamaran cruises. The resort's friendly and attentive staff ensures a stress-free and enjoyable stay, making it a fantastic option for families, couples, and groups.
#10. Hilton Barbados Resort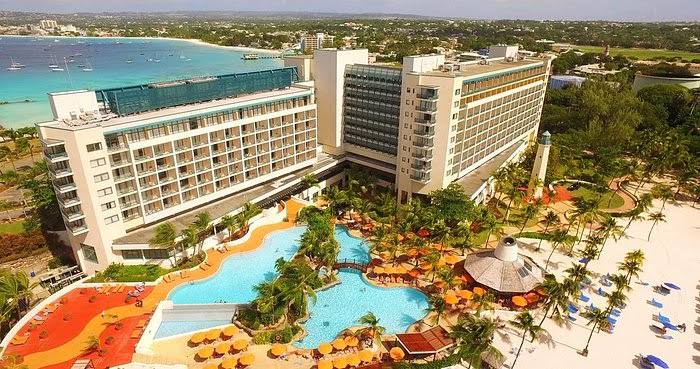 The Hilton Barbados Resort offers contemporary luxury with Caribbean charm on the stunning Carlisle Bay. The resort features modern rooms and suites with private balconies overlooking the ocean or the picturesque Bridgetown Harbor.
Guests can unwind at the sprawling pool complex, indulge in treatments at the Spa, or stay active with the fitness center and water sports activities. The resort's options range from casual beachfront dining to elegant fine dining experiences, catering to every palate.
#11. Waves Hotel and Spa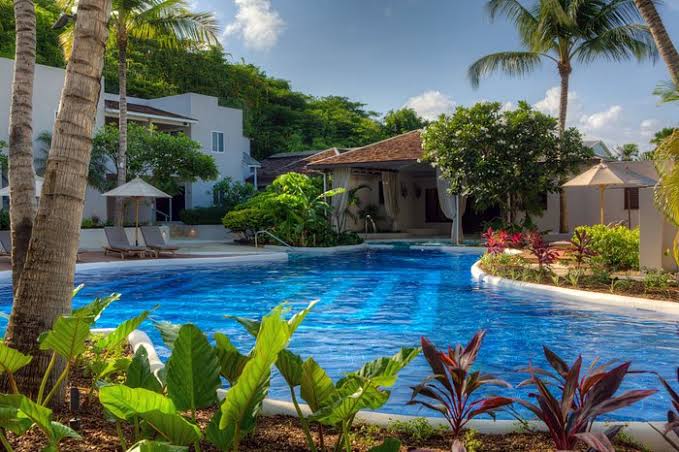 Waves Hotel & Spa is an all-inclusive boutique hotel for couples and families on the Platinum West Coast of Barbados. The hotel offers a range of rooms and suites, each elegantly designed with modern amenities and ocean views.
The property boasts three restaurants, including a Mediterranean-inspired venue and a sushi bar. Guests can enjoy water sports, daily yoga classes, and treatments at the luxurious Spa, making it a perfect blend of relaxation and adventure.
#12. Port Ferdinand Marina and Luxury Residences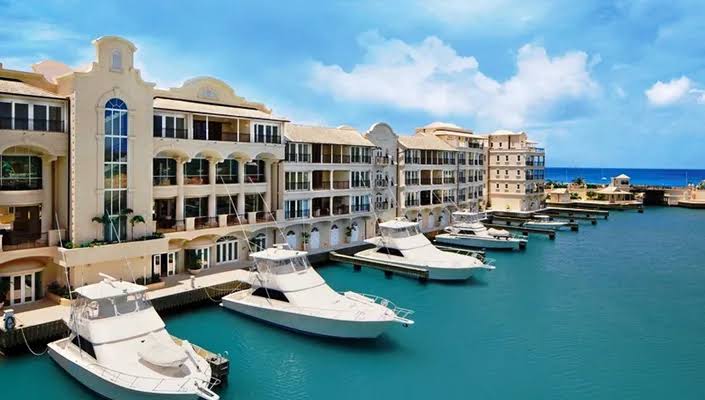 For those seeking a more private and exclusive experience, Port Ferdinand Marina and Luxury Residences is an excellent choice. Situated on the island's northern side, this luxury resort features spacious and beautifully appointed residences with private plunge pools and marina views.
With a world-class marina at its heart, guests can enjoy yachting and water-based activities. The resort also offers a beach club, several dining options, and a stunning infinity pool.
#13. Saint Peter's Bay Luxury Resort and Residences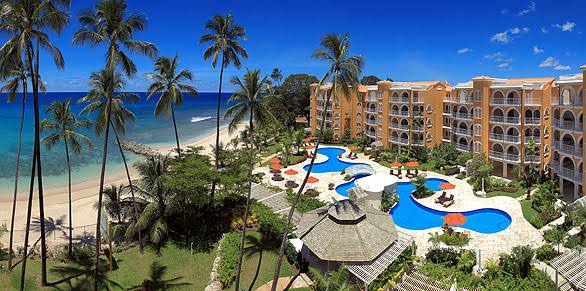 Nestled on the Platinum West Coast, Saint Peter's Bay Luxury Resort and Residences is a collection of beautifully designed beachfront homes. Each residence is spacious and has a private terrace offering breathtaking views of the Caribbean Sea.
Guests can access various amenities, including a large lagoon-style pool, water sports equipment, a fitness center, and a kids' club. The resort also provides personalized concierge services, ensuring a memorable and stress-free stay.
#14. Treasure Beach by Elegant Hotels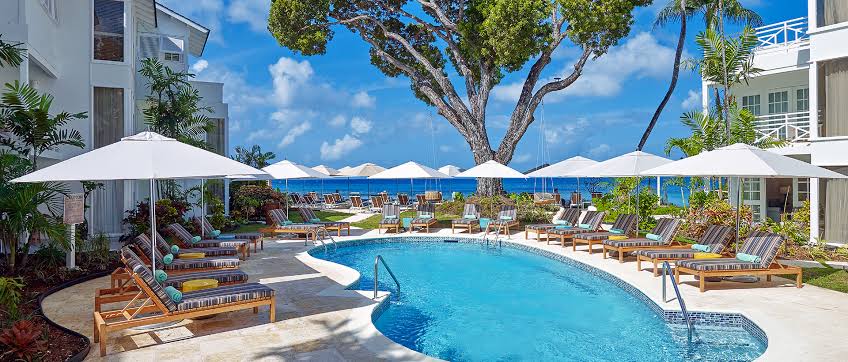 Situated on the lively west coast of Barbados, Treasure Beach by Elegant Hotels is an adults-only boutique hotel focusing on personalized service and relaxation. The hotel features spacious and stylish suites with a balcony or patio.
Guests can enjoy a serene swimming pool, lush gardens, and direct access to the beach. The hotel's restaurant, Tapestry, offers exquisite dining experiences, and guests can participate in cooking classes to learn the secrets of Barbadian cuisine.
#15. Sandals Barbados
Sandals Barbados, part of the renowned Sandals Resorts chain, is an all-inclusive, couples-only resort in the vibrant St. Lawrence Gap area. With its pristine white sandy beach and crystal-clear waters, it offers a romantic retreat for couples seeking a luxurious getaway.
The resort provides a variety of accommodations, including beachfront suites with private butler service. Sandals Barbados offers extensive activities, including water sports, land-based sports, themed nights, and top-notch dining options.
#16. Crystal Cove by Elegant Hotels
Set on the Platinum West Coast, Crystal Cove by Elegant Hotels is a family-friendly resort known for its relaxed atmosphere and beautiful beachfront location. The resort features spacious rooms and suites, some with stunning ocean views and plunge pools.
Guests can indulge in water sports, lounging by the pool, and delicious dining experiences at the resort's restaurants. The Flying Fish Kids Club ensures that younger guests have a memorable and enjoyable stay.
#17. Sea Breeze Beach House
Located on the lively South Coast, Sea Breeze Beach House is an all-inclusive resort offering stunning ocean views and a laid-back atmosphere. The property boasts modern, spacious rooms and suites, some with direct beach access.
Guests can enjoy water sports, various dining options, multiple swimming pools, and live entertainment. The resort's adults-only section provides additional relaxation for couples and honeymooners.
#18. Turtle Beach by Elegant Hotels

Turtle Beach by Elegant Hotels, also on the lively South Coast, is a premium all-inclusive resort suitable for families and couples alike. The resort offers elegantly designed suites and beachfront rooms, providing guests with comfortable accommodations and modern amenities.
Turtle Beach offers a range of dining options, water sports, land activities, and supervised kids' clubs, making it an ideal choice for family vacations.
#19. The House by Elegant Hotels
An adults-only boutique hotel on the Platinum West Coast, The House by Elegant Hotels is renowned for its intimate and tranquil ambiance. With just 34 suites, guests can enjoy a high level of personalized service and attention.
The hotel features luxurious suites with oceanfront views, a serene pool area, and a beachfront restaurant offering excellent dining experiences.
#20. South Beach Hotel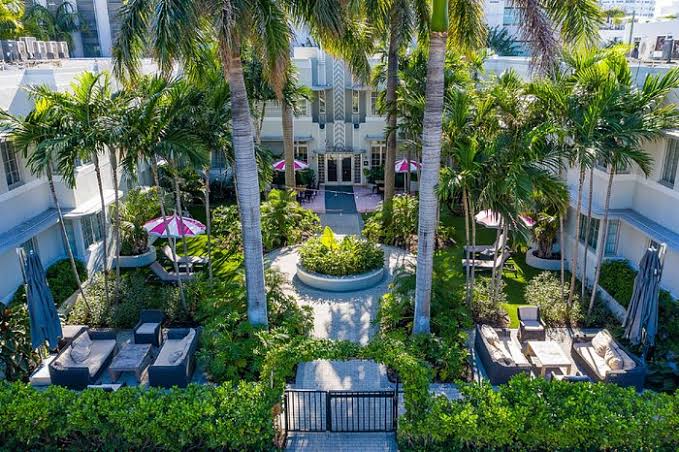 The South Beach Hotel is situated on the vibrant South Coast and provides a contemporary and stylish boutique hotel experience. The hotel's chic and modern design is complemented by comfortable rooms and suites, some with private plunge pools.
Guests can relax on the rooftop pool deck with stunning ocean views, enjoy delicious dining at the hotel's restaurant, and explore nearby attractions and nightlife.
#21. Ocean Two Resort & Residences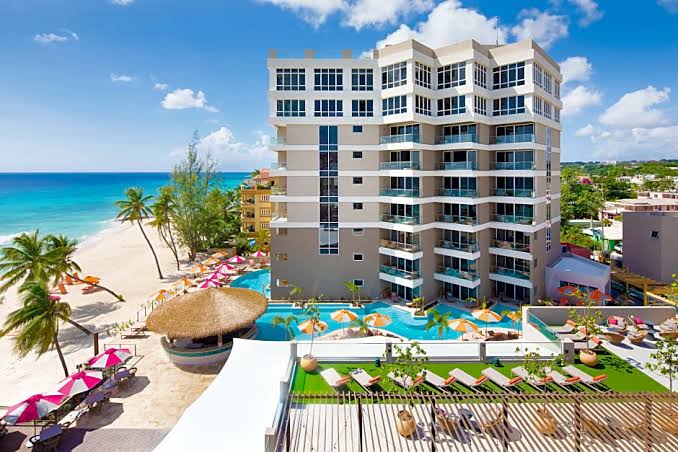 Last but not least on our guide to the best places to stay in Barbados is the Ocean Two Resort & Residences. Ocean Two Resort & Residences is a modern and upscale hotel on the lively South Coast. The hotel offers well-appointed rooms and suites, some with kitchenettes and private balconies offering breathtaking ocean views.
Guests can unwind by the rooftop pool, indulge in Caribbean-inspired cuisine at the resort's restaurant, and take advantage of direct beach access and water sports activities.
You might find this interesting: 20 Most Futuristic Cities In The World In 2023 | With Photos
How to Find The Best Places To Stay in Barbados
Barbados is a beautiful Caribbean island known for its stunning beaches, vibrant culture, and warm hospitality. When searching for the best places to stay in Barbados, consider the following six important factors:
#1. Research Different Areas
Start by researching the various regions and neighborhoods in Barbados. Each area offers a different experience, from St. Lawrence Gap's bustling nightlife to the west coast's serene beaches. Look for places that align with your interests and preferences.
#2. Proximity to Attractions
Consider the proximity of the accommodations to the attractions and activities you want to experience. A seaside resort on the west or south coast might be ideal if you plan to spend most of your time on the beach. If you're interested in historical sites and local culture, staying closer to Bridgetown (the capital) or the east coast might be a better option.
#3. Read Reviews and Recommendations
Check online reviews and travel websites to gather feedback from previous guests. Look for accommodation options with positive reviews about cleanliness, friendly staff, and overall experience. Trusted sources can provide valuable insights into the quality of the stay.
#4. Set a Budget
Determine your budget before looking for places to stay. Barbados has many housing options, ranging from luxurious resorts to budget-friendly guesthouses. Setting a budget allows you to narrow your options and focus on finding the best place within your price range.
#5. Amenities and Services
Consider what amenities and services are essential for your stay. For example, if you enjoy water sports, look for places with on-site facilities or proximity to water sports operators. Other factors may include Wi-Fi availability, on-site dining options, swimming pools, spa services, and more.
#6. Safety and Security
Check that the place where you intend to stay is safe and secure. Check the crime rates and choose neighborhoods with a good reputation for safety. Additionally, verify that the accommodation itself has appropriate security measures in place.
You can also check out – 20 Best Cities For Musicians In The World In 2023 | With Photos
Challenges of Staying in Barbados
Staying in Barbados presents many challenges, despite its allure. One notable hurdle is the cost of living, which tends to be higher than in many other Caribbean destinations.
Accommodations, dining, and transportation expenses can strain budgets, making long-term stays financially taxing. Moreover, the limited job market can impede those seeking employment opportunities on the island.
Another challenge is the risk of natural disasters, particularly during hurricane season. The island's geographical location exposes it to potential hurricanes and tropical storms, posing safety concerns and potential disruptions to travel plans.
The relatively small size of Barbados may lead to a sense of isolation, as it lacks the diversity and amenities found in larger countries. For expatriates, adjusting to the local culture, traditions, and way of life can also prove challenging.
Despite these challenges, Barbados' warm climate, stunning beaches, and vibrant culture continue to attract visitors. Overcoming these hurdles may be worthwhile for those seeking a unique and enriching experience.
Also check out: 20 Most Luxurious Cities In The World In 2023 | With Photos
Frequently Asked Questions
Are there all-inclusive resorts in Barbados?
Yes, Barbados has several all-inclusive resorts. These resorts offer various amenities like meals, drinks, activities, and entertainment included in the package, providing a convenient and hassle-free vacation.
Is it better to stay in a hotel or rent a villa in Barbados?
The choice between a hotel and a villa depends on your preferences and budget. Hotels provide convenience and often include amenities and services, while villas offer more privacy, space, and a chance to live like a local.
When is the best time to visit Barbados and secure accommodations?
The best time to visit Barbados is during the dry season, typically from December to April. To secure the best accommodations, booking well in advance is advisable, especially if you plan to visit during the peak tourist season.
Conclusion
Barbados has a wide range of lodgings to satisfy every traveler's needs. Visitors are spoiled for choice, with everything from opulent beachside resorts with top-notch services and beautiful vistas to charming boutique hotels tucked away in the island's verdant interior. The lively guesthouses in local towns offer an opportunity to engage in Barbadian culture for a more authentic experience.
The top places to stay in Barbados promise an amazing visit, whether you're looking for relaxation or action. This Caribbean jewel truly caters to all, giving guests memorable memories that will last a lifetime.
Reference