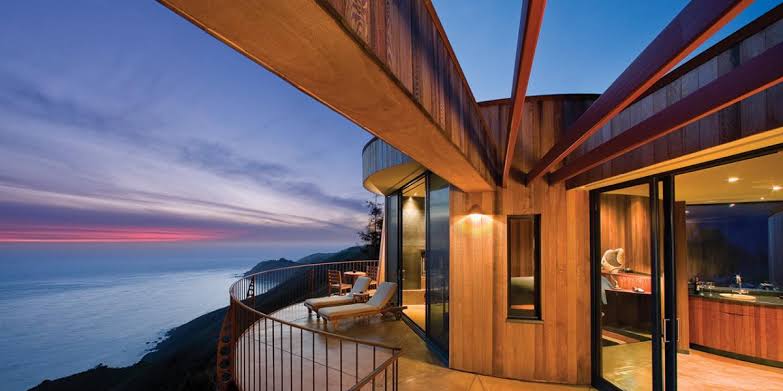 Big Sur is a majestic coastal region in California nestled between the Pacific Ocean and the Santa Lucia Mountains. This region attracts many travelers every year due to its stunning natural beauty, abundant wildlife, and famous landmarks. If you are planning a trip to Big Sur, it is important you choose the best accommodation that will suite your needs. To make your search easier, we give you a comprehensive list of the 21 best places to stay in Big Sur, from luxury accommodations to more rustic and secluded options.
About Big Sur
Big Sur is nestled between the Santa Lucia Mountains and the Pacific Ocean.
The region's allure lies in its untamed wilderness, redwood forests, rugged coastline, and iconic landmarks.
The rugged coastline, adorned with jagged cliffs and hidden coves, offers awe-inspiring views and hiking trails.
The McWay Falls is a 24-meter waterfall on the coast of Big Sur.
Big Sur is home to the Bixby Creek Bridge, an architectural marvel that spans a picturesque canyon.
Pfeiffer Big Sur State Park is a haven of towering redwoods and vibrant flora.
Visitors have ample opportunities for hiking, camping, and kayaking.
The region's artistic spirit is embodied in the Henry Miller Memorial Library.
Check out – 21 Best Places To Stay In Stowe VT in 2023 | Stowe VT Neighborhood Guide
Why You should Visit Big Sur
Big Sur is a beautiful place. This remote stretch of California coast offers spectacular views, with majestic cliffs that tower above the Pacific Ocean, verdant forests of redwood and oak trees, and peaceful rivers running through valleys.
Big Sur is the perfect destination for a peaceful retreat. With no cell phone reception or internet connectivity in some parts of the area, you can unwind and reconnect with nature.
There are several things you can do in Big Sur:

Hiking
Explore the coastline by kayak or paddleboard
Visit local galleries and artist studios
Take a meditation class
Attend a concert or poetry reading
Join a writing workshop
Take out time to read 21 Best Places to Stay in Tampa in 2023 | Tampa Neighborhood Guide
The 21 Best Places to Stay in Big Sur
#1. Post Ranch Inn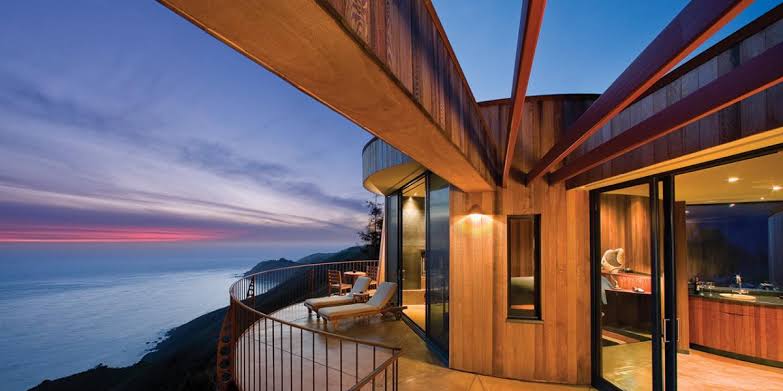 Nestled high on the cliffs overlooking the Pacific Ocean, the Post Ranch Inn offers an unparalleled luxury experience in Big Sur. This iconic resort features stunning architecture that blends seamlessly with the natural surroundings. 
Guests can choose from exquisite accommodations, including private cliff-side suites, treehouses, and ocean-view rooms. The resort's renowned Sierra Mar restaurant offers fine dining with panoramic views, and the spa provides rejuvenating treatments inspired by the coastal environment.
The infinity pools seem to merge with the ocean horizon, creating a breathtaking vista. With its emphasis on sustainability and eco-friendliness, the Post Ranch Inn provides a truly remarkable and unforgettable stay.
#2. Ventana Big Sur
Ventana Big Sur captures the essence of relaxation and romance. This adults-only resort is tucked away in the heart of the redwoods, offering a serene escape from the hustle and bustle of everyday life. Guests can choose from charming guestrooms, suites, or more private villas, all featuring rustic yet luxurious designs.
The resort's "glamping" options provide a unique experience with safari-style tents with modern amenities. The on-site restaurant serves locally sourced cuisine, and the Japanese-inspired baths and spa facilities provide a soothing retreat. The Ventana Big Sur is known for its tranquility, stunning views, and the opportunity to reconnect with nature.
#3. Glen Oaks Big Sur
Glen Oaks Big Sur is an excellent choice for those seeking a more intimate and rustic atmosphere. The resort offers a range of accommodations, from cozy cabins to modern suites. The real charm lies in the details – handcrafted furniture, reclaimed wood, and a warm, inviting ambiance.
The Big Sur River runs through the property, creating a serene backdrop for relaxation. Guests can unwind in private outdoor soaking tubs or around the fire pits. Glen Oaks also provides easy access to hiking trails and is conveniently located near local attractions such as Pfeiffer Beach and McWay Falls.
#4. Treebones Resort
For a unique and eco-friendly experience, Treebones Resort offers "yurt" accommodations that blend comfort with sustainability. Perched on a coastal ridge, the resort provides breathtaking ocean views.
Yurts are circular, tent-like structures that combine the charm of camping with modern amenities like comfortable beds and private decks.
The resort's sushi bar is a highlight, offering fresh seafood in a picturesque setting.
The infinity pool and hot tub also overlook the Pacific, providing a perfect spot to unwind. Treebones Resort offers a distinctive and adventurous stay for those looking to immerse themselves in the natural beauty of Big Sur and one of the best places you can stay in when you visit.
#5. Deetjen's Big Sur Inn
Stepping into Deetjen's Big Sur Inn feels like stepping back in time. This historic inn exudes a rustic and romantic charm that harks back to the early days of Big Sur. The cozy rooms and cottages are adorned with antique furnishings and handmade quilts, creating an atmosphere of old-world comfort.
The on-site restaurant serves hearty breakfasts and dinners in a quaint, intimate setting. Deetjen's gardens and winding paths add to its enchanting appeal. With its rich history and unique character, Deetjen's Big Sur Inn offers a truly authentic and nostalgic experience.
#6. Ripplewood Resort
Ripplewood Resort is a charming and rustic accommodation option nestled within the redwoods of Big Sur. It offers a variety of cabin rentals that provide a cozy and secluded atmosphere.
These cabins are equipped with basic amenities such as kitchenettes, fireplaces, and private decks, allowing guests to enjoy both comfort and nature.
The resort's proximity to Pfeiffer Big Sur State Park makes it a popular choice for those exploring natural beauty. The on-site Ripplewood Café is a favorite among visitors, offering hearty meals and a relaxed atmosphere.
#7. Big Sur River Inn
The Big Sur River Inn uniquely blends history, comfort, and natural beauty. Situated along the Big Sur River, this inn provides a range of accommodations, including rooms, suites, and riverside cottages. The sound of the flowing river creates a soothing ambiance for guests.
The inn's restaurant overlooks the river and serves delectable dishes, allowing diners to savor the cuisine and the view. The property's proximity to local attractions like Pfeiffer Beach and Bixby Creek Bridge makes it a convenient base for exploration.
#8. Fernwood Resort
Fernwood Resort is a family-friendly destination that offers a variety of accommodations, from rustic cabins to tent camping sites. Modern amenities like hot tubs and an outdoor swimming pool complement the resort's rustic charm.
The on-site Fernwood Tavern serves meals and drinks, providing a casual dining experience. Concerts and events are also held at the resort's outdoor stage, adding to the lively atmosphere. Fernwood Resort's location near hiking trails and the Big Sur River makes it an ideal choice for nature enthusiasts.
#9. Pfeiffer Big Sur State Park
Pfeiffer Big Sur State Park offers a unique camping experience amidst the breathtaking beauty of the redwoods and the Big Sur River. The park features a campground with various campsites suitable for tents, trailers, and RVs.
While the accommodations are more basic than traditional resorts, they provide an opportunity for a true wilderness experience. Hiking trails, including the iconic Pfeiffer Falls Trail, start from the campground, allowing guests to immerse themselves in the area's natural wonders.
#10. Riverside Campground & Cabins
As the name suggests, Riverside Campground & Cabins provides camping sites and cabin accommodations along the Big Sur River. The campground offers tent sites and RV spaces with access to essential amenities. The cabins, however, provide a more comfortable option with modern facilities.
The soothing sound of the river and the surrounding redwoods create a serene atmosphere. Guests can enjoy activities such as fishing, swimming, and campfire gatherings while surrounded by Big Sur's scenic beauty.
#11. Lucia Lodge
Lucia Lodge offers a stunning cliff-side retreat with panoramic views of the Pacific Ocean. Perched on a scenic coastal bluff, the lodge provides cozy cabins allowing guests to experience Big Sur's rugged beauty in comfort.
The cabins have private decks or patios, providing the perfect spot to enjoy breathtaking sunsets.
The lodge's on-site restaurant serves meals made from locally sourced ingredients, enhancing the overall dining experience. The proximity to McWay Falls and Julia Pfeiffer Burns State Park adds to the allure of Lucia Lodge as a prime accommodation choice.
#12. Kirk Creek Campground
Kirk Creek Campground is a stunning coastal campground located on the western edge of Big Sur, offering breathtaking ocean views and easy access to some of the region's most iconic sights.
Situated within the Los Padres National Forest, the campground boasts spacious and well-maintained sites popular among tent and RV campers. The real draw here is the unparalleled scenery – campers can wake up to the sound of crashing waves and enjoy spectacular sunsets over the Pacific Ocean.
Additionally, Kirk Creek Campground provides amenities such as picnic tables, fire rings, and restroom facilities, ensuring a comfortable camping experience while immersed in Big Sur's natural beauty.
#13. Esalen Institute
Esalen Institute is not just a place to stay; it's an iconic retreat center that offers a unique blend of personal growth, relaxation, and natural beauty. Nestled along the cliffs of Big Sur, Esalen is renowned for its hot springs that overlook the Pacific Ocean.
Visitors can choose from accommodations, from cozy cabins to lodge rooms. Guests at Esalen can participate in workshops, classes, and seminars focusing on holistic wellness, personal development, and spiritual exploration.
The tranquil atmosphere and the stunning surroundings make Esalen Institute a sought-after destination for those seeking relaxation and personal transformation.
#14. The Village Lodge
The Village Lodge provides a charming and comfortable lodging option in the heart of Big Sur. Situated near the iconic Bixby Creek Bridge, this lodge offers cozy rooms and cottages that are elegantly designed and well-equipped.
Guests can enjoy modern amenities while surrounded by Big Sur's natural beauty.
The Village Lodge is a convenient base for exploring nearby attractions such as Pfeiffer Big Sur State Park and McWay Falls. The lodge's serene ambiance, attentive staff, and proximity to key landmarks make it popular among travelers seeking a more traditional accommodation experience.
#15. Nepenthe
Nepenthe is a renowned restaurant that also offers a unique lodging experience on the cliffs of Big Sur. It is a people's choice on the best places to stay in Big Sur. Perched high above the coastline, Nepenthe's accommodations include rustic cabins and cottages with stunning ocean views. The cabins are simple but comfortable, providing a serene escape from the hustle and bustle of everyday life.
Staying at Nepenthe allows guests to enjoy not only the culinary delights of the restaurant but also the artistic and bohemian vibe that has made it a cherished landmark since the 1940s. The combination of breathtaking vistas, artistic ambiance, and a rich history makes Nepenthe a memorable place to stay in Big Sur.
#16. Ripplewood Cabins
Ripplewood Cabins offers a charming and rustic retreat experience nestled amidst the redwoods of Big Sur. The cabins provide a range of options, from cozy studio cabins to larger units suitable for families or groups. The setting is tranquil and immersive, allowing guests to disconnect from the outside world and reconnect with nature.
The cabins have essential amenities, and the property features an on-site restaurant and a general store. It's an ideal place to stay for those seeking a more secluded and intimate experience while still being within easy reach of popular attractions like Pfeiffer Beach and Julia Pfeiffer Burns State Park.
#17. La Playa
La Playa is a charming boutique hotel that offers a luxurious and intimate stay in the heart of Big Sur. The hotel's Spanish-style architecture and beautifully landscaped gardens provide a serene and elegant ambiance. The rooms are tastefully decorated and feature modern amenities, ensuring a comfortable stay.
Guests can enjoy stunning ocean views from some of the rooms and have access to a private beach. The on-site restaurant serves delicious cuisine made from locally sourced ingredients, adding to the delightful experience.
#18. Treebones Glamping
Treebones Glamping offers a unique and eco-friendly accommodation experience in Big Sur. Nestled amidst the lush coastal landscape, Treebones provides various accommodations, including yurts and tents, allowing guests to connect with nature while enjoying some comforts.
The property features breathtaking ocean views and offers a range of activities, such as hiking, yoga, and a heated pool. The highlight of Treebones Glamping is undoubtedly the chance to sleep under the stars in a comfortable and stylish setting.
#19. Partington Cove House
Partington Cove House is a secluded and private vacation rental that offers a tranquil retreat for those seeking a more intimate experience in Big Sur. Overlooking the Pacific Ocean, this charming house provides guests stunning panoramic views and direct access to Partington Cove.
The house is elegantly decorated and has all the amenities for a relaxing stay. The serene surroundings and the waves crashing against the cliffs create a serene and peaceful atmosphere that makes Partington Cove House a hidden gem.
#20. Big Sur Lodge
Nestled within Pfeiffer Big Sur State Park, the Big Sur Lodge provides a rustic and cozy lodging option surrounded by towering redwoods. The lodge offers a range of accommodations, from traditional lodge rooms to standalone cabins, allowing guests to choose the level of comfort that suits them best.
The proximity to hiking trails and outdoor activities makes it an ideal choice for nature enthusiasts. The on-site restaurant serves hearty meals, and the gift shop offers local crafts and souvenirs, enhancing the overall lodge experience.
#21. Big Sur Campground & Cabins
For those who want a more immersive camping experience without sacrificing basic comforts, Big Sur Campground & Cabins is an excellent choice. This campsite provides various lodging options, including tent sites, RV sites, and lovely cabins. 
Surrounded by towering redwoods and situated along the Big Sur River, the campground provides a picturesque setting. Guests can enjoy campfire rings, picnic tables, and hot showers while being close to nature. The campground's location allows for easy exploration of nearby attractions, including hiking trails and iconic viewpoints.
You can also check out – 17 Best Places For Vacation In Florida in 2023 | Florida Neighborhood Guide
How To Get Around Big Sur
Now you know the best places to stay in Big Sur, it is important you learn how to get around when you visit. Big Sur is a stunning coastal region in California that boasts dramatic landscapes and picturesque scenery. If you plan a trip to this magical place, you may wonder how to get around. Fortunately, plenty of transportation options help you explore this beautiful area. Here are tips on how to get around Big Sur.
#1. Car Rental
Renting a car is one of the most convenient ways to explore Big Sur. You can drive along the famous Pacific Coast Highway (Highway 1) and stop at various viewpoints, beaches, and landmarks.
#2. Motorcycle or Bicycle
Consider renting a motorcycle or bicycle for a more adventurous and immersive experience. The winding roads and breathtaking scenery make for an unforgettable ride.
#3. RV or Camper Van
If you're looking for a unique way to experience Big Sur, renting an RV or camper van allows you to combine transportation and accommodation. There are several campgrounds in the area where you can stay overnight.
#4. Public Transportation
While public transportation options in Big Sur are limited, you can take advantage of the Monterey-Salinas Transit (MST) bus service along Highway 1. It's an economical option for those without a car.
#5. Guided Tours
A guided tour can provide insights and information about the area from knowledgeable guides. Various tour operators offer bus, hiking, and helicopter tours.
#6. Hiking and Walking
Many of Big Sur's attractions can be accessed by hiking or walking. Several trails lead to stunning viewpoints, waterfalls, and redwood groves. Just be prepared for varying levels of difficulty.
#7. Shuttle Services
Some lodges and hotels in Big Sur offer shuttle services for their guests, allowing you to explore the area without worrying about parking or navigating the roads yourself.
#8. Ridesharing and Taxis
While not as widely available as in urban areas, ridesharing services and local taxi companies can still be an option for getting around Big Sur if you prefer not to drive.
You might find this interesting – 21 Best Cities to Visit in Africa in 2023 | Complete Guide
How to Find The Best Places To Stay in Big Sur
Big Sur, the rugged coastline in California, is one of the most sought-after tourist destinations in the world. With the spectacular scenery of the Pacific Ocean, cliffs, and redwood forests, it's easy to see why Big Sur draws crowds from all over the globe. But finding the best place to stay can be daunting as there are numerous options to choose from.
Here are some tips on how to find the best places to stay in Big Sur:
#1. Determine Your Budget
Before you find the best place to stay in Big Sur, knowing how much you can afford is essential. Big Sur has accommodation options for different budgets, from luxurious hotels to camping grounds. Decide how much you want to spend on your stay in Big Sur, and narrow down your search from there.
#2. Check Location
Location is everything, especially in Big Sur. Consider where you want to spend most of your time. Would you prefer being closer to the beach or having the redwoods outside your window? Choose a location that meets your expectations.
#3. Read Reviews
With a plethora of accommodation options, it's easy to get lost. Reading reviews from past guests can help you identify what they liked and did not like. Websites like TripAdvisor or Expedia have genuine customer reviews and photos that you can use to assess the quality of your prospective stay.
#4. Consider Amenities
Everyone wants to enjoy their vacation in style, and amenities can make or break a stay. Choose accommodation that offers the facilities you desire. If you prefer luxury, look for spas, infinity pools, or in-room jacuzzis. If you're on a budget, check what basic amenities, such as breakfast, internet access, or laundry, are included in the price.
#5. Look For Deals and Offers
Big Sur's tourism industry is highly competitive. Therefore, most accommodation providers offer promotions, packages, or discounts, especially in the off-season. Check websites or book with the hotel directly to find exclusive deals and offers.
Also check out – 21 Best Places To Stay in Moab in 2023 | Moab Neighborhood Guide
Challenges of Staying in Big Sur
Staying in Big Sur can be a magical experience, surrounded by stunning vistas and breathtaking natural beauty. But it's not always sunshine and rainbows – the challenges of staying in Big Sur are numerous, and visitors should be prepared to face them head-on.
One of the biggest challenges is simply getting to Big Sur. The highway leading to this remote coastal community is notorious for its hairpin turns and steep drop-offs, making the drive nerve-wracking for even the most experienced drivers. In the winter, rain and landslides can make the road impassable altogether, trapping visitors for days.
Another challenge of staying in Big Sur is the isolation. This rugged stretch of California coastline is sparsely populated, with few services or amenities available. Visitors should be prepared to bring their food, water, and supplies, as there are few restaurants or grocery stores in the area.
Perhaps the most daunting challenge of all is the threat of wildfires. In recent years, Big Sur has been hit hard by devastating fires, which have destroyed homes, forced evacuations, and disrupted the local economy. Visitors should stay aware of the fire risk and follow all safety protocols to minimize their risk of becoming a victim.
Despite these challenges, staying in Big Sur is well worth it for those who crave adventure, natural beauty, and a unique travel experience. With the right preparation and attitude, visitors can embrace the challenges and make the most of their time in this incredible part of the world.
Don't forget to read – 15 Most Walkable Cities In The World In 2023 | With Photos
Frequently Asked Questions
Is a hotel or a vacation rental better?
It depends on your preferences. Hotels offer the convenience of on-site amenities and services, but vacation rentals can provide a more homey feel and often have more space for larger groups. Consider your budget and desired level of privacy when making your decision.
Can I find affordable accommodations in Big Sur?
While Big Sur is known for its luxury resorts, affordable options are still available. Look for motels or budget hotels in nearby towns like Monterey or Carmel. Camping is also popular and affordable, with several campgrounds throughout the area.
When should I book my accommodations?
It's best to book your accommodations as early as possible, especially during peak travel seasons like summer. Many properties offer discounts for booking in advance, so it can also save you money. Don't wait until the last minute and risk not finding the perfect place to stay.
Conclusion
Big Sur's mesmerizing charm offers a variety of superb accommodations to fit any traveler's need. This coastal retreat truly has it all, whether it's the rustic charm of cliff-side cottages overlooking the Pacific, the sumptuous comfort of boutique inns tucked among redwoods, or the unique sensation of camping beneath the starlit sky.
Each hotel option promises an amazing escape by embracing nature's grandeur and peace. Visitors may be confident that their lodging choice will enhance the wonderful journey through one of California's most stunning settings as they explore the rocky coastline, secluded coves, and historic sites. We hope our comprehensive guide on the best places to stay in Big Sur will make your stay there enjoyable.
Reference