Oregon is one of the most magnificent states in America, with picturesque natural landscapes, charming small towns, and bustling cities. If you're looking for a serene escape amidst the beautiful and diverse landscapes of the Pacific Northwest, then Oregon is the place for you. Whether you're visiting for a weekend getaway or an extended vacation, finding the best places to stay in Oregon is essential for an enjoyable and memorable experience.
Therefore, we have compiled a list of the 21 best places to stay in Oregon that will help you make the best choice. Our list is a mix of budget-friendly and luxurious options; there is something for every kind of traveler. Whether you're looking for a rustic lodge nestled deep in the forest or a chic hotel in downtown Portland, we've got you covered.
About Oregon
Oregon is located in the Pacific Northwest region of the United States. It is a state with a diverse range of natural landscapes and cultural attractions. Its iconic coastline stretches over 360 miles, offering stunning views of rugged cliffs and pristine beaches. The state is home to Crater Lake, the deepest lake in the U.S., formed within a volcanic caldera.
Portland, Oregon's largest city, is renowned for its thriving arts scene, craft breweries, and eco-conscious lifestyle. The city's International Rose Test Garden showcases a dazzling array of roses. Oregon's fertile Willamette Valley is a hub for wine enthusiasts, producing renowned Pinot Noir and other varietals.
Outdoor enthusiasts are drawn to Oregon's abundant recreational opportunities, including hiking in the Cascade Mountains, white-water rafting on the Rogue River, and skiing on the slopes of Mount Hood. The state is also known for its progressive policies, including being the first in the U.S. to implement a bottle deposit system and legalizing recreational cannabis.
Oregon's unique landscapes have served as filming locations for popular movies such as "The Goonies" and "Twilight." The state holds an intriguing history, with Native American cultures, Lewis and Clark's expedition, and the Oregon Trail playing significant roles in shaping its heritage.
Oregon's captivating blend of natural beauty, cultural richness, and progressive mindset make it a fascinating destination for exploration.
Check out: 21 Best Places To Stay in Moab in 2023 | Moab Neighborhood Guide
Why Stay in Oregon?
Nestled in the heart of the Pacific Northwest lies Oregon, a land of beauty and adventure that attracts visitors from all corners of the world. However, not just the tourists find this place to be a slice of heaven. Many who come to Oregon for a vacation choose to stay here, and it is easy to see why.
The state offers its residents many activities and attractions, such as world-class hiking and skiing destinations, scenic beaches, thriving urban cities, and delicious local cuisine. There is always something to do or see here, so life is never dull.
Oregonians also have a strong sense of community and pride in their state. From the friendly faces of their neighbors to the countless opportunities to volunteer and get involved in community activities, one can feel a sense of belonging in this state that is hard to replicate elsewhere.
Perhaps one of the most significant reasons people stay in Oregon is its quality of life. A balanced work-life culture and access to some of the best healthcare facilities in the country make it an ideal place to raise a family or settle down.
Take out time to read: 16 Best Places to Stay in Vermont in 2023 | Vermont Neighborhood Guide
21 Best Places to Stay in Oregon
Oregon is a beautiful state with a plethora of options for accommodations. Whether you are a tourist or a local looking for a weekend getaway, plenty of the options in our guide to the best places to stay in Oregon will satisfy your tastes and preferences. Here are our top 21 picks:
#1. The Allison Inn and Spa, Newberg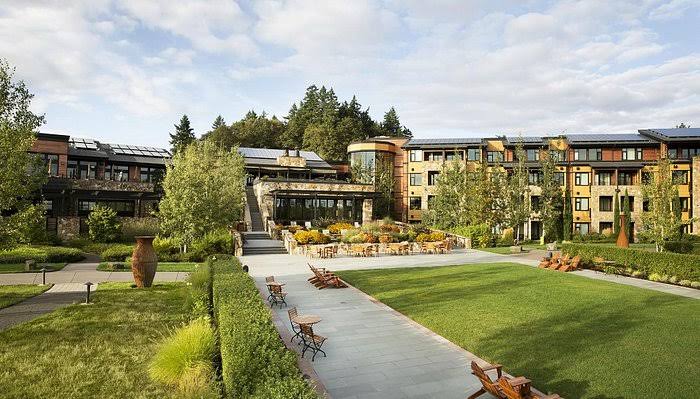 Nestled in the heart of Willamette Valley wine country, The Allison Inn and Spa offers an exquisite blend of luxury and natural beauty. This elegant resort has spacious and well-appointed rooms with stunning views of the surrounding vineyards and gardens.
You can indulge in the serene atmosphere at the spa, which offers a range of rejuvenating treatments. The on-site JORY restaurant uses locally sourced ingredients to provide an exceptional dining experience. Whether you're exploring nearby wineries or simply taking in the picturesque landscape, The Allison Inn and Spa promises a tranquil and memorable stay.
#2. Timberline Lodge, Mount Hood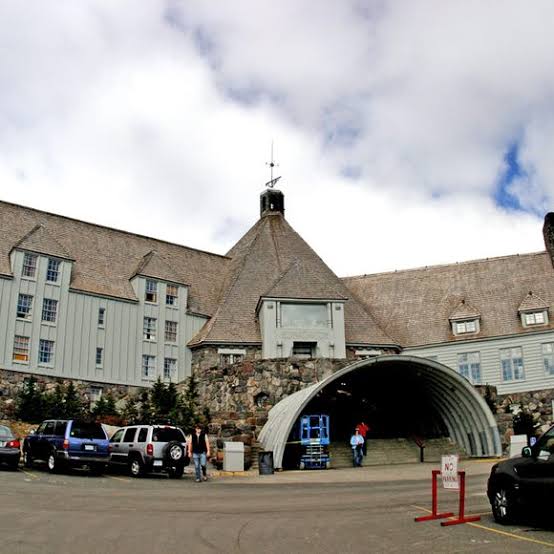 Steeped in history and rustic charm, Timberline Lodge is an iconic mountain retreat on the slopes of Mount Hood. Built during the Great Depression, the lodge showcases remarkable craftsmanship and features hand-carved details that pay homage to Oregon's heritage.
You can enjoy cozy rooms with fireplaces and lovely views of the mountain. In the winter, Timberline Lodge is a haven for skiers and snowboarders, while the summer offers hiking and outdoor adventures. The lodge's warm ambiance, unique architecture, and proximity to year-round recreational activities make it a cherished destination.
#3. Ashland Springs Hotel, Ashland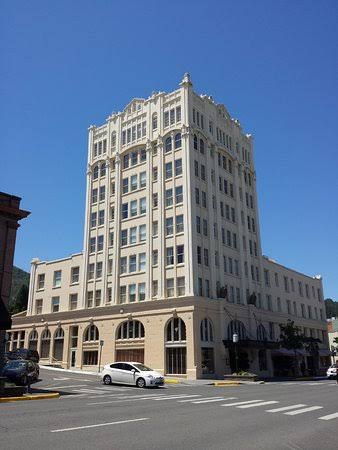 Located in the charming town of Ashland, the Ashland Springs Hotel captures the essence of vintage elegance. This historic hotel has timeless architecture and modern amenities. Each room is meticulously decorated with classic and contemporary elements, ensuring a comfortable stay. 
The Lithia Springs Spa provides an array of treatments to unwind and rejuvenate. The hotel's location offers easy access to the renowned Oregon Shakespeare Festival and the vibrant arts scene that defines Ashland.
#4. Black Butte Ranch, Sisters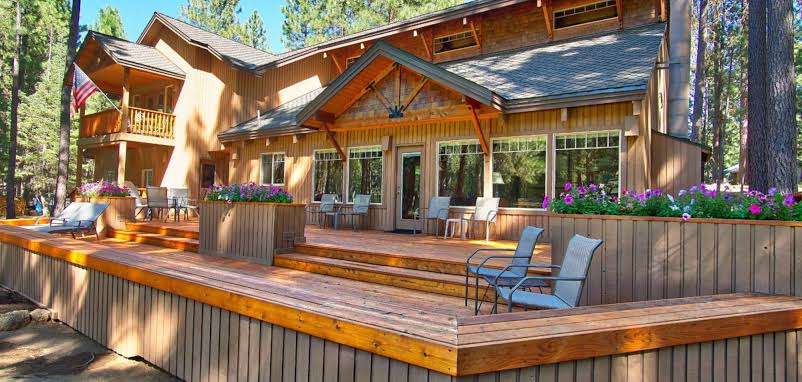 Black Butte Ranch is an ideal choice for those seeking a nature-inspired retreat. Located near Sisters, this sprawling resort encompasses over 1,800 acres of Central Oregon's high desert landscape. You can choose from various accommodation options, including cozy cabins and spacious lodges. 
There are an array of outdoor activities you can engage in, from horseback riding and golfing to hiking and mountain biking. The ranch, surrounded by mountains and forested areas, has a tranquil setting that offers a serene escape from the bustle of everyday life.
#5. Salishan Resort, Gleneden Beach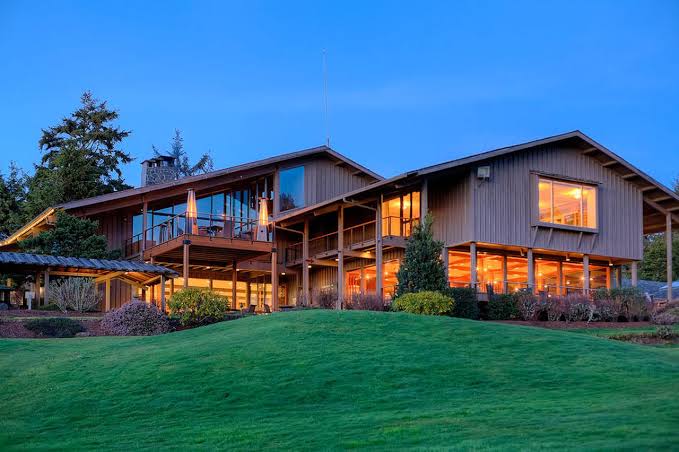 Perched on the scenic Oregon coast, Salishan Resort is a coastal haven with breathtaking ocean views. The resort has upscale accommodations, including rooms, suites, and vacation rentals, each designed with modern comfort and Pacific Northwest charm.
You can unwind at the spa, play golf on the picturesque course, or explore nearby beaches and hiking trails. The resort's commitment to sustainability and the environment adds to the allure of this coastal getaway.
#6. Lithia Springs Resort, Ashland
Another gem in Ashland, Lithia Springs Resort, offers a unique blend of luxury and tranquility. Known for its natural mineral springs, the resort has well-appointed rooms and suites that provide a peaceful retreat.
You can relax in private outdoor mineral soaking tubs, indulge in spa treatments, and stroll through beautifully landscaped gardens. The resort's dedication to wellness and relaxation makes it an ideal destination for rejuvenation.
#7. Oxford Hotel, Bend
Nestled in the heart of downtown Bend, the Oxford Hotel is a contemporary boutique hotel that offers modern sophistication and comfort. The hotel's sleek design is complemented by environmentally friendly practices, making it a standout in sustainable hospitality.
Chic rooms and suites are designed using eco-friendly materials and amenities. The rooftop garden provides a unique oasis, while the on-site restaurant offers a farm-to-table dining experience. From the hotel's central location, you can easily explore Bend's vibrant arts, dining, and outdoor scenes.
#8. The Nines, Portland
The Nines offers a luxurious and stylish experience in the heart of downtown Portland. This upscale hotel features contemporary design, modern amenities, and stunning cityscape views. With 331 well-appointed guest rooms and suites, each adorned with local artwork, plush bedding, and upscale furnishings, The Nines is a sophisticated urban retreat.
You can enjoy exceptional dining options, including Departure Restaurant and Bar, with its rooftop terrace offering panoramic city views. The Nines also boasts a prime location near popular attractions like Powell's City of Books and Pioneer Courthouse Square.
#9. Sentinel Hotel, Portland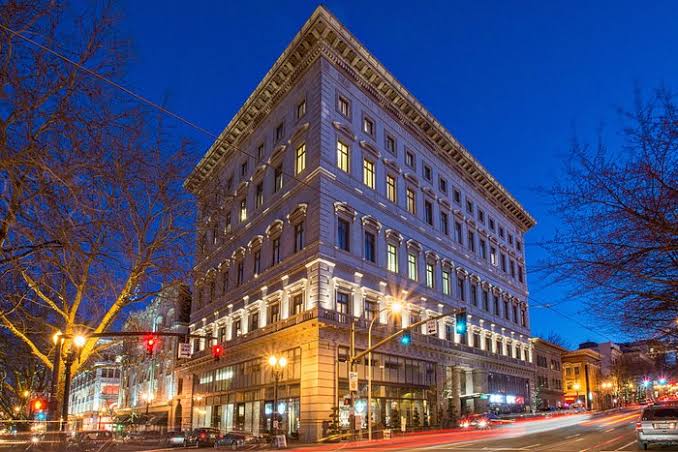 Formerly known as The Governor, the Sentinel Hotel is a historic gem in downtown Portland. This elegant hotel exudes timeless charm and offers 100 years of rich history and modern comforts. The guest rooms and suites are thoughtfully designed, featuring classic décor, luxurious bedding, and high-end amenities.
The hotel's dining options include Jake's Grill, known for its delectable steaks and seafood. With its central location, you can easily explore nearby attractions such as the Portland Art Museum and the Pearl District.
#10. Tu Tu' Tun Lodge, Gold Beach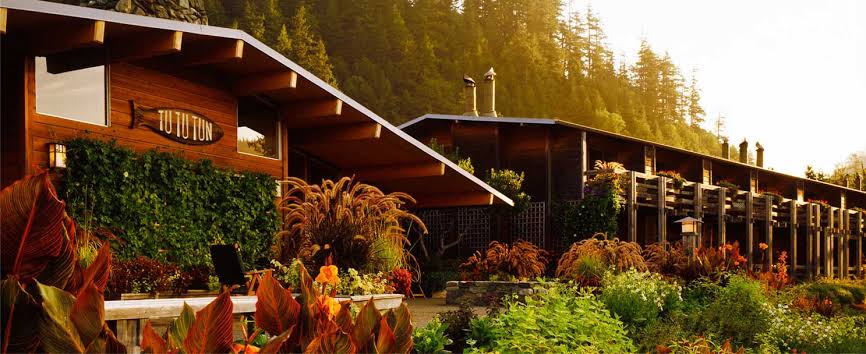 Tu Tu' Tun Lodge is nestled along the Rogue River in Gold Beach. This boutique lodge features cozy cabins and spacious suites with unique charm and stunning river or garden views.
The lodge's serene setting provides opportunities for outdoor activities like fishing, kayaking, and hiking. You can unwind in the lodge's hot tub or take in the scenic beauty from the comfort of their private decks. Tu Tu' Tun Lodge is ideal for those seeking a peaceful and rejuvenating retreat.
#11. Hotel deLuxe, Portland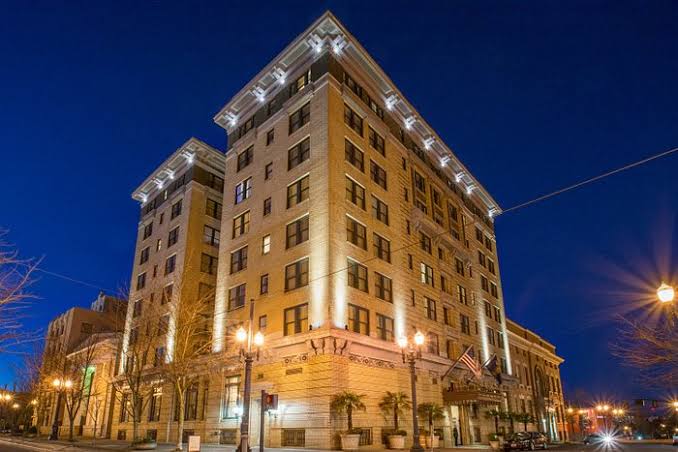 Boasting a blend of Hollywood glamor and modern elegance, Hotel deLuxe offers a distinctive stay in downtown Portland. This boutique hotel pays homage to the Golden Age of Hollywood with tastefully designed rooms and suites featuring art deco-inspired décor and vintage touches.
You can indulge in cinematic experiences in their "Director's Cut" rooms with personal DVD libraries. The Driftwood Room, the hotel's stylish bar, serves craft cocktails and creates a chic atmosphere. The Hotel deLuxe's location is convenient for exploring attractions like Powell's City of Books and the Portland Japanese Garden.
#12. RiverPlace Hotel, Portland
Overlooking the Willamette River, the RiverPlace Hotel offers a charming and picturesque setting in Portland. The hotel features comfortable guest rooms and suites with cozy furnishings, some of which offer riverfront views.
The hotel's riverside patio provides a serene spot to relax and enjoy the waterfront ambiance. You can use the hotel's complimentary bicycles to explore nearby attractions like Tom McCall Waterfront Park and the Oregon Museum of Science and Industry (OMSI).
#13. Stephanie Inn, Cannon Beach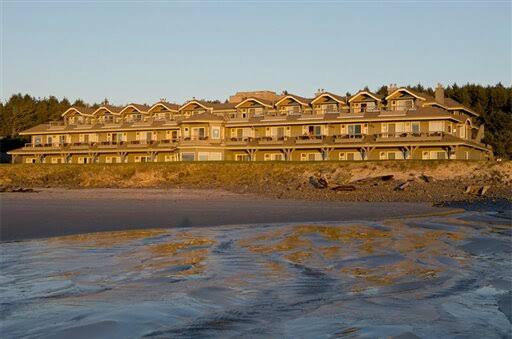 Nestled along the stunning Oregon Coast in Cannon Beach, the Stephanie Inn offers a luxurious oceanfront experience. This intimate boutique hotel features beautifully appointed rooms and suites with elegant furnishings and cozy fireplaces.
You can savor gourmet dining at the Stephanie Inn Dining Room, where seasonal Pacific Northwest cuisine takes center stage. The hotel's location allows for leisurely walks along the beach, visits to the iconic Haystack Rock, and exploring Cannon Beach's charming downtown area.
#14. The Society Hotel, Portland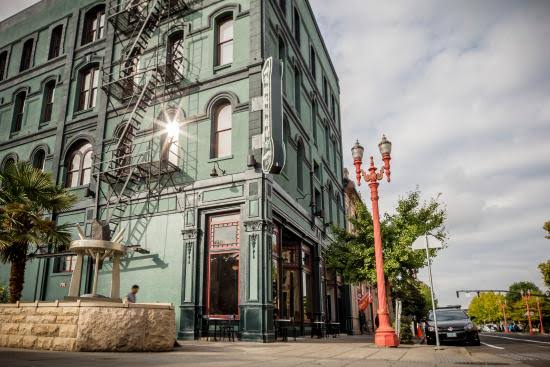 Housed in a historic building, The Society Hotel in Portland offers a unique blend of vintage charm and modern amenities. The hotel has a variety of accommodations, including private rooms and shared bunk rooms, catering to different types of travelers. 
You can unwind in the rooftop deck's cedar soaking tubs, which offer panoramic city skyline views. The hotel's on-site café serves locally sourced fare and craft beverages. Its central location provides easy access to attractions like the Lan Su Chinese Garden and Powell's City of Books.
#15. Timber Cove Inn, Depoe Bay
Nestled along the picturesque coastline of Depoe Bay, Timber Cove Inn offers a serene and breathtaking escape for travelers seeking tranquility. The inn has well-appointed rooms with stunning ocean views, providing a perfect backdrop for relaxation. 
You can enjoy the soothing sound of crashing waves and witness incredible sunsets from their private balconies. With its coastal charm and proximity to popular attractions like the Whale Watching Center, Timber Cove Inn is an ideal retreat for nature enthusiasts and those looking for a peaceful coastal getaway.
#16. Columbia Gorge Hotel, Hood River
Perched atop the cliffs overlooking the majestic Columbia River Gorge, the Columbia Gorge Hotel is a historic gem that combines timeless elegance with stunning natural beauty. The hotel's luxurious rooms and suites blend classic and modern amenities, ensuring a comfortable stay.
You can indulge in gourmet dining at the renowned Simon's Cliff House, which offers panoramic views of the gorge and the splendid Multnomah Falls. Whether exploring nearby hiking trails or simply savoring the hotel's lush gardens, the Columbia Gorge Hotel promises an enchanting and memorable experience.
#17. Mt. Bachelor Village Resort, Bend
Nestled in the heart of the Cascade Range, Mt. Bachelor Village Resort is a year-round destination that caters to outdoor enthusiasts and relaxation seekers alike. The resort is surrounded by the Deschutes River and breathtaking mountains. The resort offers spacious accommodations, ranging from cozy cabins to well-appointed condos, providing a home-away-from-home experience.
You can engage in many activities, such as skiing and mountain biking, or simply choose to relax by the pool. The resort's proximity to downtown Bend allows visitors to explore its vibrant arts scene, local breweries, and charming shops.
#18. Headlands Coastal Lodge & Spa, Pacific City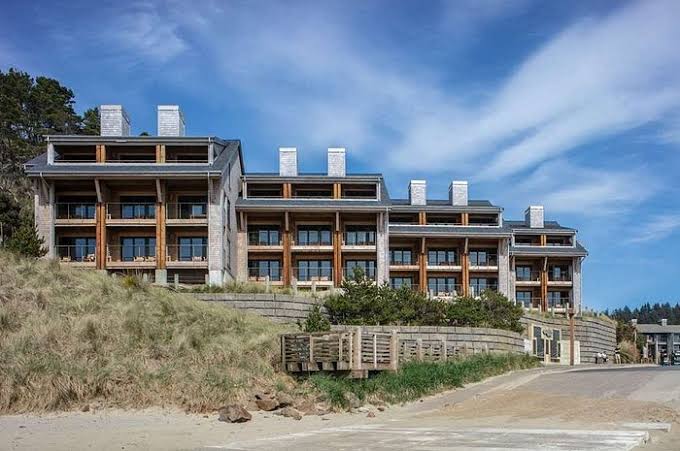 Headlands Coastal Lodge & Spa offers a blend of sophistication and natural splendor for those seeking a luxurious coastal retreat. Situated along the rugged coastline of Pacific City, the lodge provides upscale accommodations with breathtaking ocean views.
You can rejuvenate at the spa, indulge in farm-to-table cuisine at the Meridian Restaurant, and take leisurely walks on the nearby sandy shores. The lodge's commitment to sustainability and its seamless integration with the surrounding environment make it an exceptional choice for travelers looking for comfort and a connection to nature.
#19. McMenamins Edgefield, Troutdale
Steeped in history and creativity, McMenamins Edgefield is a unique and eclectic destination offering much more than a place to stay. This former poor farm turned sprawling resort has a variety of accommodations, including guest rooms, suites, and even converted cells.
The resort's whimsical artwork, gardens, and on-site amenities, such as a brewery, distillery, golf course, and concert venue, create an immersive experience for guests. Whether exploring the captivating artwork or enjoying a soak in the soaking pool, McMenamins Edgefield promises a memorable stay.
#20. FivePine Lodge, Sisters
FivePine Lodge in Sisters, Oregon, is a picturesque escape in the stunning Cascade Mountains. Offering a serene ambiance, this rustic yet luxurious lodge has elegant cabins with fireplaces and private decks, ideal for a cozy retreat. Adventure enthusiasts can explore nearby hiking, biking, and skiing trails, while relaxation seekers can indulge in the rejuvenating spa facilities.
The lodge's Three Creeks Brewing provides a taste of local craft beers and delectable cuisine. With its tranquil surroundings, proximity to outdoor activities, and top-notch amenities, FivePine Lodge is a prime choice for an unforgettable stay in the heart of Oregon's natural beauty.
#21. Driftwood Shores Resort, Florence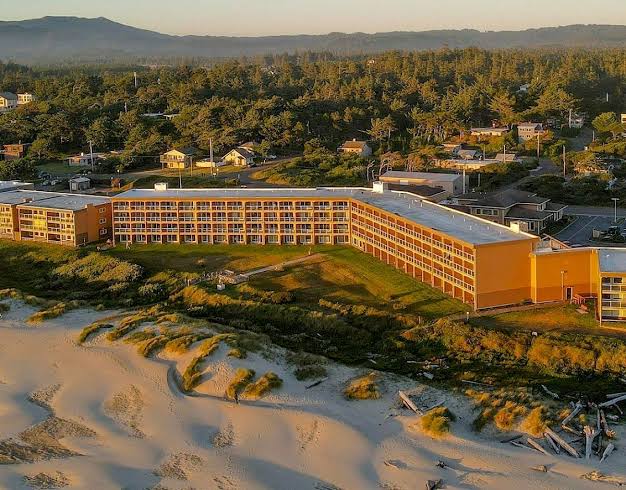 With its prime beachfront location, Driftwood Shores Resort offers breathtaking views of the Pacific Ocean. You can choose from various accommodations, including spacious suites and cozy cottages designed to provide comfort and relaxation. The resort has amenities like an indoor pool, a hot tub, and a restaurant.
You can explore the stunning coastline, dunes, and nearby attractions such as Heceta Head Lighthouse. Driftwood Shores Resort provides an idyllic haven for those seeking a tranquil and scenic Oregon getaway.
You can also check out 21 Best Places To Stay In Stowe VT in 2023 | Stowe VT Neighborhood Guide
How To Get Around Oregon
Oregon has a variety of transportation options. Here, we'll go over the different modes of transportation available to you so that you can plan the perfect adventure in Oregon.
#1. Car Rental
Renting a car allows you to explore the state at your leisure. Oregon has scenic drives like the Pacific Coast Highway and Crater Lake Loop that are best experienced by car.
#2. Public Transit
Many cities in Oregon, including Portland and Eugene, have efficient public transportation systems with buses, light rail, and streetcars. They're eco-friendly options for getting around urban areas.
#3. Biking
Oregon is known for being bike-friendly, with numerous bike lanes, paths, and trails. Cities like Portland have a strong cycling culture; you can even rent bikes for short-term use.
#4. Walking
Exploring on foot is a great way to immerse yourself in Oregon's beauty. Many towns and cities have pedestrian-friendly areas, and hiking trails abound in the Columbia River Gorge.
#5. Amtrak
The Amtrak Cascades route connects cities from Eugene to Portland and Seattle, offering stunning views of the Pacific Northwest's landscapes.
#6. Ridesharing
Apps like Uber and Lyft operate in many Oregon cities, making it easy to get a ride when needed, especially if you're in an area without good public transit.
#7. Ferries and Water Taxis
Along the coast and around the Willamette River, ferries and water taxis can provide a unique way to travel, offering scenic views from the water.
#8. Air Travel
If you're looking to cover long distances quickly, Oregon has several airports, with Portland International Airport being the largest. It's a convenient option for both domestic and international travel.
You might find this interesting: 21 Best Places to Stay in Tampa in 2023 | Tampa Neighborhood Guide
How to Find The Best Places To Stay in Oregon
With a vast array of stunning landscapes and outdoor attractions, choosing the best accommodation that matches your interests, preferences, and budget can be daunting.
Fortunately, with some research, you can discover some of the most magnificent places to stay in Oregon. Here, we'll highlight some useful tips to help you find the best accommodations in Beaver State.
#1. Determine your budget
The first step to finding the best accommodations in Oregon is to establish how much you want to spend. Determine the amount you can afford for the trip and divide it into daily expenditures. Knowing how much you have available will guide you on where to look for the best accommodation deals and what to expect regarding comfort and amenities.
#2. Know the region
Oregon is a large state with diverse regions that have distinct offerings. To find the best place to stay, you need to identify which region interests you the most and find accommodations in nearby towns or cities. The popular regions to explore in Oregon include the Columbia River Gorge, the Oregon Coast, the Willamette Valley, Bend, and Crater Lake, among others.
#3. Consider the type of accommodation
After knowing the region, you want to visit, deciding the type of accommodation you'd like is essential. Whether you prefer camping, hostels, budget hotels, vacation rentals, bed, and breakfast, or luxurious resorts, Oregon has options to suit every budget. Determine what kind of experience you'd like and pick the appropriate accommodation.
#4. Read reviews and ratings
Before you book any accommodation, take some time to read reviews from previous guests who've stayed there. Online travel sites like TripAdvisor can provide valuable information on the quality of services and amenities you can expect. Positive reviews can indicate that you'll have a great stay, while negative reviews can save you from a bad experience.
#5. Book early
Lastly, booking your accommodation early is important, especially during peak season or holidays, as places tend to fill up fast. This also allows you to find great deals and discounts that might not be available during last-minute bookings.
Don't miss out on reading: 17 Best Places To Stay In St. Lucia In 2023 | St. Lucia Neighborhood Guide
Challenges of Staying in Oregon
Oregon is known for its lush green forests, snow-capped mountains, and crystal-clear lakes. While the state's natural beauty is breathtaking, living here is not always a walk in the park. Here are some of the challenges of staying in Oregon:
#1. High Cost of Living
Oregon has a higher cost of living than the rest of the country. Housing prices, in particular, are significantly high, making it difficult for low-income families to find affordable housing.
#2. Extreme Weather Conditions
Oregon experiences extreme weather conditions, especially in the coastal and mountainous regions. The winters are long and cold, while the summers are short and scorching hot. The rainy season can also last up to six months.
#3. Lack of Job Opportunities
Oregon's job market is highly competitive, making it difficult for job seekers to find well-paying jobs. Many people who move here struggle to find employment, and they leave after a short while.
#4. Traffic Congestion
Traffic congestion is a major problem in Oregon's urban areas, particularly Portland. Commuting to work or running errands can be stressful, especially during peak hours.
#5. Limited Healthcare Facilities
While Oregon has excellent healthcare facilities, accessing medical care in rural areas can be challenging. Many residents in these areas must travel long distances for proper medical attention.
#6. Natural Disasters
Oregon is prone to natural disasters such as earthquakes, wildfires, and landslides. These disasters can be life-threatening and cause significant damage to properties.
Also check out: 17 Best Places For Vacation In Florida in 2023 | Florida Neighborhood Guide
Frequently Asked Questions
What is the best accommodation for families in Oregon?
Oregon has numerous family-friendly accommodations, including vacation rentals, campgrounds, and hotels. The Great Wolf Lodge in Grand Mound is popular for families with its indoor water park and numerous activities.
Where can I find the best luxury hotels in Oregon?
The Allison Inn and Spa in Newberg is known for its luxurious accommodations and stunning vineyard views. Other options include The Nines Hotel in Portland and The Sentinel Hotel in Eugene.
What are the best hotels for budget travelers in Oregon?
Hostels are great for budget travelers, with options like the HI-Portland Northwest and The Society Hotel in Portland. Other affordable options include the Red Lion Inn and Suites in Bend and the Comfort Suites in Salem.
Where can I find the best outdoor adventure accommodations in Oregon?
If you're an adventure enthusiast, Oregon has numerous outdoor accommodations, including yurts, cabins, and lodges. Some of the best include the Crater Lake Lodge, Sunriver Resort, and Mt. Hood Village.
Conclusion
Oregon has a lot to offer when it comes to accommodations. The options are endless, from luxurious resorts to charming B&Bs and unique treehouses. Each city and town has its own personality, providing something for everyone.
If you're looking for adventure, staying at a lodge near Crater Lake is perfect. Or, if you want a relaxed atmosphere, you must stay in the beachside town of Cannon Beach. Ultimately, wherever you decide to stay in Oregon, you're guaranteed a memorable experience with incredible views, warm hospitality, and a comfortable stay. So go ahead, plan your next Oregonian adventure, and enjoy the best that this state has to offer.
Reference