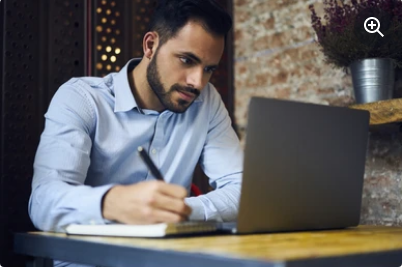 Journalism is a fantastic fit for anyone who enjoys sharing stories and providing accurate information about current events.
If you enjoy reporting, continue reading for additional information on how to become a journalist.
However, you must earn a bachelor's degree in journalism or communications to become a journalist.
Work experience will help you get what you want while finishing your degree.
For instance, although it has grown extremely competitive, an internship with a media outlet will help you land a job in this industry.
This article serves as a primer on what a journalist is and what their responsibilities are.
Additionally, it goes into detail about the best certification for journalists as well as the educational requirements for journalists.
This article will walk you through each step you need to take to become a journalist in 2023.
See Also: 70 Famous Journalist Quotes In 2023
What Is Journalism?
Journalism, according to Wikipedia, is the creation and dissemination of reporting on recent or historical events.
In general, some qualities set journalism apart from other forms of communication, including email, tweets, opinions, advertising, and propaganda. For instance, journalism offers reliable information so viewers and readers can come to intelligent conclusions.
Because the field of journalism is so vast, it is exceedingly challenging to come up with a precise definition that covers all the bases. But if you know what a journalist is, you'll be able to see things more clearly. You'll learn more about a real journalist in the topic that follows.
Who is a Journalist?
One who acquires produces, assesses, and presents news and information is a typical journalist. In other words, a journalist conducts the investigation, gathers the data, and delivers it as a news item.
Television, magazines, newspapers, radio, and the internet are all possible media outlets for delivering this news.
Successful journalists look for the truth behind the facts and the facts themselves. In addition to this, you must have a clear understanding of what a journalist does to be considered successful.
Read More: Is Vivian Kent A Journalist? Career, Networth, Education
What Does a Journalist Do?
What a journalist does is dependent upon the situation.
A journalist typically conducts research, gathers data, and produces news stories that can be broadcast on television, in magazines, in newspapers, on the radio, or online.
The fact is that because they can work in a variety of media fields, journalists frequently have broad careers. Additionally, their duties vary depending on the media outlet.
A journalist may perform one of the following jobs, depending on the particular organization:
1. Reporter
You can work as a reporter if you work as a journalist. You will take part directly in the information collection process here.
Additionally, they conduct interviews, locate sources, and gather all the data necessary to produce a well-researched new piece.
As a reporter, you will also convey the material in news stories, documentaries, and feature articles in written or spoken form.
As a reporter, you will typically need to cover all news stories. Some people have specialties in sports, politics, or ways of life, while others might need to work for large news organizations.
2. Editor
You can also work as an editor if you are a journalist. Editors are responsible for choosing what appears in a newspaper, magazine, or news bulletin.
In a nutshell, editors are in charge of the content that the journalists write and make all the final decisions.
Check: What Is Yellow Journalism: Connection With The Spanish American War
3. News Editor
In essence, the news editor is in charge of every news reporter. They are in charge of choosing which stories to cover and precisely who will do the work.
4. Sub Editor
A subeditor turns stories that have already been written and edited by reporters into the format best suited for the specific newspaper, magazine, or website requirements. 
It's crucial to realize that subeditors don't gather information on their own; instead, they focus on the stories that have already been published. After that, they look for improvements to make it more appealing to the target audience.
5. Photojournalists
A photojournalist is an individual who uses photography to report the news.
They cover events with a reporter and take photos to represent a written story. Or they decide to work both jobs while independently attending news events.
6. Feature Writers
The typical writer in this field produces longer pieces that must provide more context for a news story.
This type of writing requires extensive research to provide readers with a lengthy and informative article.
Editor's Pick: How To Write A Journalism Article | Step By Step Guide
Why Become a Journalist?
There are several reasons why people decide to work as journalists. There is always a reason why someone chooses to work as a journalist.
Here are some advantages of choosing journalism as a career if you do not yet have that captivating story.
1. Flexible Career
Because of its flexibility, being a journalist is one of the best occupations. As a journalist, you have access to a wide range of specialties.
Simply selecting one area of expertise and pursuing training and study in that area is all that is required. You can and will always find a job that relates to your passion, whether you are interested in politics, art, food, business, or sports. 
Just as this career is adaptable, it is also competitive, so keep that in mind. So you might have to demonstrate your journalistic value every day.
2. Helps You Network
Every day, journalists get the chance to speak with new sources, which greatly expands their network. This network can assist with potential job prospects and future narrative ideas.
By building trust with clients, they can also get the most out of the interviewing process and be more likely to assist you the next time.
Check Also: How To Get Into Journalism With No Experience | Step By Step Guide
3. You Learn Every day
A journalist essentially learns something new every day. You'll discover what works, what doesn't, and the reasons why. Consequently, this will teach you to reflect.
You will also learn how to challenge yourself, identify your desires and anxieties, and gain knowledge about who you are and what you can contribute to the world.
Additionally, you will develop your storytelling skills. This is because, after a few days of experience, your perspective on storytelling will completely change.
4. It's a chance to be Informative
All forms of journalism aim to give the audience accurate information. As a journalist, you will learn how to simplify a complex subject so everyone can comprehend it.
Because it is so important to governments and major corporations, this is a very important skill you can learn.
5. Chance to Change Perceptions
This rule applies to investigative journalism in all situations. The journalist can alter public perceptions of the situation by uncovering the truth in these murky circumstances and then shedding light on the subject. 
You will be able to inform, educate, and re-educate the public as part of this position. This is typical of subjects that a journalist is enthusiastic about.
Editor's Pick: How To Get Into Sports Journalism in 2023 | Full Guide
What are the Educational Requirements to Become a Journalist?
One of the finest ways to launch your career as a journalist is by earning a degree. Journalism, communications, or an English bachelor's degree are typically required of a journalist. 
Some students decide to double major in journalism and another subject, such as business or economics.
Reporting, English, feature writing and editing, photojournalism, communications, and journalism ethics are among the courses required of journalism majors.
How Long Does it Take to Become a Journalist?
The standard educational path most people take to become journalists takes four years to finish and involves a bachelor's degree.
To succeed as a journalist, you must advance in your field. They continue to a master's program, which takes an extra two years; as a result, a Ph.D. typically takes five years. 
It is difficult to estimate the time it takes to become a journalist because different people have different preferences for the level of education they want. 
The level of education one chooses to pursue ultimately determines how long it takes to become a journalist.
How Much Does it Cost to Become a Journalist?
International journalism students should budget about $34,000 annually to cover tuition, fees, books, supplies, accommodation and board, and other expenses. However, depending on the schools, the price may change. 
Some schools have annual fees as low as $11,000, while others charge slightly more than $60,000. Only when you attend a school in your state is this possible.
However, some respectable colleges and universities provide financial aid through student loans, even if you are enrolled in a private school.
Check: How To Go Viral On Twitter: Based On The New Algorithms | 2023
What to Study to Become a Journalist?
Before you can become a journalist, you must complete a few courses. The benefit of learning a language is that you may utilize your journalism degree anywhere in the world.
You should also study communication to hone your public speaking abilities. The following is a complete list of the classes you must take to become a journalist:
English Literature
Creative Writing
Media Studies
Politics
Languages
Economics
History
Where Can You Study to Become a Journalist?
Here is a list of the top universities for specialization programs in journalism:
University of Florida
Boston University
University of Georgia
Michigan State University
Marquette University
New York University
What is the Average Salary of a Journalist?
A journalist's annual income in 2018 was roughly $43,490. While the median yearly salary for reporters and correspondents was $41,260, the average compensation for TV news analysts was $64,600.
While journalists with years of experience made more than $100,930 annually, those with little to no experience earned less than $23,490 annually.
Except for those who freelance and work different hours depending on whether they have an assignment, most journalists work full-time.
Editor's Pick: 10 Best Female Sideline Reporters in Sports in 2023
How to Become a Journalist in 2022?
You must complete your schooling, pick up the necessary skills, participate in job training and certifications, and then earn experience to become a professional journalist. 
You can follow a set of steps to become a journalist. Knowledge of and adhering to these processes can help you quickly obtain your certification. 
If you want to become a journalist, you should follow the stages we've listed below, whether you already have experience in the industry through internships or are just getting started.
Obtain a degree or certification
Obtain Useful Skills
Participate in Certifications and Job Training
Gain Knowledge
Read Also: 15 Biggest Gambling Cities In The World In 2023 | With Photos
FAQS
How long does studying journalism last? 
(4) years. A bachelor's degree in journalism can be earned in the US in four years, with either a Bachelor of Science (BS) or a Bachelor of Arts degree awarded upon graduation. Core journalism courses like writing, reporting, editing, media law, journalism history, and ethics will be students' first takes.
What qualifications are required to be a journalist? 
A degree in journalism or a closely related field with a major in journalism is typically required to become a journalist. This is followed by a one-year graduate cadetship that includes on-the-job training.
How much do journalists make? 
Senior-level reporters, correspondents, and news analysts are most likely to earn the highest salaries. According to the BLS, journalists in these positions reported earning $38.92 per hour, or $80,950 per year, at the 75th percentile of the profession.
Conclusion
In conclusion, you should adhere to the guidelines outlined in the article if you want to become a good journalist. Obtain a degree or certification, Obtain useful skills, Participate in Certifications and Job Training, and Gain Knowledge
References