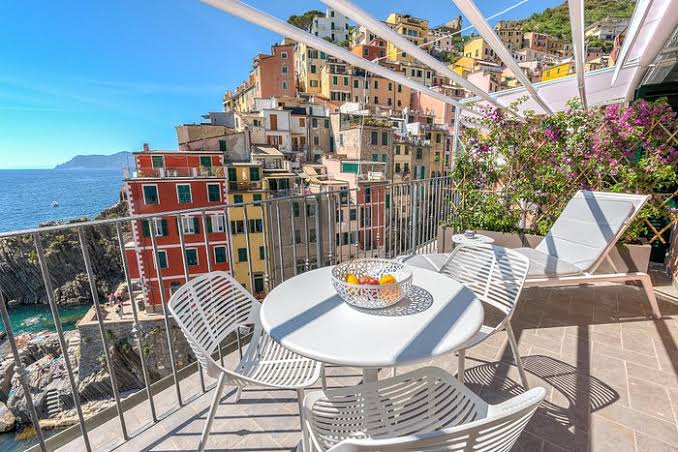 Cinque Terre, a cluster of five picturesque fishing villages on the Ligurian Coast of Italy, is one of the most enchanting destinations in the world. With their vibrant-colored houses stacked up on cliffs overlooking the azure waters of the Mediterranean Sea, the villages are a perfect escape for anyone looking for a serene and scenic holiday destination. However, finding the best places to stay in Cinque Terre can be challenging, especially for first-time visitors. 
Therefore, to help you plan your next holiday to this beautiful destination, we have compiled a list of the 21 Best Places to Stay in Cinque Terre for 2023. From budget-friendly hostels to luxury villas, we've covered you with all the details on where to stay and why.
Whether you're looking to explore the rich history and culture of the villages or relax on the beach, this neighborhood guide has everything you need to know about the best places to stay in Cinque Terre for a perfect getaway. So, read on and get ready to explore the magic of Cinque Terre.
About Cinque Terre
Cinque Terre, or the Five Lands, is a collection of five small fishing villages along the Italian Riviera coastline. These picturesque towns are Riomaggiore, Manarola, Corniglia, Vernazza, and Monterosso al Mare. The landscape here is simply stunning – the hills roll down to the azure waters of the Mediterranean, and brightly-colored buildings hug the cliffs.
Cinque Terre is a protected UNESCO World Heritage site, and several trails and pathways link the villages together. Walking through these charming villages' narrow alleys and hidden squares is like stepping back in time – you'll find artisan workshops, tiny cafes, and bakeries serving up delicious focaccia and pizza.
There is no shortage of activities in Cinque Terre. For those who love to hike, the hiking trails are some of the best in the world and offer spectacular views. For water enthusiasts, you can swim and sunbathe on the beaches and go snorkeling or scuba diving to explore the underwater world.
One of the best things about Cinque Terre is its local food and wine. Try some delicious seafood, like locally-caught anchovies or calamari. There's also plenty of fresh produce like lemons, olives, and tomatoes and mouth-watering wines from the region.
Visiting Cinque Terre is an unforgettable experience and is a must-visit destination for any traveler. It's easy to fall in love with this unique part of the world – the perfect combination of natural beauty, culture, and great food and wine.
Read more – 21 Best Cities to Visit in Africa in 2023 | Complete Guide
Why Stay in Cinque Terre?
Cinque Terre, a picturesque region located along the Italian Riviera, is a captivating destination that offers travelers a unique and unforgettable experience. Here are several compelling reasons why staying in Cinque Terre can be a remarkable choice:
#1. Spectacular Scenery
Cinque Terre is renowned for its breathtaking coastal landscapes, characterized by colorful houses clinging to rugged cliffs, pristine beaches, and crystal-clear waters. The stunning vistas and charming villages provide an unparalleled backdrop for relaxation and exploration.
#2. Charming Villages
Cinque Terre comprises five distinct villages – Monterosso al Mare, Vernazza, Corniglia, Manarola, Riomaggiore. Each village exudes its distinct charm, offering narrow alleys, vibrant markets, and local culture. Staying in one of these villages immerses you in the authentic Italian way of life.
#3. Hiking Trails
The region boasts an extensive network of well-maintained hiking trails that connect the five villages. The famous Sentiero Azzurro (Blue Trail) allows you to trek along the coastline, affording unparalleled views of the Mediterranean and the villages. Nature enthusiasts and adventure seekers will find ample opportunities to explore the rugged terrain.
#4. Culinary Delights
Cinque Terre is a haven for food enthusiasts. Indulge in delectable seafood, freshly caught from the sea, locally produced wines, and traditional Ligurian dishes. Dining in family-owned restaurants and seaside cafes enhances the gastronomic experience.
#5. Relaxed Pace
Unlike larger cities, Cinque Terre offers a more laid-back and tranquil atmosphere. The absence of large crowds and bustling city life allows you to unwind, savor the moment, and truly appreciate the natural beauty of the surroundings.
#6. Local Artisan Shops
The villages are dotted with charming artisan shops that offer unique handmade crafts, ceramics, textiles, and other souvenirs. Exploring these shops provides an opportunity to support local artisans and bring home one-of-a-kind mementos.
#7. Photographer's Paradise
For photography enthusiasts, Cinque Terre is a dream come true. The play of light and shadow against the colorful buildings, the picturesque harbors, and the stunning landscapes create endless opportunities to capture breathtaking shots.
#8. Community and Culture
Staying in Cinque Terre allows you to engage with the local community and experience their warm hospitality. Participate in traditional festivals, interact with friendly locals, and gain insights into their way of life, fostering a deeper cultural connection.
#9. Easy Accessibility
Cinque Terre is well-connected by train, making exploring nearby cities such as Genoa, Pisa, and Florence convenient. This accessibility allows you to combine your stay with visits to other iconic Italian destinations.
#10. Sunsets and Sunrises
The coastal setting of Cinque Terre lends itself to remarkable sunsets and sunrises. Watching the sun dip below the horizon or illuminate the villages in the morning creates magical moments that stay etched in your memory.
In essence, staying in Cinque Terre allows one to escape the ordinary and embrace a world of natural beauty, cultural richness, and tranquility. Whether you're seeking adventure, relaxation, or a blend of both, this enchanting region promises an unforgettable experience that captures the heart and soul of Italy's coastal splendor.
Check out – 17 Best Places For Vacation In Florida in 2023 | Florida Neighborhood Guide
21 Best Places to Stay in Cinque Terre
When it comes to the beautiful Cinque Terre region of Italy, there are so many incredible places to stay that it can be hard to know where to start. But if you're looking for some of the best accommodations this area offers, then these ten options should be at the top of your list.
#1. Hotel Porto Roca – Monterosso
First on our list of the best places to stay in Cinque Terre is the Hotel Porto Roca. This hotel is a renowned accommodation option in Monterosso, one of the five charming villages that make up the Cinque Terre. Its exceptional location offers breathtaking panoramic views of the Ligurian Sea and the surrounding landscape. 
The hotel boasts comfortable and elegantly designed rooms, each with its unique character. Guests can savor the Mediterranean cuisine at the hotel's restaurant, which often features locally sourced ingredients.
The hotel's terrace and outdoor pool provide a perfect spot to relax and enjoy the stunning sunset over the sea. Its proximity to the beach and the village's attractions makes it an ideal choice for travelers seeking a luxurious and scenic retreat.
#2. Casa Colleverde – Monterosso
Casa Colleverde offers an authentic and cozy stay experience in the heart of Monterosso. This bed-and-breakfast-style accommodation is known for its warm hospitality and personalized service. The rooms are thoughtfully decorated and provide a homely atmosphere, making guests feel like they are staying in a traditional Italian home.
The hosts often engage with guests, sharing local insights and recommendations, creating a unique cultural experience.
The property's garden and terrace offer serene spots to unwind and enjoy the tranquility of the surroundings. Casa Colleverde's convenient location, close to Monterosso's attractions and the beach, makes it a popular choice for travelers seeking an intimate and charming stay.
#3. Affittacamere L'Orcio – Vernazza
Affittacamere L'Orcio is a delightful guesthouse located in the picturesque village of Vernazza. This family-run establishment offers a comfortable and inviting stay, reflecting the warmth and friendliness of the local community.
The rooms are well-appointed and provide a cozy retreat after a day of exploring the Cinque Terre trails. The guesthouse is within walking distance of the village center and the iconic Vernazza harbor, making it a convenient base for travelers looking to immerse themselves in the village's charm.
Guests often appreciate the hosts' personal touch and insider recommendations, enhancing their overall experience of Vernazza.
#4. Gianni Franzi – Vernazza
Gianni Franzi is a charming bed and breakfast accommodation in Vernazza's heart. With its rustic and traditional ambiance, this guesthouse captures the essence of Cinque Terre's coastal culture.
The rooms are cozy and thoughtfully designed, featuring local craftsmanship and design elements. The property's terrace offers stunning views of the village and the sea, creating a serene setting for relaxation.
Gianni Franzi's central location allows easy access to Vernazza's attractions, including its vibrant piazza and the hiking trails that connect the villages. Travelers seeking an authentic and immersive experience in Vernazza find Gianni Franzi a delightful choice.
#5. Camere La Torre – Corniglia
Camere La Torre is a unique accommodation option in Corniglia's charming village. What sets this place apart is its location within a historic tower, providing guests with an unforgettable and distinctive stay experience.
The rooms are cozy and well-equipped, offering modern comforts within a historic setting. Guests can enjoy panoramic views of the village, the terraced vineyards, and the sea from the tower's rooftop terrace.
Compared to some of the other Cinque Terre villages, Corniglia's quieter and more relaxed atmosphere makes Camere La Torre an excellent choice for travelers seeking a peaceful and idyllic escape.
#6. Casa Vacanze Ana – Corniglia
Casa Vacanze Ana is a charming vacation rental located in the picturesque village of Corniglia. Corniglia is the smallest of the five villages in Cinque Terre and is known for its stunning views of the Ligurian Sea.
Casa Vacanze Ana offers cozy and well-appointed apartments that give visitors a comfortable and authentic experience.
The property's central location allows easy access to Corniglia's narrow streets, local shops, and traditional Italian restaurants.
Guests can enjoy breathtaking sunsets from the nearby panoramic viewpoints. With its peaceful ambiance and genuine Italian atmosphere, Casa Vacanze Ana is an excellent choice for travelers looking to immerse themselves in the beauty of Cinque Terre.
#7. Da Baranin – Manarola
Nestled in the charming village of Manarola, Da Baranin is a delightful accommodation option that captures the essence of Cinque Terre. Manarola is renowned for its colorful houses perched on the cliffside, creating a postcard-perfect backdrop.
Da Baranin offers comfortable rooms with a touch of rustic charm, and its location provides easy access to the village's iconic vineyards and walking paths.
Guests can explore the village's vibrant waterfront, indulge in delectable seafood, and experience the warmth of the local community. Da Baranin's proximity to the train station makes it a convenient base for exploring the entire Cinque Terre region.
#8. Zorza – Manarola
Zorza is another exceptional accommodation choice in Manarola, blending modern comforts and traditional Italian hospitality. Situated amidst the terraced hills and vineyards, Zorza offers spacious rooms and balconies with panoramic views of the Mediterranean Sea.
The property's attentive staff ensures a memorable stay, assisting guests with insider tips on exploring the area's best hiking trails and hidden gems.
Zorza's proximity to the harbor allows guests to easily embark on boat trips and soak in the coastal beauty. Whether you're seeking relaxation or adventure, Zorza caters to diverse preferences.
#9. The First – Riomaggiore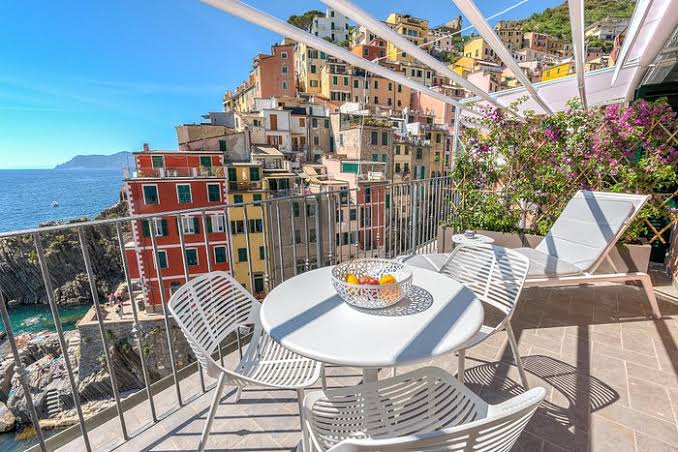 Perched above the charming village of Riomaggiore, The First is a boutique hotel that provides a luxurious retreat for travelers. Riomaggiore is known for its steep streets, colorful houses, and lively atmosphere.
The First offers elegantly designed rooms, some with private balconies offering stunning views of the village and the sea.
Guests can unwind at the hotel's terrace bar, savoring local wines and enjoying the sunsets. The hotel's prime location allows easy exploration of Riomaggiore's bustling main street, where you can find quaint cafes, artisanal shops, and authentic Italian eateries.
#10. Riorooms – Riomaggiore
Riorooms is a charming guesthouse in the heart of Riomaggiore, offering visitors a cozy and intimate experience. The guesthouse features tastefully decorated rooms with modern amenities, providing a comfortable haven after a day of exploring.
Riomaggiore's vibrant energy is just steps away, allowing guests to dive into the local culture and enjoy the lively atmosphere of this quintessential Cinque Terre village.
Rio Rooms' convenient location near the train station makes it an excellent starting point for travelers looking to discover the entire Cinque Terre region without hassle.
#11. Le Palme – Levanto
Le Palme in Levanto offers a serene and comfortable stay just a short distance from the picturesque Cinque Terre villages. With its charming Mediterranean architecture and lush gardens, Le Palme provides a relaxing ambiance. The rooms are well-appointed, featuring modern amenities and beautiful views.
Levanto is a charming town with a sandy beach and a vibrant local atmosphere. It is an excellent base for exploring Cinque Terre while providing a quieter retreat away from the crowds.
#12. B&B L'Incanto di Manarola – Manarola
B&B L'Incanto di Manarola is a hidden gem in the heart of the stunning village of Manarola. Known for its warm hospitality, this bed and breakfast offers cozy rooms with traditional décor and modern comforts.
Its breathtaking panoramic terrace that overlooks the colorful houses and the shimmering Ligurian Sea sets this place apart. Guests can savor a delicious homemade breakfast while taking in the mesmerizing views. The central location makes it convenient for exploring Manarola and accessing the famous hiking trails of Cinque Terre.
#13. La Spezia – Levanto
La Spezia, often called the gateway to Cinque Terre, offers a range of accommodation options, including hotels and vacation rentals. While not one of the five villages, La Spezia provides a more urban experience with its bustling markets, local restaurants, and cultural attractions.
Staying in La Spezia can be a great choice for travelers who want easy access to Cinque Terre but also wish to explore a larger city. The train connections from La Spezia to the villages are frequent and convenient.
#14. Casa La Fortuna – Vernazza
Casa La Fortuna in Vernazza offers a charming and authentic Cinque Terre experience. This family-run guesthouse is nestled amidst the vibrant streets of Vernazza, providing comfortable rooms with a rustic yet cozy atmosphere.
The highlight of this stay is its proximity to the Vernazza harbor, where guests can wake up to the sounds of the sea and immerse themselves in the local coastal lifestyle. The hosts often go the extra mile to ensure a memorable stay, sharing insider tips and recommendations for exploring Vernazza and beyond.
#15. Cinqueterre Residence – Vernazza
Cinqueterre Residence is an ideal choice for travelers seeking modern comforts and convenience. Situated in the heart of Vernazza, this residence offers well-equipped apartments with contemporary designs and stunning views of the village and sea.
The apartments come with kitchenettes, making them suitable for those who prefer self-catering. Cinqueterre Residence provides a seamless blend of comfort and accessibility, allowing guests to easily explore Vernazza's attractions, beaches, and hiking trails.
#16. Il Saraceno – Monterosso
Il Saraceno is a charming accommodation option in Monterosso's picturesque village, the largest of the five villages that make up Cinque Terre. This hotel offers breathtaking panoramic views of the Ligurian Sea and is renowned for its Mediterranean-style architecture.
Guests can enjoy the spacious and comfortable rooms, some with private balconies or terraces overlooking the sea.
The hotel's restaurant serves delectable local cuisine, allowing visitors to savor the region's flavors. The convenient location of Il Saraceno provides easy access to Monterosso's beautiful beaches, hiking trails, and cultural attractions.
#17. Da Vincenzo – Riomaggiore
Da Vincenzo is a delightful guest house in Riomaggiore, one of the quintessential Cinque Terre villages known for its colorful houses and stunning coastal vistas. This family-run establishment offers cozy and well-appointed rooms that provide a homey atmosphere for guests.
The friendly hosts often go the extra mile to make visitors feel welcome, and their insider tips about the best local spots can greatly enhance your travel experience.
Da Vincenzo's central location is an excellent starting point for exploring Riomaggiore's charming streets, sampling local seafood, and enjoying the breathtaking sunsets over the Ligurian Sea.
#18. Daria's House – Corniglia
Daria's House is a hidden gem nestled in the hilltop village of Corniglia, the only Cinque Terre village not directly on the seafront but still boasts spectacular views. This bed and breakfast exudes a rustic charm with stone walls and traditional decor.
The owner, Daria, offers warm hospitality and a wealth of knowledge about the local area, including lesser-known hiking trails and authentic dining experiences.
Staying at Daria's House allows you to immerse yourself in Corniglia's tranquil ambiance while conveniently located near the train station and hiking paths connecting the villages.
#19. Alla Marina – Vernazza
Alla Marina is a quaint inn in Vernazza, a village known for its natural harbor and vibrant atmosphere. This family-run accommodation offers comfortable rooms that provide a cozy retreat after exploring Vernazza's scenic landscapes and cultural treasures.
Guests can relish the sea views from their rooms and indulge in the local specialties served at nearby restaurants and cafes. The inn's proximity to the waterfront and Vernazza's iconic castle makes it an ideal choice for those who want to experience the village's maritime charm.
#20. La Corte di Alice – Monterosso
La Corte di Alice is a boutique guesthouse in Monterosso's heart. The property features elegantly designed rooms that blend modern comforts with traditional elements, creating a sophisticated and inviting ambiance.
The attentive hosts provide personalized service, ensuring guests have a memorable and comfortable stay. La Corte di Alice's central location makes it easy to explore the village's historic center, sample local wines, and relax on the sandy shores of Monterosso's renowned beaches.
#21. Residence Serenella – Riomaggiore
Last but not least on our list of the best places to stay in Cinque Terre is Residence Serenella. Residence Serenella offers a unique accommodation experience in Riomaggiore, known for its charming narrow alleys and stunning coastal vistas. This apartment-style residence provides spacious and well-equipped units, making it an excellent choice for travelers seeking a home away from home. 
The self-catering facilities allow guests to prepare meals using fresh local ingredients, enhancing the immersive experience of living like a local. The residence's proximity to Riomaggiore's main attractions and transportation options ensures a convenient base for exploring the village and beyond.
Take out time to read – 16 Best Places to Stay in Vermont in 2023 | Vermont Neighborhood Guide
How To Get Around Cinque Terre
Getting around Cinque Terre can be an enjoyable and memorable experience. Here's an extensive guide on how to navigate this beautiful area:
#1. Train
The most popular and efficient way to travel between the five villages is by train. The Cinque Terre Express runs frequently and connects all the villages, providing breathtaking coastline views. Trains are clean, reliable, and generally punctual.
#2. Cinque Terre Card
Consider purchasing a Cinque Terre Card, which provides unlimited train travel between the villages for a specific duration (usually 1, 2, or 3 days). It also grants access to hiking trails and shuttle buses within the region.
#3. Shuttle Buses
Shuttle buses are available that connect some of the villages and can be useful for those who prefer not to hike or have mobility issues. These buses also accept the Cinque Terre Card.
#4. Ferry
During the warmer months, you can take a ferry between the villages, providing a unique perspective of the coastline. This option is particularly popular with tourists, as it offers a different way to experience Cinque Terre's beauty.
#5. Car
While it's not recommended to drive cars yourself due to narrow streets and limited parking, you can park your car in nearby towns such as La Spezia or Levanto and then take the train or other forms of transportation into Cinque Terre.
#6. Biking
Cycling enthusiasts can explore the region by renting a bike. Dedicated bike paths and scenic routes offer a more active way to get around.
#7. Local Buses
In addition to shuttle buses, local buses connect certain villages to nearby towns and attractions. These can be useful for exploring areas outside the main villages.
#8. Walking
Within each village, the best way to explore is on foot. The villages are small and pedestrian-friendly, with charming streets, colorful houses, and picturesque squares.
You can also check out – 21 Best Places to Stay in Tampa in 2023 | Tampa Neighborhood Guide
How to Find The Best Places To Stay in Cinque Terre
To make sure that you have the most unforgettable trip to this part of Italy, here's how you can find the best places to stay in Cinque Terre:
#1. Start Your Research Early
The first step in finding the best places to stay in Cinque Terre is to start your research as early as possible. This gives you enough time to explore all the available options, compare prices, read reviews, and make a reservation that suits your budget and travel style.
Remember, the most popular places get booked quickly, especially during peak season, so you don't want to miss out on a fantastic accommodation option.
#2. Look for Locations Close to the Beach and Hiking Trails
One of the main attractions of Cinque Terre is its rugged coastal terrain and breathtaking hiking trails. If you love exploring nature, book your accommodation near the beach or hiking trails to maximize your trip.
With accommodations closer to the hiking trails, you will get more opportunities to explore and can easily witness the most spectacular sunrise and sunset.
#3. Check for Comfort and Amenities
When choosing your accommodation, make sure you prioritize your comfort and convenience. Ensure your room is comfortable with high-quality bedding and pillows. Moreover, don't forget to check out the available amenities in the accommodation that cater to your needs.
Do you want to start your day with a refreshing swim, have some spa time, or explore the local flavors in an in-house restaurant? Whatever you prefer, there is always an accommodation with an experience that fits.
#4. Read Reviews
Lastly, before making a reservation, read reviews from other guests who have stayed in the place you're considering. Take note of both positive and negative evaluations. These comments give you an insight into what the experience will be like when you get there.
Trusting reviews from your fellow travelers is key in finding the best places to stay in Cinque Terre, guaranteeing a great experience that will surely stay with you for years to come.
You might find this interesting – 21 Best Places To Stay In Stowe VT in 2023 | Stowe VT Neighborhood Guide
Challenges of Staying in Cinque Terre
Staying in Cinque Terre presents unique challenges due to its popularity and geography. Limited accommodation options often lead to high prices and booking difficulties. The villages' remote locations have limited accessibility, making transportation and mobility a hurdle.
Overcrowding during peak seasons can diminish the serene experience. Maintenance of the delicate ecosystem and historic architecture requires responsible tourism. Unpredictable weather patterns can impact outdoor activities. Balancing preservation with modernization is an ongoing challenge.
Despite these hurdles, Cinque Terre's breathtaking beauty and cultural richness continue to attract visitors willing to navigate these obstacles for an unforgettable experience.
Also check out – 20 Cities With Highest UV Index In The World In 2023 | With Photos
Frequently Asked Questions
Are there any luxury options for accommodations in Cinque Terre?
Cinque Terre offers several high-end options for those seeking a luxurious stay. There are plenty of upscale options, from chic boutique hotels to stylish apartments. Some top-rated luxury accommodations in Cinque Terre are Villa Margherita, Hotel Porto Roca, and Il Giardino Incantato.
What is the average cost of staying in Cinque Terre?
The cost of accommodations in Cinque Terre can vary widely depending on the season, type of accommodation, and location. On average, expect to pay around 150-200 EUR per night for a double room in a mid-range hotel during peak season. However, budget-conscious travelers can find more affordable options, such as hostels and B&Bs, for around 50-70 EUR per night.
Is it better to stay close to the beach or the train station?
This depends on your personal preferences and travel itinerary. If you plan to spend most of your time hiking or exploring the towns, staying close to the train station might be more convenient. However, if you're looking for a relaxing beach vacation, staying close to the beach is a great option.
Conclusion
After exploring the breathtaking coastal beauty of Cinque Terre, it's time to kick back, relax and indulge in the best places to stay. From the colorful villages of Manarola, Vernazza, Riomaggiore, and Monterosso al Mare, each location offers unique accommodations that are perfect for your stay.
Experience the local charm at a family-run bed and breakfast, or pamper yourself at a luxurious hotel with breathtaking views. Regardless of where you choose to stay, you'll fall in love with the charm of Cinque Terre and the hospitable locals that make it a unique destination.
So go ahead and make your reservations, and immerse yourself in this Italian paradise's magical atmosphere.
Reference