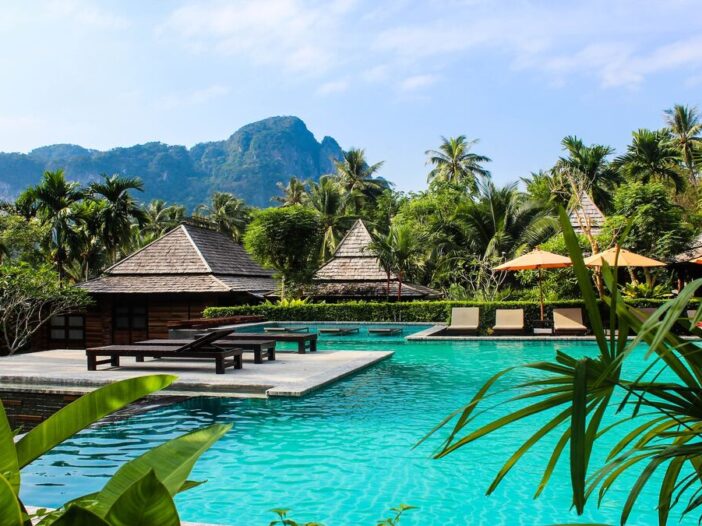 Finger Lakes is a region in New York State. Nestled amidst rolling hills, sprawling vineyards, and glistening lakes, Finger Lakes is a nature lover's paradise. This region has some of the most stunning landscapes in the country and is renowned for its charming villages, scenic byways, and bountiful wine. If you're looking for an idyllic getaway from the hustle and bustle of city life, Finger Lakes is a great choice. In this comprehensive guide, we will take you through the 17 best places to stay when you visit Finger Lakes.
The Finger Lakes region has an ample array of accommodations that will suit your needs, from charming bed and breakfasts to luxury hotels and resorts. The Finger Lakes has everything from the rustic charm of farmhouses to the modern sophistication of waterfront lodges. From the quaint and cozy to the luxurious and extravagant, we'll highlight the best places to stay in the region that will ensure your vacation in Finger Lakes is nothing short of magical. Get ready to experience this stunning region's beauty, tranquility, and charm and create memories that will last a lifetime.
About Finger Lakes
The Finger Lakes region in New York, USA, is a captivating destination known for its stunning natural beauty and rich history. It comprises 11 long, narrow lakes, glacially-formed wonders, which stretch like fingers across the landscape. The region's unique topography and microclimates contribute to its renowned wine production, particularly for Riesling and Gewürztraminer varietals. Finger Lakes has over 100 wineries and is a major wine tourism destination.
Outdoor enthusiasts are drawn to the area's plethora of recreational activities, from hiking and fishing to boating and birdwatching. The region's namesake lakes offer ample opportunities for water-based fun, and the deep gorges of Watkins Glen State Park showcase dramatic waterfalls and rugged terrain.
Historically, the Finger Lakes played a significant role in the abolitionist and women's suffrage movements. Seneca Falls hosted the first Women's Rights Convention in 1848, a pivotal event that shaped American history.
Also, the Finger Lakes region houses prestigious educational institutions like Cornell University and Ithaca College, contributing to a vibrant cultural scene. The Corning Museum of Glass showcases the area's artistic legacy, as Corning was a prominent glass manufacturing center.
The Finger Lakes region is a captivating blend of natural wonders, cultural significance, and recreational opportunities, making it an enticing destination for travelers seeking diverse experiences.
Check out – 21 Best Places to Stay in Tampa in 2023 | Tampa Neighborhood Guide
Why Stay in Finger Lakes?
The Finger Lakes region is a picturesque region in Upstate New York. From scenic lakes and sprawling vineyards to gorgeous parks and stunning waterfalls, Finger Lakes is a destination you don't want to miss. If you're wondering why you should stay in Finger Lakes, here are some reasons that make it a great place to visit.
First, Finger Lakes has many beautiful lakes. The region has 11 long and narrow glacial lakes surrounded by hills, which creates a picturesque landscape. You can stroll along the lakes, hike or sit by the water and enjoy the stunning views.
Second, Finger Lakes is the wine capital of New York State. The region is home to over 100 wineries, which produce some of the finest wines in the country. You can take a tour of the vineyards, sample delicious wines, or indulge in a leisurely afternoons in the beautiful vineyards.
Third, Finger Lakes is also an excellent place to relax and rejuvenate. With numerous hot springs, spas, and retreat centers, you will have plenty of options to unwind and recharge your batteries. You can choose to soak in the hot springs or indulge in a relaxing massage.
Finger Lakes is a destination that you don't want to miss. There is something for everyone. Visit Finger Lakes and experience its beauty and charm – you won't regret it!
Don't miss out to read – 17 Best Places To Retire in North Carolina in 2023 | North Carolina Neighborhood Guide
What Are The 17 Best Places to Stay in Finger Lakes?
Finger Lakes is the perfect retreat from the hustle and bustle of the city. Whether you are a nature lover, wine connoisseur, or simply want to relax in a serene atmosphere, Finger Lakes has something to offer everyone. Here are the 17 best places to stay in Finger Lakes that will make your vacation unforgettable:
#1. The Chalet at Bristol Harbour
First on our list of the best places to stay in Finger lakes is the Chalet at Bristol Harbour. Nestled in the heart of the region, The Chalet at Bristol Harbour is a serene and picturesque escape for anyone who wants luxury and tranquility. The chalet overlooks Canandaigua Lake, therefore you can enjoy stunning panoramic views of the lake from your room. The chalet offers guests a unique blend of modern amenities and rustic charm.
The spacious accommodations are designed to make you feel at home, with cozy fireplaces and well-furnished kitchens. if you are an outdoor enthusiast, you can ski in the winter or hike in the summer on Bristol Mountain.
The on-site restaurant has many delicious dining options, and the resort's spa is a great place to relax and rejuvenate yourself. Whether you need a romantic getaway or a family retreat, The Chalet at Bristol Harbour will be an unforgettable experience.
#2. Belhurst Castle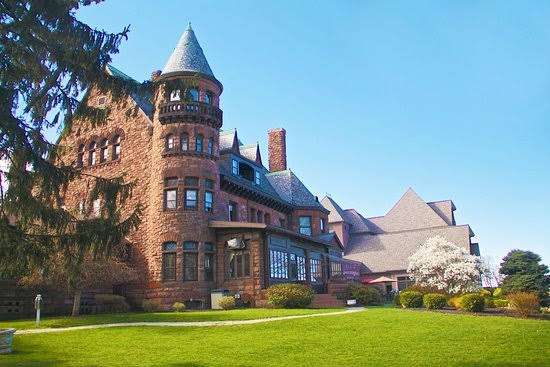 Belhurst Castle is a grand and enchanting hotel, located on the shores of Seneca Lake. It is steeped in history and will transport you to a bygone era. The castle exudes charm and elegance. Its accommodations range from luxurious rooms in the castle itself to charming suites in the Vinifera Inn.
The castle's winery has many award-winning wines. You can indulge in wine tastings, enjoy the scenic lake views, and explore the castle's captivating architecture.
There is an on-site spa where you can relax, and the dining experiences range from casual to fine dining. Belhurst Castle is a magical escape that combines luxury with natural beauty.
#3. Geneva On The Lake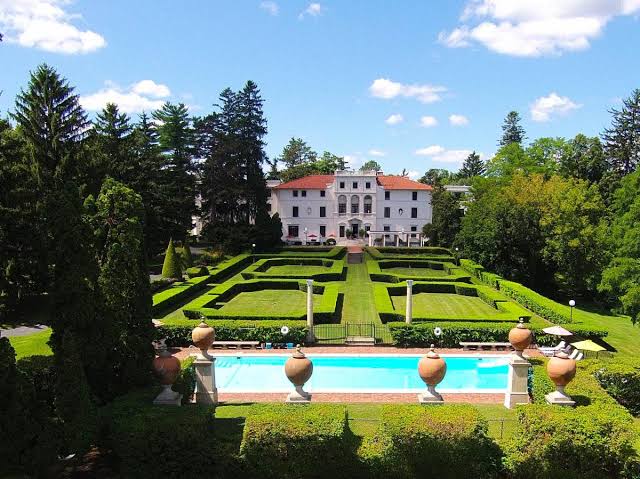 Geneva On The Lake is a timeless and elegant hotel located on the shores of Seneca Lake. The resort's Italianate architecture, manicured gardens, and breathtaking lake views create a captivating ambiance. There are spacious suites and studios with antique furnishings, plush bedding, and modern amenities.
You can stroll through the meticulously landscaped grounds, enjoy afternoon tea in the Lancellotti Dining Room, and indulge in wine tastings at the on-site winery. The resort is close to downtown Geneva, therefore you can easily explore the local shops and attractions. If you want a place that offers both luxury and natural beauty, Geneva On The Lake is a great option for you.
#4. Watkins Glen Harbor Hotel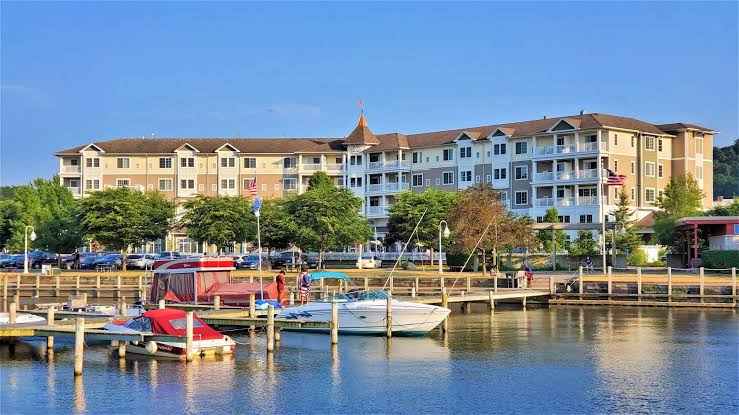 Watkins Glen Harbor Hotel, located at the southern tip of Seneca Lake, is a blend of luxury and comfort. From the hotel, you can admire the stunning lake and easily access the Watkins Glen State Park and the charming downtown area.
There are well-appointed rooms and suites with modern amenities, plush bedding, and elegant décor. The on-site Blue Pointe Grille serves delicious meals prepared with locally sourced ingredients. You can relax on the lakefront patio, enjoy the fitness center, or explore the nearby wineries. Indeed, Watkins Glen Harbor Hotel is a convenient and upscale retreat.
#5. Esperanza Mansion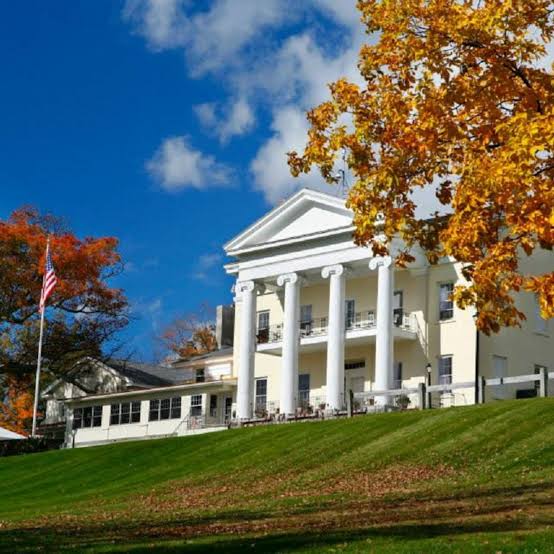 The Esperanza Mansion is perched atop a hill overlooking Keuka Lake. The mansion has distinctive architecture and lush grounds, which create a sense of tranquility and elegance.
The spacious rooms and suites are tastefully decorated, and have top-notch amenities. You can dine at the mansion's restaurant, which offers a farm-to-table dining experience with local flavors.
The sprawling estate provides ample space to relax, explore, and engage in outdoor activities. You can lounge in the mansion's wrap-around porch, stroll by the lake, or savor the region's wines.
#6. The Gould Hotel
Located in the heart of downtown Seneca Falls, The Gould Hotel is a sophisticated and urban-inspired hotel. The hotel's historic façade and modern interior design juxtapose old-world charm and contemporary elegance.
The well-appointed rooms and suites have luxurious amenities and stylish décor. You can indulge in gourmet dining at the on-site restaurant, which prepares delicious meals inspired by locally sourced ingredients and seasonal flavors. Finally, due to the hotel's central location, you can easily explore nearby attractions, shops, and museums.
#7. Taughannock Farms Inn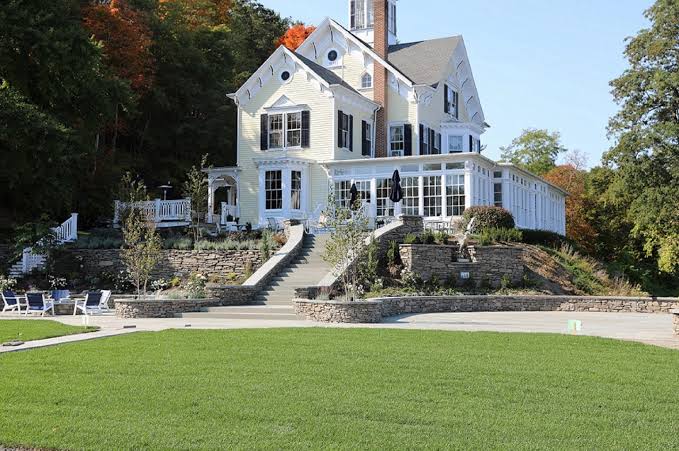 Located near Taughannock Falls State Park, on the shores of Cayuga Lake, this inn is a rustic and nature-inspired retreat. the inn has a cozy and inviting ambiance and breathtaking surroundings.
The rooms and suites are adorned with wooden furnishings and offer views of the surrounding gardens and lake. You can enjoy farm-to-table dining at the inn's restaurant.
Its proximity to Taughannock Falls State Park means that you can go hiking or picnicking. If you are looking for a tranquil escape from the bustle of everyday life, this inn is a great choice for you.
#8. Mirbeau Inn & Spa
The Mirbeau Inn & Spa is a luxurious and rejuvenating escape nestled in the heart of Finger Lakes. This elegant retreat combines the charm of a French countryside estate with modern amenities. You can indulge in world-class spa treatments, savor gourmet dining experiences, and immerse yourself in the serene surroundings. The inn's well-appointed rooms and suites exude comfort and sophistication, a perfect balance of relaxation and luxury.
#9. Lake House on Canandaigua
The Lake House is perched on the tranquil shores of Canandaigua Lake. Its picturesque setting, overlooking the pristine waters, provides a peaceful retreat for guests seeking a serene escape.
The elegantly designed rooms and suites boast stunning lake views. You can unwind on the lakeside patio or explore the surrounding wineries. The Lake House's farm-to-table dining options highlight the region's culinary delights. Also, you can enjoy outdoor kayaking, paddle-boarding, and lakeside bonfires.
#10. Watkins Glen International Campground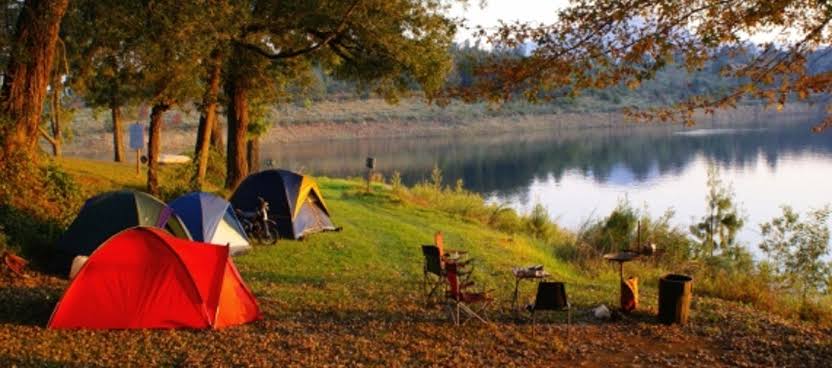 If you are looking for a more adventurous experience, the Watkins Glen International Campground is a unique and immersive place to stay. Located near the renowned Watkins Glen State Park and Watkins Glen International racetrack, this campground provides an opportunity to connect with nature and experience the thrill of motorsports.
You can choose from various camping options, including tent sites, RV hookups, and glamping tents. The campground's proximity to outdoor activities, hiking trails, and breathtaking waterfalls ensures an action-packed and unforgettable stay, making it an excellent choice for outdoor enthusiasts and racing fans.
#11. Inn at Glenora Wine Cellars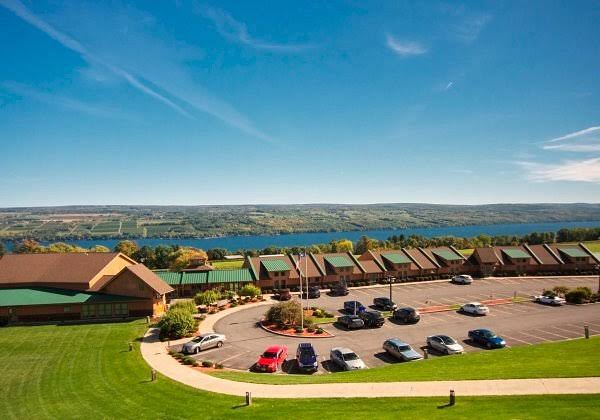 Nestled amidst the rolling vineyards of Finger Lakes wine country, the Inn at Glenora Wine Cellars offers an enchanting escape for wine lovers. This charming inn has well-appointed rooms and suites with panoramic vineyards and Seneca Lake views.
You can savor award-winning wines from the renowned Glenora Wine Cellars and indulge in delectable farm-to-table dining at Veraisons Restaurant. The inn's proximity to local wineries and tasting rooms allows guests to explore the rich viticulture of the region, making it an ideal choice for those seeking an immersive wine-focused retreat.
#12. Hampton Inn Penn Yan
The Hampton Inn is a comfortable and welcoming accommodation. It is conveniently located in the historic town of Penn Yan, therefore you can easily explore the Finger Lakes attractions, including Keuka Lake, Seneca Lake Wine Trail, and Watkins Glen State Park. The hotel has modern amenities and spacious rooms.
You can start your day with a complimentary hot breakfast, stay connected with high-speed internet, and unwind by the indoor pool. You can embark on a wine tour or enjoy outdoor adventures.
#13. Idlwilde Inn
The Idlewild Inn, located in Watkins Glen, is a charming bed and breakfast with a unique blend of historic elegance and modern comfort. Nestled amidst beautifully landscaped gardens, this inn has a rich history dating back to the late 19th century. 
The architectural details of the inn reflect the Victorian era, creating a cozy and nostalgic ambiance. It has well-appointed rooms, many of which offer stunning lake views.
You can savor delicious breakfasts served in the elegant dining room, explore the nearby Watkins Glen State Park with its stunning waterfalls, or simply unwind on the wrap-around porch.
#14. The Aurora Inn
Located in the charming village of Aurora on the eastern shore of Cayuga Lake, The Aurora Inn is a luxury accommodation that exudes timeless elegance. The inn seamlessly blends its historical architecture with modern amenities, offering guests a luxurious and comfortable experience. 
Each room is uniquely designed in classic and contemporary styles. The on-site restaurant provides a farm-to-table cuisine. The inn's lakeside location allows for breathtaking views and easy access to water activities. You can also visit the local wineries, and the picturesque Mackenzie-Childs farm and store.
#15. Lakefront Cottage at The Black Sheep Inn
The Lakefront Cottage is nestled within the serene surroundings of the Black Sheep Inn and Spa. It is a secluded and tranquil place. This cozy cottage sits on the shores of Seneca Lake. Therefore, you will wake up to mesmerizing lake views each morning. The cottage itself has well furnished rooms with modern amenities.
You can enjoy a private patio, an outdoor fire pit, and direct lake access. Guests staying at the Lakefront Cottage also have access to the amenities of the larger inn, including the spa services that enhance the overall rejuvenating experience.
#16. Cayuga Lake Cabins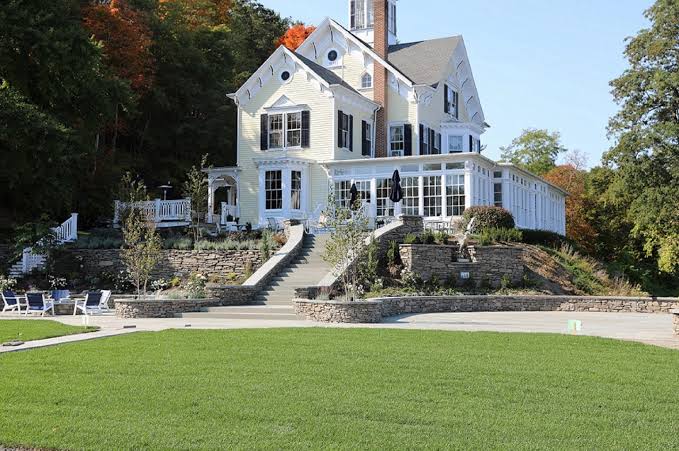 Cayuga Lake Cabins is a charming cabin accommodations in a natural paradise. These cabins are nestled along the shores of Cayuga Lake, providing a serene environment where you can disconnect from the hustle and bustle of daily life. 
The cabins are equipped with all the amenities for a comfortable stay. Due to its waterfront location, you can enjoy swimming, fishing, and kayaking. The peaceful setting also provides the perfect backdrop for stargazing around a campfire.
#17. Bristol Views Bed & Breakfast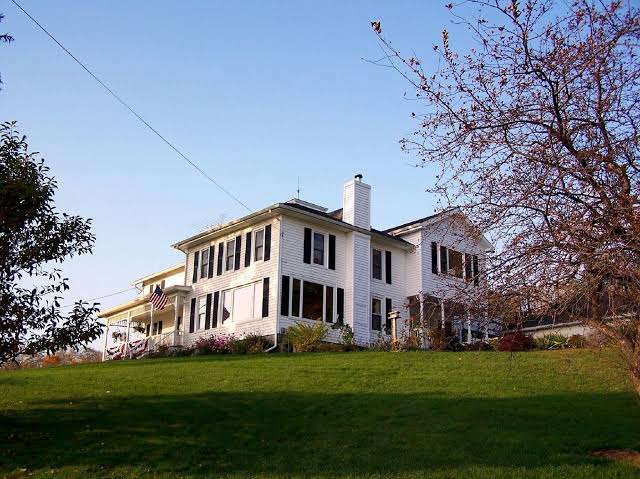 Last but not least on our list of the best places to stay in the Finger Lakes is the Bristol Views Bed & Breakfast. Nestled on a hill overlooking Canandaigua Lake, Bristol Views Bed & Breakfast offers stunning panoramic views of the surrounding landscape. This charming B&B is a peaceful retreat where you can unwind and take in the beauty of the Finger Lakes. 
The tastefully decorated rooms have a cozy and welcoming atmosphere, and gourmet breakfasts, prepared with locally sourced ingredients, are served each morning. With its proximity to local wineries, hiking trails, and water activities, you will have ample opportunities to explore and experience the natural beauty and attractions of the area.
Take out time to read – 21 Best Places To Stay In Cinque Terre In 2023 | Cinque Terre Neighborhood Guide
How to Get Around Finger Lakes
If you choose to visit Finger Lakes, here are some of the best ways to get around:
Car Rental: Renting a car provides flexibility to explore the Finger Lakes at your own pace. The area is well-connected by highways, making navigating between towns, wineries, and attractions easy.
Biking: The Finger Lakes has scenic routes and bike trails, offering a more eco-friendly and leisurely way to explore. Many towns have bike rental shops, and you can enjoy the stunning landscapes as you pedal through charming villages.
Boating: With numerous regional lakes, boating is a popular way to get around. You can rent kayaks, canoes, paddleboards, or even charter boats for a relaxing day on the water, taking in the beauty of the lakeshores.
Public Transportation: Some towns within the Finger Lakes have public transportation systems, including buses and shuttles, making it convenient to move between attractions, wineries, and other destinations.
Tour Buses: Joining a guided tour bus or group excursion allows you to explore multiple points of interest without the hassle of planning. These tours often focus on wine tasting, local cuisine, or cultural attractions.
Walking: In towns like Ithaca or Skaneateles, walking is a wonderful way to explore the charming streets, boutique shops, and local eateries. Many towns are pedestrian-friendly, with sidewalks and crosswalks.
Train Travel: Amtrak and other regional train services provide a scenic way to travel to and around the Finger Lakes. The train journey can be part of the adventure as you pass through picturesque landscapes.
Shared Mobility Services: Ride-sharing apps and car-sharing services might also be available in certain areas, offering a convenient way to get around without the commitment of renting a car for your entire stay.
You can also check out – 21 Best Places To Stay In Big Sur In 2023 | Big Sur Neighborhood Guide
How to Find the Best Places to Stay in Finger Lakes
With so many amazing options, it can be challenging to pick the best one. Fortunately, here are a few tips to help you find the perfect accommodation for your next Finger Lakes vacation.
#1. Research Online
Start by using travel websites and platforms like TripAdvisor, Booking.com, and Airbnb to browse through a wide range of accommodations in the Finger Lakes. Read reviews, view photos, and compare prices to understand what each option offers.
#2. Set Your Priorities
Determine what matters most to you during your stay – whether it's being close to specific attractions, having lakefront views, or having access to certain amenities. Make a priority list to help you limit your selections.
#3. Consider Location
The Finger Lakes region has several charming towns and villages, each offering a unique experience. Research the different areas and their attractions to decide where to stay. Whether you prefer the vibrant atmosphere of Ithaca, the wineries around Seneca Lake, or the peacefulness of Skaneateles, choosing the right location is crucial.
#4. Contact Local Visitor Centers
Contact local visitor centers, chambers of commerce, or tourism boards for personalized recommendations. They can provide insights into hidden gems, lesser-known accommodations, and special deals that might not be easily found online.
#5. Ask for Recommendations
Tap into your network and ask friends, family, or colleagues who have visited the Finger Lakes for their recommendations. Personal experiences and firsthand accounts can often provide valuable insights you might not find in online reviews.
You might find this interesting to read – 21 Best Places To Stay In Stowe VT in 2023 | Stowe VT Neighborhood Guide
Things To Do In Finger Lakes
With so much to see and do in this stunning region, deciding what to add to your itinerary can be overwhelming. Here are some top picks for activities that will give you a true taste of Finger Lakes:
#1. Go Wine Tasting
One of the most famous attractions in the Finger Lakes is the many wineries in the region. Take a leisurely drive down Route 414 and discover a wide variety of vineyards offering a range of styles and blends.
#2. Enjoy the Lake Life
There's a reason the region is called Finger Lakes – with over 11 beautiful lakes to choose from, it's a great place to enjoy all types of water sports, including swimming, boating, fishing, and even hot air balloon rides!
#3. Explore the Outdoors
For hikers and nature lovers, the Finger Lakes are home to numerous parks and trails, each with unique features and breathtaking views. Popular hikes include the Watkins Glen State Park Gorge Trail, Taughannock Falls State Park, and the Montezuma Wildlife Refuge.
#4. Indulge in Local Cuisine
The Finger Lakes have long been known for their farm-to-table culinary scene, featuring locally sourced ingredients that highlight the region's flavors. From upscale restaurants to cozy diners, there's something for every palate.
#5. Visit Historical Sites
Learn about the rich history of the Finger Lakes region, which dates back to the Seneca Native Americans, by visiting historical sites such as the Women's Rights National Historical Park in Seneca Falls, Harriet Tubman National Historical Park in Auburn, or the National Susan B. Anthony Museum and House in Rochester.
Read also – 17 Best Places To Stay In Helen, Georgia In 2023 | Georgia Neighborhood Guide
Challenges Involved in Staying in Finger Lakes
Staying in the Finger Lakes region offers stunning natural beauty and many outdoor activities, yet it also presents certain challenges. The area's diverse weather can be unpredictable, from icy winters to humid summers, necessitating varied packing and preparation.
Additionally, the region's popularity as a tourist destination can lead to crowded attractions and limited accommodations during peak seasons, demanding careful planning and early reservations.
While the lakes offer recreational opportunities, swimming, and water-based activities are restricted due to water quality issues and harmful algal blooms, requiring visitors to be mindful of health advisories.
Exploring the region's numerous wineries and local eateries may involve navigating winding roads and limited public transportation options, making a car almost essential for convenient travel. Cellular coverage can be spotty in some remote areas, posing a challenge for staying connected.
In essence, embracing the Finger Lakes' charms requires anticipating and adapting to these challenges, allowing visitors to fully enjoy the unique experiences and picturesque landscapes the region has to offer.
Also check out – 17 Best Places To Stay In Alaska In 2023 | Alaska Neighborhood Guide
Frequently Asked Questions
Are there any lakefront hotels in Finger Lakes?
Yes, there are plenty of lakefront hotels in Finger Lakes that offer stunning views and easy access to the water. Some of the best options include The Lodge at Geneva on the Lake, Belhurst Castle, and Watkins Glen Harbor Hotel.
When is the ideal time to go to the Finger Lakes?
Finger Lakes is a year-round destination, but the best time to visit is May to October. The weather is warm during this time, and the lakes are perfect for water activities.
What are some family-friendly hotels in Finger Lakes?
If traveling with family, you may want to check out hotels like The Inn at Taughannock Falls, Geneva On The Lake, and The Gould Hotel. These hotels offer a range of activities that will keep the kids entertained.
Conclusion
Finger Lakes is an incredible destination with diverse lodging options for every traveler. From charming bed and breakfasts to luxury hotels and cabins, you have plenty of places to choose from. 
Whether you're seeking a peaceful escape from the hustle and bustle of the city, a romantic retreat, or an adventure-filled trip, Finger Lakes is the perfect place to stay. From hiking in Watkins Glen State Park to indulging in the region's renowned wineries, there are an array of exciting experiences. So why not plan a trip to Finger Lakes and discover all it offers?
Reference