Newport is a beautiful coastal city in Rhode Island. It is renowned for its picturesque ocean views, rich history, and stunning architecture. Newport has an array of excellent accommodations spread throughout its diverse neighborhoods. There are countless options that suit any traveler's style or budget. In this guide, we give you the 17 best places to stay in Newport, RI. From historic mansions to boutique inns, read on to find your perfect Newport home base.
About Newport
Newport is a popular travel destination. It is nestled along the Atlantic Ocean and boasts stunning coastal landscapes.
The city was a hub for the elite of the Gilded Age. They built opulent mansions along the famous Bellevue Avenue.
Newport is also renowned for its maritime heritage. It is known as the "Sailing Capital of the World" and has hosted the America's Cup yacht race for decades.
You can explore the city's historic waterfront, indulge in fresh seafood at local eateries, and immerse yourself in cultural festivals such as the Newport Jazz Festival and Newport Folk Festival. For breathtaking ocean views and glimpses of the magnificent mansions, trek down the Cliff Walk, a scenic pathway that hugs the coastline.
With a vibrant arts scene, a bustling harbor, and a blend of colonial and modern influences, Newport exudes a captivating allure that continues to draw travelers.
Check out the 15 Best Places To Stay In Montana in 2023 | Montana Neighborhood Guide
Why stay in Newport?
Newport is mainly known for its elegant Gilded Age mansions. However, there are many other reasons why you should visit this city.
First, Newport has a thriving food scene. If you love seafood, visit The Mooring. There, you can choose from a menu prepared with fresh, locally sourced ingredients. Another favorite is the casual but chic Mission on Thames Street. They serve fun Latin-inspired seafood dishes.
In addition to delicious food, Newport has beautiful beaches. The most well-known is Easton's Beach, with its bustling boardwalk and ample parking. If you want something quieter and more secluded, visit Gooseberry Beach or Sachuest Beach.
If you're interested in history and architecture, the Newport mansions are a highlight, with opulent décor and fascinating stories behind each estate. Also, Newport's colonial roots are visible in the town's streetscapes. The Point neighborhood features quaint homes dating back to the 18th century, while the White Horse Tavern claims to be the oldest operating tavern in America.
Ultimately, Newport's unique combination of history, natural beauty, and delicious food makes it a fantastic place to visit.
Take some time to read 17 Best Places To Stay In Helen, Georgia, In 2023 | Georgia Neighborhood Guide
Top 17 Best Places to Stay in Newport, RI
When planning a trip, it is important to choose the best accommodation that will suit your tastes and budget. In this regard, Newport has several options that you can choose from. Here are the 17 best places to stay in Newport, RI:
#1. Vanderbilt, Auberge Resorts Collection
First on our list of the best places to stay in Newport, RI, is the Vanderbilt Hotel. The Vanderbilt is part of the prestigious Auberge Resorts Collection. This luxurious hotel is housed in a meticulously restored mansion and offers guests an unforgettable blend of old-world charm and modern amenities. Each room is adorned with elegant furnishings.
The hotel is located near Newport's iconic landmarks, such as the historic Newport Mansions and Cliff Walk. You can also indulge in world-class dining at their on-site restaurant or pamper yourself with a spa treatment. With its impeccable service and timeless allure, the Vanderbilt is the quintessential choice for a lavish Newport getaway.
#2. The Chanler at Cliff Walk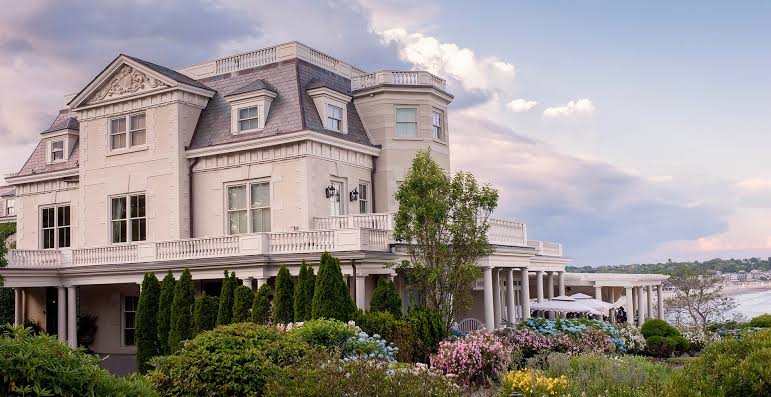 Built in 1873, the Chanler hotel houses uniquely themed rooms with distinctive décor from the French Provincial to the Greek Revival historical periods.
The hotel's location on Cliff Walk provides breathtaking views of the Atlantic Ocean and allows for strolls along the coastline. You can also enjoy a gourmet meal at The Spiced Pear.
#3. Gurney's Newport Resort & Marina
Located on Goat Island, Gurney's Newport Resort & Marina is a haven for relaxation and entertainment. The resort's nautical-inspired design pays homage to Newport's maritime heritage. At Gurney's, you can go on sailing excursions and engage in water sports.
The resort has spacious rooms and suites furnished with modern comforts and offering stunning ocean views. Dining options range from casual to upscale, including the iconic Pineapple Club, which overlooks the harbor.
#4. Castle Hill Inn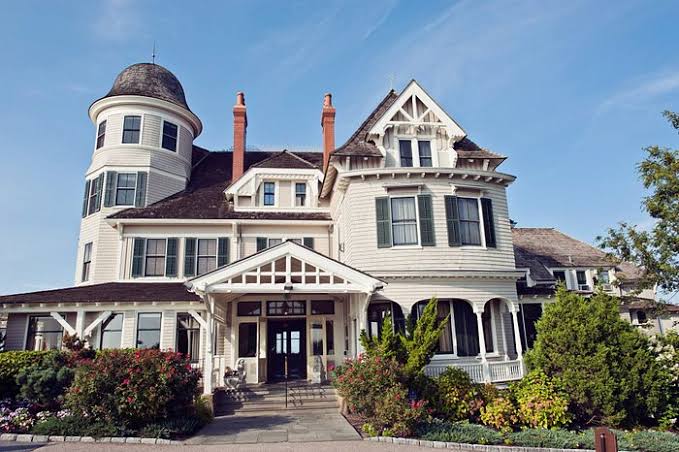 Next on our list of the best places to stay in Newport, RI, is the Castle Hill Inn. Castle Hill Inn is a historic hotel built in 1874 on a 40-acre peninsula. From this iconic inn, you can take in panoramic views of Narragansett Bay and the Newport Bridge. The elegant accommodations are housed in a collection of cottages and the historic Agassiz Mansion.
You can enjoy exceptional dining at the inn's renowned restaurant, where breathtaking sunset vistas complement the farm-to-table cuisine. Castle Hill Inn's serene location, coupled with its impeccable service and attention to detail, ensures a tranquil escape.
#5. The Attwater
Attwater was one of the first hotels in Newport. It offers a fresh twist on Newport's nautical history. The hotel's personal lodgings come with chic and modern-edge designs with unique touches, such as rotating art installations.
The Attwater has an all-day coffee café. There is also a fitness room, free internet, and personalized concierge services. The hotel's central location gives easy access to Newport's shopping, dining, and cultural attractions.
#6. Forty 1 North
Forty 1 North is a luxury hotel with a sleek and sophisticated design. The hotel's accommodations are designed with a minimalist aesthetic and provide stunning harbor views.
The hotel has an array of high-end amenities, including a marina, a renowned steakhouse, and a rooftop lounge. You can relax by the waterfront infinity pool or savor culinary delights at The Grill.
#7. Francis Malbone House Inn
The Francis Malbone House Inn is housed in a meticulously restored Georgian mansion. Its antique furnishings and period details evoke a sense of refined grandeur.
Each room in the Francis Malbone House Inn is individually decorated and well furnished with modern amenities. There is a garden courtyard and cozy common areas.
#8. Mill Street Inn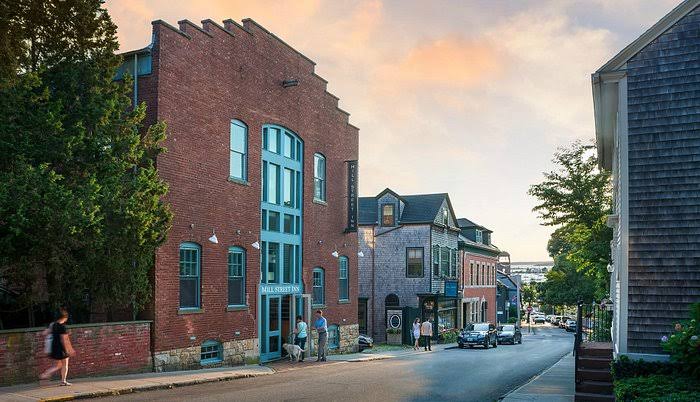 The Mill Street Inn is housed in a converted 19th-century mill building. It is an upscale hotel with a blend of modern luxuries and a historic ambiance. Each room is beautifully appointed with contemporary furnishings, exposed brick walls, and high ceilings, preserving the industrial character of the building.
You can enjoy a complimentary breakfast, a cozy lounge area, and a rooftop deck with panoramic views of the harbor and city. From its central location, you have easy access to the city's top attractions, including the Newport Mansions and the Thames Street shopping district.
#9. The Carriage House Inn
Next on our list of the best places to stay in Newport, RI, is the Carriage House Inn. The Carriage House Inn is a cozy inn with comfortable and elegantly decorated rooms. This charming bed and breakfast exudes a quaint New England charm. The inn is located in a quiet residential neighborhood, providing a peaceful retreat within walking distance of downtown Newport.
You can savor a homemade, gourmet breakfast each morning and relax in the inn's beautiful landscaped garden. The attentive hosts provide warm and personalized service.
#10. OceanCliff Hotel
The OceanCliff Hotel is perched on a stunning waterfront cliff. From the hotel, you can enjoy breathtaking views of Narragansett Bay. If you need a picturesque backdrop for your wedding or events, the hotel's classic New England architecture and manicured gardens make the perfect scenery.
Accommodations range from cozy guest rooms to spacious suites, some of which feature private balconies overlooking the bay. You can indulge in fresh seafood at the on-site restaurant or visit nearby attractions like the Cliff Walk and Easton's Beach.
#11. Hotel Viking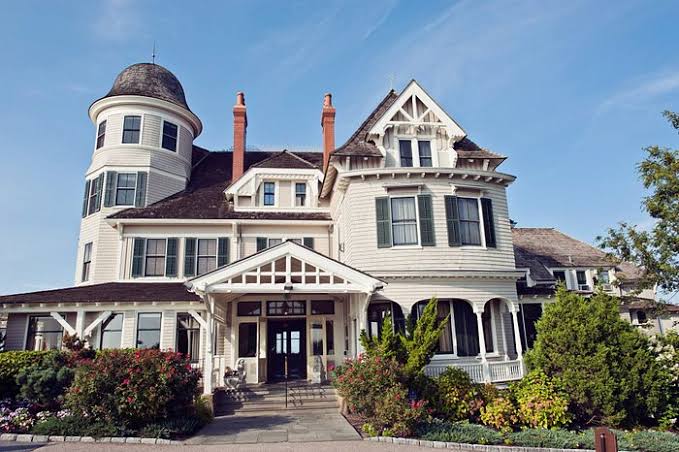 The Hotel Viking is a luxury hotel steeped in history and elegance. It exudes a European charm. Accommodations range from classic rooms to lavish suites.
The Hotel Viking boasts an array of amenities, including a spa, fitness center, indoor pool, and rooftop lounge. From its central location, you can explore Newport's shops, restaurants, and cultural landmarks with ease. You can also dine at the award-winning One Bellevue restaurant.
#12. Newport Marriott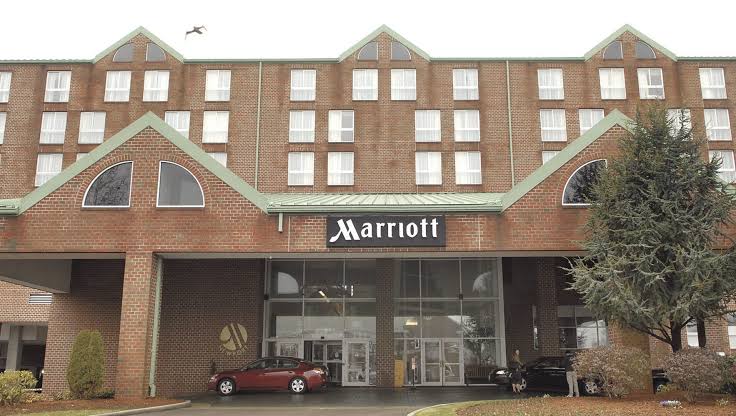 The Newport Marriot is a classic hotel that offers its guests modern comforts and amenities. The hotel has spacious and well-appointed guest rooms, many with stunning views of the harbor.
At the Newport Marriot, you can unwind at the indoor and outdoor pools or exercise at the fitness center. The hotel is located in the center of Newport and is within walking distance of popular attractions like Newport Harbor and historic Thames Street.
#13. The Victorian Ladies Inn
Next on our list of the best places to stay in Newport, RI, is the Victorian Ladies Inn. The Victorian Ladies Inn is a charming bed and breakfast. This meticulously restored inn features intricate Victorian details, from ornate woodwork to antique furnishings, providing an immersive experience of the elegance of the 19th century. 
The inn has cozy rooms, each with a specific design. Every room is well equipped with modern amenities. You can enjoy a hearty homemade breakfast each morning. And from the inn's central location in the city, you can explore Newport's attractions, including Cliff Walk and Newport Mansions, with ease.
#14. Admiral Fitzroy Inn
The Admiral Fitzroy Inn is a delightful blend of old-world charm and modern comfort. The inn's architecture reflects the Federal period. Its cozy rooms are adorned with period furnishings.
Each room has a unique design and is well equipped with modern amenities. The inn has friendly staff who create an ambience of warm hospitality. You can enjoy a delicious breakfast every morning. The central location of the inn allows easy access to shopping, dining, and cultural landmarks.
#15. Bouchard Inn & Restaurant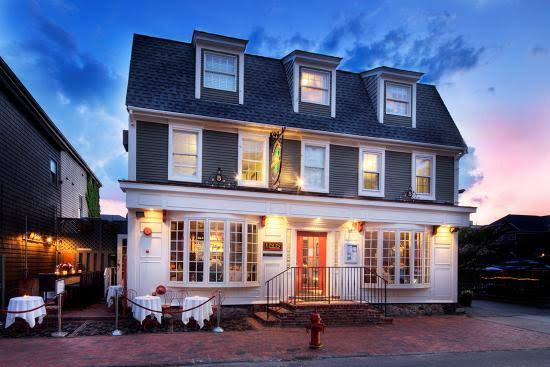 The Bouchard Inn & Restaurant is an upscale inn with elegant suites designed with classic and modern aesthetics. The attention to detail is evident in the carefully curated décor and luxurious amenities.
Guests can indulge in fine dining at the on-site restaurant, which offers exquisite French cuisine and an extensive wine list. The inn's location near Bowen's Wharf and Newport Harbor ensures a picturesque backdrop and convenient access to Newport's vibrant waterfront scene.
#16. Samuel Durfee House
A stay at the Samuel Durfee House offers a taste of Newport's maritime heritage and a tranquil escape from bustling city life. This historic inn is in a beautifully restored 1803 Federal-style mansion, exuding timeless grace. The inn's spacious rooms are elegantly furnished with a blend of antique and modern pieces, creating a comfortable and inviting atmosphere.
You can enjoy a sumptuous breakfast each morning, prepared with locally sourced ingredients. The inn has a peaceful garden where you can relax. Also, its proximity to Thames Street and other attractions makes it an ideal base for exploring Newport.
#17. Yankee Peddler Inn
Last but not least on our list of the best places to stay in Newport, RI, is the Yankee Peddler Inn. The Yankee Peddler Inn is a cozy and charming inn with a nautical flair. The inn's décor pays homage to Newport's maritime history. 
You can choose from various types of rooms, each uniquely decorated and well-appointed with modern amenities. The inn's warm and welcoming ambiance extends to its complimentary breakfast. From its central location in the city, you can explore the harbor, shops, and eateries with ease.
You can also check out 21 Best Places To Stay In Cinque Terre In 2023 | Cinque Terre Neighborhood Guide
Finding the Best Place to Stay in Newport
Here are some tips to help you find the best places to stay in Newport, RI:
#1. Know Your Budget
Before starting your search, you need to know how much you can spend on your accommodation. Newport has everything from luxury hotels and resorts to budget-friendly options such as hostels and guesthouses. If you're looking for a budget-friendly option, consider staying in a hostel or guesthouse, or you could book a vacation rental like an Airbnb.
#2. Decide on Your Preferred Location
Newport has a variety of neighborhoods, each with its unique charm. Downtown Newport is the most popular among visitors due to its abundance of restaurants, cafes, boutiques, and attractions. Alternatively, staying in a quiet neighborhood away from the crowds might be your ideal option.
#3. Research the Accommodation Options
Once you've decided on your budget and preferred location, it's time to research the different types of accommodations available. Search online for hotels, resorts, bed and breakfasts, guesthouses, hostels, and vacation rentals. Review each accommodation's reviews and pictures to see if they match your preferences and expectations.
#4. Consider Amenities and Services
Each accommodation in Newport offers different amenities and services. Depending on your preference, you might want to look for a hotel or resort with a pool, spa, or gym. Some guesthouses and bed and breakfasts might offer breakfast, afternoon tea, or even a wine and cheese hour. Be sure to choose a place with amenities and services that suit your needs and interests.
#5. Book Early
Newport is a popular destination, and accommodation can fill up fast, especially during the peak season. Therefore, booking your accommodation well in advance is recommended to avoid disappointment.
Don't miss out on reading 21 Best Places To Stay In Big Sur In 2023 | Big Sur Neighborhood Guide
How to Get Around in Newport
#1. Rent a Bicycle
Newport is a small town with many cycling routes and scenic views, making it perfect for bike riding. Renting a bicycle is one of the easiest and most cost-effective ways to get around Newport.
Several bike rental shops are available in town, and you can pick a bike that suits your needs. Most rental places charge a small fee for each hour or offer discounts for daily rentals. You can cover more ground on a bike and enjoy the fresh coastal air and scenic views.
#2. Take the Trolley Tour
The Newport Trolley Tour is an excellent option if you want to take in all of the sights and attractions the town offers without worrying about the hassle of driving around.
The tour lasts around an hour and includes all the top tourist attractions in the city, such as Bellevue Avenue, Ocean Drive, the Mansions, and more. It is an affordable option, with adult tickets priced at around $20, and allows you to learn about the history of Newport through a knowledgeable tour guide.
#3. Hop On/Hop Off Bus Tour
Another option for exploring the city at your own pace is a hop-on/hop-off bus tour. This tour also offers guided commentary about Newport's rich history, taking you to the top sights and attractions.
You can get on and off at any of the stops throughout the city and explore them at your leisure. The bus tour also runs in different seasons, with some tours extending their route for the holiday season.
#4. Drive a Car
Newport is a small town, and most places of interest are a short drive away from one another. You can easily rent a car and drive around yourself. Car rental prices vary, but a standard rental car usually costs up to $50 per day.
There is also ample parking in and around the town. Just familiarize yourself with the traffic and parking rules before setting out on the road.
#5. Take a Walk
Newport is known for its gorgeous architecture and historic charm. What better way to explore the city's beauty than leisurely walking through its quaint streets and alleys?
On foot, you can easily take in the scenic views of Newport's gorgeous waterfront, stunning mansions, and parks. Just wear comfortable shoes, as you may be walking for a while.
This might also interest you: 17 Best Places To Retire in North Carolina in 2023 | North Carolina Neighborhood Guide
Things To Do In Newport
#1. Explore the mansions
Newport is home to several stunning historic mansions that have been transformed into museums.
#2. Take a stroll along the Cliff Walk
This 3.5-mile trail winds along the shoreline and offers breathtaking views of the ocean and the historic mansions that dot the cliffs. And there are plenty of spots to stop and take in the scenery.
#3. Go sailing
Newport's proximity to the water makes it an ideal spot for sailing enthusiasts. Charter a boat, join a group for a scenic sunset sail around the harbor, or even take a lesson to hone your sailing skills.
#4. Visit the Newport Art Museum
Located in the historic John N.A. Griswold House, the Newport Art Museum, features rotating exhibits from both local and international artists and classes and workshops for those interested in learning more about the art world.
#5. Sample local seafood
With its proximity to the water, Newport has many delicious seafood restaurants. Try the clam chowder or the lobster rolls at The Mooring, or enjoy some sushi and cocktails at the sleek Fluke Newport.
#6. Relax at the beach
Newport has several beautiful beaches, including the popular Easton's and quieter Third Beach.
You might find this interesting: 21 Best Places To Stay In Stowe VT in 2023 | Stowe VT Neighborhood Guide
Challenges of Staying in Newport
Navigating seasonal tourism in Newport can be daunting. During the peak summer, the traffic congestion and limited parking frustrates residents and tourists.
The cost of living in Newport is notably high, with housing expenses often surpassing the national average. Finding affordable accommodations can be tough.
Additionally, the town's popularity as a wedding destination can lead to booked-out venues and crowded event spaces. And while the picturesque coastal views are a draw, they also bring the risk of weather-related disruptions, especially during hurricane season.
Balancing these challenges with the town's rich cultural heritage and recreational offerings becomes essential for those who experience Newport's allure.
Also read: 17 Best Places To Stay In St. Lucia In 2023 | St. Lucia Neighborhood Guide
Frequently Asked Questions
What are the best neighborhoods to stay in Newport?
Newport has several neighborhoods that offer unique experiences and charm. If you're looking for a central location with easy access to shops, restaurants, and attractions, downtown Newport is a great option. If you prefer a more residential neighborhood with stunning views of the harbor, then try the Ocean Drive or Brenton Cove areas.
What kind of accommodations can I expect in Newport?
Newport offers various accommodations, from luxurious hotels to cozy bed and breakfasts. There are also many vacation rental options, such as cottages and condos, which provide more privacy and flexibility for travelers.
What are the best luxury hotels in Newport?
Check out the Hotel Viking, the Chanler at Cliff Walk, or the Vanderbilt Hotel for a luxurious stay. These properties offer stunning views, impeccable service, and elegant amenities that will make your stay unforgettable.
Conclusion
Newport, RI, offers many charming accommodations catering to diverse preferences. The city's lodging options ensure an unforgettable stay, from historic bed and breakfasts exuding timeless elegance to modern waterfront resorts providing luxurious comfort.
Visitors seeking a glimpse into the past can relish in the architectural wonders of yesteryear, while those seeking contemporary indulgence can bask in the scenic beauty of the coastline.
With its rich history, stunning landscapes, and a wide array of lodging choices, Newport is an alluring destination that promises a delightful and memorable experience for every traveler.
Reference