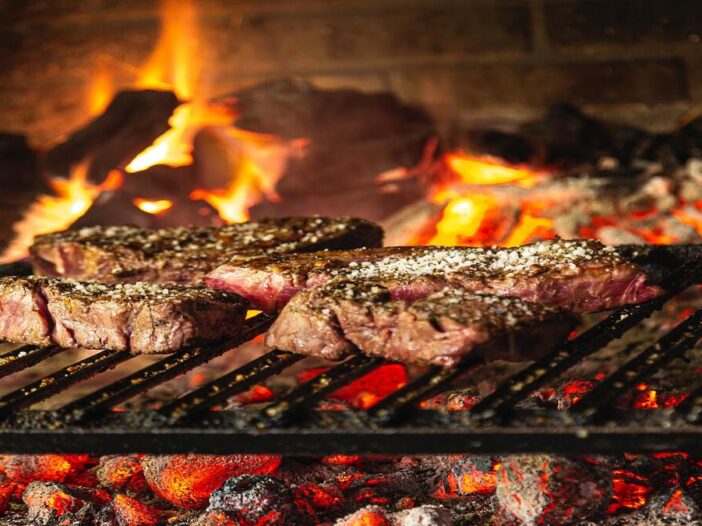 The Twin Cities, also known as Minneapolis-Saint Paul, is famous for its diverse dining culture. Steakhouses play a prominent role in its culinary landscape. The steakhouses in the Twin Cities offer many options to enjoy the juiciest and most succulent steaks. In this article, we explore the 21 best steakhouses in the Twin Cities. Whether you are a resident or a visitor, these establishments will make your taste buds dance with delight.
All You Need to Know About Steaks in the Twin Cities
If you are a steak lover, the Twin Cities has many options to cater to your cravings. Each restaurant offers a unique and delicious cuts of beef. Not only that, these steakhouses are known for their great service.
The Twin Cities also offers a diversity in its steak culinary scene. Apart from traditional steakhouses, there are many restaurants which offer creative steak dishes inspired by international flavors and techniques. There are endless choices for you, from Korean-inspired bulgogi to Argentine-style chimichurri-infused cuts.
There are also food trucks and pop-up events that provide a casual yet flavorful steak dining experience. Also, if you prefer to cook your steak at home, there are many local butchers and specialty markets that will give you the materials you need and expert advice.
The Twin Cities' is a paradise for any meat-lover. With its diverse array of restaurants and top-notch butchers, you can always satisfy any cravings you might have.
You can check out – 21 Best Playgrounds in the Twin Cities in 2023 | Minnesota guide
How to Locate the Best Steakhouse in the Twin Cities
To find the best steakhouse for you in the Twin cities, research, reviews, and of course your personal taste preferences are the way to go if you want to have a rewarding culinary experience. Here is a quick guide to help you choose the perfect spot for you:
#1. Online Reviews and Ratings
Check popular review platforms like Yelp, Google Maps, or TripAdvisor and read customer reviews and ratings for the steakhouses you want to explore. To get a sense of the current quality of the restaurants, pay attention to the overall rating and recent reviews.
#2. Seek Recommendations
Ask friends, family, or colleagues for their recommendations. Personal referrals can be valuable as they come from trusted sources who have experienced the Steakhouse firsthand.
#3. Food Blogs and Websites
Explore food blogs and websites focusing on restaurant reviews and food experiences in the Twin Cities. These sources will give you detailed insights into the dining experience, service and the quality of steaks.
#4. Social Media
Social media platforms like Instagram, Facebook, or Twitter are a great resource. Search for hashtags related to steakhouses in the Twin Cities. Many food enthusiasts and influencers love to share their dining experiences, complete with pictures and recommendations.
#5. Local Food Critics
Read reviews from professional food critics in local newspapers or magazines.
#6. Check Menus Online
Look up the menus of different steakhouses in the Twin Cities to see what they offer. A diverse selection of high-quality cuts may indicate a great steakhouse.
#7. Visit Restaurant Websites
Go to the official websites of the steakhouses you're interested in. Look for information about their history, sourcing of ingredients, and the chef's expertise, as these can be indicators of a quality steakhouse.
#8. Visit in Person
Once you've narrowed your choices, consider visiting the shortlisted steakhouses in person. Assess the ambiance, cleanliness, and level of service. Don't hesitate to ask the staff about their specialties and cooking techniques to understand the establishment better.
Following these steps will increase your chances of locating the best Steakhouse in the Twin Cities that aligns with your preferences and guarantees a memorable dining experience.
Take out time to read – 21 Best Sushi Spots In the Twin Cities In 2023 | Minnesota Guide
What Are the 21 Best Steakhouses in the Twin Cities?
There's no shortage of options for finding the best steakhouses in the Twin Cities. From upscale, fine-dining experiences to more casual neighborhood favorites, there's something for everyone in Minneapolis and St. Paul. So without further ado, here are the 21 best steakhouses in the Twin Cities:
#1. Manny's Steakhouse – Minneapolis
Manny's Steakhouse in Minneapolis is well loved for its exceptional steak offerings and upscale dining experience. Manny's is located in the heart of the city and is a great spot for both locals and visitors. They only serve the finest quality USDA prime beef. Their cuts are aged to perfection to ensure tenderness and flavor.
Apart from steak, the serve various seafood options, appetizers, and desserts. The restaurant itself has an elegant ambiance and great service. Visit Manny's Steakhouse if you want to plan your next business dinner or celebrate with your friends and family.
.
#2. Murray's Steakhouse – Minneapolis
Murray's Steakhouse, located in downtown Minneapolis, has a history dating back to 1946. It is well known for its classic charm and delicious recipes. Its signature dish is the Silver Butter Knife Steak, an aged, hand-cut steak served with clarified butter. Murray's sticks to the traditional ways of preparing steak and provide warm and attentive service to its customers.
#3. Burch Steak – Minneapolis
Burch Steak, located in the Lowry Hill neighborhood of Minneapolis, features a great selection of prime beef cuts prepared by skilled chefs. It also serves side dishes and cocktails.
#4. The Capital Grille – Minneapolis
The Capital Grille is found in the heart of downtown Minneapolis. It is an upscale steakhouse, known for its excellence in cuisine and service. It serves well prepared and seasoned prime, dry-aged steaks.
This restaurant also offers an extensive wine list and a menu of seafood and dessert options. Another thing that makes Capital Grille so great is its elegant décor and attentive staff.
#5. Jax Cafe – Minneapolis
With its roots tracing back to 1933, Jax Cafe stands as one of the oldest steakhouses in Minneapolis. It is a family-owned institution and has maintained its reputation over the years for serving high-quality steaks. The restaurant also has a warm atmosphere and friendly staff.
#6. Fogo de Chão Brazilian Steakhouse – Minneapolis
Fogo de Chão Brazilian Steakhouse is a unique steakhouse inspired by the vibrant flavors of Brazil. It is known for its "churrasco" style of cooking. It serves a large selection of fire-roasted meats, including prime cuts of beef, lamb, chicken, and pork. It also offers a gourmet salad bar with fresh ingredients. The restaurant itself has a lively atmosphere.
#7. Seven Steakhouse Sushi & Rooftop – Minneapolis
Seven Steakhouse Sushi & Rooftop serves top-quality steaks and fresh sushi rolls. Located in downtown Minneapolis, this restaurant can cater to your every taste. The restaurant has a rooftop bar, where you can take in the captivating city skyline views while enjoying cocktails.
#8. Bacio – Minnetonka
Located in Minnetonka, Bacio is favorite among locals because of its cozy and secluded dining experience. It serves an excellent selection of premium steaks. The restaurant makes use of locally sourced ingredients. They also offer an array of Italian-inspired dishes and an extensive wine list.
#9. Pittsburgh Blue Steakhouse – Edina
Pittsburgh Blue Steakhouse is named after the "Pittsburgh-style" steak cooking technique, where the meat is charred to perfection on the outside while retaining its juicy tenderness inside.This preparation method is a highlight of the restaurant's menu. The restaurant has a stylish ambiance and uses only the finest ingredients.
#10. Porterhouse Steak and Seafood – Lakeville
Porterhouse Steak and Seafood in Lakeville serves premium steaks and fresh seafood dishes. They offer locally sourced, hand-cut steaks. The restaurant has a warm and inviting atmosphere and great service.
#11. Kincaid's Steakhouse – Bloomington
Kincaid's is known for its elegant décor and service. Its menu features a wide selection of prime cuts, including ribeye, filet mignon, and New York strip. Their steaks are expertly grilled and served with various sides and sauces.
#12. Lindey's Prime Steak House – Arden Hills
Lindey's Prime Steak House is a classic and upscale dining establishment in Arden Hills. It is known for serving premium, dry-aged steaks with great flavor and tenderness. It has a sophisticated yet warm atmosphere. Their menu includes porterhouse, T-bone, and prime rib. They also offer a comprehensive wine list.
#13. Ike's Food & Cocktails – Minneapolis
Ike's Food & Cocktails in Minneapolis has the charm of a retro diner with a modern twist. It is known for its delicious burgers but also serves an impressive steak selection.
Their steaks are perfectly cooked and guests can choose their preferred cuts and cooking temperatures. The restaurant has a warm atmosphere with attentive service the promises a relaxed dining experience.
#14. Ruth's Chris Steak House – Minneapolis
In Ruth's Chris Steak House, its steaks are cooked to perfection in 1800-degree broilers to seal the juicy flavors. The restaurant has a refined ambiance and provides excellent service. Their menu features a variety of prime cuts, seafood, delectable side dishes and an extensive wine list. This steakhouse is loved by both locals and visitors.
#15. J.D. Hoyt's Supper Club – Minneapolis
J.D. Hoyt's Supper Club is a classic steakhouse with a welcoming and friendly atmosphere. This restaurant has a vintage charm. They serve various cuts with side dishes. They also have delicious seafood options.
#16. The Normandy Kitchen & Bar – Minneapolis
This steakhouse combines the traditional French cuisine and American classics. They serve a wide range of dishes, and their steaks are a highlight. They use locally sourced ingredients and use French-inspired cooking techniques to prepare tender and flavorful steaks. The restaurant has an elegant ambiance with excellent service.
#17. Woolley's Steakhouse – Bloomington
Woolley's Steakhouse is a part of the Embassy Suites by Hilton Minneapolis Airport Hotel. Woolley's serves premium steaks, including prime rib and sirloin and delicious side dishes. The restaurant also has attentive staff and an inviting environment.
#18. Chianti Grill – Roseville
Chianti Grill is an Italian-inspired steakhouse known for its warm and cozy ambiance. It serves a fusion of Italian and American cuisine. Chianti Grill boasts a diverse selection of steaks, from classic cuts to creative preparations.
#19. Butcher & The Boar – Minneapolis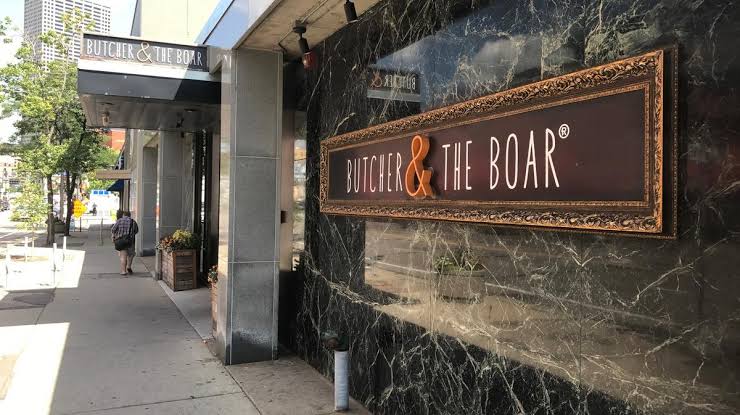 Butcher & The Boar is a trendy and upscale restaurant in Minneapolis. They are known to serve house-made sausages and craft beers alongside their great selection of steaks. Their menu includes flavorful and juicy cuts and various tasty side dishes. If you are adventurous, this restaurant's lively atmosphere and creative culinary offerings is best for you.
#20. The St. Paul Grill – St. Paul
The St. Paul Grill is a steakhouse with a long-standing reputation for excellence. You can find it inside the historic St. Paul Hotel. The restaurant has a timeless elegance and offers a refined dining experience. Famous on the menu is their 28-day dry-aged beef. This restaurant is committed to quality and provides attentive service.
#21. The Lexington Restaurant – St. Paul
The Lexington Restaurant in St. Paul is a historic and upscale establishment that dates back to the 1930s. Apart from its classic American dishes, it offers an impressive selection of premium steaks.
Check out – 21 Best Brunch Spots in the Twin Cities in 2023 | Minnesota Guide
Factors to Consider When Choosing the Best Steakhouse in Twin Cities
While we have given you a list of the best steakhouses in the Twin Cities, it might still be difficult for you to choose where next to visit. So here, we have listed a few important factors you can consider before your final decision.
#1. Quality of the Meat
One of the most important factors to consider when choosing a steakhouse is the quality of the meat they serve. Look for restaurants that use premium cuts of beef from reputable suppliers. Also check if the restaurant uses dry-aged or wet-aged meat. This can greatly affect the steak's flavor and tenderness.
#2. Menu Selection
Checking the restaurant's menu is another key factor to look out for. If you are dining with a number of people, it is best to look for a restaurant that offers something for everyone. Restaurants that sever a range of cuts and cooking styles with additional options like seafood or desserts are great, because it ensures that people who aren't steak loves will have something to eat.
#3. Ambiance and Service
The ambiance and service at a steakhouse can make or break your dining experience. Always look for restaurants with a welcoming and comfortable atmosphere and attentive, knowledgeable staff.
#4. Price and Value
While steakhouses can be expensive, make sure you are getting the best value for your money. Choose restaurants that offer fair pricing for the quality of the food and service they provide.
#5. Reviews and Recommendations
Finally, don't forget to read up on reviews and recommendations from others about the steakhouse you are considering. Check comments about the quality of the meat, service, and overall dining experience.
You might find this interesting – 21 Best Spas in the Twin Cities in 2023 | Minnesota Guide
Challenges of Steakhouses in the Twin Cities
Steakhouses in the Twin Cities are faced with challenges that can determine their success. Any business's challenges can vary depending on location, competition, market trends, and customer preferences.
First, in the Twin Cities, there is a lot of competition. From upscale chains like Capital Grille and Ruth's Chris to trendy independent steakhouses like Burch and Manny's, the Twin Cities has an impressive number of steakhouses. Thus, to stand out, steakhouse owners must have something special to offer: a unique cooking technique, an impressive wine list, or great service.
Next, there's the challenge of sourcing the highest-quality beef. Most diners want to be sure that their food is coming from animals raised responsibly, fed on a nutritious diet, and aged well. To handle this, steakhouses must establish relationships with top-notch purveyors and stay up-to-date on the latest industry trends.
Finally, it is always a battle to attract and retain talented chefs and staff. Due to the numerous steakhouses in the Twin Cities, culinary professionals can afford to be selective about where they work. Thus, restaurants must invest in their employees by offering competitive wages and benefits and providing a good working environment.
Despite these challenges, owners of steakhouses in the Twin Cities remain committed to serving up some of the best beef in the Midwest and continue to impress their diners with their dedication to quality, innovation, and service. So whether you're in the mood for a classic steakhouse experience or are eager to try something new and exciting, the Twin Cities has a lot to offer.
Also check out – 21 Best Places to Stay in Tampa in 2023 | Tampa Neighborhood Guide
Frequently Asked Questions
What should I look for when choosing a steakhouse?
Consider the quality of the meat, the restaurant's reputation, the ambiance of the dining room, and the range of menu options. Also, consider your budget, as some steakhouses can be quite expensive.
Are there any unique or unusual steakhouses in the Twin Cities?
Yes! Some unique and unconventional steakhouse options exist, such as Butcher and the Boar, which offers a fusion of barbecue and steakhouse fare, or Fogo de Chao, a Brazilian-style churrascaria.
Can I get a delicious steak without going broke?
Yes! While some steakhouses can be expensive, there are still options for budget-conscious diners. Some of the best affordable steakhouse options include Jax Cafe, Murray's Bar and Lounge, and Red Cow.
Conclusion
We hope that with our list of the best steakhouses in the Twin Cities, you can narrow down the best steakhouses for you to explore, alone or with friends. There are many steakhouses in the Twin Cities that will serve your favorite types of meat with creative spins and delicious side dishes. Also, many of these steakhouses have a great ambiance and exceptional customer service.
Reference