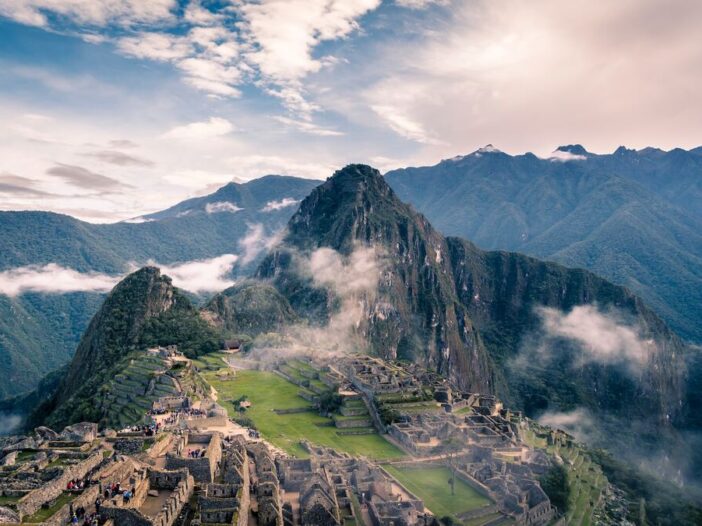 Peru, the land of the Incas, has become a popular tourist destination in recent years. This South American gem boasts stunning natural beauty and a rich history that attract travelers worldwide. If you're looking for the perfect getaway destination with breathtaking scenery, delicious food, and vibrant culture, look no further than Peru! When planning your trip to this wonderful country, you want to ensure that you make the best accommodation choice before you travel. This is why we have compiled this comprehensive guide to the best places to stay in Peru.
Whether planning a solo adventure, a romantic getaway, or a family vacation, Peru has many accommodation options that suit every preference and budget. From luxurious five-star hotels to charming boutique accommodations, Peru will surely exceed your expectations. In this blog post, we'll explore the 21 best places to stay in Peru to help you plan your dream vacation. From the breathtaking coastal city of Lima to the historic Cusco to the lush Amazon rainforest, we've got you covered with the best accommodation options in each area.
About Peru
Peru is a beautiful country in South America that is rich in history and culture. Its ancient heritage is most famously epitomized by the Inca civilization, with the awe-inspiring Machu Picchu as its crown jewel—a mystical archaeological marvel perched high in the Andes Mountains.
Peru's diverse landscapes encompass the arid coastal desert, towering Andean peaks, lush rainforests, and pristine Amazon River. The biodiversity is astounding, harboring rare species like the elusive jaguar and vibrant macaw. The Amazon rainforest covers a significant portion of the country, contributing to its ecological significance on a global scale.
The fusion of indigenous traditions and Spanish colonial influence has shaped Peru's unique culture. Festivals like Inti Raymi celebrate this amalgamation, blending ancient rituals with Catholicism. The vibrant markets, like the one in Cusco, showcase local craftsmanship, from intricate textiles to intricate pottery.
Culinary delights abound in Peru, with its gastronomy acclaimed as some of the world's finest. Ceviche, made from fresh seafood marinated in citrus, is a national treasure. The humble potato originates from the Andes and is a staple ingredient in traditional dishes like "pachamanca."
Peru's allure extends beyond its landscapes and flavors. Its warm-hearted people, known for their hospitality, offer a glimpse into the nation's soul. As visitors explore the historical sites, savor the culinary wonders, and interact with the locals, they become part of Peru's enduring narrative. This land embraces its past while embracing the future with open arms.
Check out – 21 Best Places To Stay In Stowe VT in 2023 | Stowe VT Neighborhood Guide
Why Stay in Peru?
Peru, the land of the Incas and the mighty Amazon, is a destination like no other. This South American country is famous for its natural beauty, rich history, and vibrant culture. From ancient ruins to colorful markets, there are plenty of reasons to stay in Peru.
If you're an adventurer at heart, then Peru is the place for you. Trekking the Inca Trail to Machu Picchu is a must-do for any hiker, and the Rainbow Mountain trek will take your breath away with its incredible natural beauty. If you prefer something more adrenaline-pumping, try white water rafting, surfing, or sandboarding in the desert.
Foodies, rejoice! Peru is known for its delicious cuisine. Peruvian food is a feast for the senses, whether it's the world-famous ceviche or the hearty lomo saltado. The street food is cheap and flavorful, and there's nothing like a traditional pisco sour to quench your thirst.
Cultural vultures will be fascinated by the many traditions and customs that still exist in Peru today. From the ancient Inca language of Quechua to the intricate textile weaving, there's a wealth of culture to discover. Attend a colorful festival or dance to the infectious rhythms of Afro-Peruvian music to truly immerse yourself in the culture.
But perhaps the best reason to stay in Peru is the people themselves. The Peruvian people are some of the friendliest, warmest, and most welcoming people you will ever meet. Everyone from street vendors to taxi drivers is eager to help you experience their beautiful country.
So why stay in Peru? For the adventure, the food, the culture, and the people. Once you visit this amazing country, you'll understand why so many people fall in love with it and decide to make it their home.
Take out time to read – 21 Best Places to Stay in Tampa in 2023 | Tampa Neighborhood Guide
What Are The 21 Best Places to Stay in Peru?
If you plan to visit Peru, you'll need a list of the best places to stay. To help you make the most out of your trip, here are the 21 best places to stay in Peru:
#1. Belmond Sanctuary Lodge, Machu Picchu
The Belmond Sanctuary Lodge offers a truly unique and luxurious experience for visitors to Machu Picchu. Located right at the entrance to the ancient citadel, this lodge is the only hotel located within the Machu Picchu sanctuary itself.
Guests can enjoy unparalleled access to the iconic Incan ruins, with the privilege to explore the site before and after the crowds arrive. The lodge's comfortable rooms and suites provide stunning views of the mountains and lush greenery, creating a serene atmosphere.
The on-site Tampu Restaurant combines local and international cuisine, offering a gastronomic journey amidst breathtaking natural beauty.
#2. Tambo del Inka Resort & Spa, Urubamba
Nestled in the heart of the Sacred Valley, Tambo del Inka Resort & Spa is a haven of luxury and relaxation. The resort combines contemporary design with traditional Peruvian elements, creating an inviting and sophisticated atmosphere.
Guests can indulge in the resort's world-class spa, which features a range of treatments inspired by ancient Incan wellness practices. The resort's prime location allows easy access to nearby archaeological sites, markets, and outdoor activities.
With its elegant rooms, stunning views of the Andes, and impeccable service, Tambo del Inka offers a complete and memorable Peruvian experience.
#3. Inkaterra Hacienda Urubamba, Urubamba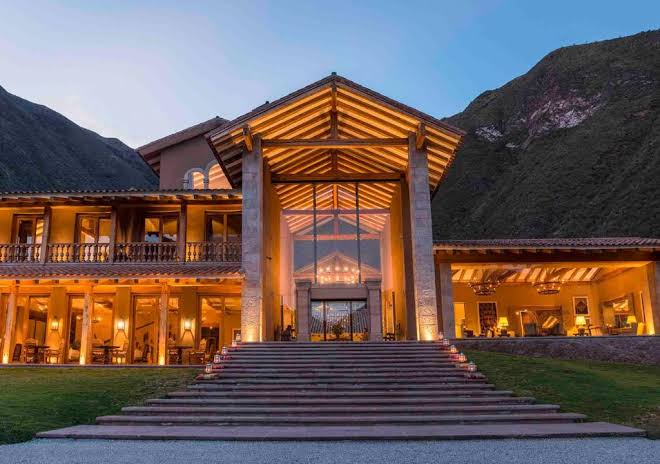 Set amidst the breathtaking landscapes of the Sacred Valley, Inkaterra Hacienda Urubamba captures the essence of Andean culture and natural beauty. The hacienda-style architecture and design pay homage to traditional Andean aesthetics while providing modern comforts and amenities.
The property spans 100 acres and offers a variety of outdoor activities such as horseback riding, bird watching, and guided nature walks.
Guests can also partake in farm-to-table dining experiences, where organic ingredients sourced from the property's gardens are transformed into delicious dishes that showcase the richness of Peruvian cuisine.
#4. Explora Sacred Valley, Urubamba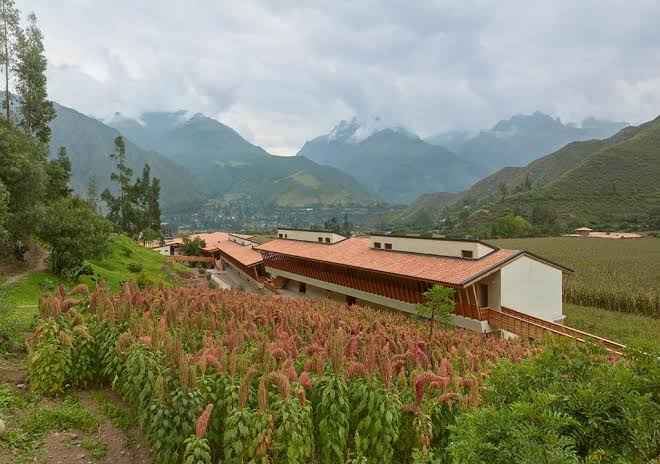 Explora Sacred Valley provides an exceptional base for travelers seeking an immersive exploration of the Sacred Valley. With a focus on adventure and discovery, this lodge offers a wide range of guided excursions that allow guests to connect with the region's culture, history, and natural wonders.
Explora's all-inclusive model ensures that guests can fully engage in activities such as hikes to archaeological sites, biking through picturesque landscapes, and encounters with local communities.
The lodge's contemporary design, comfortable accommodations, and panoramic views make it an ideal retreat for those seeking adventure and relaxation.
#5. Casa Andina Premium Valle Sagrado Hotel & Villas, Urubamba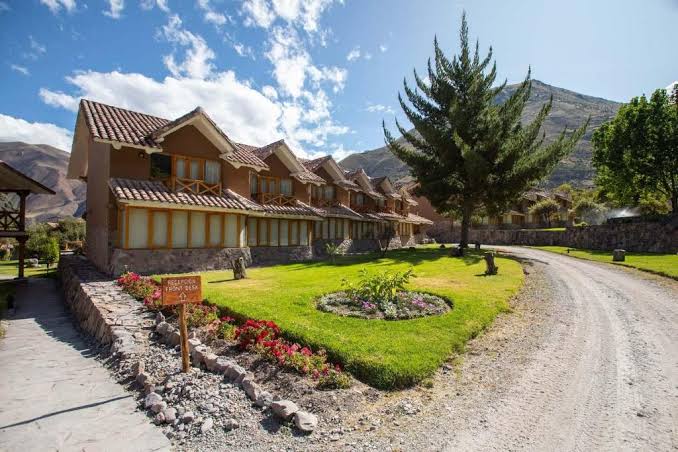 Casa Andina Premium Valle Sagrado Hotel & Villas exudes warmth and charm in the heart of the Sacred Valley. The property's rustic-chic design seamlessly blends with the surrounding landscape, creating a cozy and inviting atmosphere.
The hotel's spacious rooms and private villas offer modern amenities and stunning views of the mountains. Guests can enjoy traditional Andean cuisine at the on-site restaurant with locally sourced ingredients.
The hotel's location allows easy exploration of nearby attractions, including ancient ruins, colorful markets, and outdoor adventures.
#6. Sumaq Machu Picchu Hotel, Machu Picchu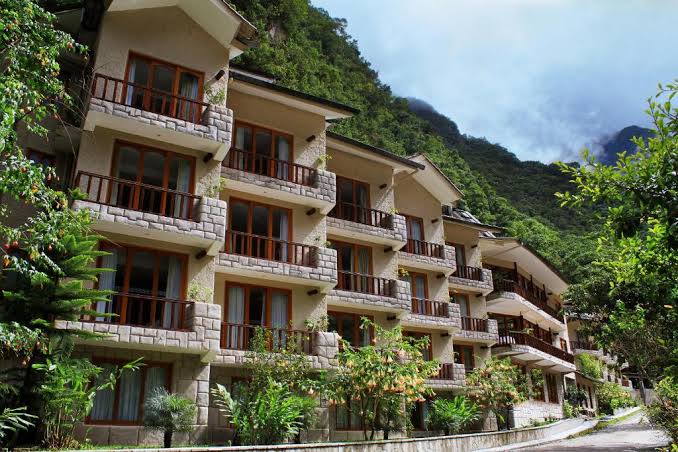 Positioned at the gateway to Machu Picchu, the Sumaq Machu Picchu Hotel provides an elegant and luxurious escape for travelers visiting the iconic Incan citadel. The hotel's design reflects the region's cultural heritage, with Andean motifs and textiles gracing its interiors.
Guests can savor gourmet Peruvian cuisine at the Qunuq Restaurant, where traditional ingredients are transformed into innovative dishes.
The Aqlla Spa offers relaxation and rejuvenation through treatments inspired by indigenous techniques and natural elements. With its impeccable service and proximity to Machu Picchu, Sumaq Machu Picchu Hotel offers an unforgettable and enchanting experience.
#7. Belmond Hotel Monasterio, Cusco
Housed within a historic monastery dating back to the 16th century, the Belmond Hotel Monasterio is a true gem in the heart of Cusco. The hotel seamlessly blends colonial charm with modern luxury, offering guests a sense of timelessness and tranquility.
The property's serene courtyards, ornate architecture, and religious artifacts create a captivating ambiance. The hotel's rooms and suites are elegantly appointed, and guests can enjoy fine dining at the Illariy Restaurant.
With its central location, the Belmond Hotel Monasterio is an ideal starting point for exploring the enchanting city of Cusco and its surrounding wonders.
#8. Palacio del Inka, Cusco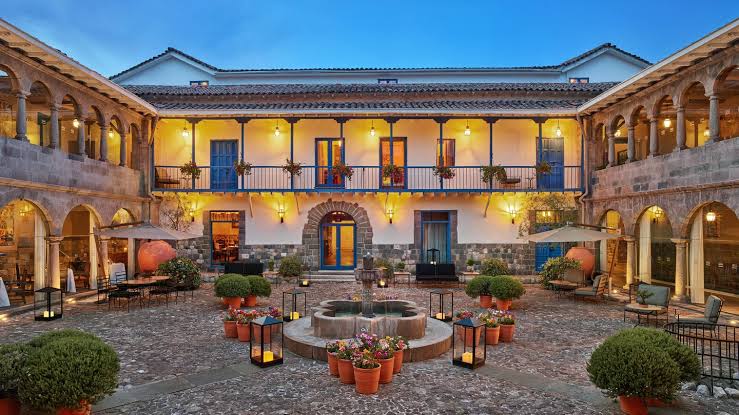 Palacio del Inka is a luxurious hotel in the heart of Cusco, a city that holds historical significance as the former capital of the Inca Empire. The hotel is housed in a stunning colonial mansion that blends Inca and Spanish architecture.
Guests are treated to opulent accommodations with elegant décor and modern amenities. The hotel's central location allows easy access to Cusco's main attractions, including the Plaza de Armas and the Qorikancha Temple. The hotel also boasts a spa offering rejuvenating treatments and a restaurant that serves delicious Peruvian cuisine.
#9. Belmond Hotel Rio Sagrado, Urubamba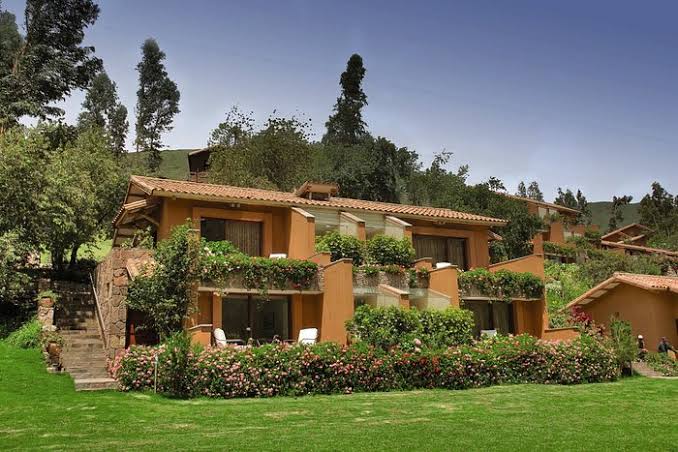 Nestled in the picturesque Urubamba Valley, the Belmond Hotel Rio Sagrado offers a tranquil escape surrounded by lush greenery and the flowing Urubamba River. The hotel's design incorporates traditional Andean elements, creating an atmosphere of rustic luxury.
Guests can enjoy spacious and comfortable rooms with private terraces, allowing them to take in breathtaking views.
The hotel's amenities include a spa with treatments, gourmet dining options showcasing Peruvian flavors, and outdoor activities such as horseback riding and nature walks.
#10. Aranwa Sacred Valley, Urubamba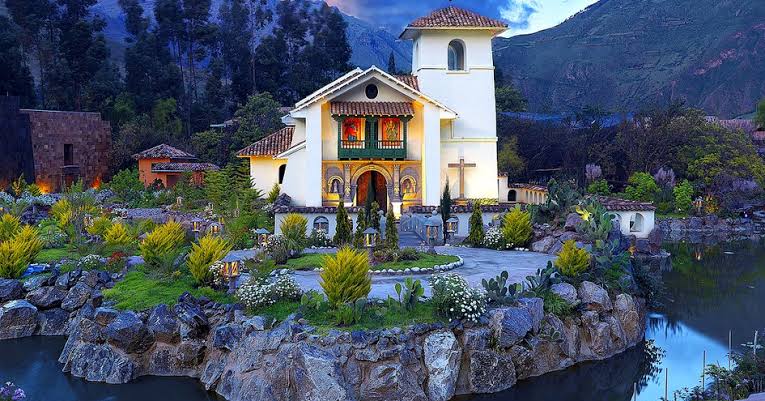 Aranwa Sacred Valley is a boutique hotel that captures the essence of Sacred Valley's natural beauty and cultural heritage. The property features charming rooms and suites adorned with local art and artifacts. The hotel's gardens are a highlight, showcasing indigenous plants and a tranquil atmosphere.
Guests can unwind in the thermal baths and enjoy various wellness treatments at the spa. Aranwa also offers a unique experience with its on-site museum, showcasing an impressive collection of colonial-era artwork and artifacts.
#11. Casa Cartagena Boutique Hotel & Spa, Cusco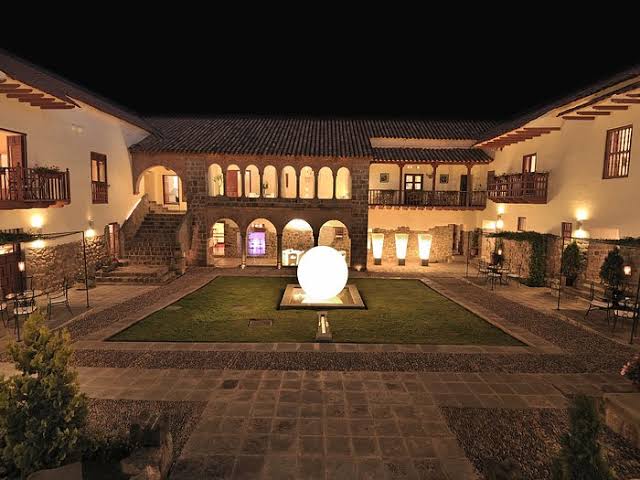 Casa Cartagena Boutique Hotel & Spa is a gem in the historic city of Cusco. This intimate hotel is housed in a beautifully restored 16th-century mansion, exuding colonial charm and elegance. The hotel's suites are individually decorated, blending modern comforts with traditional Peruvian design.
The spa offers a range of treatments, including massages and aromatherapy, to help guests unwind after exploring the city's cobblestone streets. The hotel's location is ideal for exploring nearby attractions such as the San Blas neighborhood and the Sacsayhuamán fortress.
#12. Hotel B – Barranco, Lima
Hotel B is a boutique hotel located in the trendy Barranco district of Lima. This artistic and cultural hub is known for its vibrant atmosphere and artistic community. The hotel is a beautifully restored mansion belonging to a prominent Peruvian artist.
Each room is uniquely designed, featuring a blend of contemporary and Belle Époque styles. The hotel's art collection and galleries provide an immersive cultural experience, and guests can explore Barranco's bohemian streets, art galleries, and local markets.
#13. Delfines Hotel & Convention Center – San Isidro, Lima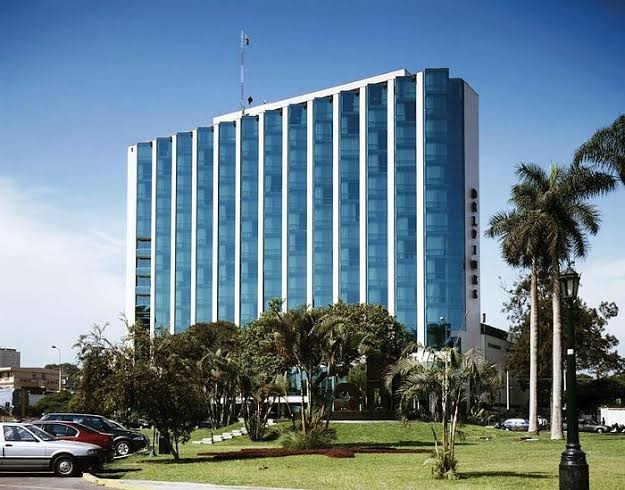 Delfines Hotel & Convention Center offers a modern and upscale stay in Lima's upscale San Isidro district. The hotel provides comfortable rooms and suites with contemporary furnishings and amenities.
It is an ideal choice for business and leisure travelers, offering a convention center, business facilities, and various services. Guests can relax at the outdoor pool, indulge in spa treatments, and savor a variety of dining options, including Peruvian and international cuisine.
#14. Swissotel Lima – San Isidro, Lima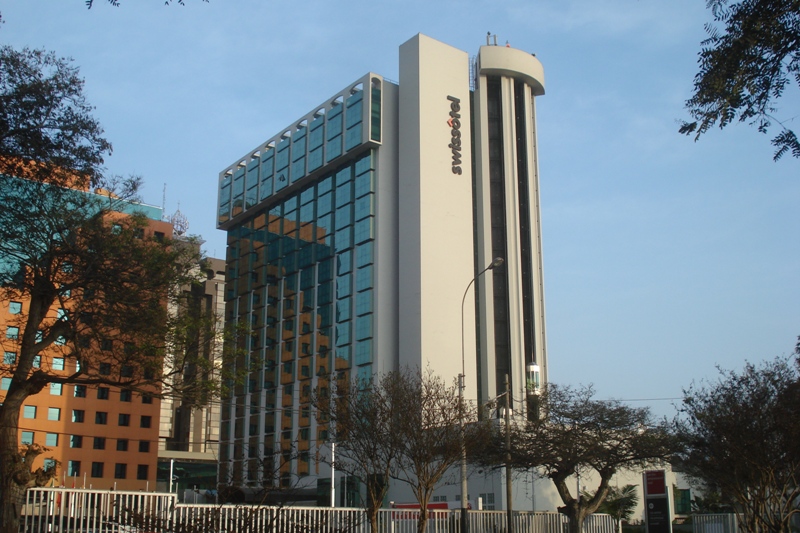 Swissotel Lima is a well-established luxury hotel located in the business district of San Isidro in Lima. The hotel's elegant rooms and suites offer guests a comfortable and sophisticated retreat.
With a focus on health and well-being, the hotel features a fitness center, spa, and wellness facilities. Culinary enthusiasts will appreciate the diverse dining options, from Japanese cuisine at Sushi Cage to Peruvian flavors at La Locanda.
The hotel's central location provides easy access to Lima's attractions, including the historic center and upscale shopping areas.
#15. Casa Andina Select Miraflores – Miraflores, Lima
Casa Andina Select Miraflores offers an elegant and contemporary stay in the heart of Lima's upscale Miraflores district. The hotel is known for its comfortable and well-appointed rooms, providing modern amenities such as flat-screen TVs, free Wi-Fi, and minibars.
Guests can savor delicious Peruvian cuisine at the on-site restaurant or enjoy a drink at the bar. The hotel's strategic location allows easy access to Miraflores' bustling shops, restaurants, and attractions, including the iconic Larcomar shopping center and the picturesque Malecón boardwalk along the Pacific Ocean cliffs.
#16. Country Club Lima Hotel – San Isidro, Lima
The Country Club Lima Hotel is a historic gem nestled in the affluent neighborhood of San Isidro. This luxurious property exudes classic elegance and is renowned for its impeccable service.
The rooms are lavishly decorated with traditional and modern elements, offering a unique blend of comfort and sophistication.
Guests can indulge in gourmet dining at the Perroquet Restaurant, which showcases exquisite Peruvian and international dishes. The hotel's lush gardens, opulent interiors, and convenient location make it a favorite among travelers seeking a refined experience in Lima.
#17. Aranwa Cusco Boutique Hotel, Cusco
Aranwa Cusco Boutique Hotel is a charming retreat set within a restored 16th-century mansion in the heart of Cusco. Its rich history is beautifully preserved, with original Inca walls and colonial architecture blending seamlessly with modern amenities.
The hotel's rooms are elegantly designed, featuring luxurious furnishings and cozy fireplaces. Guests can unwind at the spa, which offers a range of treatments inspired by ancient Andean traditions.
Its prime location allows easy exploration of Cusco's historic center, with attractions like the Plaza de Armas and Cusco Cathedral just a short walk away.
#18. Sonesta Posadas del Inca Cusco, Cusco
Situated just steps from Cusco's main square, Sonesta Posadas del Inca Cusco offers a comfortable and convenient stay in the city's heart.
The hotel's architecture harmoniously combines colonial and Inca influences, creating a unique and charming ambiance. The cozy rooms feature warm decor and modern amenities, ensuring a pleasant stay for guests.
Visitors can easily explore Cusco's vibrant markets, cultural sites, and vibrant nightlife with its central location. The hotel's courtyard is a peaceful oasis, perfect for relaxing after a day of exploration.
#19. JW Marriott El Convento Cusco, Cusco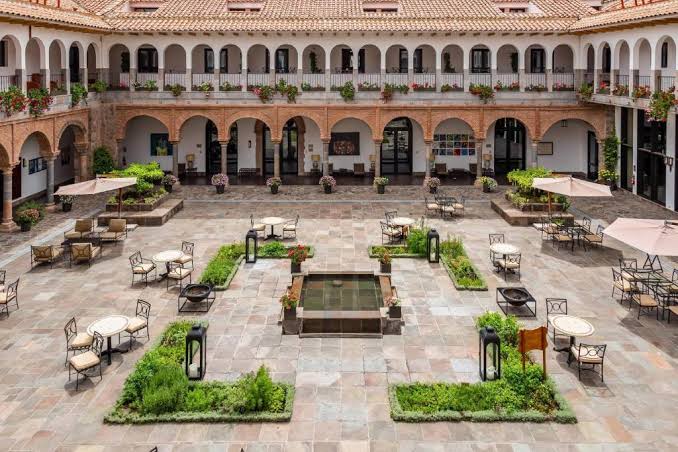 Formerly a 16th-century convent, the JW Marriott El Convento Cusco is a luxurious haven in the heart of Cusco. The hotel seamlessly blends historic architecture with modern luxury, providing guests with an exceptional experience.
The rooms are elegantly designed, boasting plush bedding, upscale amenities, and stunning views of the surrounding city. Guests can savor Peruvian cuisine at the Qespi Restaurant or unwind with a cocktail at the bar.
The hotel's location near Cusco's main attractions, including the Coricancha and Sacsayhuaman, makes it an ideal base for exploring the city's rich history and culture.
#20. El Mercado Hotel, Cusco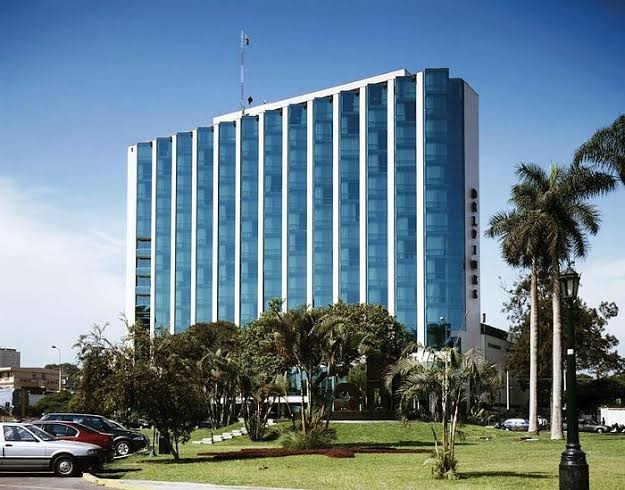 El Mercado Hotel is a boutique gem in the heart of Cusco's San Blas neighborhood. The hotel's design is inspired by local markets, showcasing rustic charm and contemporary comfort.
The rooms are cozy and well-appointed, providing a tranquil retreat after a day of sightseeing. Guests can indulge in Peruvian and international cuisine at the on-site restaurant, which offers a farm-to-table dining experience.
The hotel's location offers easy access to Cusco's artisan workshops, galleries, and the vibrant San Pedro Market.
#21. Hotel Ballestas, Paracas
Hotel Ballestas is a coastal retreat located in the charming town of Paracas, known for its stunning landscapes and abundant marine life. The hotel offers comfortable rooms with modern amenities and balconies that provide breathtaking views of the Pacific Ocean.
Guests can relax by the pool, enjoy fresh seafood at the on-site restaurant, or explore nearby attractions such as the Paracas National Reserve and the Ballestas Islands, home to diverse wildlife, including sea lions and penguins.
The hotel's coastal setting and proximity to natural wonders make it a perfect choice for those seeking relaxation and adventure.
You can also check out – 16 Best Places to Stay in Vermont in 2023 | Vermont Neighborhood Guide
How to Get Around Peru
Peru has many natural wonders, from the Andes Mountains to the Amazon rainforest and various cultural sites like Machu Picchu. You must find reliable transportation that fits your itinerary. Let's look at some of the best ways to get around Peru.
#1. Domestic Flights
Peru has a well-connected network of domestic airports, making flying a convenient option for long distances between major cities like Lima, Cusco, Arequipa, and Iquitos. Airlines like LATAM, Avianca, and Sky Airlines operate domestic flights.
#2. Buses
Buses are a common mode of transportation in Peru, offering both affordability and access to various destinations. Different bus classes are available, ranging from luxury to budget, with companies like Cruz del Sur and Oltursa providing reliable services.
#3. Trains
Peru offers scenic train journeys, particularly the famous Machu Picchu train that takes you to the ancient Inca ruins. Other routes, like the Andean Explorer, connect Cusco to Lake Titicaca, providing a comfortable and picturesque travel route.
#4. Taxis and Ride-Sharing
Taxis are prevalent in urban areas, and ride-sharing apps like Uber are available in cities like Lima. Make sure to negotiate or use a meter before starting the ride.
#5. Colectivos
These shared vans or mini buses are a common way of traveling shorter distances within cities or to nearby towns. They have set routes and pick up passengers along the way.
#6. Walking and Biking
Exploring on foot or by bike is a fantastic way to experience local life and enjoy the stunning landscapes. Many cities offer bike rentals, and guided walking tours are often available to explore historical areas.
You might find this interesting – 17 Best Places For Vacation In Florida in 2023 | Florida Neighborhood Guide
How to Find The Best Places To Stay in Peru
If you're planning a trip to Peru, finding the best place to stay is essential for your vacation. It will impact your experience in the country and your budget. Here are some tips on how to find the best places to stay in Peru.
#1. Determine your Budget
The first thing you need to do before looking for a place to stay is to determine your budget. Peru offers many accommodations, from luxury hotels to budget hostels. You can stay in a fancy hotel or opt for more affordable options depending on your budget.
#2. Consider your Location
Peru is a vast country with diverse landscapes and attractions. Choosing the right location to stay is crucial to explore the country fully. For example, if you want to explore the Inca ruins of Machu Picchu, consider staying in Aguas Calientes, a small town at the base of the mountain. Similarly, if you want to explore the beaches, consider staying in Mancora, a popular beach town in Northern Peru.
#3. Read Reviews
The best way to find places to stay in Peru is to read reviews. Websites like TripAdvisor provide real feedback from previous guests. You can get a sense of the place, the services offered, and the experience you'll get from staying there.
#4. Consider the Amenities
Peru offers a variety of accommodation types, each with their amenities. For example, luxury hotels provide more amenities like spas, swimming pools, and fitness centers, while hostels offer shared accommodations and more affordable rates. Choosing the type of accommodation that provides the amenities you're looking for is essential.
#5. Book Early
Peru is a popular travel destination, and accommodations can fill up fast during the peak season. Booking your accommodation early will give you more options and ensure you get the best place to stay for your trip.
Also check out – 21 Best Cities to Visit in Africa in 2023 | Complete Guide
Challenges of Staying in Peru
Staying in Peru has always been a unique and adventurous experience. This South American country has a lot to offer, from the rugged Andean Mountains to the deep valleys of the Amazon basin. However, staying in Peru comes with its own set of challenges. Let us look at a few of them.
Firstly, language can be a major hurdle. Although English is spoken by many in urban areas, the official language of Peru is Spanish. And the language barrier can cause many issues, especially in remote regions of the country. Being unable to communicate with locals can result in difficulties in daily activities like shopping, traveling, and making new friends.
Secondly, altitude sickness is another challenge to staying in Peru. Most of the country is situated at high altitudes so visitors might experience nausea, dizziness, and other health issues. To combat altitude sickness, it's best to stay hydrated, avoid alcohol, and take sufficient rest.
Thirdly, safety can be a concern, especially in cities like Lima. Like any big city, staying vigilant and aware of your surroundings is always best. Avoid carrying valuable items, and do not walk alone late at night.
Lastly, adjusting to the food in Peru can also be challenging. The country is known for its spicy and flavourful cuisine, which might not suit everyone's palate. It's always good to try local cuisine, but be mindful of your dietary restrictions.
Despite these challenges, staying in Peru can be an enriching experience. Its diverse culture, historical monuments, and breathtaking scenery can be mesmerizing. To overcome the challenges, be open-minded, willing to adapt, and make the best of what Peru has to offer.
Don't miss out – 21 Best Places To Stay in Moab in 2023 | Moab Neighborhood Guide
Frequently Asked Questions
Are there any eco-lodges in the Amazon Rainforest?
Yes, plenty of eco-lodges in the Amazon Rainforest offer visitors the chance to experience this incredible natural wonder sustainably. Some popular options include the Amazon Conservatory, Tambopata Research Center, and Inkaterra Reserva Amazonica.
Where should I stay if I want to hike Machu Picchu?
If you plan to hike Machu Picchu, Aguas Calientes is the best place to stay. It's located at the base of the mountain, and plenty of accommodations exist. If you're looking for something more luxurious, consider the Belmond Sanctuary Lodge, located right at the entrance to the site.
What is the best season to visit Peru?
The greatest time to visit Peru is between May and October, especially if you intend to go on a hike. It's a beautiful time of year, with sunny days and bright blue skies, but early scheduling is essential because it's peak season.
Conclusion
Peru has some of the best places to stay for those looking for a truly unforgettable experience. From the beautiful coastlines of Mancora and Paracas to the historic city of Cusco, Peru has it all.
However, for the ultimate adventure and experience of a lifetime, Machu Picchu and the Sacred Valley offer unique accommodation options that allow visitors to immerse themselves in the culture and history of the area.
Whether it's a luxurious villa or a cozy guesthouse, many different options are available that cater to every taste and budget. No matter where you decide to stay, Peru promises an incredible and unforgettable adventure you will cherish for years.
Reference